It's no secret that we love to travel. There's so many wonderful countries to explore in Europe. We've already been to Gran Canaria and Venice this year. We would love to go away again before the year is over.
I've been busy on the internet dreaming and researching. A favourite website of mine is Tots to travel. It's one I've been following on Facebook for a couple of years now. Why? Well I love their concept. All the properties on their website are baby and toddler friendly. From a parents perspective, with a young child, safety and fun on holiday is paramount. They have both things covered.
Bucket List Family Holiday Destinations
Lanzarote
When we were looking at Gran Canaria for a holiday we also spent a long time looking at places to stay in Lanzarote. It's another of the Canary Islands that we'd love to visit. Tots to travel currently have 16 properties to choose from with a choice of villas or hotel suites. They come with a pool of your own or a lovely big shared one on site. Why not see what they have to offer via this link? Family Friendly Holidays & Villas in Lanzarote – Tots to Travel.
My favourite of the 16 would be Villa Princess Calero. It's a lovely stylish and contemporary looking villa. It offers sea views and is just a short walk to the marina, bars and restaurants. As with all of the properties on their website the pool is secure. As well as its own pool it also has a hot tub. I'm sure you will agree it looks simply lovely in this photo. There are 4 bedrooms so perfect for us with a husband who snores.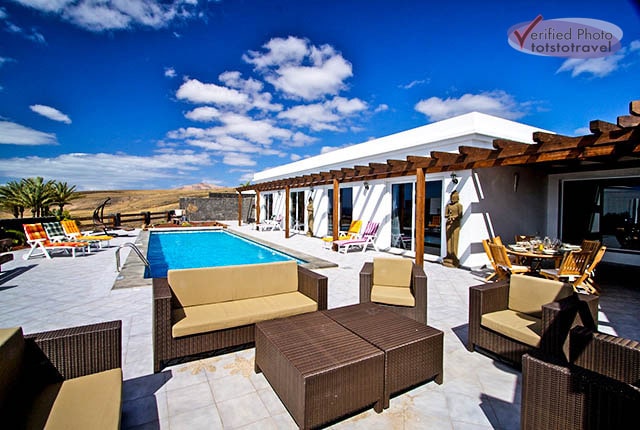 Typical me I did pick a higher priced villa. They have a variety of prices on offer. For a lower budget, Casa Davida looks really lovely.
There's a private pool, 3 bedrooms, sea views and a sandy golden beach nearby. Situated in a quiet residential location and just a short 10 minute drive to the airport. You can see just how beautiful it looks from the photo below.
Lefkada
Mark and I had a holiday here many moons ago pre Jamie. We loved it. It is such a stunning little Greek island. We loved it so much we even considered moving there for a brief while. It's somewhere we'd love to take Jamie too. We have only holidayed to Corfu with him so far and he loved it. Beautiful blue seas, tasty food and they love children.
Tots to travel currently have 2 villas on their website in Lefkada, both on a resort. They also have properties in Crete, Corfu and Zakinthos which are worth looking at for a lovely bit of sunshine.
Mousses Resort is set in lush gardens with a crèche and kids club. These are run by fully qualified British nannies. There is a shared and fully enclosed pool accessed by a gate. Plus an onsite tavern and weekly barbeques. It looks lovely. They have 2 or 3 bedroom villas to choose from.
Corsica
I have been nagging Mark to take me to Corsica for years and years now. He's not as sold on the island as I am but it looks so tropical and beautiful, a world away from mainland France. Maybe it's because we lived in France for 14 years and he never truly saw Corsica as a holiday destination. But I am determined and we will holiday there soon.
Tots to travel offer apartments or villas in Corsica via their website. The apartments are at Di Also Pinarello and they offer 1-3 bedrooms. We would choose a 3 bedroom apartment. The beach is just a 10 minute walk away. The apartments share a safe enclosed pool. They even have air conditioning in the apartment. It's simple and contemporary in design and has a large private terrace.
And finally
Portugal
I was lucky to have quite a few holidays in Portugal as a child. Mark and I have had a holiday to Porto but he has never been to the Algarve. I think it's a lovely family-friendly destination and it's somewhere that I'd love to take Jamie to. It's also currently one of the cheapest European summer sun destinations to fly to. The photos of the accommodation on offer have had me drooling. They look fabulous. There are villas, townhouses, villas on resorts, suites and more.
How do we choose? Well, I guess it's all about what we are looking for in our holiday. For me, the Algarve is all about the beach so I'd choose somewhere very close to it. The sea view houses at the Martinhal beach resort certainly seem to fit those criteria. Martinhal has thought of everything you could possibly need for a family friendly holiday and provided it. There's a choice of swimming pools including a toddler pool. the beach, a choice of eateries. Plus kids club, great play areas, spa and a sports academy.
Tots to travel cover other countries in Europe such as Italy, Spain and they even have family-friendly places to stay in the UK. They offer barriered pools, 30 point safety checks a free baby and toddler kit and so much more. Their kit comprises of:
Pool barriers (enclosed by fence, hard cover, net or an enclosure elsewhere such as around the patio)
At least one cot that meets EU standards
Good supply of cot linen
At least one high chair
Booster or junior seat (suitable for use at a dining table)
Baby monitor
At least one changing mat
Steriliser
Stair gates where needed
At least one potty
Child's toilet seat
Child's step
Baby and child cutlery, bowls, cups and plates
Bath toys and non-slip mat
Hand-held blender
At least one bed guard
Blackout blinds/curtains/shutters in child bedrooms
A selection of children's books and indoor toys
DVD player and children's DVDs
Microwave
Night light in children's rooms
Disclaimer – This is a collaborative post.