To help you plan your next holiday overseas we have compiled a list of 12 family-friendly hotels in Europe with two bedrooms – perfect for those who want a bit of space. These are 12 hotels we would love to visit as they look great for families. Below we will list the name, location and main facilities at these hotels. Sometimes it can be a tough job wading through hundreds, if not thousands of choices, hopefully, this will eliminate the time-consuming searching. If you click on a link in this piece, we may earn affiliate revenue.
Address: Playa de Son Bou, s/n, 07730, Balearic Islands, Spain
About – The Royal Son Bou Family Club Hotel in Menorca offers everything for the ideal family-friendly break. It is a popular hotel, well known for its extensive facilities and emphasis on family enjoyment. For the younger guests, there are six Children's Clubs as well as a pool with a play ship and slides. The grown-ups are also catered for with exclusive evening entertainment and two buffet restaurants on-site, one of which proudly offers a view of the Med. The beautiful location of the hotel allows guests to enjoy the long sandy beach of Son Bou.
There are two choices of two-bedroom apartments at the Royal Son Bou Family Club. Both sleep between 3- 5 guests. Both room types offer private cooking facilities, as well as all the family-friendly facilities you would expect from such a popular hotel.
You have the choice of either Half Board or All Inclusive, dependent upon what would suit you and your party best.
Address: C. Urano, s/n, 35510 Puerto del Carmen, Las Palmas, Spain
About – At Sentido Aequora Lanzarote Suites everything is bright, fresh and inspiring. There are four outdoor pools including one just for the kids to enjoy. Other things available to keep the children happy and entertained are the Children's Clubs and the splash pool. For a bit of grown-up downtime, there is a dedicated adult-only area where you can relax and unwind. Professional entertainment is available to enjoy each evening. There are three restaurants to choose from, in addition to various bars and cafes. The hotel boasts a seafront location and has an authentic Spanish feel.
The two-bedroom family suite offers space, storage and an enjoyable level of luxury combined with practicality, ideal for those travelling with children. These rooms sleep up to 5 guests.
The board basis choice on offer is Half Board or All Inclusive, depending on what would suit the needs of you and your guests best.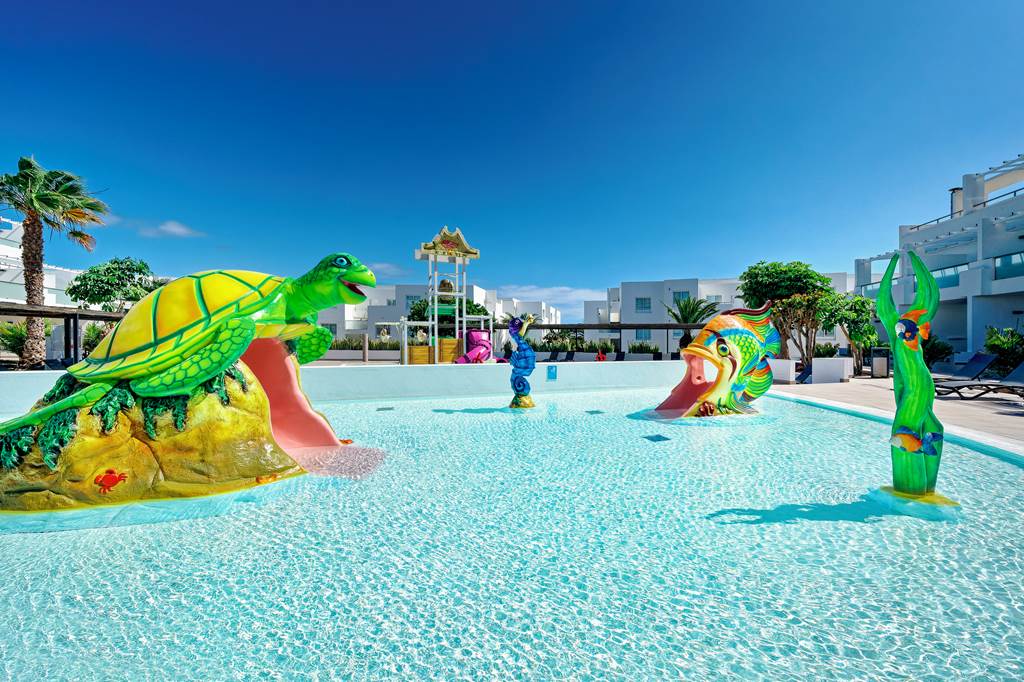 Address: Av. Rafael Puig Lluvina, 15, 38660 Arona, Santa Cruz de Tenerife, Spain
About – Five minutes stroll from both the local town and the beach, HD Parque Cristobal, Tenerife offers guests a fabulous location to enjoy their family getaway.
There are two pools, plus a kids' pool complete with water slides. There is a buffet-style restaurant with food choices to suit almost everyone. At the Children's Club, the kids can get involved with crafting, stories, and dance parties. For the sportier guests, there are plenty of activities to enjoy including tennis and basketball.
With regard to the accommodation, there is an impressive selection of two-bedroom options available to choose from. Each option sleeps up to 6 guests and offers an exciting variety of facilities, from private whirlpools to kids' dens!
At HD Parque Cristobal you are invited to enjoy the All-Inclusive Board on offer, which is particularly family-friendly – no unexpected bills at the end of your stay!
Address: Avenida Sunair, s/n, 35100 Maspalomas, Las Palmas, Spain
About – Whether you're looking for adventure or relaxation to recharge your batteries, Suites & Villas by Dunas has something for everyone. This stylish family-friendly resort offers four outdoor pools, daytime activities, and a fabulous Children's Club as well as a complimentary shuttle bus to the beach. Plus, there is an onsite spa, a buffet restaurant, and a welcoming bar.
76 of the 192 spacious, air-conditioned villas offer two bedrooms, ideal for those travelling with children. These villas also feature private gardens and sleep up to four guests.
The board basis at Suites & Villas by Dunas is all-inclusive, meaning you can just relax and enjoy every aspect of the facilities on offer.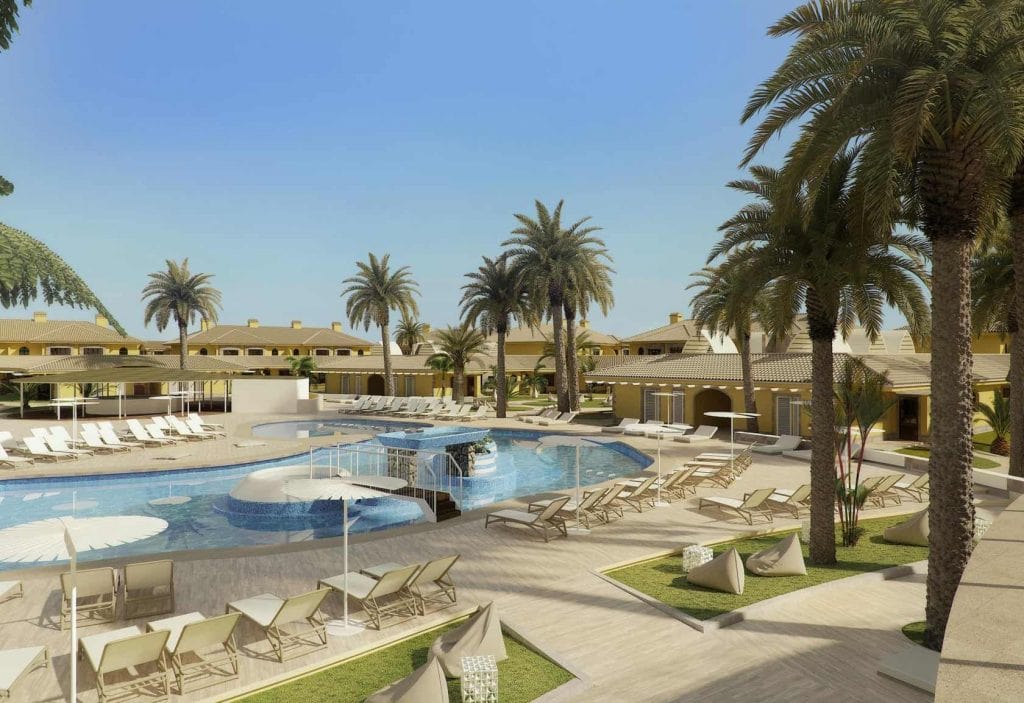 Address: Poseidonos Ave 8201, Yeroskipou, Cyprus
About – Holiday Village Aliathon in Paphos, Cyprus, has an extraordinary array of facilities on offer for its guests. Showcasing one of the biggest pools in Cyprus, as well as four restaurants, five bars and children's academies, there will be plenty to entertain everyone throughout your stay. There is a fabulous choice of adventure and sporting options for those craving action, whilst those who prefer to relax can chill out by the pool.
There are two choices of rooms with two bedrooms, both of which sleep up to 6 guests. You can opt for a private garden, a terrace or a balcony depending on your preferences.
The hotel offers an All-Inclusive board which means the ultimate peace of mind throughout your stay.
Address: Passeig Federico García Lorca, s/n, 07680 Cala Mendia, Illes Balears, Spain
About – At the Insotel Cala Mandia Resort and Spa you will find everything you need for the ultimate fun-filled family holiday. The outstanding facilities include a scuba diving school, no less than five swimming pools and a splash zone. The hotel has a traditional Spanish feel, surrounded by native palm trees and the sandy beaches of Cala Mandia. There are five restaurants to enjoy, serving a variety of cuisines.
The two-bedroom apartments on offer sleep up to six people and have a kitchen in addition to the normal facilities that you would expect from such a popular hotel.
You can enjoy the reassuring All Inclusive board basis, meaning you can experience complete peace of mind throughout your stay.
Address: Kalives Beach, Epar.Od. Poligirou – Neas Potideas, Kalives Poligirou 631 00, Greece
About – At the TUI Blue Lagoon Princess in Kalives, Greece, the emphasis is entirely on all-round family fun and enjoyment. The younger guests are a particular focus, with playgrounds, kids' pools, children's clubs and character parades for them to enjoy. The children are also educated on healthy foods and encouraged to try different things which is such a relief for mums and dads concerned the holiday may indulge less healthy eating habits! Little ones can also learn to swim, as they take part in professionally run swimming lessons.
The location of the hotel is peaceful and there is plenty of space for everyone to spread out, exercise and unwind. There is a beach just a stone through away, and the opportunity for water sports too.
There is an impressive choice of two-bedroom room choices at the Lagoon Princess. You can choose from swim-up options to those with balconies, sea views and private terraces. You are invited to enjoy an All-Inclusive board at this hotel.
Address: Odos Thermopilon, Kato Gouves 700 14, Greece
About – The Blue Aegean Aparthotel is a family-friendly resort, with superb facilities to suit each member of your party. Children are particularly well catered for with fun kids' clubs, pools, and activities. There are indoor and outdoor play facilities. There are beautiful sandy beaches just a short walk away. After a day enjoying the sea and the sand, the whole family can look forward to fabulous evening entertainment.
There are two-bedroom suites available that offer either a garden or pool view and comfortably sleep up to 6 guests.
You have the choice of half board or the all-inclusive option.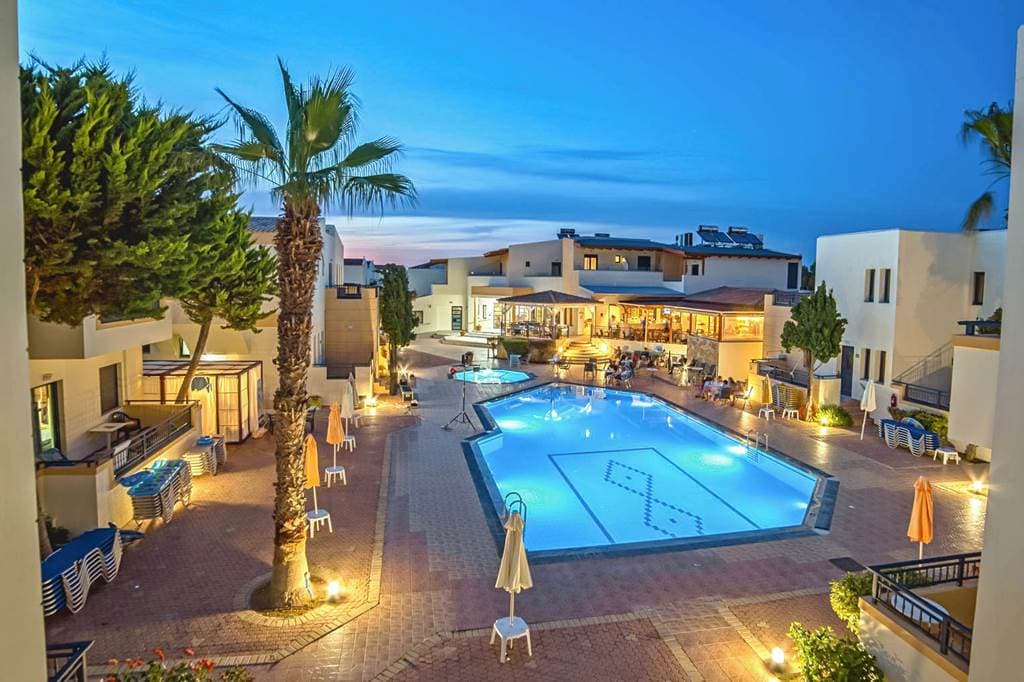 Address: Camí Vell d'Altea, 1, 03581 l'Alfàs del Pi, Alicante, Spain
About – The Magic Robin Hood Hotel is located in the stunning area of Albir, a charming, and enchantingly Spanish town. The hotel boasts some fabulous facilities including a huge pool area complete with slides and a splash zone for the younger guests. The resort offers a Robin Hood theme throughout which is both fun and educational for the kids and provides a unique experience.
The accommodation is made up of theatrical wooden lodges, which cater for various group sizes. Some of the larger lodges have two bedrooms and offer garden terraces with whirlpools!
The board basis on offer is All-Inclusive, and there are five restaurants offering various types of cuisine. For that extra bit of luxury, there is a spa offering a variety of treatments too.
The emphasis at the Magic Robin Hood is fun and inspiring families to make lifelong memories.
Address: Partida Foia del Verdader, 1, 03502 Benidorm, Alicante, Spain
About – A stay at Magic Natura entitles you to unlimited access to the fabulous Terra Natura Animal Park and the exhilarating Aqua Natura Water Park. The animal park is home to around 1500 animals and offers unrivalled opportunities to get up close and personal with many of the furry residents. The water park is well known for its fast and furious rides.
Some of the wooden lodges on offer have two bedrooms and sleep up to 5 guests. Some of the lodges feature whirlpools, sea views and private terraces.
Other facilities at the hotel include children's clubs, evening entertainment, four excellent restaurants and a luxury spa offering beauty treatments.
The board basis is all-inclusive ensuring total peace of mind throughout your stay.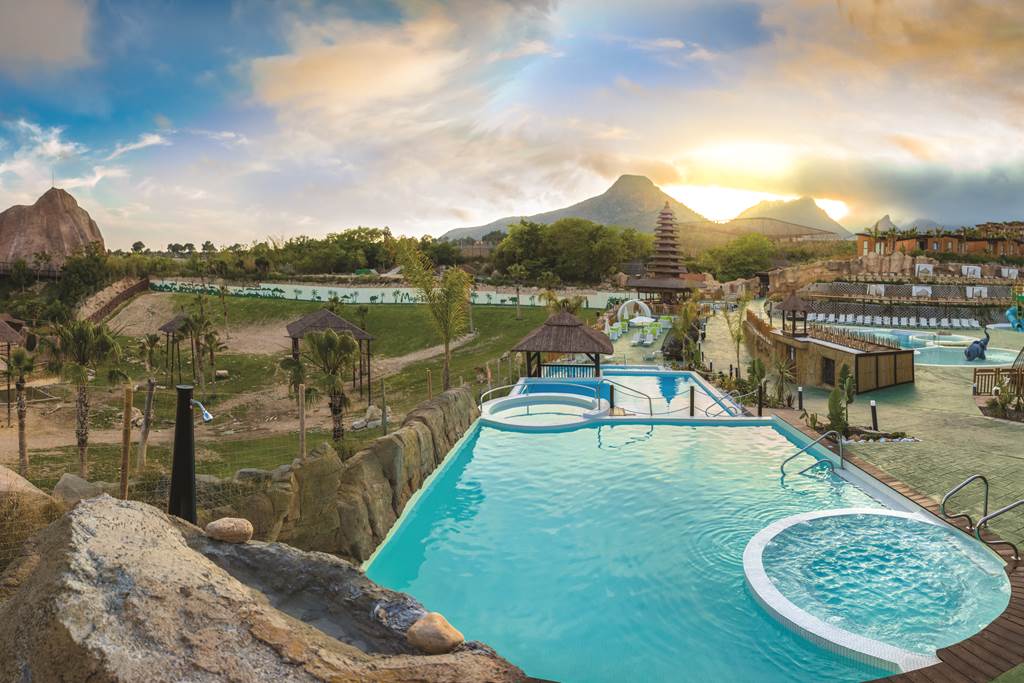 Address: Pamucak Oteller Bölgesi, 35920 Selçuk/İzmir, Turkey
About – Perfectly located between a beach and a water park the TUI BLUE Ephesus is an excellent choice for a holiday for all the family. Featuring a private beach, evening family entertainment and buffet restaurants the whole family's needs are catered for throughout your stay. You are offered free entry to the neighbouring water park – ideal for days out in the sunshine. The TUI focus is on family well-being and has a healthy eating programme to encourage even the fussiest of eaters to try new cuisine.
The two 2 Bedroom Family Room features a garden view and balcony and sleeps up to 5 guests. The rooms are bright and welcoming, and the extra bedroom ensures a good night's sleep for all.
The hotel offers an all-inclusive board basis so there are no unpleasant surprises at the end of your stay.
Address: Kemerağzı, Yaşar Sobutay Bulvarı No:331, 07160 Aksu/Antalya, Turkey
About – Located in Lara Beach, Turkey, Wyndham Garden Lara has all the facilities your family needs for a fun and memorable stay away. There are two outdoor pools, complete with water slides and there is an excellent entertainment programme, including live music and karaoke! For those hoping for a bit of "me" time, there is a wellness spa offering various beauty treatments. There are seven restaurants to enjoy, each serving different cuisine, so something to please everyone.
The family room sleeps up to six guests and offers adjoining bedroom areas to ensure a good night's sleep is had by all. The rooms are bright and welcoming, with all the usual features you would expect from a family-friendly hotel complex.
The board basis available is all-inclusive.
---
Please conduct your own research through reviews and the company's websites with regard to the facilities and upkeep of the above hotels. The above information is for reference only. Please also check their cancellation policies with regard to any current travel restrictions.