We are a family that gets bitten. My husband comes off far worse than me as he doesn't like to spray himself with harsh chemicals to repel the mosquitos. I must admit I don't either but anything to not get bitten. But that can change now as we've been sent a great range of natural family friendly mosquito repellents that are great for sensitive skin and perfect for all ages. The Mosquito Company sent us some of their products which I will tell you all about below.
Disclaimer: This is a collaborative article
We seem to have an increasing number of mosquitos in the UK so not only will we be using these abroad this year but also at home as well. My husband loves to fish and often gets bitten so he's looking forward to wearing one of their repellent coiled bands.
Why choose the Mosquito Company?
They don't use harsh or harmful chemicals
Their formula is created using 100% natural plant oils
Designed with sensitive skin in mind
Safe for all ages meaning you can even safely protect your children
The formula contains 64% PMB making it the strongest to date. PMD is the natural compound responsible for repelling insects in plant based repellents.
How does their natural formula work?
Quote "Our unique formula repels mosquitos by masking scents that are attractive to insects namely Carbon Dioxide and Lactic Acid. It does this by identifying and blocking the receptors that are responsible for detecting these chemicals. Letting you relax off the menu. Another benefit of using TMC formula is that it is 100% safe and non-toxic to humans, animals and even the insects themselves. We all want to do our part for the environment so hopefully within the next 5 years together we can switch from environmentally harmful deet bases pesticides to a cleaner smarter form of protection."
Mosquito Company Products
Mosquito Repellent Bands
Their mosquito repellent bands are double coiled super strength bracelets which you can purchase in packs of 10. They are sold in an individual airtight bag and each bracelet lasts for 250 hours, once the bag is opened. You can help preserve the lifespan of the band by placing it back in its bag. Their shelf life is 3 years (unopened).
The bands create an invisible shield against mosquitos with their natural repellent. You can wear them around your wrist, ankle or even in your hair. They can be worn by everyone but supervision is advised for children under 3 years. They are water-resistant and made with 100% natural oils.
They come in a great range of colours so I'm sure kids will have fun choosing which one they want to wear next. One size fits all.
I really like the ones with more than one colour in the wristband. These are their triple coiled bracelets and are the same price for a pack of 10 as the double coiled bracelets.
Price: £14.99 for 10. Multi-Colours.
Insect Repellent Spray
Their insect repellent spray is made with lemongrass, peppermint and citronella. It is free of pesticides and will ward off mosquitos, midges and other biting insects.
You simply hold the spray bottle 15 cms away from the skin and spray on to create an invisible shield. This product should be skin tested first on those with sensitive skin. I really like the smell, it reminds me of holidays abroad. You can smell the citronella but it's not as overwhelming with the other fragrances added.
Insect Repellent Bracelets
These bracelets are really stylish and my son would happily wear one every day even after the smell and protection had gone. They contain natural oils and have had peppermint, citronella and geraniol added. They are made of leather and will repel insects for 350 hours. They protect against all sorts of flying and biting insects. The bracelets are water-resistant and one size fits all.
Price: £16.99 for 5. Multi-colours.
Mosquito Repellent Patches
These patches are great for vulnerable areas of the skin, such as ankles. You simply peel the back off and stick. The patches contain 100% pure citronella oil and provide up to 8 hours of protection. These are suitable for all ages and are good for sensitive skin.
Price: £9.45 for a pack of 20 patches
There is also an anti-insect air freshener available at £7.99. Protects against Mosquito's, Midge's, Flie's, and Tick's. 25 days of protection after seal is broken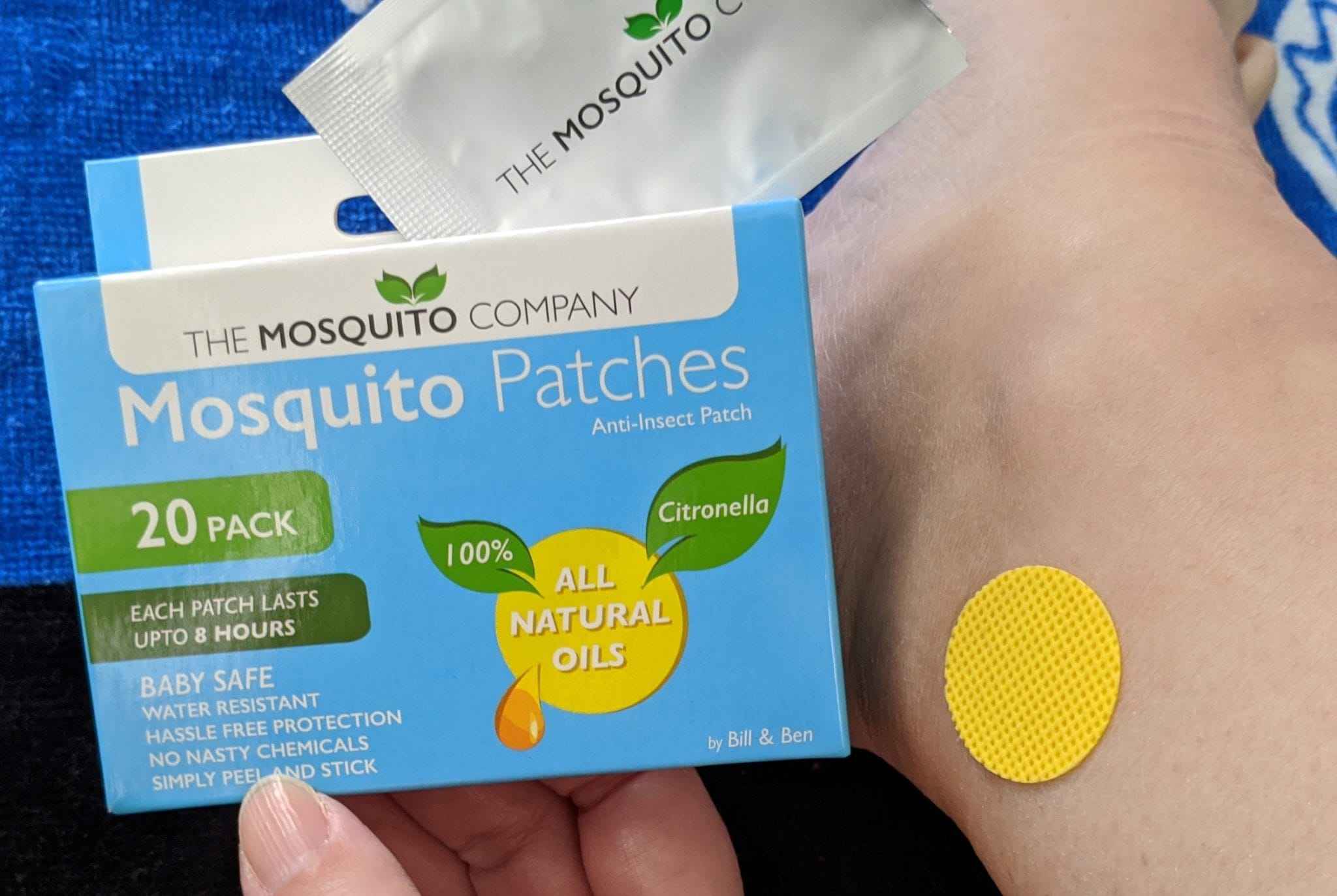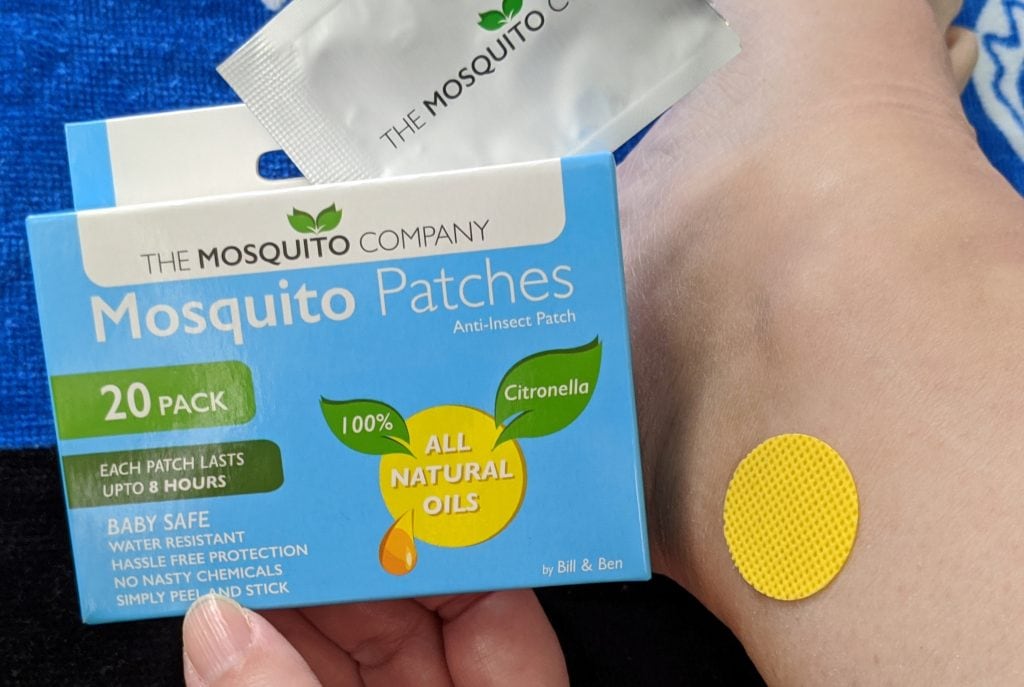 Glowing Reviews
There's a great range of products available via the Mosquito Company with some really great reviews.
I have used these before and they are great. I buy two packs for four people for two weeks so we can wear one on our wrists and one on our ankles. I don't recommend wearing them in the pool as this speeds up the wearing down of the scent, but if you've got more than four each for the whole trip, go ahead. It won't wear down immediately. Without pools, their best 'shelf life' is seven days (they will work for ten if it's not a place infested with mosquitos but I don't risk it). Going in pools, to be safe I'd change it every five days.

Catelyn
Have used these bands for the first time last year and was pleasantly surprised by how good they were.Normally mosquitos eat me alive but having tried these was bitten just the once and that was when I was out one night and gave my band I was wearing to a little girl who had been bitten.I was so pleased with them that I have just received anther order for my upcoming holiday to Corfu.They are the first bands I have tried that not only look good but also work.Excellent product and very good value

Pauline Iredale
Wore one on wrist and one on ankle for a recent trip to Sorrento. Last time I went to Sorrento got a couple of nasty bites and didn't want to get bitten again. Noticed that a few hotel guests had some big, sore looking bites – we thankfully stayed bite free and I can only assume that it must be because of the bands. They look good and have a nice lemony smell, will certainly use again.

As a footnote – I didn't wear them on the way home and get bitten whilst waiting for our airport transfer (up my trouser leg would you believe). Kicking myself for packing and not wearing….

J R Simpson
---