Are you looking to print off your holiday memories for yourself or as a gift? Cheerz can offer a rapid service which is perfect for gifts. Our order arrived just a few days after we placed it which is pretty much unheard of for personalised prints. They were also really simple to upload and edit which again cut down on our time online and the effort sometimes involved in ordering prints and other printable items.
I have a £50 gift card from Cheerz for one of my lucky readers to spend on their website which you can redeem on anything on their website. Please see the end of this post to enter our giveaway, including our terms and conditions. Good luck!
Ordering From Cheerz
There is plenty of ways to have your photos printed via Cheerz. Their website offers photo books, photo scrapbooks which you can order your own photos to stick in the book yourself. We ordered a Small scrapbook which I will tell you more about below. You can also order calendars, photo prints (retro, classic, square and photo booth). Plus fridge magnets, canvas prints, special memory boxes (I ordered the Big Fat box which again I will tell you more about below) and wall decor.
I chose to order prints from our holiday to Florida earlier on in the year especially for my son. I wanted them to be easy for him to look through, to be able to easily get out when he wanted and to be fun, bright and long-lasting.
To order from them you simply set up an account online. Then you can select the product you would like to order and click to create your product. This will then take you to a web page to upload your photos. Once your photos have uploaded you can click to personalise them. This can be the look of the photo such as brightness etc. You also have the option to crop and resize and some of the products you can personalise with your own text.
It's easy to save as you are going along and edit your products at any point in the ordering process.
The Small Scrapbook
One of the products I chose for my son was the small scrapbook. The book has a hard cover and is DIY in design as you can put your photos in the book yourselves. Each page has two adhesive stickers. You simply peel the paper off and stick your chosen photo on top. This is great for those who can never seem to add photos in the right order when adding them to a photo book. Each page has thick black paper which is really robust and highlights the look of your photos.
The small scrapbook is available to buy from £21.00. This includes 20 prints which you can personalise with your own text. The book measures 17,5×17,5cm. The photos themselves are 10×8,5cm and are printed on Fujifilm high quality paper. The book also comes with a white pen to write with in the book and if you are particularly creative you could add drawn images on the pages. I will have a go at this when the little fella has gone back to school.
This product is available for delivery within 5 working days and 3 working days if you opt for the express service.
The Big Fat Box
As my son loves to look at and feel real photos I also ordered him the big fat box. This is a really good quality box that is easy to open. Inside there is a smaller box which holds your prints which again you can personalise easily online. It's perfect for printing out your favourite snaps so that you can free some memory on your phone. It's also perfect for looking through easily.
The box is priced from £26.00 and for this you will receive the box and 75 photos. You can add up to 200 photos to your box (the price for this will increase accordingly). The box is 12cm long and the prints are either 10x10cm or 10x8cm. This product is available for delivery within 3 days or you can select a 1 day express service for an additional cost.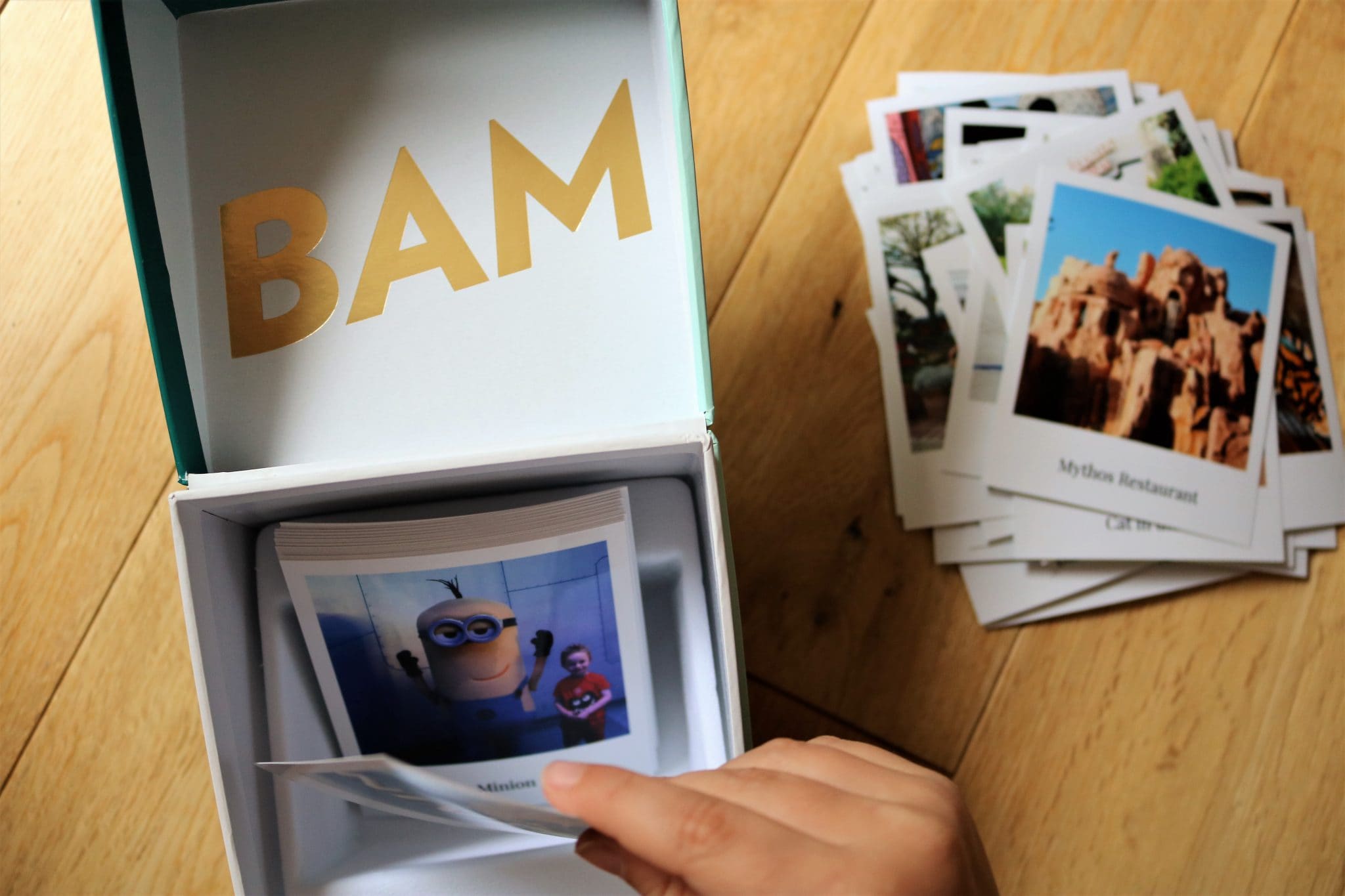 Little Cook Box | Healthy Recipe Boxes For Kids | Review & Giveaway
---
It is So Simple to Enter: Your chance to win a £50 Gift Voucher to Spend at Cheerz
Please enter by answering the question below, in the comments ''What is your favourite memory from your summer'?' This is mandatory. Anyone who enters without answering this question as a blog comment will be disqualified. Once you have entered more options to increase your chances of winning will be made available. Please read the rules of entry below.
Terms and Condition for entering the Giveaway
Open to UK residents only. Anyone entering from outside the UK will be disqualified
The successful winner will be drawn on the 14th September 2018. We will contact you via email with your gift voucher number.
Your entry will require you to enter an email address. The winner will be contacted via email. Your email address will not be passed onto any other parties and will not be used for any marketing purposes.
All entries by 11:59PM 14th September 2018 (London)
By submitting an entry through Gleam all entrants are acknowledging and accepting the terms and conditions for the giveaway.
Each Gleam entry is a single entry into the giveaway and stands alone as such.
Entries using any software or automated process to make bulk entries will be disqualified.
The competition may be added to a number of sites for the purposes of promotion.

The winner of the family ticket will be chosen at random by Gleam.

As mentioned above your first entry will be answering the question 'What is your favourite memory from your summer'? This is mandatory. Anyone who enters without answering this question as a blog comment will be disqualified.
Other chances to win will be offered once you have answered this question. This will give you extra chances to win, thus increasing your chances.
Good Luck
£50 Gift Voucher to Spend at Cheerz – Photo Printing

Disclaimer: We were provided with a £50 gift voucher for ourselves at Cheerz and a £50 gift voucher for our giveaway for the purpose of this post/giveaway and review.
We often run giveaways so please follow us on social media to keep up to date.
Why not pin this post for later?