We arrived at Camp Katur in North Yorkshire in a supposed shower. It was in actual fact a torrential and continuous downpour. What is it with the British weather this year? I have a funny feeling summer isn't going to be quite as hot as last year. We followed the signs in and parked up by the glamping site. As we arrived after 5 pm we had to report to the Warden's office by the glamping field. In here we found a friendly couple and their dog waiting for us with a warm welcome.
*We were invited to stay at Camp Katur for two nights for the purpose of my review. All opinions are my own. This post contains affiliate links
About Camp Katur
We were handed a map and they found a wheelbarrow for us to wheel our belongings over to Bears Place. We could have driven and dropped our bags off but hey we are hardened Brits and we wheeled our weekend belongings across the large field. They have a wide variety of glamping options at Camp Katur such as wigwams, hobbit pods, safari tents and even Geodomes (these have glass roofs and sides). It is a few miles out of Ripon in North Yorkshire and set in some lovely countryside.
The higher priced accommodation have toilets, showers and small kitchen areas in them. If you are staying somewhere without these then you will need to use the shared toilet and shower block plus cooking area. As we wheeled our belongings along we could just about make out Bear's place in the distance.
Bear's Place at Camp Katur North Yorkshire Review
Bear's place is in a lovely spot on the edge of the field and is set amongst the forest. It is one of the most secluded spots on the site. As we walked up we spotted a wooden bear guarding his house. There was no time to say hello though as us and our belongings needed to get out of the rain.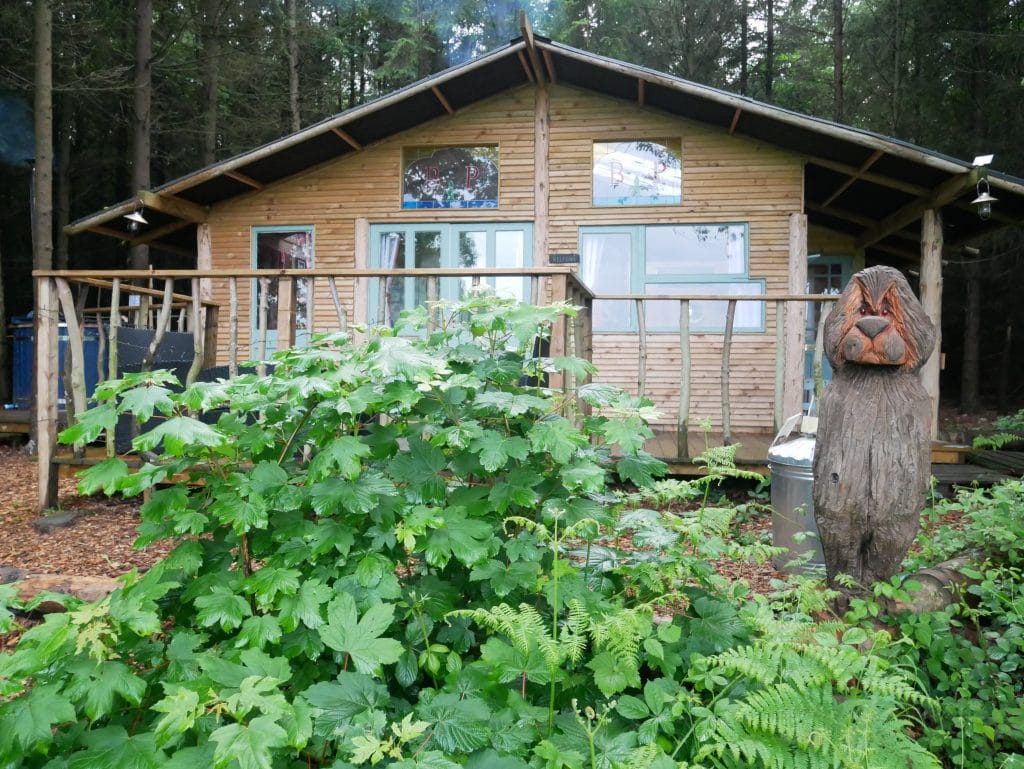 Outside Bear's Place, there's a wooden decked area with seating and a nice set of chairs with a table. There is a large BBQ which we thought you could purchase coals for from the shop. When we asked they only had disposable BBQs. If you do come do bring some coals so you can have a proper BBQ. We had brought BBQ food but looking at the weekend's weather we feared that we might be cooking in our kitchen rather than outside. There is also a wood-fired hot tub that we ended up trying.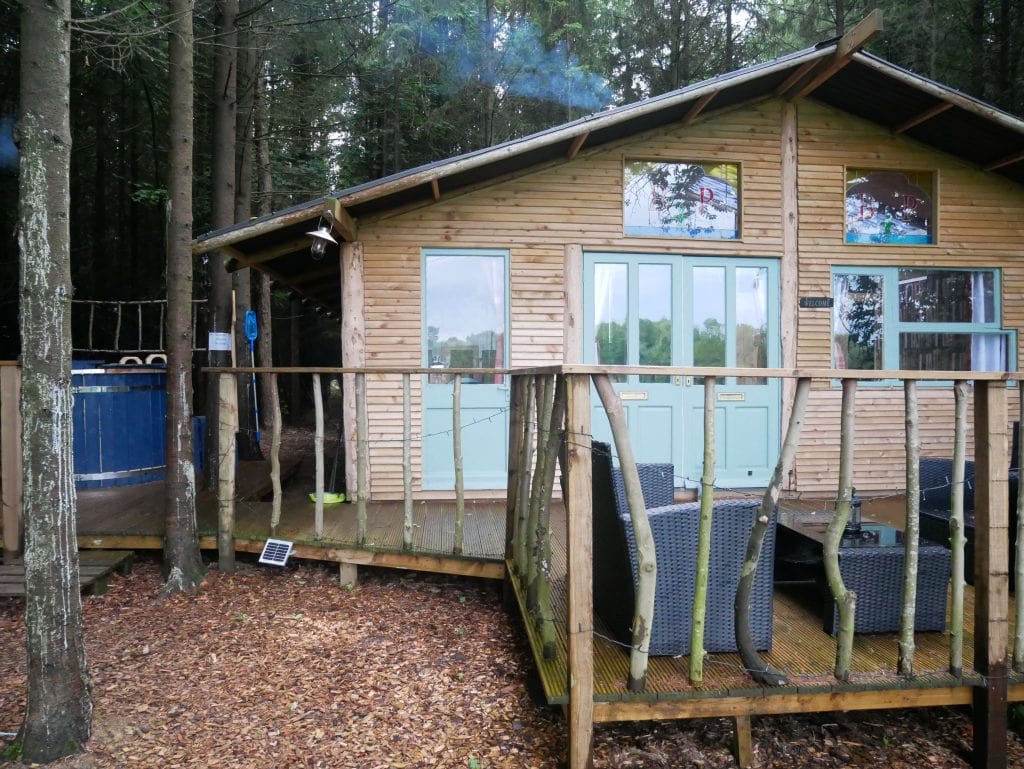 The main thing to note about Camp Katur is that it is off the grid. They have a solar panel which a few of the lights run off. To be honest it's nicer lighting the candles. The kitchen, toilet and shower all have heated water. Don't expect to be able to plug in your GHD's. This is proper glamping and that's how we like it.
For your first nights stay they provide enough wood, firelighters and kindling for the night. My husband had to work so it was just myself and my son. I was relieved that I had fire lighting skills from our years gone by of living in farmhouses. I soon had the fire roaring and turned Bears place into a warm and cosy lodge.
The dining area is set out for dinner and has a perfect view looking out at the hot tub or the field. We pretty much unpacked and decided on an early night. We saw a few families out braving the rain. My trouble is I never come prepared. We arrived with no umbrellas, no wellies and no proper coat with a hood for me. Big mistake.
Glamping in North Yorkshire with Kids
The lovely thing about Bears Place is how 70% of it has been made by up cycling. Because of this, it is incredibly quirky. There are all sorts of unusual features especially the kid's bunk bed being in a horsebox and having a door with a flap.
They have dotted some fairy lights around the place including some solar ones outside for night time. My son loved that not only did he have some fairy lights but there was a battery-powered star that lit up and a disco type light that he soon ran the batteries down on (sorry Camp Katur!).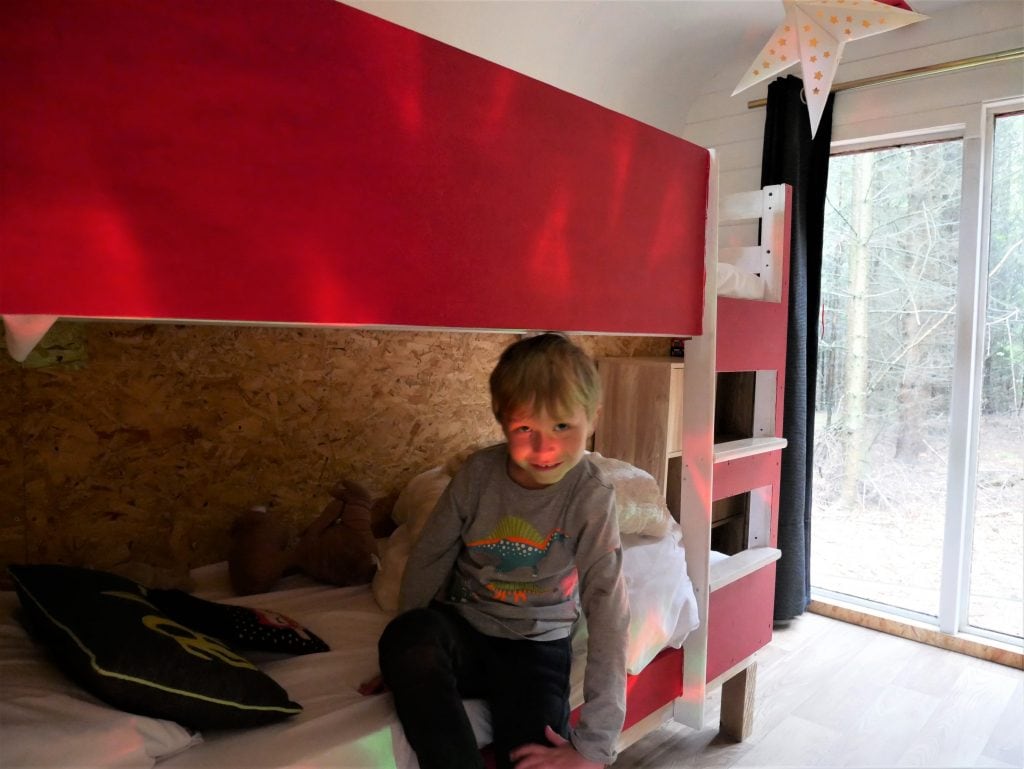 The double bedroom is also enclosed on the outside and has a cute four-poster bed complete with fairy lights. There's also a chess set and a pack of cards to keep yourselves entertained.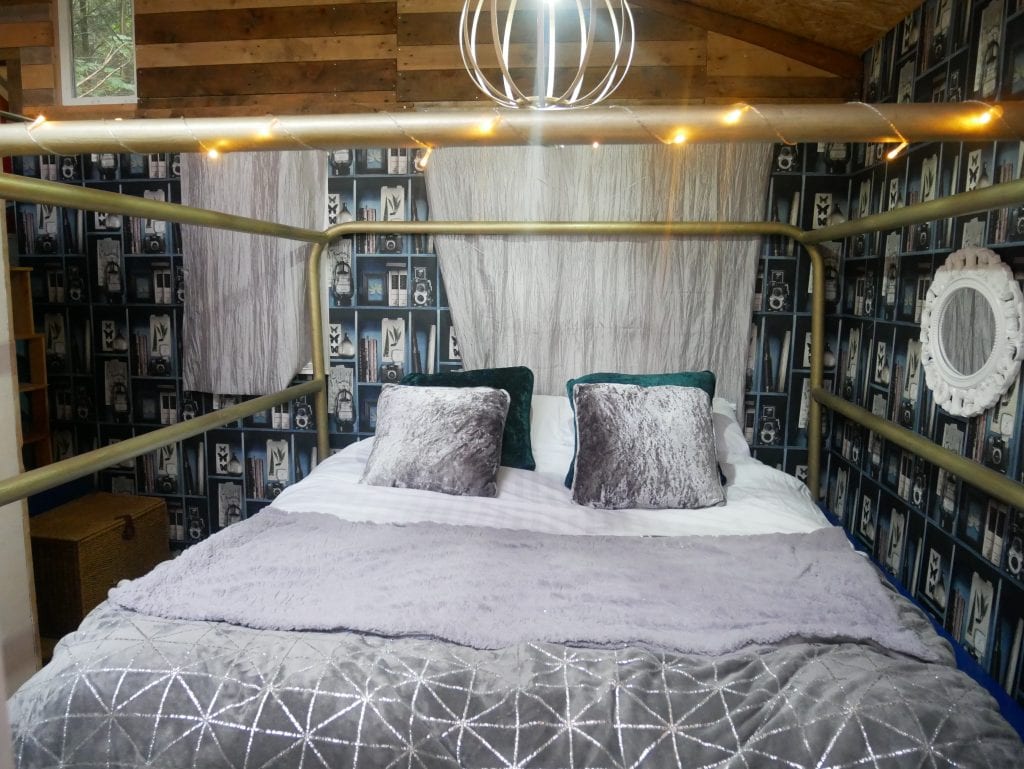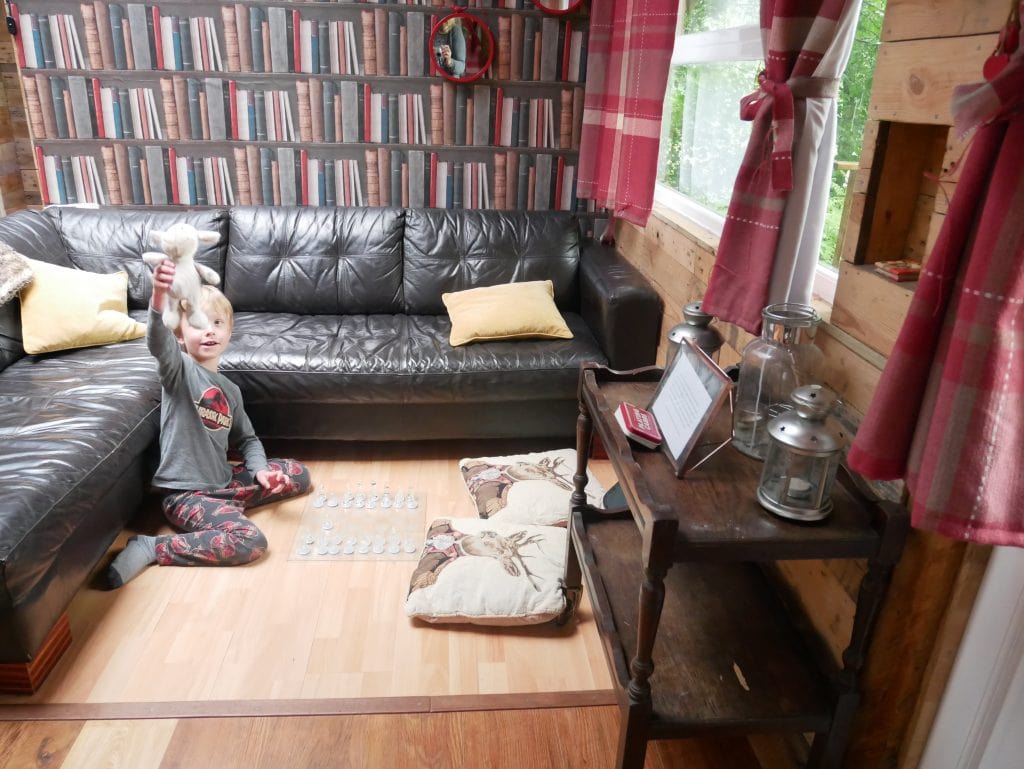 Bear's Place has a small but reasonably well-equipped kitchen. There's also a comfy L shaped sofa just across the room from the kitchen and dining table.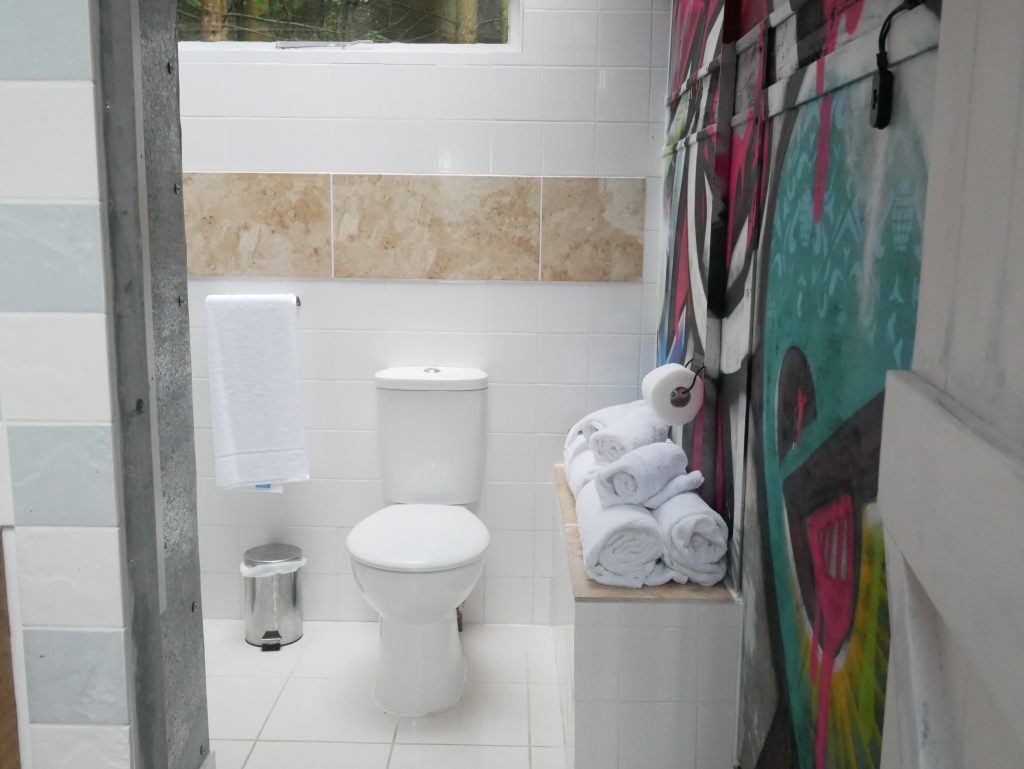 Camp Katur Glamping at Bears Place in North Yorkshire Review
It was still raining the next day and it didn't stop until almost tea time. I've not known it to rain that much for so long. I soon had the fire going again and we ate some breakfast before heading off to buy some umbrellas. We really wanted to find the kids adventure playground as it has playhouses and a big wooden fort but the weather was not kind to us. We did drive by it later on and it looks like a lovely place to spend some time. You can even have a BBQ or picnic there and the kids can play to their heart's content.
The Hot Tub at Bears Place Camp Katur
My son had been badgering me to have a go in the hot tub and have a BBQ. The warden lit the hot tub for us and gave us instructions on how to get it to temperature. I'm afraid we failed. The fire never went out and we kept it well stocked. We almost got up to 37oC but as soon as we stirred the water it shot down to 31oC. He was so disappointed so I took him in at 33oC but my goodness was it chilly and the water had some really cold spots. But we gave it a go. It's not every day you get to heat some water up by burning wood.
A Couple of Things to Note
We had returned to a devastated cool bag that I'd left outside. A squirrel had got into it and eaten all our fruit and half our sausages. We saw the funny side though and at least it's given me the excuse to buy a better and sturdier cool bag. We later filmed and watched it taking the lid off the metal bin and jumping inside. These squirrels aren't daft.
My son thought it was the best and funniest thing ever. He also declared our time here to be the best ever and he wants to return a.s.a.p. It was lovely and even with almost non-stop rain, it didn't dampen our spirits. Camp Katur is in a lovely spot and there's plenty to keep you busy on-site and off-site.
Also, there are no locks. We could bolt ourselves in but we couldn't lock our belongings in during the day. This applies to the other accommodation on site. We took our valuables out with us and kept them in our car.
Communal Camp Fire at Camp Katur
The centre of the field has a wigwam for those wanting to sit inside plus a few benches around a campfire. This is the communal fire. There was waiting to be burnt but sadly it was far too wet. I can imagine this is a lovely social spot on better weather days.
What was provided at Bear's Place
Some of the glamping accommodation at Camp Katur requires you to bring your own bedding and towels. We were provided with both as we were staying at Bears Place. If you don't want to bring your own you can. Otherwise, you can hire bedding for £10pp and towels for £4 pp.
We had also been provided with soap by the sink in the shower room. Toilet rolls, washing up liquid for the sink. Matches, firelighters, one night's worth of wood and kindling. We were also given two big bags of wood for the hot tub plus some candles, tea-lights and a lantern. Please bear in mind that there is no fridge. Make sure you bring a squirrel proof cool bag if you want to keep it outside. It did mention online that each accommodation was provided with a freezer box.
Bear's Place costs around £190 a night for a family. It sleeps four.
Other Facilities at Camp Katur
Also on-site there is a large pizza clay oven, Norwegian Woodland BBQ Pod 'The Podfather' (additional charges apply), Musical Instruments (great for evening sing songs around the campfire!) – we didn't come across these. Plus Eco Spa with wood burning hot tub and Sauna (additional charges apply) and Little Tinkers toy den.
Also at Camp Katur there is Camp Hill adventure. Guests have access to the wooden fort adventure playground and wooden houses here during their stay. At Camp Hill you can try quad biking (8+), Segways (10+), Footgolf and High ropes (6+). Charges apply for all of these. Camp Hill is run separately to Camp Katur.
---