I was given a $250 glamping voucher about a year and a half ago to book ourselves a glamping holiday somewhere. I really struggled to find anywhere that would accept our voucher though. Luckily I eventually found Baxby Manor in Huthswaite near York, North Yorkshire and we booked in for a couple of nights this summer. We stayed in a Hobbits House at Baxby Manor and below you will find my review of our glamping accommodation and the site itself.
The hobbit houses look like something out of Lord of the Rings. They also have a wonderful looking treehouse at the site plus eco pods including one family pod. They also have plenty of camping pitches.
Hobbit House Glamping Pods
Arriving at the Hideaway at Baxby Manor
Check-in at the Hideaway at Baxby Manor is between 2 pm and 6 pm. I'm not entirely sure what happens if you arrive after this time. When you book a stay at Baxby Manor you will get a lot of pages to read about the rules and regulations for the site of which there are a lot. It is also stressed that when you arrive you ignore your sat nav as it tries to take you down a farm track. This was indeed true but there are plenty of signs to follow and we easily found our way onto the site. In fact, it's one of the better-signposted places that we've ever been to.
When you arrive there are a few designated car spaces for checking in. You then have a really short walk to reception. This is also where there is a small shop for the site which sells limited essentials plus cold drinks which is good as there is no fridge for drinks in the pods.
There is a communal fridge for meat and dairy but you are not allowed to put any drinks in there. They have a stream for the cold drinks! We were handed another piece of paper with more rules on it and the keys to our hobbit house. Luckily we only had to drive a very short distance to park our car overnight and everyone, even campers, have a designated car parking spot.
Review Hobbit House at Baxby Manor, the Hideaway
The hobbit houses are in a group of five and they look like they are straight out of the Hobbit film. My son was virtually bursting with excitement by now. This was our third glamping trip of the year and our first time staying somewhere we can actually lock which was nice. Each house has a round door, green Astroturf roof and a chimney sticking out the roof. They are very quaint and actually more spacious inside than they look from the outside.
Inside the hobbit houses sleep up to four people. There is a double bed and two single beds with one bunk being over the double. No linen is supplied so we took our own sleeping bags and pillows.
As well as the wood burner there is also a table with two benches in the hobbit house plus a small shelf with limited crockery and a gas stove. You have to bring your own pans.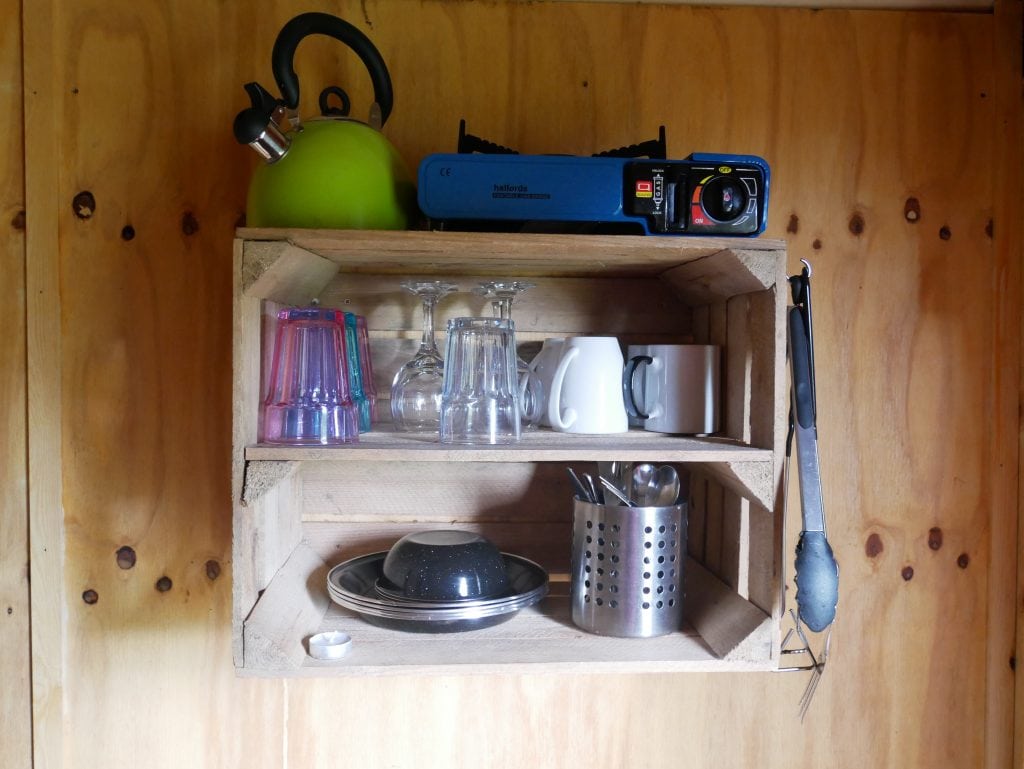 You can also cook over a wood fire, although you will have to purchase the wood and the grate for cooking on which costs £5 to hire. Inside each house, you are encouraged to take your shoes off and wear slippers or flip flops. We are so used to glamping with wood for the fire provided, matches and candles that it was quite a surprise to have nothing like that included in our booking.
Outside we had a wooden table that was like a big cog. There was a wooden double seat and two single seats. We had three mini bean bags inside the house which we used on these seats. This is next to the outside fire pit where you could toast some marshmallows or have a BBQ. The stream was also at the bottom of our outside area but we couldn't access it from here only further down. It's a lovely shallow stream perfect for paddling. I saw some kids with fishing nets which was a great idea.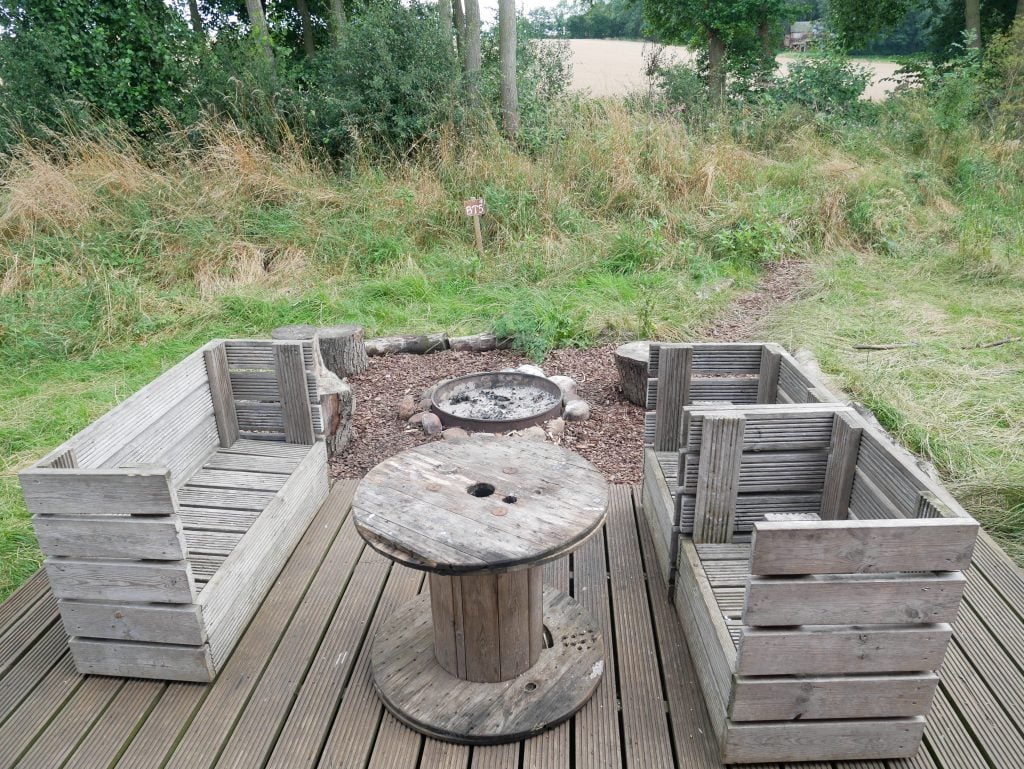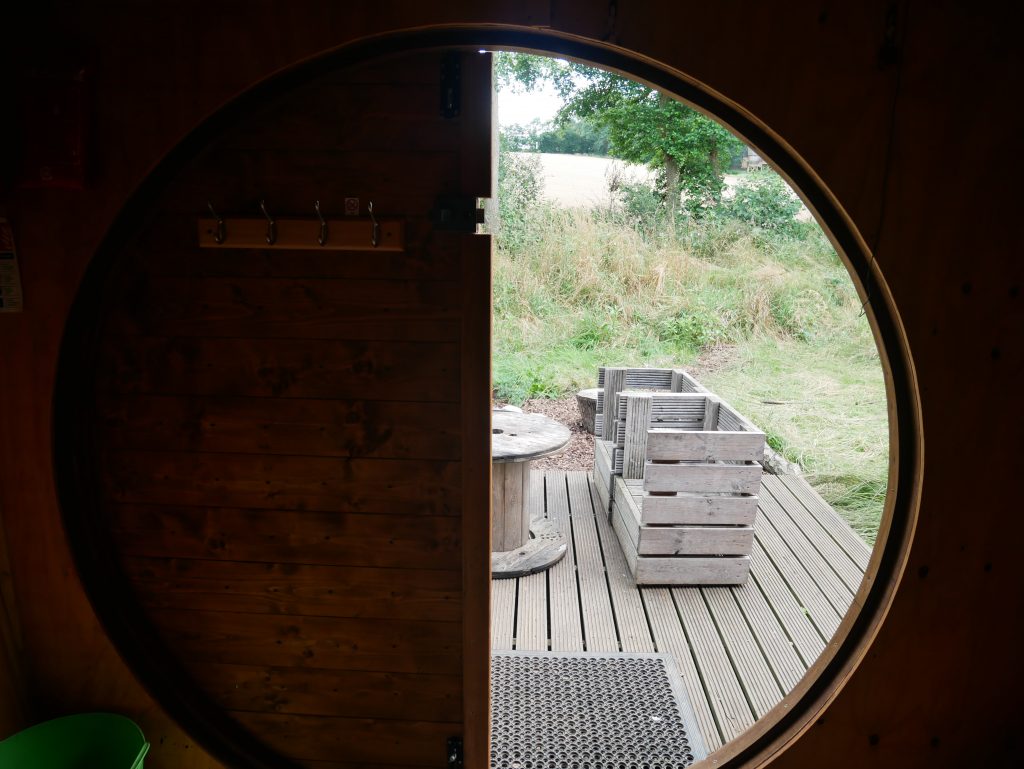 The hobbit houses have no electric so I recommend you bring a charger pack with you. There's also no tea lights/candles and it's recommended that you bring your own tea lights with you. We did have some fairy lights above our door that just wouldn't turn on. For some reason, they turned on randomly in the middle of the night and weren't especially bright. We were also plagued by wasps during our visit so we rarely had the chance to open our doors.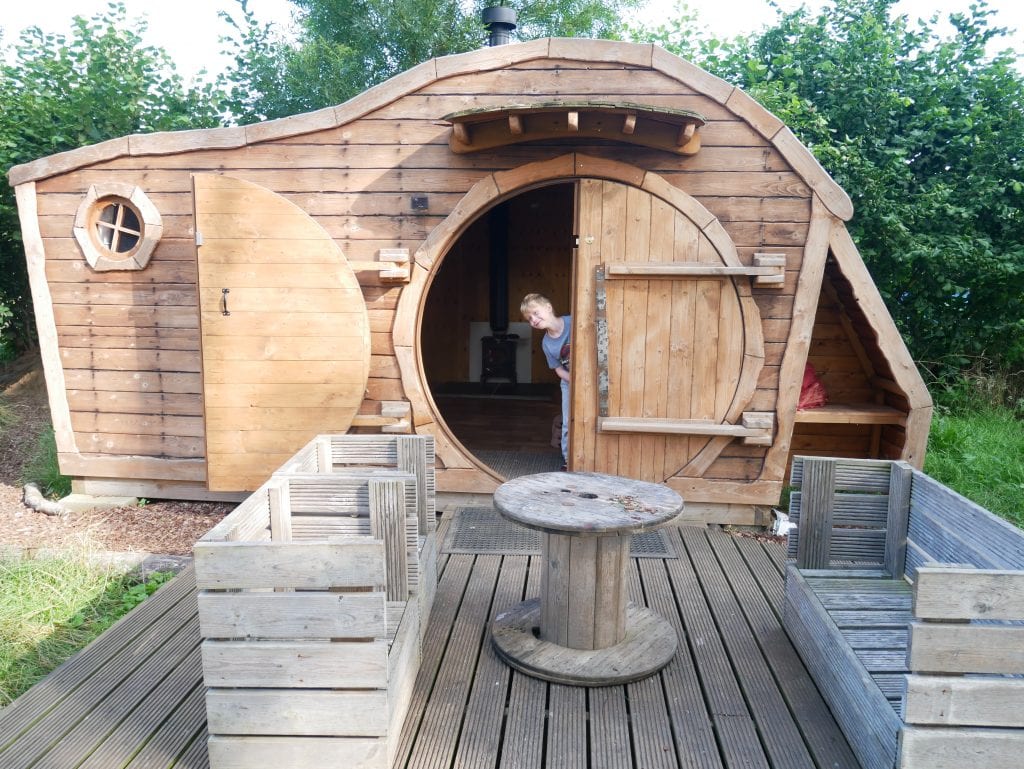 There is free WI-FI in the main reception building but we did not pick this up from our house. This is also where the toilet and shower block is for the glampers and campers. They do try to keep it clean by not allowing outdoor shoes in there. We used the bags provided for our shoes but you can take flip flops etc. There is also a separate pot washing room.
Also outside the main reception building, there is a quaint caravan which is open during the summer holidays from 8:30 am until 10:30 am for coffee and croissants and more. From May to September outside of the holidays they are open every weekend. Twice a week they also have craft activities here including making your own slime. There is no playground on site but there is one approx. 12 minute walk away in the local village.
There is a lovely restaurant, the Tomahawk Steakhouse, a twelve-minute walk from the Hideaway. We had a lovely walk there and back to eat on our first night. If you get there early enough they have a great value for money early bird menu. I can highly recommend the Chicken Katsu.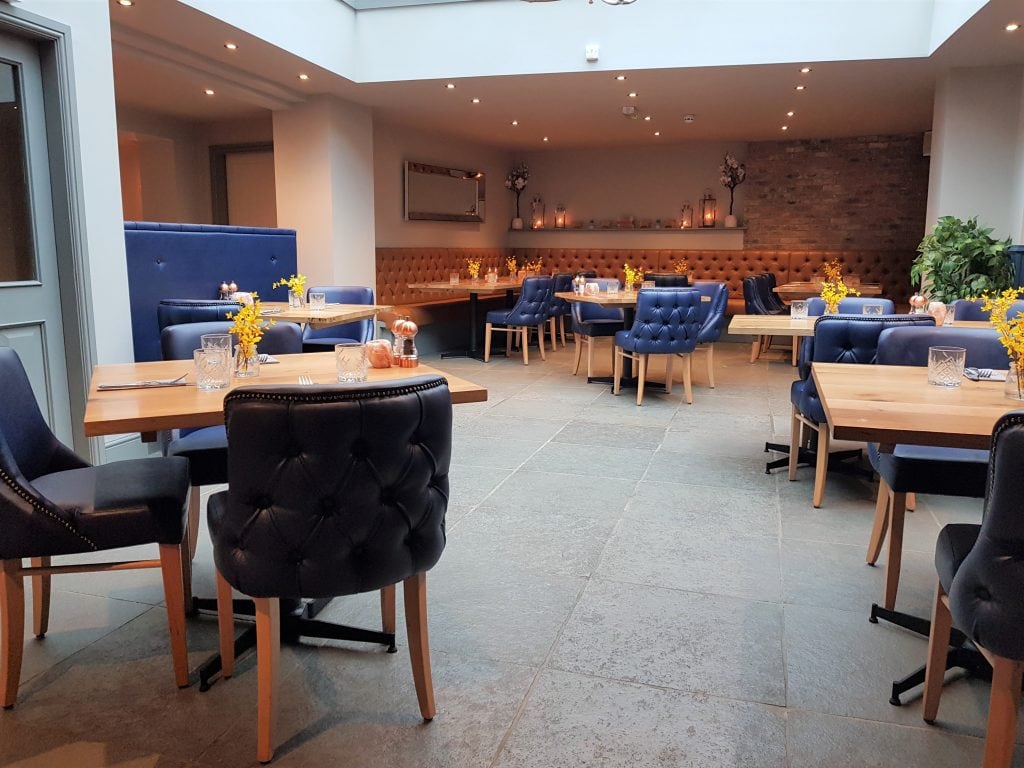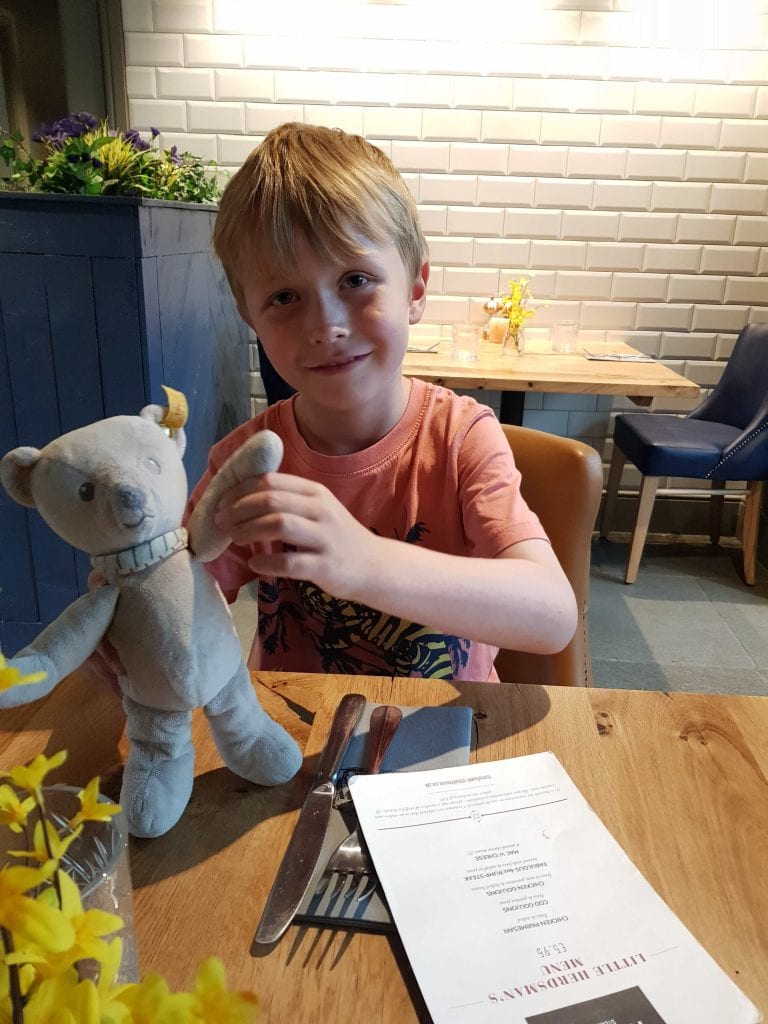 We really enjoyed our stay at The Hideaway, Baxby manor. It's a great base for plenty of wonderful days out. We'd love to return and we have our eye on the amazing looking new treehouse that they have there. It was also lovely and quiet with no roads to be heard. The only thing I'd say is it would be nice to not have so many rules. It's all a bit over the top for a camping holiday. We've stayed at similar places which have been far more relaxed.
Important Information
Prices for the Hobbiton Hobbit's house start at £48 a night offpeak and £95 a night at peak times. A minimum stay is for two nights and the Hobbiton can sleep up to 4 people.
---