Talk about last minute plans. We were stuck between deciding on taking the caravan out again this year or doing something a bit different. So two days beforehand we booked to stay at the Knight's Village at Warwick Castle and experience glamping for the first time. Below you will find my blog review of the Knights Village and just how we found our first glamping holiday. There is even a video from our stay at the end of my post.
*This post contains affiliate links
Our glamping tent at Knights Village Warwick Castle
There are three types of glamping tents at the Knights village. There's the standard Warwick tent, plus 1 princess themed tent and 3 large Kings luxury tents. My husband booked through booking.com which seems to be the main place to currently book the tents as I can't seem to get anything to show up as available on Warwick castles website. We paid £149 a night for a standard tent with 1 double and 2 single beds.
Most of the standard glamping tents are located in a row off a wooden walkway. We were just around the corner from this.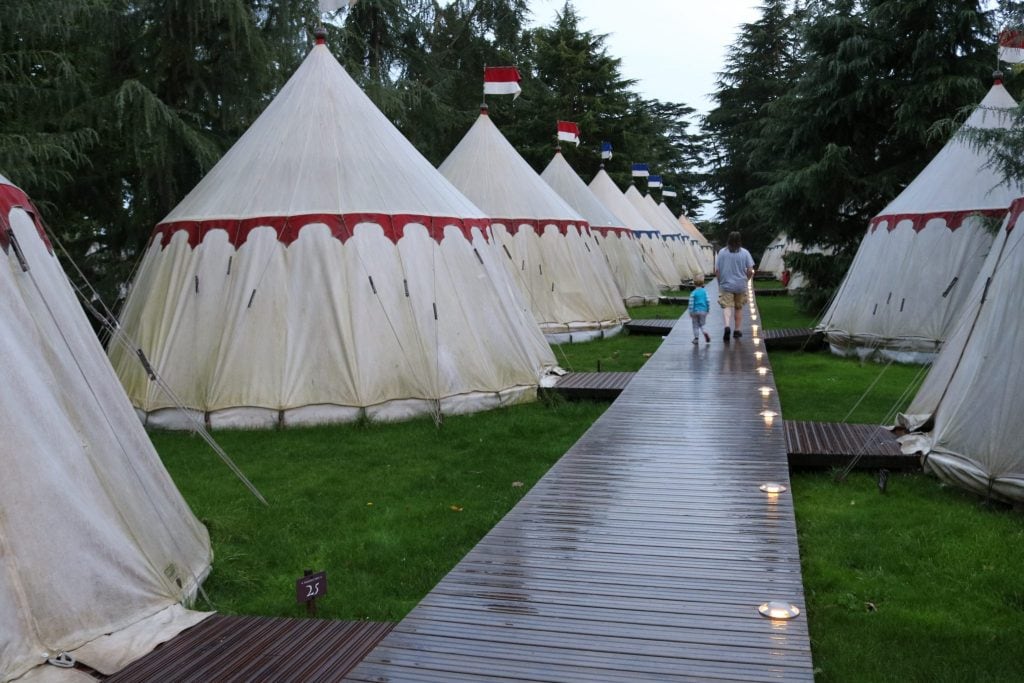 Most of the tents and lodges are accessed by rattan pathways or the long wooden walkway pictured above. This is a great idea and I think they should also use the rattan paths around the toilet and shower facilities. It saves your tent from getting mucky.
Inside our glamping tent at Warwick Castle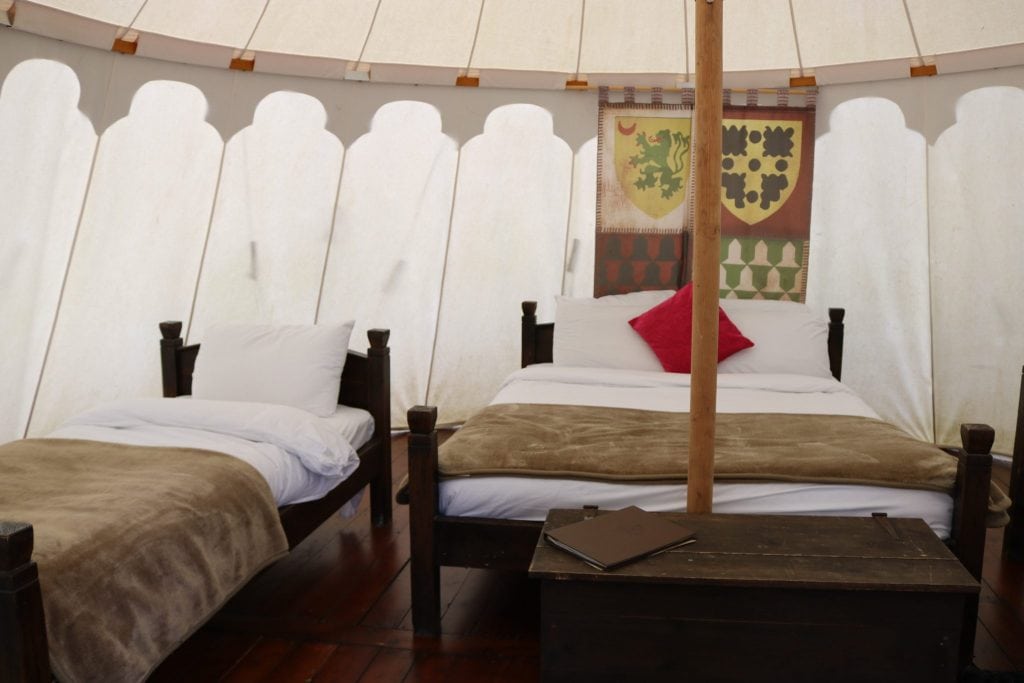 The Warwick standard tent has a wooden floor. We had a double bed and 2 single beds. There was a small table with 2 small stools, a light, chest, bin and a mirror. We felt that they could have done with somewhere to hang our coats, even if it was just a few hooks hanging from the main pole. Linen was included and the blankets were great for keeping us warm at night. You have to bring your own towels if you stay in a standard tent.
For Jamie, it really felt like he was staying in a Knight's tent and he thoroughly loved the experience. Although there was no TV the onsite and free wifi was really fast and we streamed some movies when we needed to stay inside.
We also spent a bit of our time sat on a picnic bench down by the river. Our tent looked out at the river. The river was packed full of geese and the odd swan. This is where you will find the evening entertainment when it is on.
You can book a stay with or without entrance tickets to Warwick castle. Look out for special offers throughout the year. Such as a stay for a family of four in a glamping tent with breakfast and two-day castle tickets included for £109.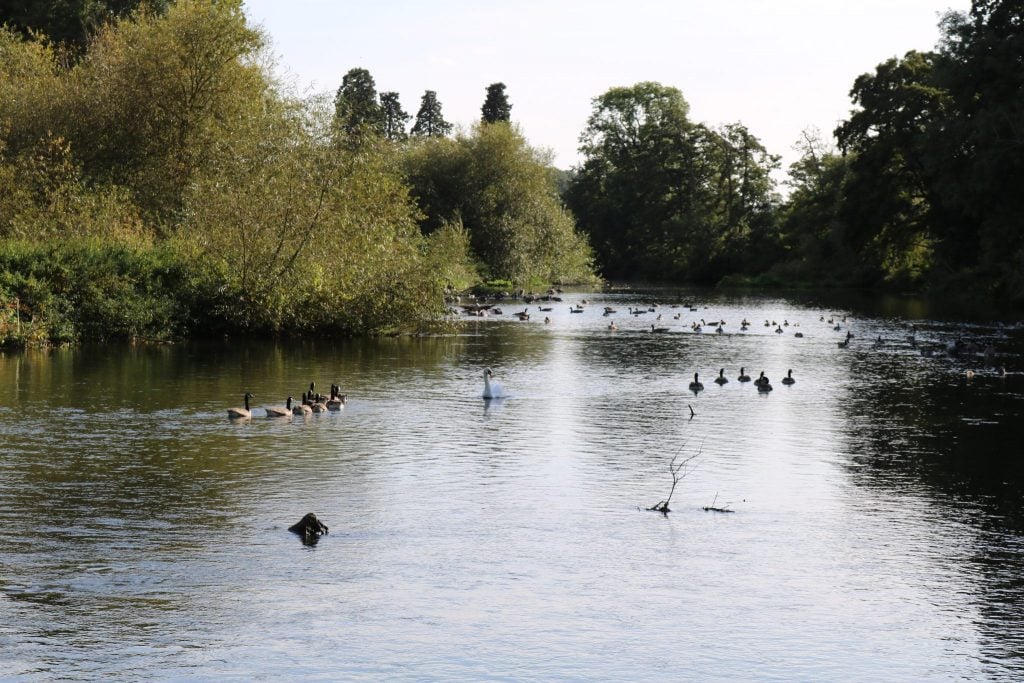 Your tent is secured by a padlock that the site provides for you. Most of the walkways are lit at night. We needed the torch on my phone on the odd occasion that it was really dark. We took our wellies as an easy slip on slip off option. As we stayed in late September it was cold at night. I was glad that I'd packed us fleece pyjamas and plenty of layers.
Facilities at Knights Village Warwick Castle
For the glampers, there is a couple of shower blocks and a toilet block for men and women with 3 toilets in each. This was fine on Friday night as it was quiet but we did find ourselves queuing on the busier Saturday night. It was the kind of 'posh' portable toilets that you find at some festivals. You need to take your own toiletries and don't forget towels.
The Knights village has free parking included in the price of your stay.
One thing we would have liked to have seen there would be a wooden play area for the kids.
The setting
You can just about see Warwick castle from the area down by the river. It is just a short 5-minute walk away and there is a specially coded access gate if you are staying there with a visit to the castle in mind.
The site itself is set amongst woodland. It's really lovely and the glamping tents are located near to the lodges.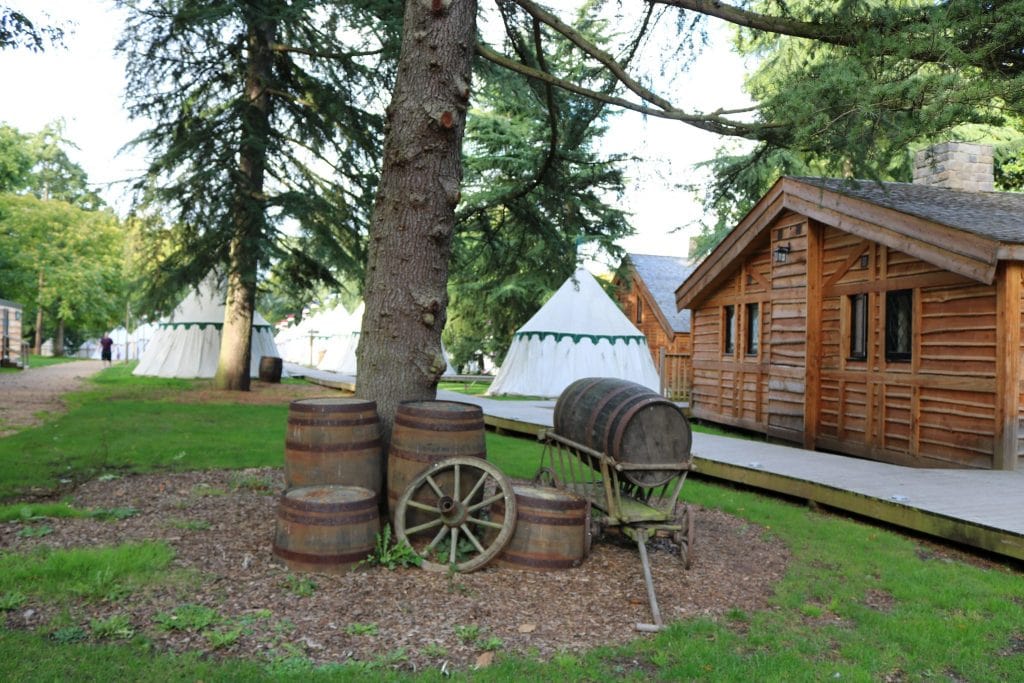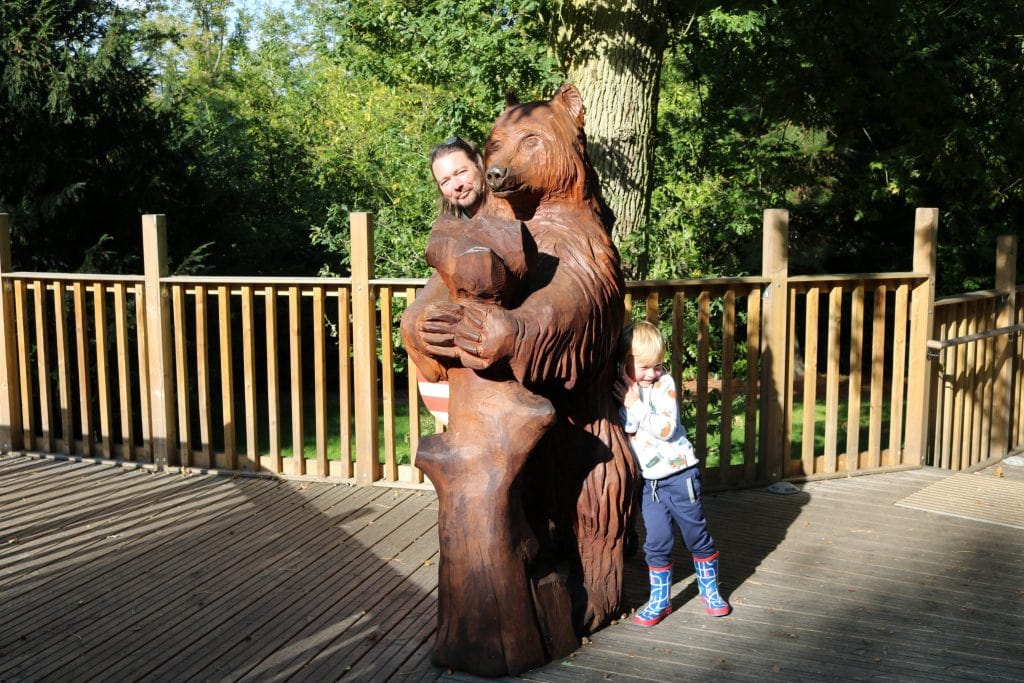 Entertainment at the Knights Village
Entertainment is provided in some form in the evenings. On Friday night it was very quiet and Jamie and another little boy had centre stage for Knight's school. This was the highlight of Jamie's visit. He loved the attention and being able to join in and pretend to be a knight. He was even knighted at the end which he was so happy about. The Knights were incredibly friendly and made the boys feel really special. They kept coming back to talk to them and they had two sessions practising with the knights.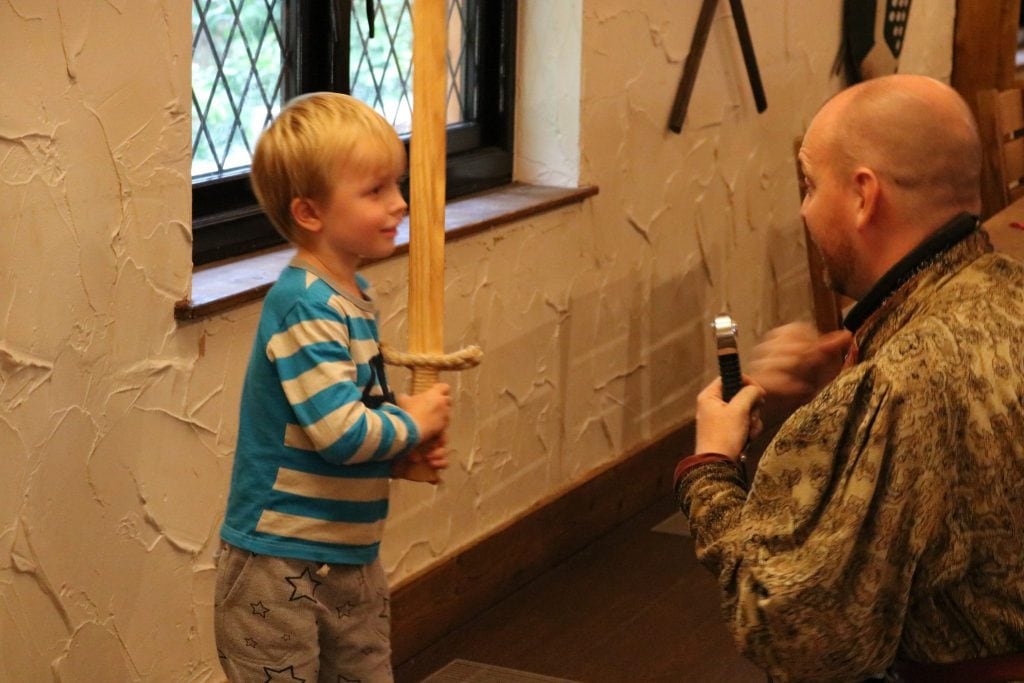 On Saturday night it was far too busy for Knight's school. The knights on duty did perform a mock sword fight in the restaurant though which was well received. The website states that other evening entertainment involves a Jester school, bird of prey experience and have a go archery. We saw no sign of either so I assume these are for the warmer and lighter evening months of the year.
Other accommodation at Warwick Castle Knights Village
In all honesty, we wished we'd paid the £70 extra (prices may vary) and stayed in a lodge. For the time of year, the warmth of the lodges would have been welcomed. Plus we do prefer running water. This is why we own a caravan and not a tent. The woodland and knights lodges have 2 double bedrooms, TV, patio, tea/coffee making facilities, wet room, heating, terrace and more.
Dining
A continental or cooked breakfast is included in your stay and is located in the Medieval Banqueting Hall. This was from 8 am during our stay. We could not fault the breakfast. There were hot and cold drinks. Toast and jams, lovely warm pastries, pancakes, waffles, full English options, cereal, fruit and much more. It is served under hot plates and you can take as much or as little as you like.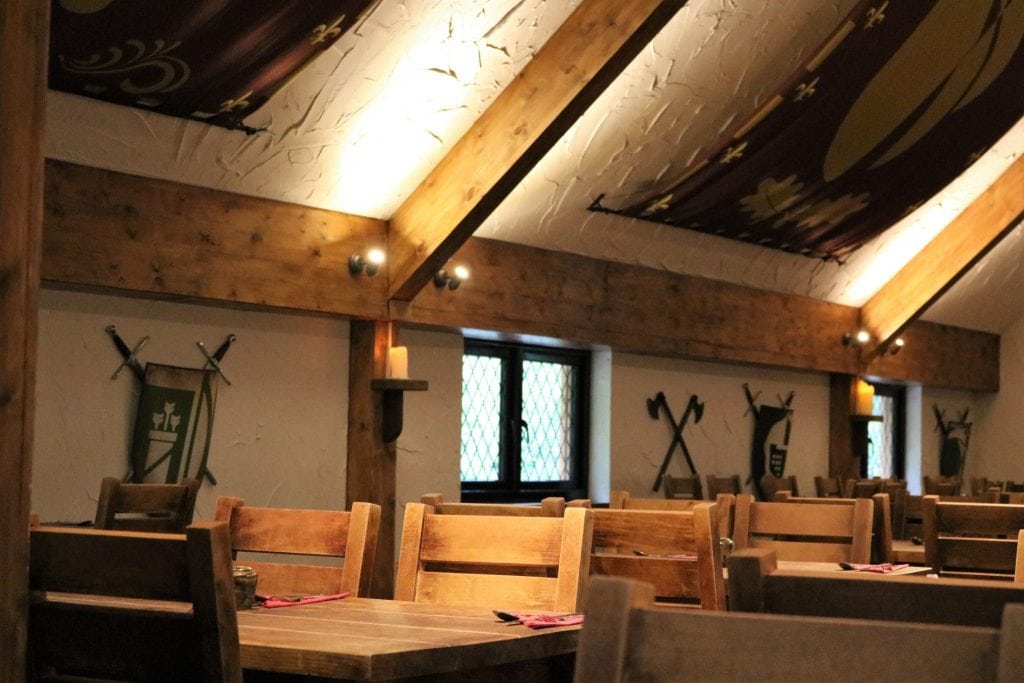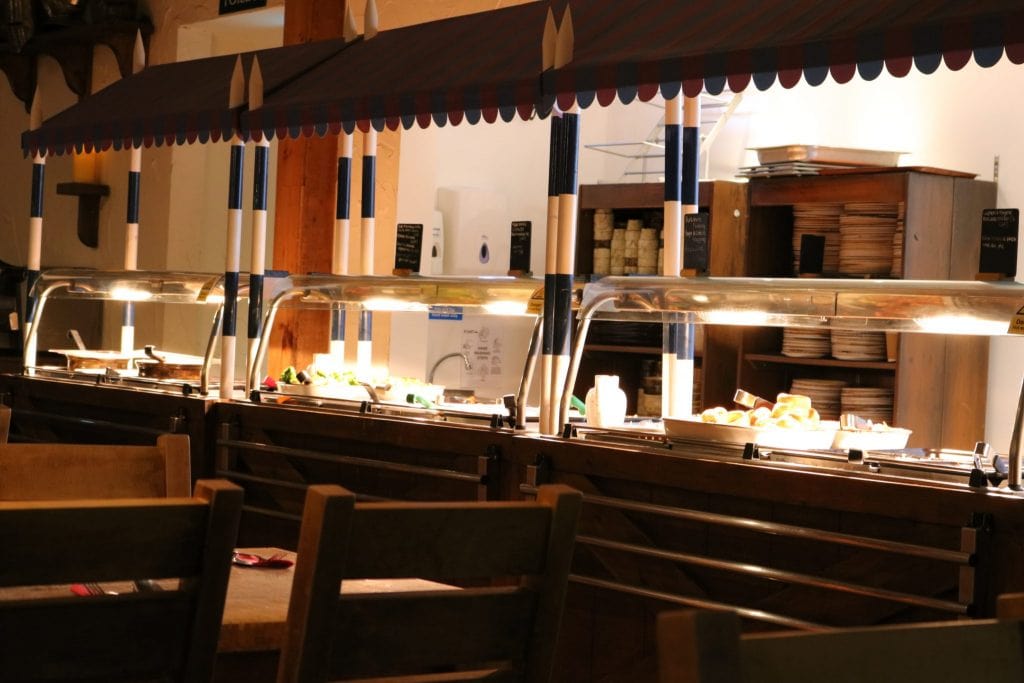 Dinner is an all you can eat medieval-style dinner for £18.95 per adult and £9.95 per child. Although a little on the expensive side this does include three courses (as much as you can eat) plus soft drinks. We really enjoyed the food on Friday night and ate there again on Saturday.
They had soup and salad to start. The choice of main meals was very impressive. There were choices for a roast dinner or you could add a Quorn cottage pie, vegetarian sausage casserole, cod in sauce, steak and ale pie or something from the range of kid-friendly food. They also had a good selection for dessert and we can all highly recommend the lemon drizzle cake.
You must confirm your time for breakfast and dinner in advance, especially on busy days.
We are all set to return to Warwick castle next year so keep your eye out for my review.
My Glamping top tips
Take warm pyjamas or clothing for the night…just incase
Have a torch app installed on your phone, or a torch if this isn't an option
Bring some earplugs. I was the only one wearing them and I slept better than they did
If you want cold drinks buy them before you get there and keep them in a cool bag – take your own cups
Take something to entertain you all – we had apps on the iPad and films on the laptop. You could also rent games. We also took along a few small toys.
Don't forget waterproofs in case it's raining when you need the toilet
Take wellies for all if you have them. They are great for slipping on and off
I hope you enjoyed my review. I'd love a comment below please. Have you ever been glamping before? Do you have anywhere to recommend? We paid for this stay ourselves.
Knight's Village Family Vlog
Kenilworth Castle is not too far from Warwick Castle. It's well worth a visit if you have the time.
---