One holiday we've had at the top of our family bucket list is a narrowboat holiday. We were lucky enough to experience this during our final weekend of the summer holidays. We were invited to review by Drifters Narrowboat holidays and ABC Boat Hire who showed us the ropes and hired out one of their narrowboats to us for 3 nights and 2 and a half days.
The extensive canal waterways in the UK are now managed by the Canal & River Trust. My husband and myself have never experienced a narrowboat holiday before but we have both been on narrowboats as children. I don't think our son had ever even actually seen one before and it was nice to be able to teach him the difference between a canal and river and the great importance our canals had and still have for different reasons today.
Our narrowboat holiday took us along the Leeds to Liverpool canal. This included the Trent and Mersey canal and then the Bridgewater canal.
Disclaimer: This is a collaborative post with Drifters narrowboat holidays. We received a complimentary 3 night boat hire in exchange for my review.
First of all, don't be nervous
The people at Drifters Narrowboat holidays are there to help and give their wealth of advice and tips to you. The reason we've had a canal holiday at the top of our list but never got round to it is that we kept changing our minds. We were a bit nervous about the ins and outs of a boating holiday such as where do you park at night, how do you navigate, are the boats easy to steer. They will set your mind at ease with any questions you may have and hopefully I will cover a lot of questions and answers below. If you have anything you want to ask me please do so using the comments section below.
Where can you sail
Drifters have over 600 boats to choose from, sailing from around 47 boatyards spread across England, Scotland and Wales. The UK has two thousand miles of navigable waterways and every holiday you choose will be different. The scenery will be ever-changing and for many miles, you can appreciate the unspoilt and beautiful countryside.
You can choose a route to suit you such as those with pubs along the way, things for the kids such as playgrounds, parks and more. You can aim to do as many or as few locks as you choose and I would certainly recommend a tunnel or two. The tunnels were our son's main holiday highlight, that and fishing off the back of our boat.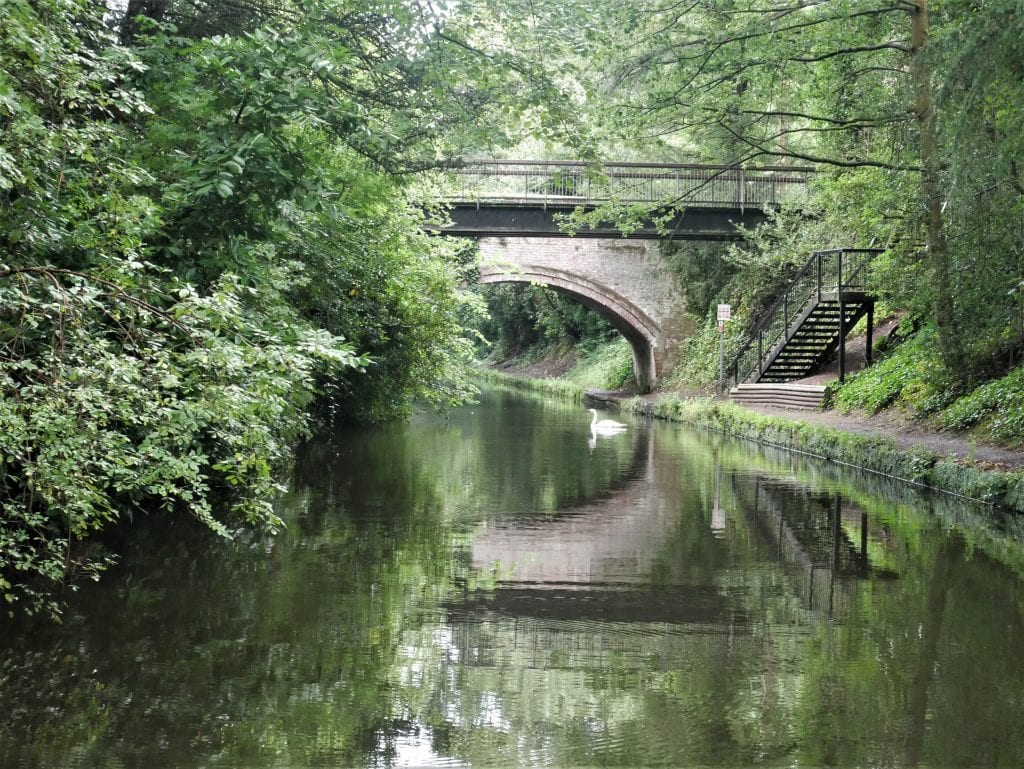 Top questions answered
Where do you park your boat at night? The answer is pretty much anywhere within reason. You just need to use common sense and not park where you will cause an obstruction. We tended to park where the canal was a bit wider and avoided bends, bridges, locks and tunnel entrances. Avoid all of these and there will still be more than enough choice to moor for the night.
Most pubs have mooring available and if you arrive early enough you should find somewhere to moor up nearby. So long as you moor on the towpath side you won't need to worry about private moorings. Some main rivers do charge but you are fine to park as above on canals.
How hard are the locks and tunnels to navigate? We were recommended a route with just one lock that we had to navigate on our way out and our return. We'd watched a video, we'd been given advice but the lock looked nothing like the video. Luckily help was on hand both times and you will find great comradery and helpful people along the way. It was easier than it looked and we would consider a route with more locks in the future.
A lot of tunnels run on timed entry so you won't need to worry about another boat coming the other way. Although they require lots of concentration it's not too hard to point the boat in the right direction.
Are the narrowboats easy to steer? It takes a few minutes for your brain to get used to the fact that you have to steer to the right to go left and vica versa. The rudder can have a mind of its own so full attention is always needed. We both loved being in control though but I wouldn't recommend little ones give you a hand.
Top things to pack for a narrowboat holiday
It is a good idea to check what is provided first with your boat hire. We had all linen included and both hand and bath towels. Toilet roll was also included plus a small pack of essentials which included a sponge, bin liners, matches, sewing kit and eco washing up liquid.
They also provided us with some tea and coffee and small UHT milk cartons, plus a pack of cards and a bird spotting book. We had a TV and a radio but never managed to get the TV tuned in and the radio only two channels. There was limited free Wi-Fi on board which worked fine, you won't always get a signal for your phone.
My essentials are – DVD's for the TV as we never got TV reception, binoculars, umbrellas (big golf umbrellas, we had one provided), waterproofs (if you're driving and it's raining you will get very wet) again we had waterproofs included for 2 adults but not for the youngster. Plus various things to keep the kids entertained such as fishing rod, tablet, mini board games, colouring. An ecological soap and shower gel/shampoo for the shower room. Warm clothes – it's always colder on the water. I also recommend you take plenty of food supplies just in case there's nowhere convenient to stop. Don't forget to take plenty of duck food!
Watch a video of our narrowboat holiday.
Review of our Canal Narrowboat Holiday
The first thing I recommend you do is to arrive at the earliest time possible at the relevant marina or boatyard to collect your narrowboat. As we were sailing from Anderton Marina in Cheshire we had a bit of a drive ahead of us and although our boat was ready for us from 2:30 pm we aimed to arrive at 3:30 pm. The M62 had other ideas and we didn't arrive until 4:00 pm. While this isn't an issue if you have driven a narrowboat before for us as newbies we did leave our arrival a bit too late. Most boat hire companies will not allow new drivers to arrive late as there will not be enough time to run through everything.
We had been recommended the Anderton to Lymm Leeds to Liverpool canal for our short break. Due to our late arrival, we never quite made it to Lymm but we weren't far off. I had downloaded a few maps beforehand but none of them made sense to me. There is a range of really handy canal companion map books which we purchased one of from their shop. We couldn't have navigated without it as it had everything we needed to know detailed in it. I highly recommend you buy the appropriate book to your holiday.
You can purchase these guides on Amazon. Here's a few examples.
Bunting Narrowboat – Inside and Outside
We hired a Bunting narrowboat which was a 47ft cruiser. You can get small and you can get bigger boats. Our boat slept five which was two in the lounge area ( you have to convert the table) and three in single beds in a separate bedroom. We had central heating although we didn't need it during our holiday.
There was a small but perfectly formed galley kitchen. In here there was everything I needed crockery and pan wise and the fridge was big enough for our needs. The boat had lots of cupboards for storage and two wardrobes for clothes. We also had a shower room with a basin and an electric toilet.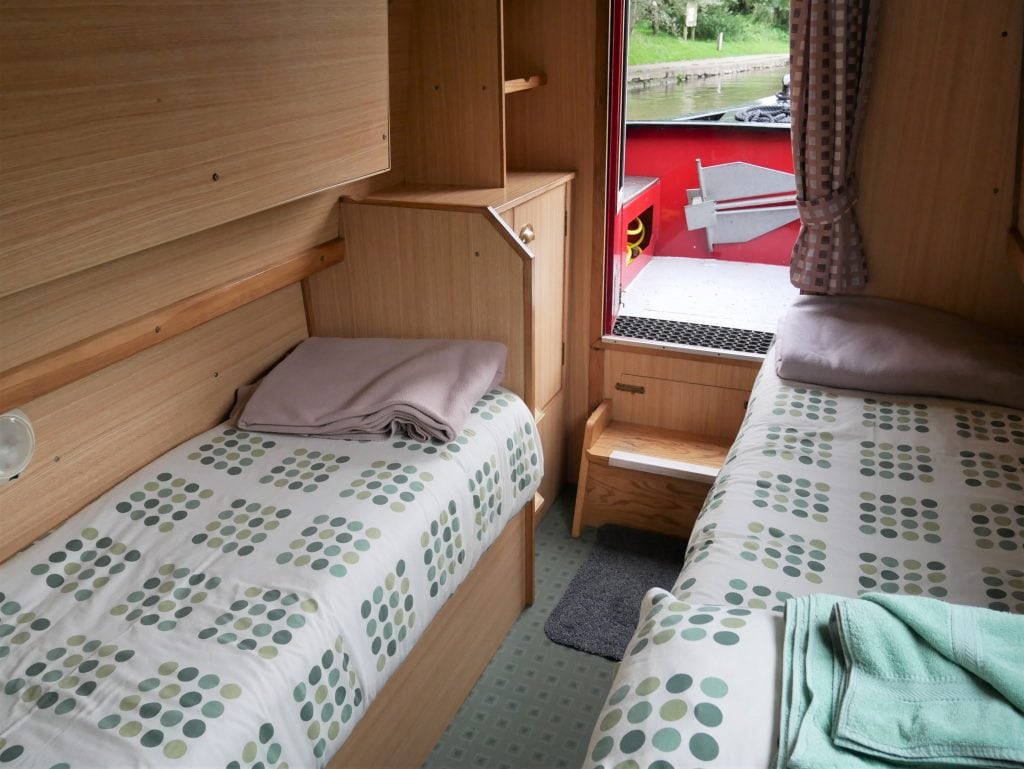 We left a deposit of £50 for fuel and after 16 hours of driving we used around half the tank so we received the money we hadn't spent back.
Outside you could access the front of the boat via the bedroom and the back via the kitchen. There was enough room for us all to stand in the 'driving area'.
Day 1 – Night 1
We were able to drive our car down to near our narrowboat and unload all our bags onto our boat for the next three nights. We then had to watch a DVD about navigating locks and we also had a demonstration. Our son was handed a life jacket which is available on request. After all this, we boarded the boat and we were shown everything we needed to know.
Luckily there was also a large handbook provided detailing everything we ran through. We then had to drive ourselves out of the marina and a short distance after that while we were given full instructions and told where we were going wrong or right. After that, we were left to our own devices.
We passed the Anderton boat lift which might be worth planning into a trip although the entrance to it looks very tight. I will talk more about this towards the end of the post.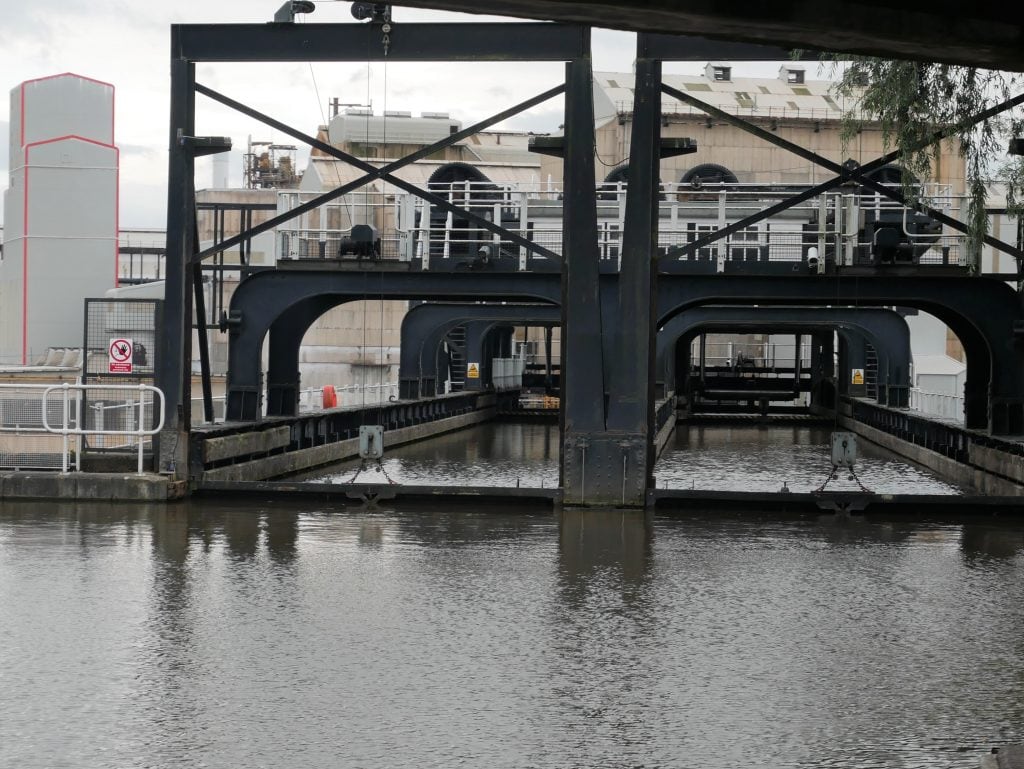 Each page in the companion book is detailed with mileage and the average time for completion for each section of the map. Driving time from Anderton to Lymm was around 8 hours as this was a there and back route for us we were looking at 16 hours driving over two and a bit days. I would say that you wouldn't want to do any more than that and I'd recommend 6-7 hours driving a day. If you are a novice you can expect it to take much longer than the recommended time.
Once out of Anderton we arrived at the Barnton tunnel which is 572 yards long. Although relatively long it isn't governed by times you can and can't go in. It is basically one rule if you see a light in the tunnel don't enter. After a few long blasts of our horn and full illumination of our narrowboat, we entered the tunnel. It was slow going for our first time and my husband was certainly quicker the other two days.
The tunnels are very dark and really quite spooky which our son loved. They are quite an experience! Once we emerged from the tunnel we were soon near the next tunnel. It was getting late by now and you're not allowed to travel in the dark on the canals. So although we hadn't gone as far as we'd hoped to by now we moored up for the night.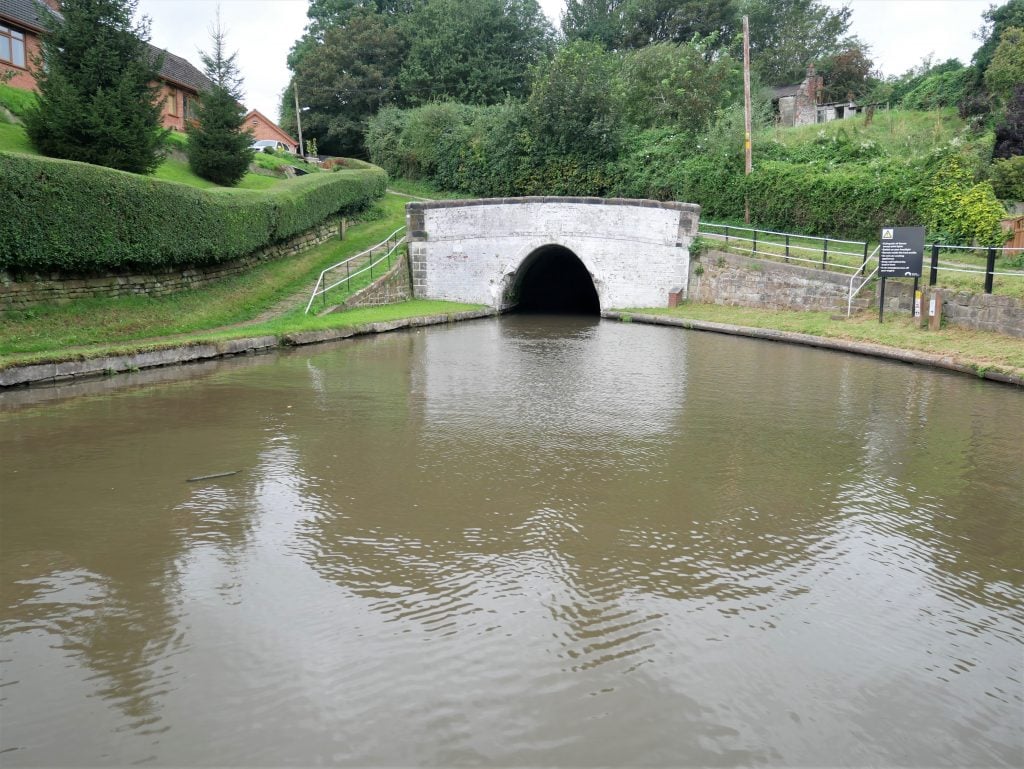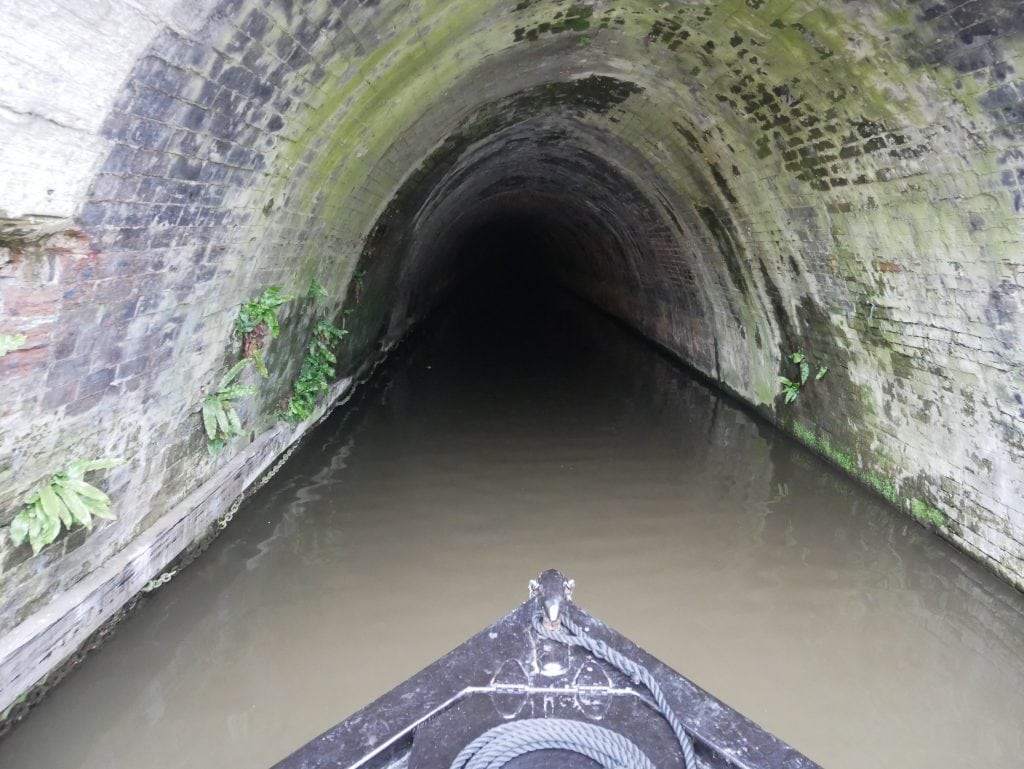 We moored up just before the Saltersford tunnel which was a lovely and quiet spot. I cooked some tea and we all enjoyed a bit of fishing. We were successful every time we fished on the canal, which our son was delighted about. He was so brave holding the fish and was disappointed when it was a spiky fish that he couldn't hold.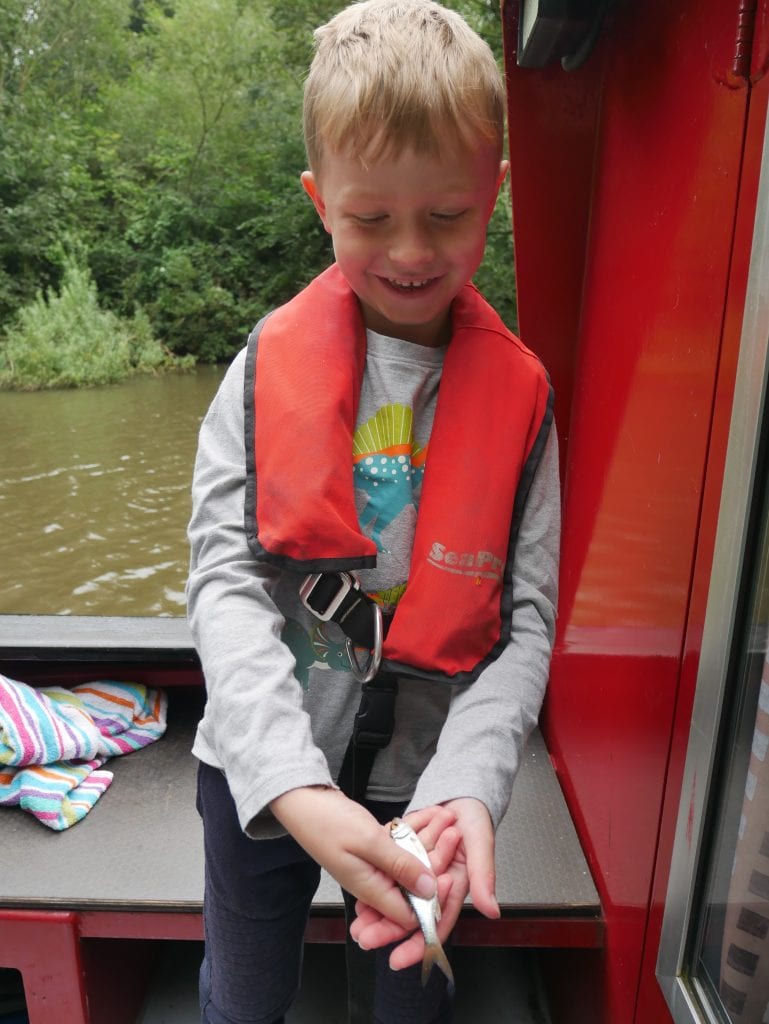 Day 2 – Night 2
We all had a wonderful and peaceful sleep on the boat. One thing we noticed about the canal was how quiet it was. Our boat was motionless overnight as you are not allowed to sail at night. We also rarely passed other boats, it was more common to see people walking the canal paths than sailing a boat.
As entry to the Saltersford tunnel is on a timed basis we decided to wait until 9am to enter. Northbound boats may enter the tunnel for 20 minutes on the hour. Southbound similarly on the half hour.
We then passed through some beautiful countryside and spotted many lovely bridges plus plenty of ducks to feed. After just over two hours we came to the lock. This has a very small drop so there is little effort and little to worry about. The heavens, however, decided to open just as we arrived at the lock and we got absolutely soaked. Luckily some very experienced and kind boaters were on hand to help and we were soon through the lock.
Right after the lock, we came to the longest tunnel on our journey which was the 1239 yards Preston Brook tunnel. Again this is timed but the window to set off through the tunnel is only 10 minutes. On our first time through we only just made it out by half-past. On our return, we made it through in just 15 minutes so you really do build confidence and skills the more you drive.
We had planned to stop at a pub here for lunch but it has now shut down. Instead, we pressed on for around another 2 hours arriving in Stockton Heath to moor by the London bridge pub for a late lunch. Stockton Heath is a good place to stop to top up on water which they recommend you do every day.
After lunch, we decided to sail on a bit further but after an hour we decided we weren't going to reach Lymm. It was a bit more built up with roads and houses in this area so we carried on until we found a quiet spot to moor. It helps to have the map to help you work out where the best place to stop is. We could see the M6 on the map so knew we wanted to moor up away from it.
Day 3 – Night 3
Today we had to turn the boat around and head back. We needed to have the narrowboat back by 9am so it was necessary to virtually drive all the distance we had already done. The points you can turn a narrowboat around in are marked with a 70 on the map. They are not marked as turning points on the actual canal which we were surprised about. Luckily our spot we chose to turn in was really big so there were no issues turning around.
We pretty much drove solidly all the way back to Anderton. Every time we approached one of the timed tunnels it was time to go through so rather than wait another hour we decided to plough on. Similarly, at the lock, there was a family happy to help us through so we were soon on our way with no time to stop. After careful consideration of the map, we decided to moor up at a pub near the Anderton boat lift. As we arrived mid-afternoon there was plenty of space to moor up in.
My son and I decided we needed to stretch our legs so we headed over to the Anderton boat lift. It's a fascinating piece of machinery. The lift is huge and has only been restored in recent times thanks to lottery funding and people devoting their spare time. There is a lovely and modern museum with a cafe overlooking the lift. If you walk down to the bottom of the hill there is a wonderful playground themed on the waterways. We stopped here for a good hour playing and watching the lift before heading to the pub for dinner.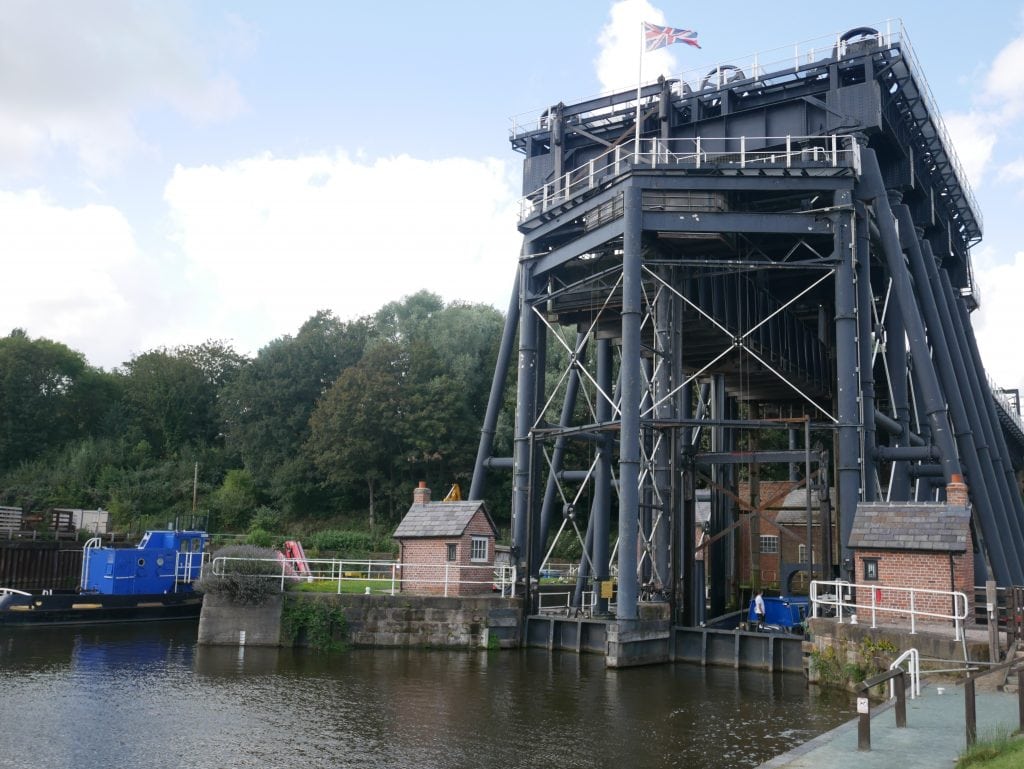 Day 4 – Return of our narrowboat
The narrowboat had to be back early to Anderton marina for it to be cleaned and made ready for the next people. We were only a short distance away so we set off at 8:30 am for a well-timed arrival at 9 am. The helpful staff were soon on board helping us to moor up the boat. Our boat was topped up with diesel so that they knew how much we'd used and once we'd collected the remainder of our fuel deposit we were free to head home.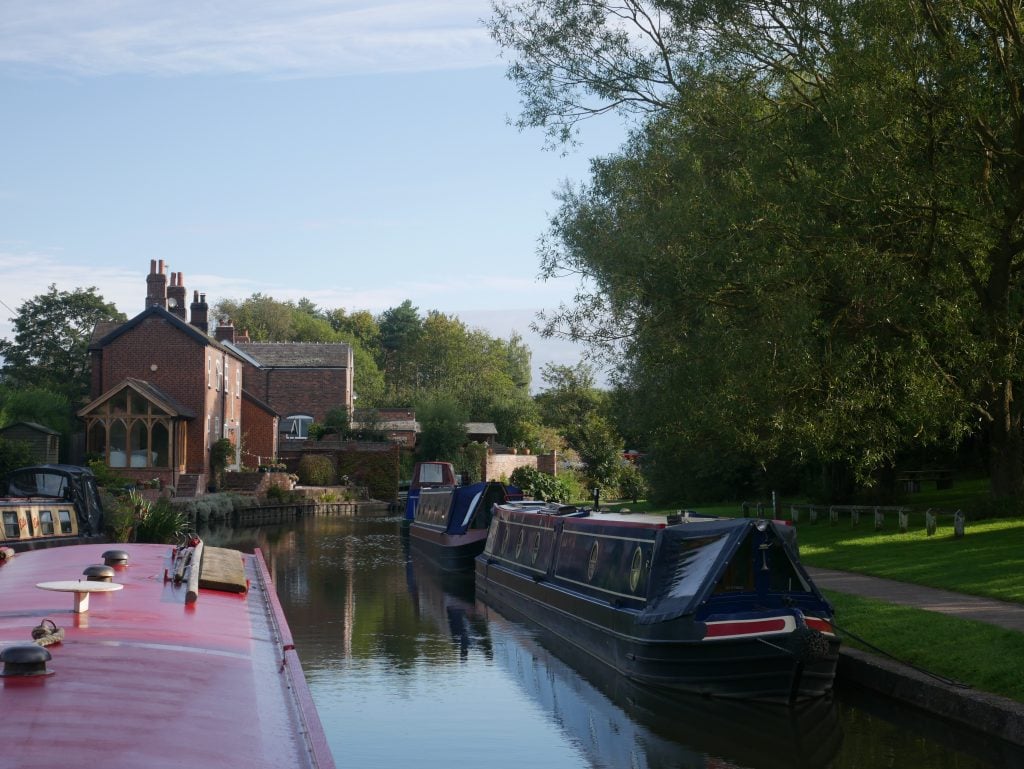 Final thoughts
We really enjoyed our narrowboat holiday. We were already talking on our first full day of sailing about taking another narrowboat holiday next year hopefully somewhere in Yorkshire. A weekend break was the perfect length of time for our son and I think next time we'd look to plan in a few more locks, certainly a long tunnel or two and somewhere with a stop each day for our son to stretch his legs.
Now we know about these great guide books we will be able to find a holiday to suit our needs. Before you purchase a guide book you can check the Drifters website which has an interactive map. This shows all the different canal routes you can navigate. If you click on a starting point it then brings up different and detailed canal routes for you to compare.
---