We have recently returned from a wonderful luxury woodland break at North Star club near York. The site is set in 500 acres of beautiful woodlands and has 8 unique woodland suites. We stayed in the Sitwell Suite which I will review in my post below. Please click here to see up-to-date prices for stays at North Star Club.
*disclaimer. We received a complimentary 2 night stay for the purpose of my review. All opinions and photos are my own and must not be duplicated without prior permission.
Check-in at North Star club is between 4 pm and 6 pm. If you arrive after 6 pm you can still pick up your keys which will be left out for you. You can't, however, arrive after 10 pm. We arrived around 3:30 pm during a very heavy downpour. The main communal area is by reception, which is also where you leave your car.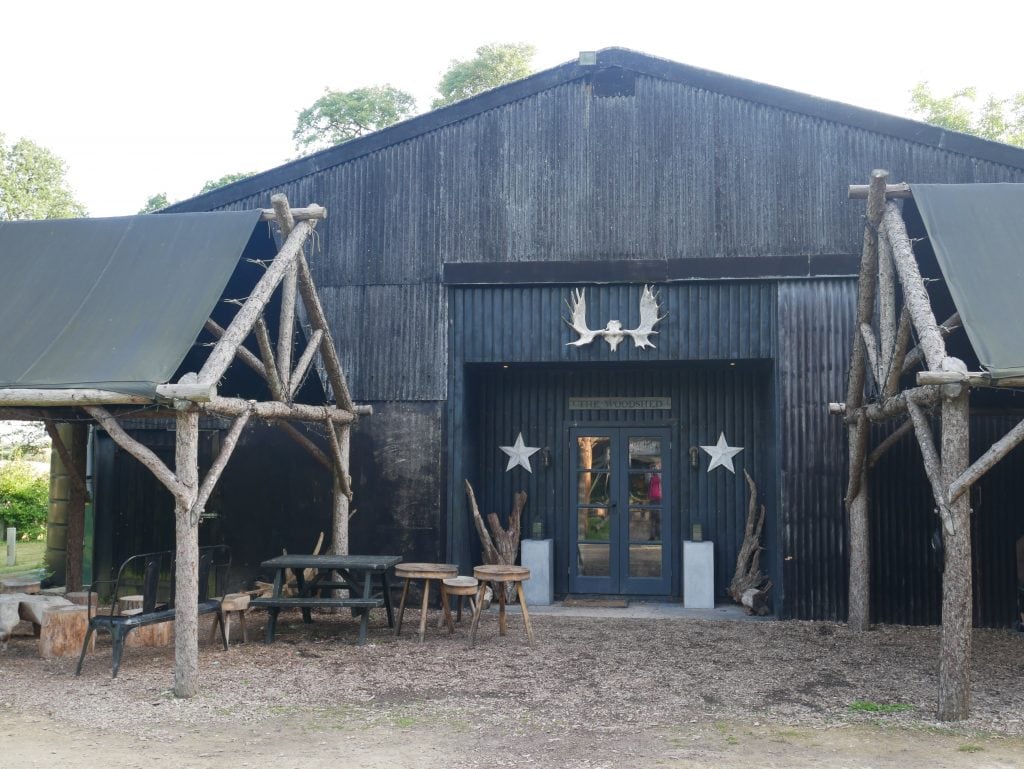 Here you will find the Woodshed which is a very well decorated lounge room. Inside there is cake, marshmallows for the fire, tea and coffee which you can help yourself to so long as you leave some money in the honesty box. We loved how this room is done out, it's very magical and like nothing our son had seen before. It's a perfect chill-out spot.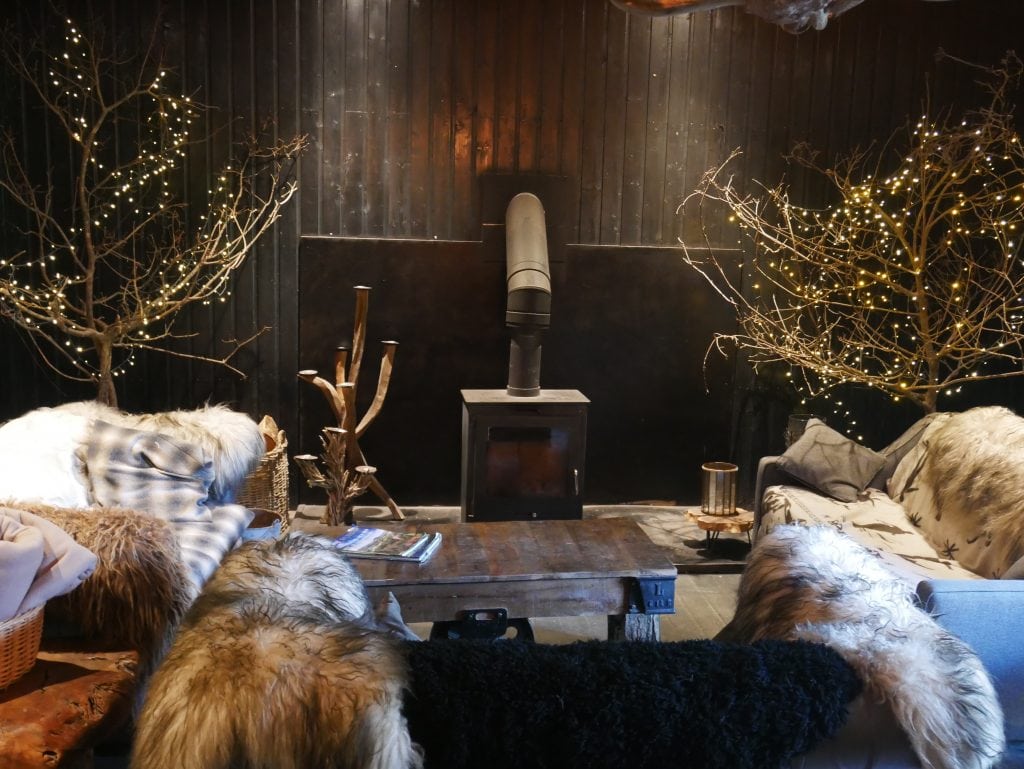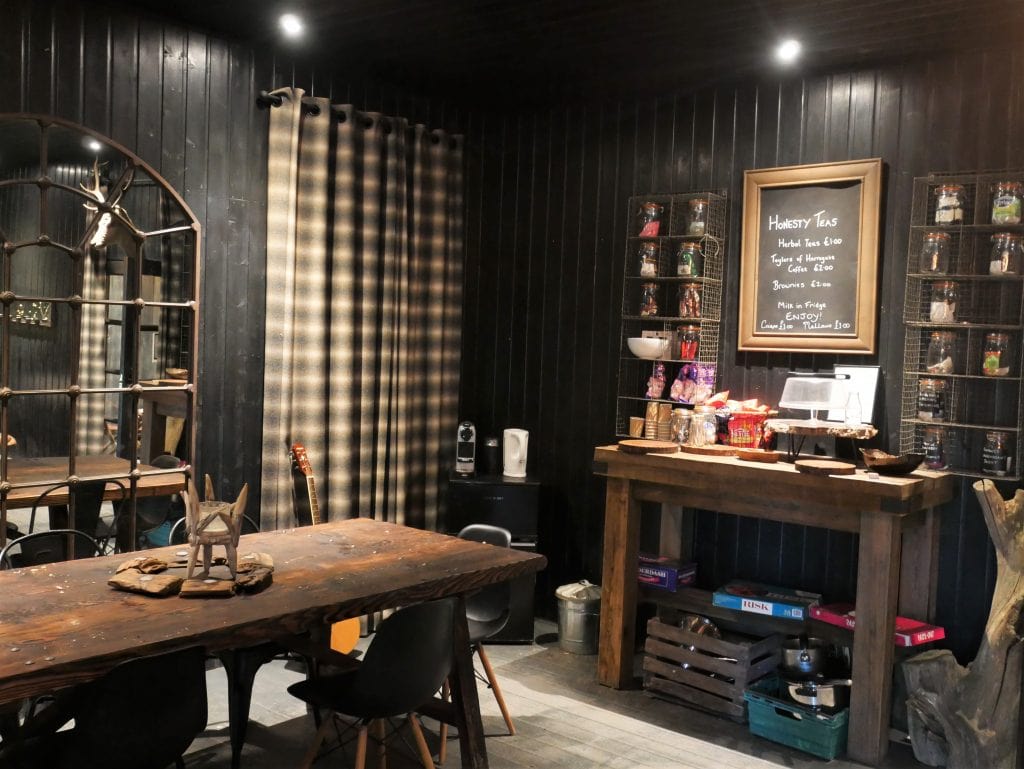 Outside there is a communal fire pit. This is undercover with open sides so it's safe from bad weather. There are wooden logs to sit on and logs that you can help yourselves to so you can enjoy sitting by a roaring fire. This is perfect for enjoying toasted marshmallows.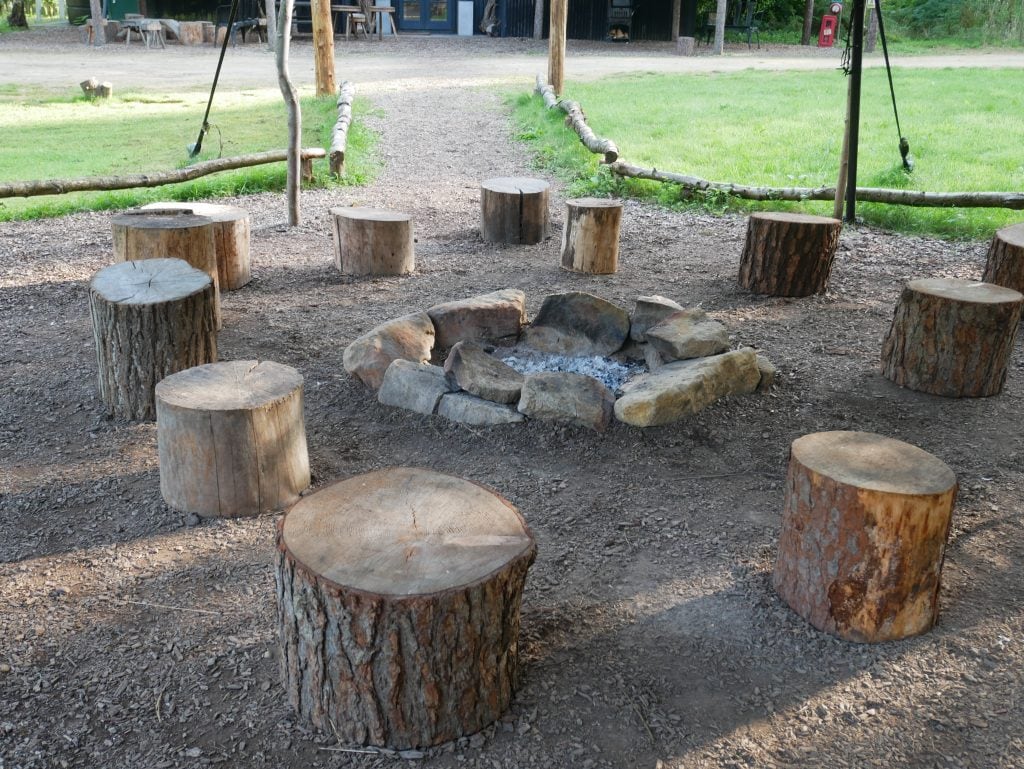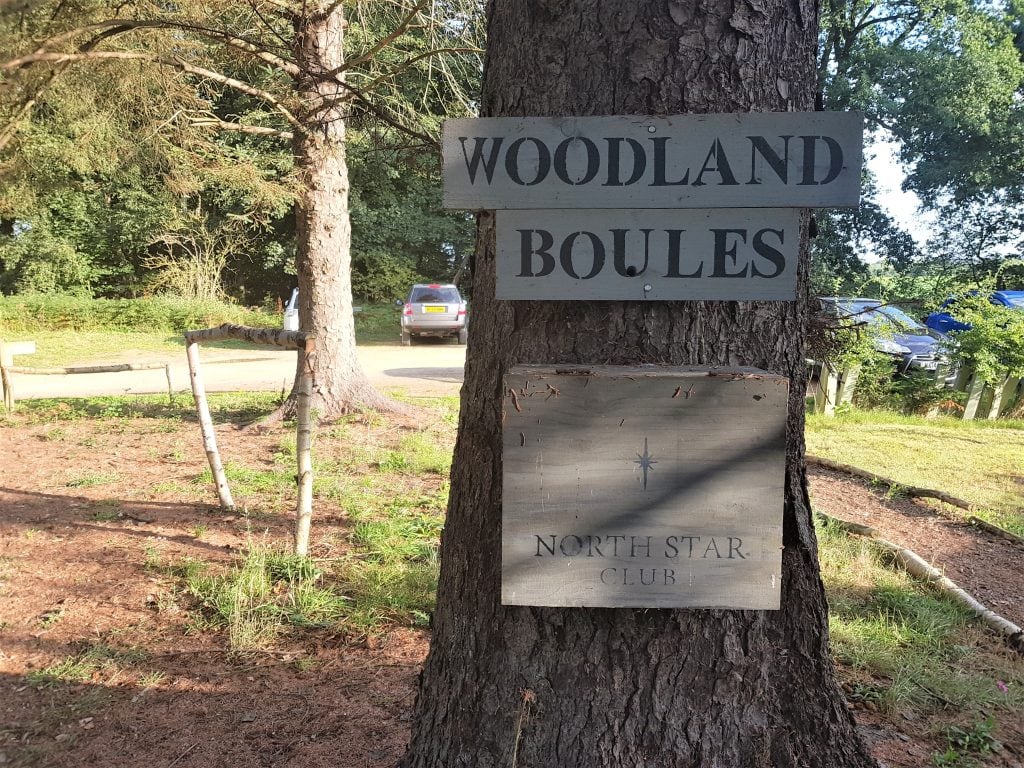 Sitwell Suite Review North Star Club
Outside
Luckily our suite was ready so we followed the lady over to where you can park for a short while to drop your bags off. We were staying in the last suite on the woodland path which was the Sitwell suite. This was named after the famous author Edith Sitwell. You arrive at the rear of each cabin suite and each one is incredibly private. They are set right in the woodland with just a small clearing around each suite.
Outside we had a lovely large wooden and covered veranda. We had a large table with six stools. There was also a two-seater seat with plenty of logs underneath it to help yourselves to for the wood burner. The major bonus was the huge gas bbq that we had. We used this both nights and you can easily cook for a large party of people on it. It also had a gas ring which is where you can cook food in a pan.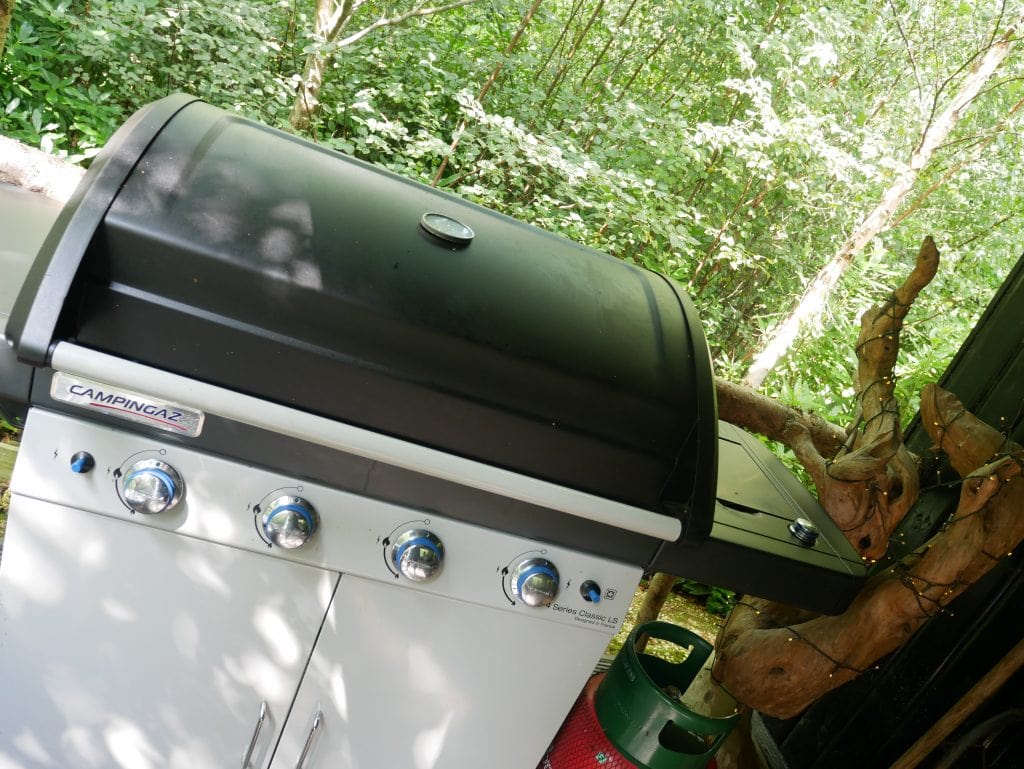 Inside
Inside our suite really had the wow factor. You enter into the lounge area and we were immediately taken with all the quirky and unusual pieces throughout. Someone has really put some thought into decorating the suites. The floor has a wonderful wooden effect throughout that really evokes the feel of a wooden cabin in the woods. Most of the walls have wallpaper with pictures of books which adds to the theme of the suite.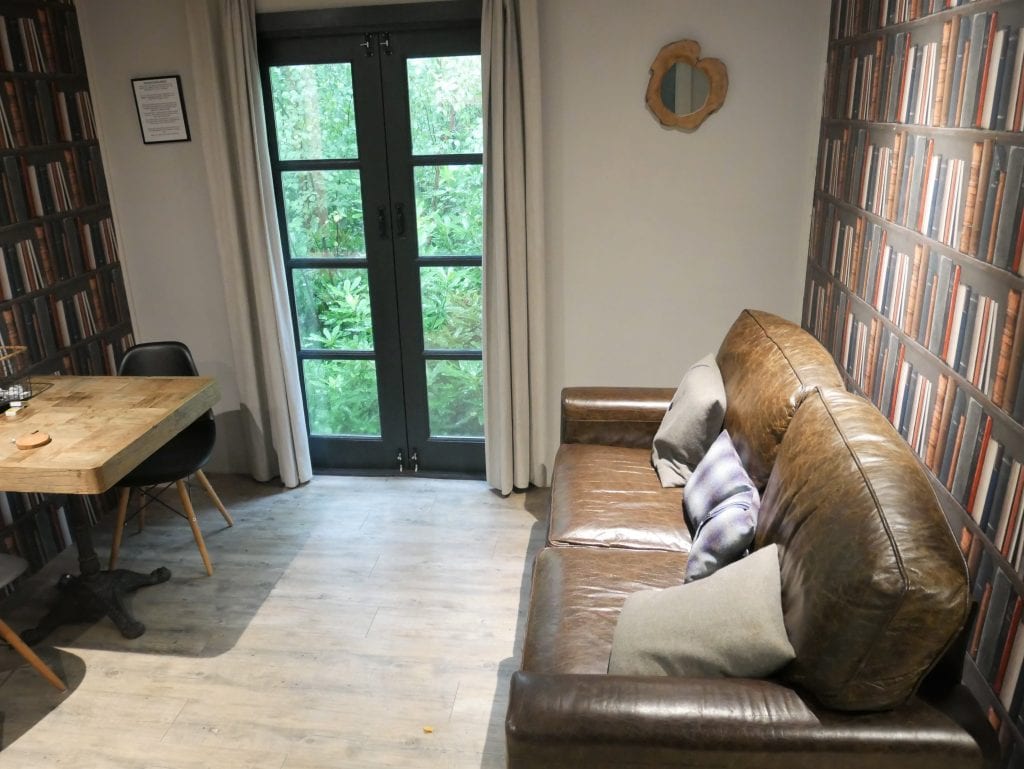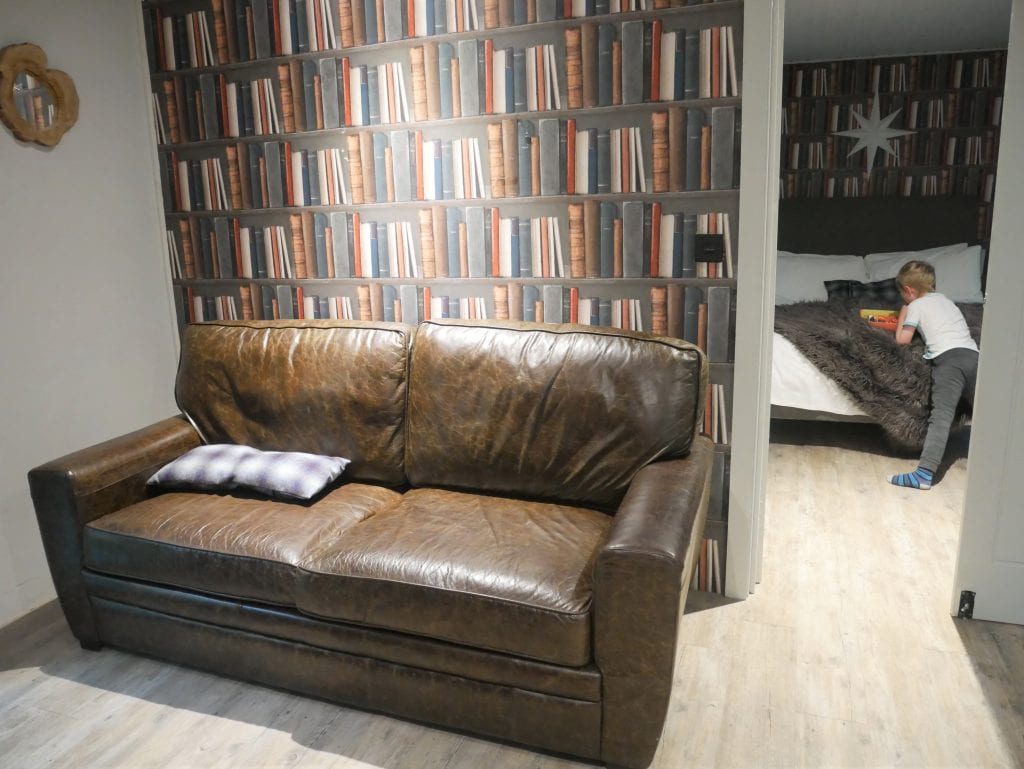 In the lounge, there was a large three-seater leather sofa which was very comfy. There was also a small table with two chairs. Off the lounge, there were two doors. One leads to the smaller bedroom perfect for kids with a double-height bunk bed. It was wide but my only criticism of the places was how creaky the bunk bed was. Our son loved the chair with the sheepskin on it and there was even a desk with a large mirror.
We had arrived in relatively cold weather for summer and it felt warm inside without needing a fire. We did light one and it got incredibly hot so I'd certainly consider staying in the winter. There are even some radiators which come on if it gets really cold. The wood burner was located in the large bedroom which was also off the lounge. There is a king-size bed in this room and it was very spacious.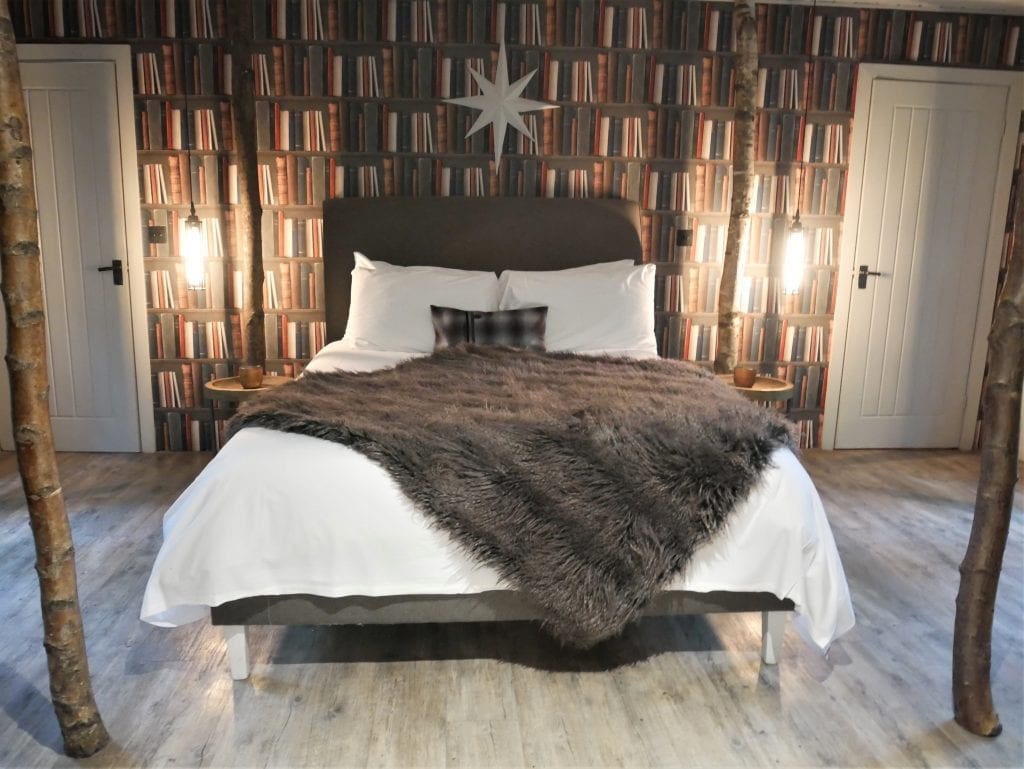 To carry on the theme there was a painting of Edith Sitwell next to a table with a typewriter. We'd have loved for this to have been set up ready to have a go at typing.
North Star club is true luxury. Our cabin was the biggest glamping accommodation we've ever stayed in. We even had lights in each room which on a dimmer switch gave the suite a lovely warm and welcoming feeling. There was also a few electric sockets so you can take hair straighteners etc. Don't expect mobile reception though, or a TV. But we wouldn't expect either when glamping.
Off the main bedroom, there were two more doors. One led to a small kitchen area where you can also hang some clothes. In here there was even a kettle, sink, pans, crockery and the biggest surprise of them all…..a fridge. We were thrilled to bits to have a fridge.
The other door leads to one of the biggest bathrooms I've ever seen. The bath was huge and could easily hold two people. Behind here there was the toilet tucked away and also an enormous walk-in shower. I loved all the extra touches in this room. Towels and bedding were supplied and even some toiletries which was good as I forgot the shower gel! What luxury though. We were all thoroughly impressed with our accommodation for our two-night weekend break.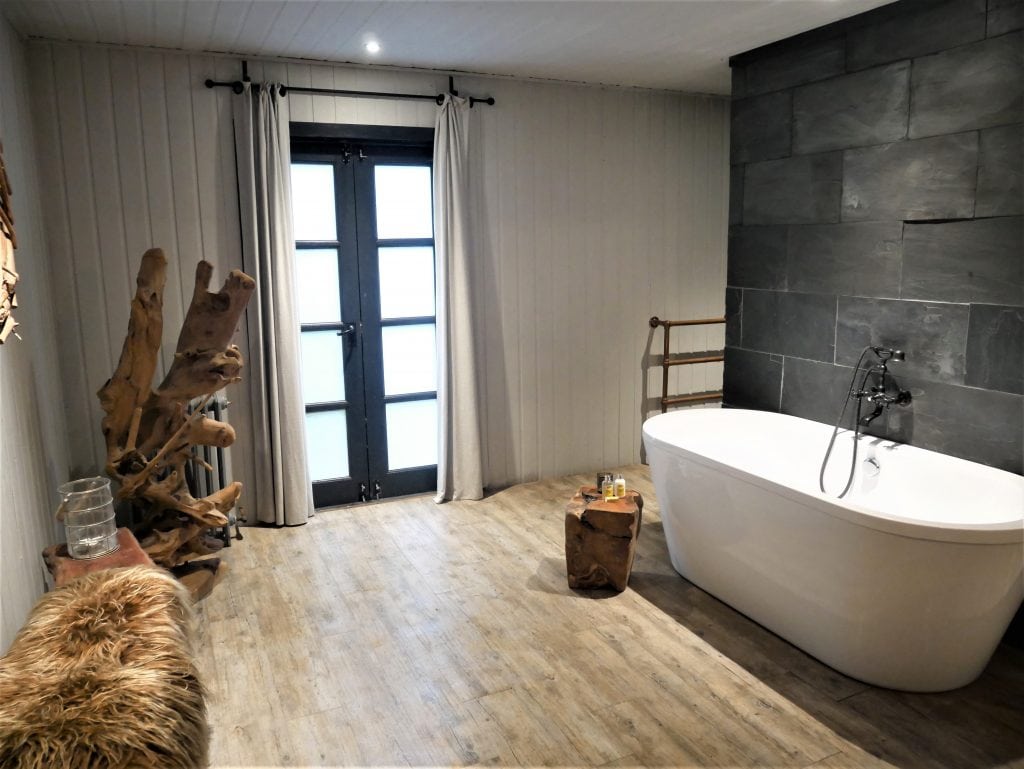 If you're looking for anything to do in the local area I can recommend Burnby hall gardens with beautiful lily covered lakes where you can feed more fish than you will have ever seen in your life. There are some beautiful themed gardens a cafe and a playground. Also in the area is Allerthorpe Lakeland with lakes where you can hire all kinds of boats and pedalos.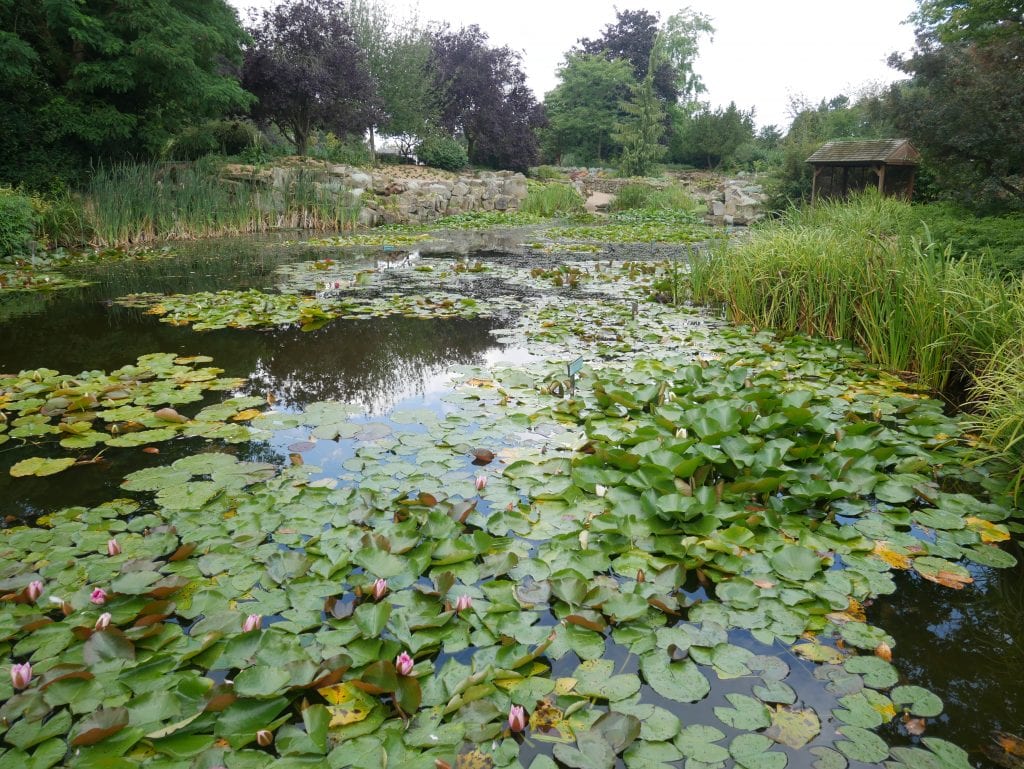 Next to our cabin we also had lots of long branches to make a den out of. Confession, we cheated a little but our son had the time of his life playing in his den.
Final thoughts are that we were all very impressed with our cabin in the woods. It is essentially glamping but the most luxurious glamping we've ever experienced. It's a great way to get away from everything and enjoy life for what it is. If you don't fancy cooking there's some great pubs and restaurants nearby,
If you want to stay in the Sitwell suite a 2 night stay this September costs around £745. Out of season prices are around £650 for 2 nights. The Sitwell suite sleeps 4 people.
---