Things to do at Banham Zoo review
Banham Zoo is a great day out, with a selection of animals from all over the world. There is a free train which loops round the zoo on an hourly basis (more in the summer) and helps to give you a sense of where everything is.
The animals all seemed very happy, and the enclosures were clean, with lots of information boards to look at and interactive computer quizzes to help share facts. Throughout the day, you can watch various animals being fed and listen to the friendly zookeepers as they share their stories. You got a sense that they really knew the animals. We found out that some otters don't like fish and that if humans had eyes of the same proportion as an owl then they would be as large as melons!
We really enjoyed the free shows – one called Amazing Animals, which has animals flying over the audience and running across the stage and the other – The Birds of Prey display. The birds are let out into the open and you can see how they hunt in the wild, as they swoop to get food and fly between the trees. It was amazing to see a bald eagle in action!
There is an adventure playground and also a high wire (at an extra cost) for the more adventurous. Sadly, we were unable to try this as it was shut due to high winds. For an additional cost, there are also lots of zoo experiences, like feeding the giraffes, holding birds of prey etc. They would make great presents for anyone who likes animals!
The children loved following the maps that they were given and collecting stamps so that they could choose a medal at the end of the day.
Covid 19 update – Visitors and Members will need to book online for a timed entrance slot every 1 hour which prevents any queues forming. Over 200 new signage boards with reminders to wash hands, keep social distance and follow new one way rules. Hand washing or sanitisers at over 20 points throughout each zoo and prior to entrance and much more. Not everything mentioned above may be included.
FAQ and Further Information Banham Zoo
Is there food and drink available?
Pavillion Café – with hot and cold options and kids menus. Also cakes and coffee/tea. Pavilion Pantry – for teas/coffees/cakes/sandwiches. Snack shacks are dotted around the park for drinks and (very expensive!) ice creams. You can picnic outside.
What are the main things to do?
Zoo with a good range of animals, train that runs on a loop around the zoo. Bird displays, adventure playground and animal experiences. Toilets and a choice of places to purchase food and drinks.
What are the ticket prices?
*Mid-range
*Prices are subject to change and/or discounts online. *Mid-range – An adult standard ticket online is £14.50 and £10.85 for children aged 3-15. Under 3's are free.
When are they open?
Banham Zoo is open for most of the year except Christmas day and Boxing day For up to date opening times and dates please follow this link.
Are they accessible?
Information on accessibility Accessibility is important to us and we've worked to ensure that the zoo is reasonably wheelchair and pushchair friendly for all our visitors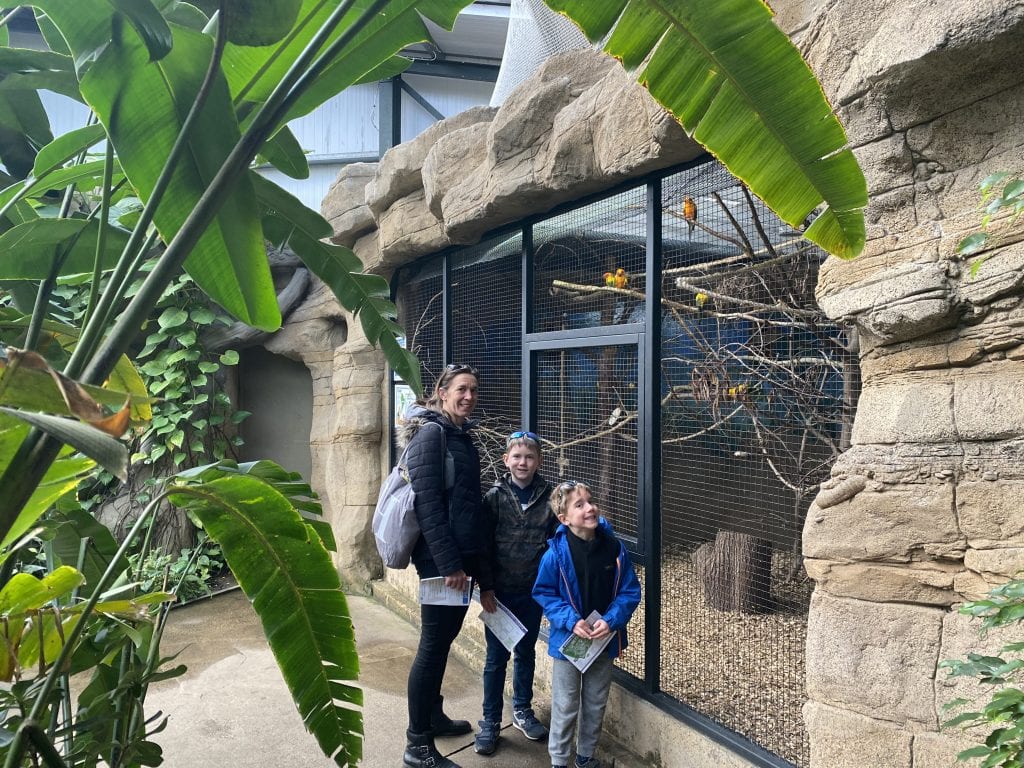 *This post contains affiliate links
---