Things to do at New Forest Wildlife Park review
The New Forest Wildlife Park is a family-friendly attraction situated in the heart of The New Forest. The New Forest Wildlife Park hosts a wide variety of animals and has a heavy focus on conservation. While you could spend a few hours looking around here, it doesn't compare to the size of local zoos, however, so much thought and love is put into the care of the animals here that it is well worth a visit.
Among the free-roaming animals like wallabies and deer, you'll find immense, well cared for animal enclosures. Each enclosure at the New Forest Wildlife Park is tailored perfectly for the animals and they are filled with enriching toys, tunnels and a healthy variety of foods. Preserving the animal's natural instincts is of top priority to the keepers at the park.
Many of the animals at the park are on the IUCN endangered species Red List and the wildlife park does it's best to help breed and conserve these animals for the future. One of the first animals you see upon entry is the giant otter; the New Forest Wildlife Park was one of the first parks in the UK to send a captive-bred giant otter to an international breeding program abroad.
The New Forest Wildlife Park schedules educational talks about the animals it homes and how the conservation programmes they put in place have helped the species. My favourite animal at the park is Munchkin, the lynx and the 20-minute talk about her habitat, status in the UK and the types of food she happily catches for herself was really fun and interesting. Other amazing animals to keep an eye out for include: European Polecats, Grey Wolves, Pine Martens, Red-Necked Wallabies and European Bison.
As well as the outdoor enclosures, there's also a glasshouse full of butterflies which is absolutely magical to walk through. Kids will enjoy the giant adventure play areas that separate the two halves of the park. Go Wild! has a zip wire, log jumble, 'birds' nests' climbing ropes, swings, spider nets and more. There's a smaller version for younger children.
Please note – Most places may still require you to pre-book online in advance. Some venues also still have certain areas closed for safety reasons. Please check their website and/or social media pages before visiting.
FAQ and Further Information New Forest Wildlife Park
Is there food and drink available?
A large cafe situated at the entrance/exit site. Sells hot and cold food, kids lunch boxes and has a Costa Coffee machine.
What are the main things to do?
Free-roaming animals including wallabies and deer. Plus enclosures with well cared for animals. Many of the animals are endangered. Daily educational talks, glasshouse with butterflies and a giant adventure play area. There is one toilet for the whole site that is located opposite the cafe. You are free to exit and enter the park as many times as you like for toilet trips providing you can produce your ticket as proof.
What are the ticket prices?
*Mid-range
*Prices are subject to change and/or discounts online. *Mid-range. Adults are £12.50 and children £9.50.
When are they open?
New Forest Wildlife Park is open all year round except for the 25th and 26th of December. For up to date opening times and dates please follow this link.
Dog friendly?
Only assistance dogs are permitted.
Are they accessible?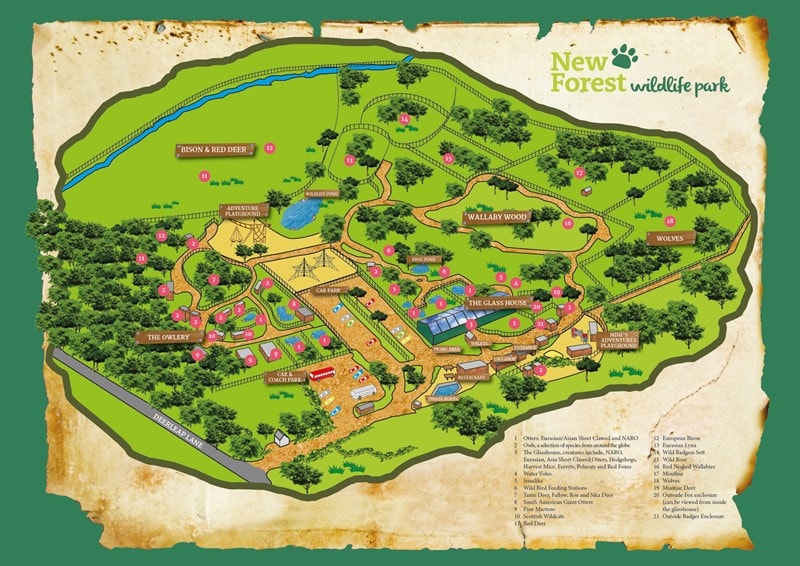 *This post contains affiliate links
---