Things to do at Peppa Pig Afternoon Tea Bus Tour London review
Brigit's Bakery now hosts Peppa Pig Afternoon tea bus tours of London. The tours depart from Somerset House are also brought to you by Entertainment One. The tours are Official Peppa Pig tours.
The tour bus runs weekly from Thursdays to Sundays. The menu has been created by their chefs to include some special themed food. On the tour, you will see many of the best views of London including Big Ben, the Houses of Parliament, Westminster Abbey, St Paul's Cathedral and many more. The tour lasts for 90 minutes.
Each table has a special built-in tablet so guests can watch a Peppa Pig guided animation of the London tour including sing-a-long songs. Kids also receive a Peppa Pig Afternoon tea bus tour activity book that they can take home with them. Bus tours are released on the last day of the month. For example, at the end of August, they would open up bookings for all their tours in October.
The afternoon tea menu includes freshly prepared sandwiches including Mandy Mouse's cheddar cheese finger sandwich, Daddy Pig's Pizza mini Margherita and more. Plus there will be an assortment of mini homemade cakes and tarts. These include a Peppa pig's cookie shortbread, Suzy Sheep's chocolate truffle sprinkled with confetti, Granny Pig's mini scone with jam and clotted cream and more. Coffee, hot chocolate and a selection of teas are also included. Their menu may vary from time to time. Vegetarian, vegan and gluten-free options are available.
Please note – Most places may still require you to pre-book online in advance. Some venues also still have certain areas closed for safety reasons. Please check their website and/or social media pages before visiting.
FAQ and Further Information Peppa Pig Afternoon Tea Bus Tour London
What are the main things to do?
Official afternoon tea tour of the main sites of London including a commentary and sing-a-longs by Peppa Pig on a tablet at your table.
What are the ticket prices?
*Expensive
*Prices are subject to change and/or discounts online. *Expensive. Prices from £45 per adult and from £35 per child. Prices vary by date, time and seat selection.
Is there parking?
The Q Park Westminster car park is a pay and display car park, you can make a saving of 15% with your booking for the London Eye.
When are they open?
The tours run from Thursdays until Sundays. For up to date opening times please visit their website.
Are they accessible?
Please contact the venue. The buses are vintage so don't have wheelchair access. There is also only room for foldable buggies.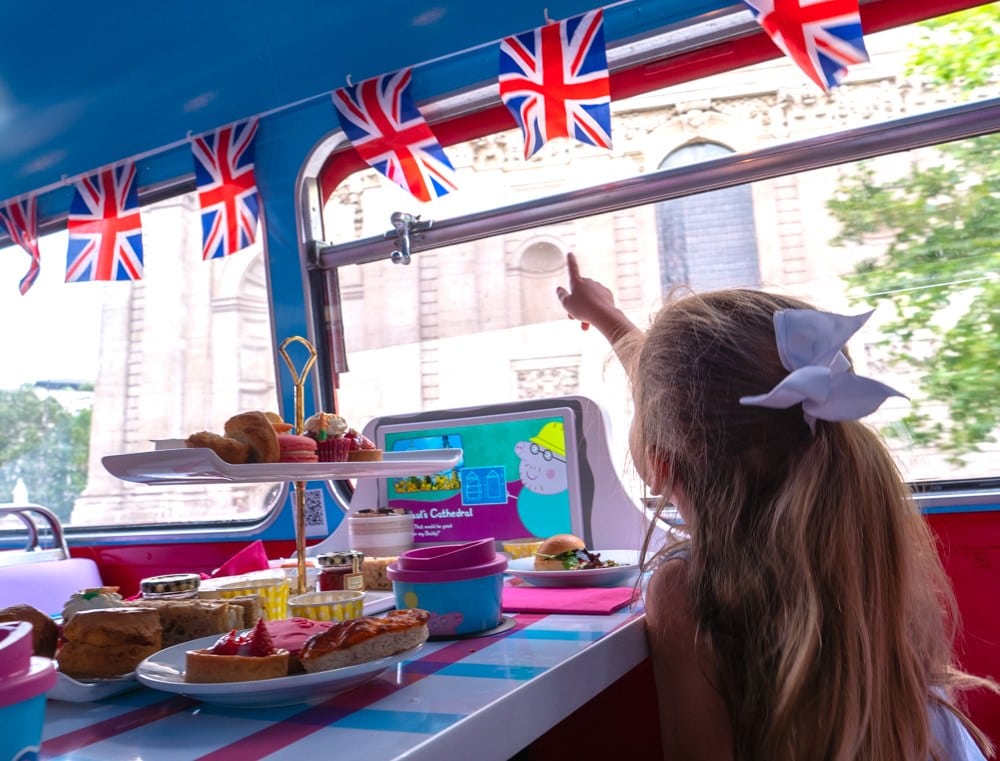 ---
*This post contains affiliate links