Iceland currently has a number of glaciers including some huge glaciers that take up a significant amount of land mass. Iceland's glaciers currently make up about 11% of the entire country. Vatnajökull is an ice cap atop a volcano and it is the largest glacial area in Iceland. Did you know that the volcanic eruption in 2010 that caused airspace around much of Europe to close was due to a volcano erupting below a glacier? That's what caused all the ash!
Glaciers are fascinating and are essential to our planet as their brightness reflects light back thus keeping our planet cooler. My son had never seen a glacier before and while there are some excellent walking expeditions on glaciers in Iceland this wasn't an option for us on this holiday to Iceland.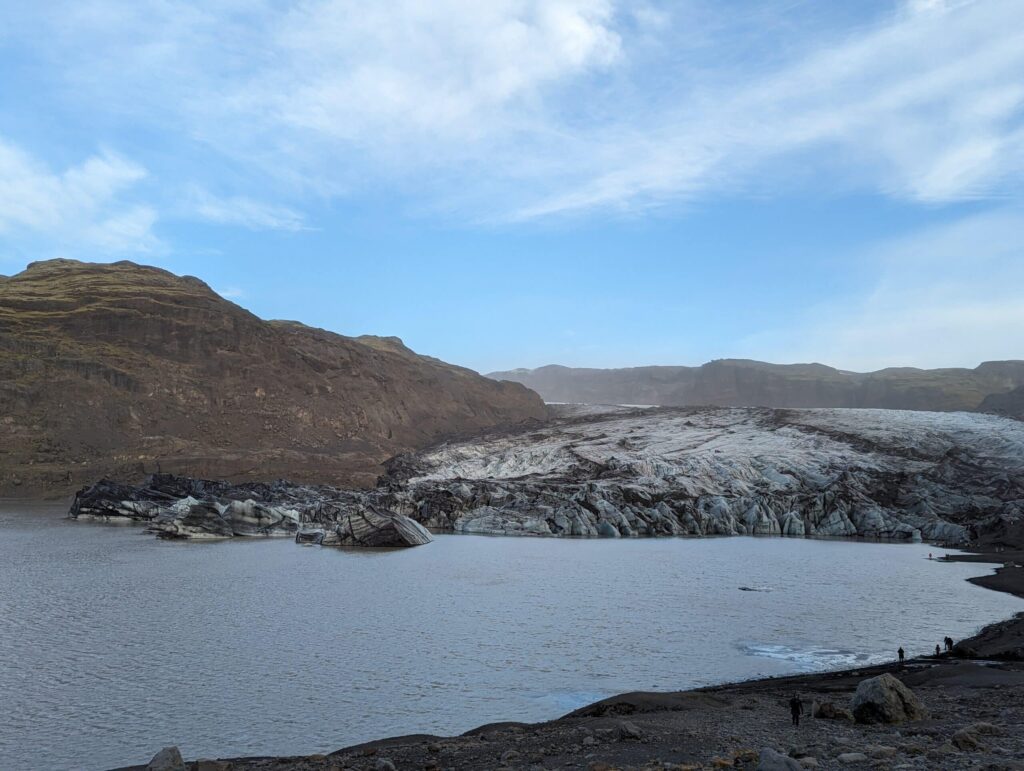 The best glacier with a lagoon in Iceland is over in the southeast. Jökulsárlón was an 8-hour round trip from where we were staying which with 5 days in Iceland we just couldn't justify. It's even further from Reykjavik – a staggering 10-hour round trip. I wanted to find a glacier that was easy for a 3 generation family to visit and was located closer to the south of Iceland. I came across Sólheimajökull Glacier which is just a 10-minute drive from Skogar Museum and Skogafoss waterfall.
As with a lot of places you can visit in Iceland, you are never sure in advance of the quality of the road. The road to Sólheimajökull Glacier is excellent. There is a sign on the main road and then it's just a short and picturesque drive to the car park on an excellent road. The only thing not excellent is the car park. It is full of quite large volcanic rocks that aren't easy to drive over, even in a 4×4. If you don't have a 4×4 I'd recommend parking at the top end of the car park. You even have to pay to park which is around £4.50 and payment is via an app only.
In the car park, there is the visitor centre for the glacier walks which used to have a cafe. Now there are just some toilets. I'd also been a little bit apprehensive about the walk/path to the glacier but I needn't have worried as it was an easy uphill walk. Although you'd struggle with a wheelchair/buggy. You can see the quality of the path in the photo below. Just look at that scenery! Wrap up well, the wind was howling through here when we visited.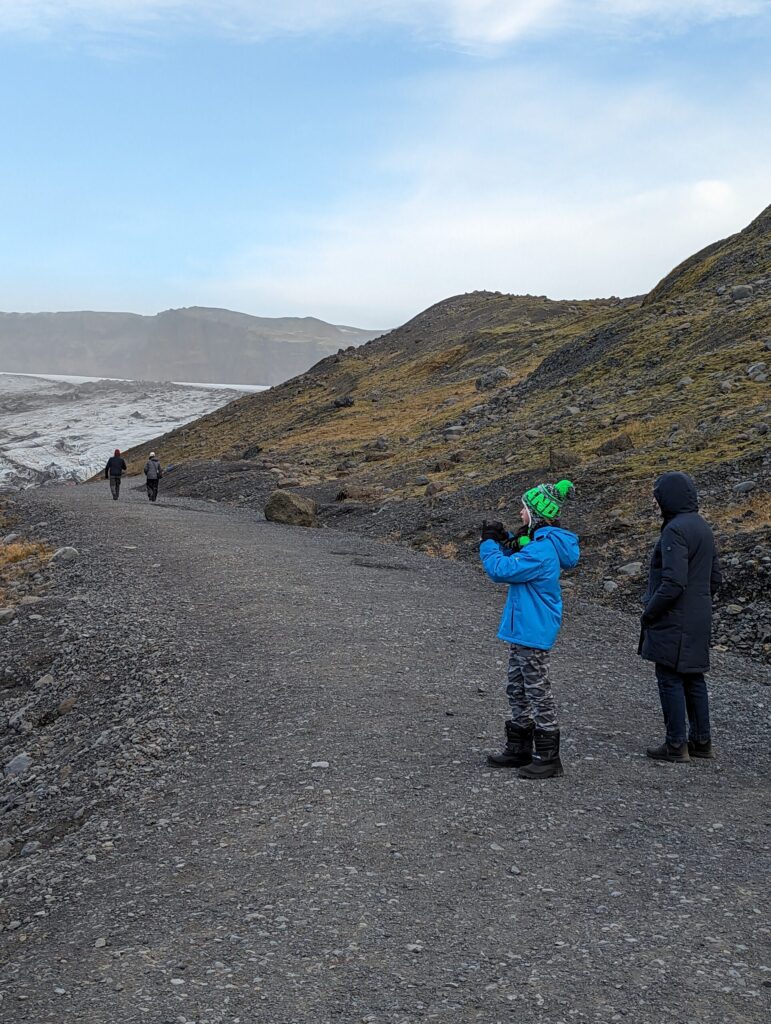 The first thing you see as you round the corner towards Sólheimajökull Glacier are the icebergs that have broken off. The glacier is an outlet of the mighty icecap of Mýrdalsjökull in southern Iceland. It is officially one of the most easily accessible glaciers to reach from Reykjavik and takes around 2hr15 to reach. There is plenty to do in the local area. We combined our visit with a trip to the Skogar Museum and Skogafoss Waterfall.
Sadly all, bar one, of the glaciers in Iceland it is shrinking rapidly. The glacier lagoon at its base shows how quickly it is receding. Signs up at the viewpoint show how the glacier has changed through the years. Sometimes it disappears from view to only return some years later.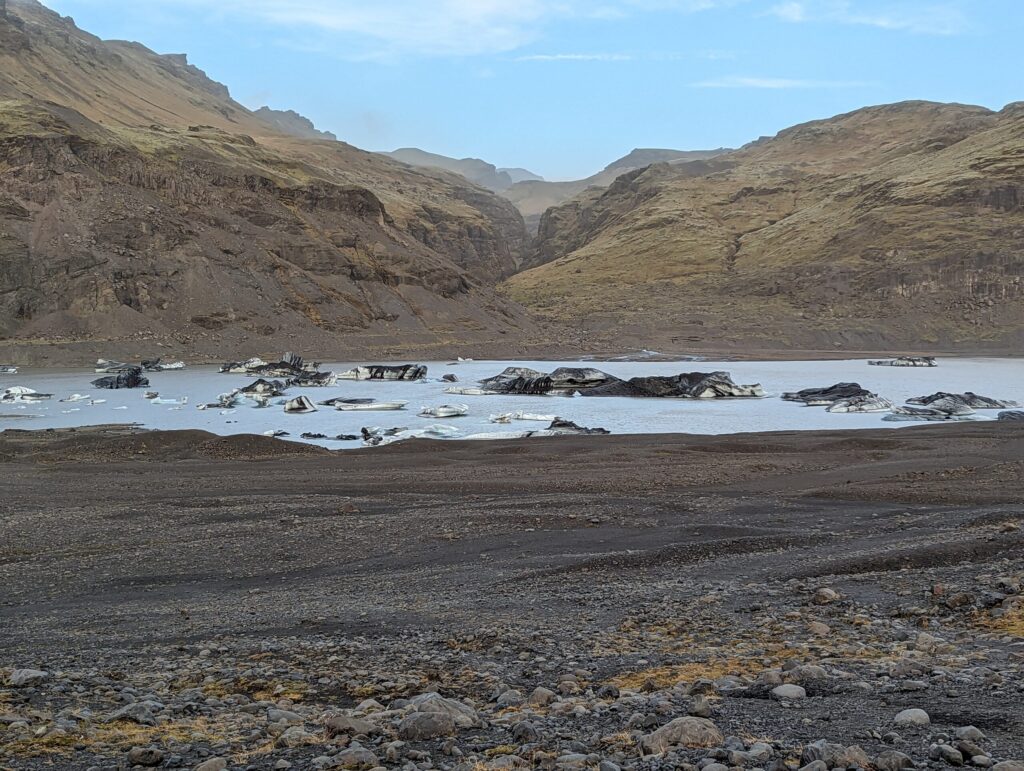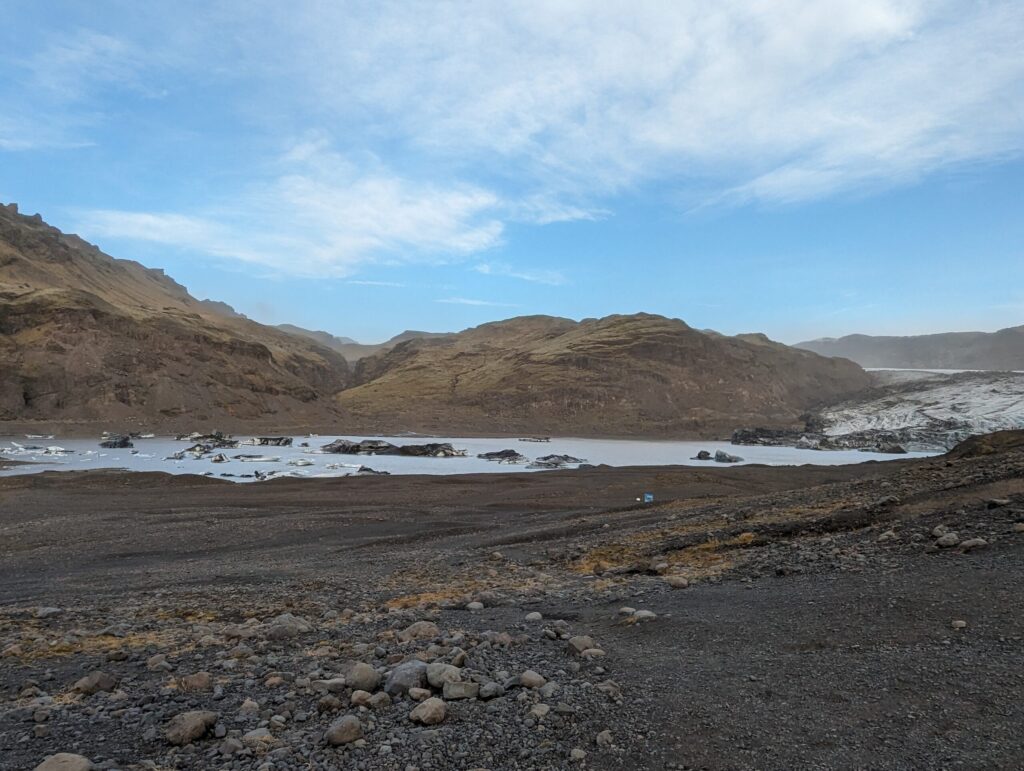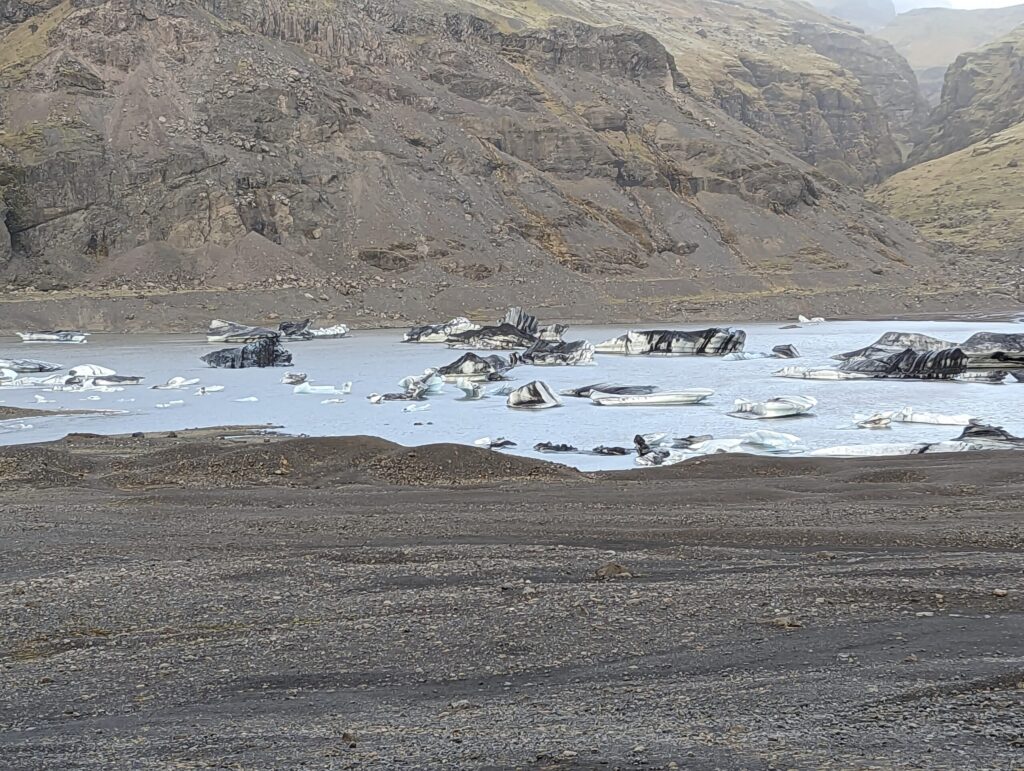 Can you Visit the Sólheimajökull Glacier Without a Guide?
The glacier is absolutely incredible. All that ice! My son was amazed by it all and he took so many photos. If you are visiting by yourselves without a tour then the photo below shows how close you can get. Without a guide you are not allowed any further, it just isn't safe. You can see people in the distance in my photo, they are on a tour. There are even some people on the glacier. If you want to find out about glacier tours please follow this link. Children can take part from the age of 8. You have to have a good level of fitness for the glacier tours.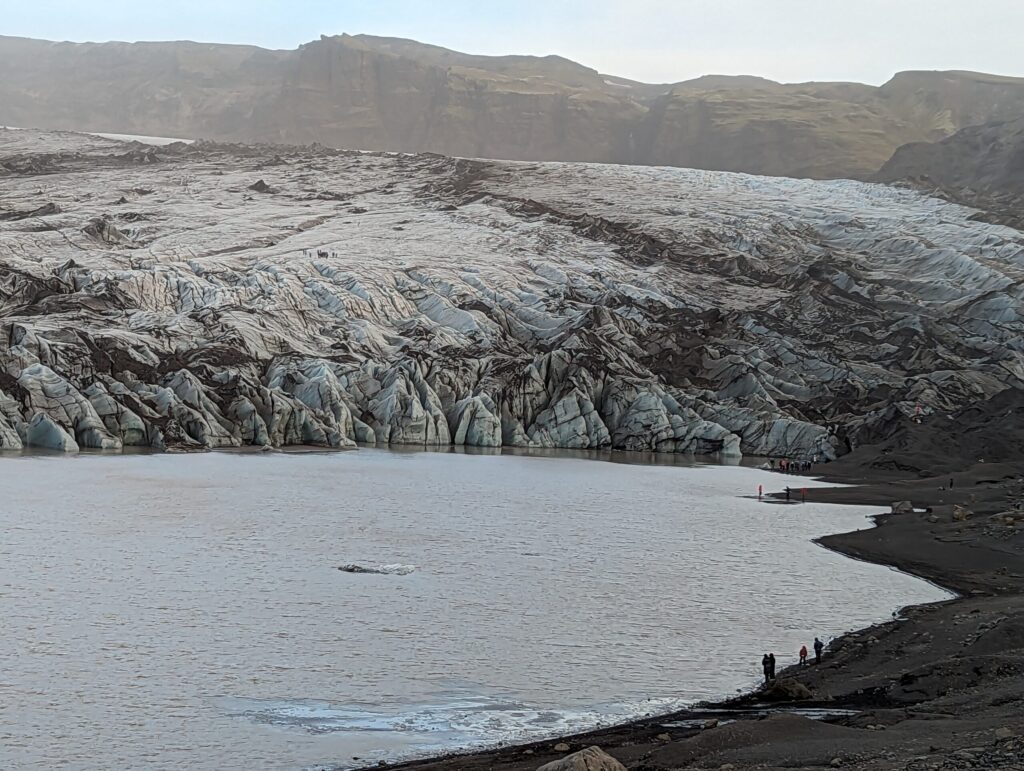 Does my son look a bit cold in the photo below? He was, we all were, incredibly cold. Luckily the wind was blowing against us for the walk back so it felt a lot warmer. It was also starting to get a lot busier. Like most places in Iceland, they got a lot busier from around 11 am.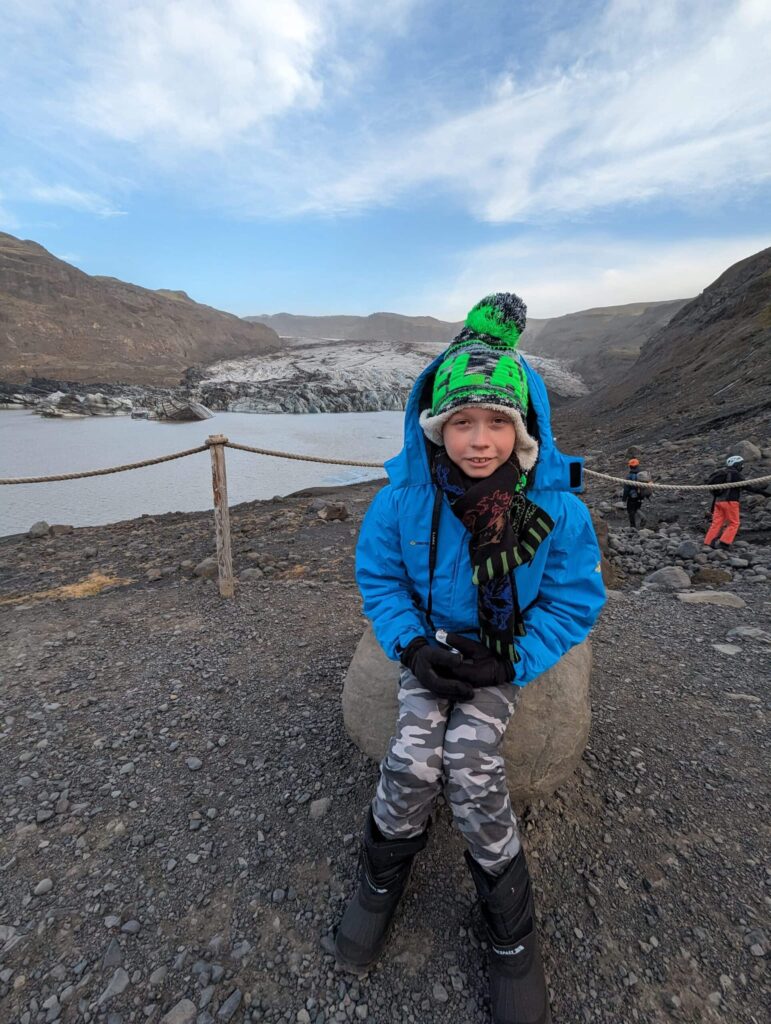 As much as I wanted to visit Jökulsárlón Glacier lagoon I'm glad we visited Sólheimajökull Glacier. I had mostly wanted to visit Jökulsárlón because of the boat trips that run on the lagoon from spring until late autumn. You will usually get to see icebergs and hopefully some seals relatively close up. Excursions last around 40 minutes and include an English-speaking guide who explains to you the geology and facts of the lagoon.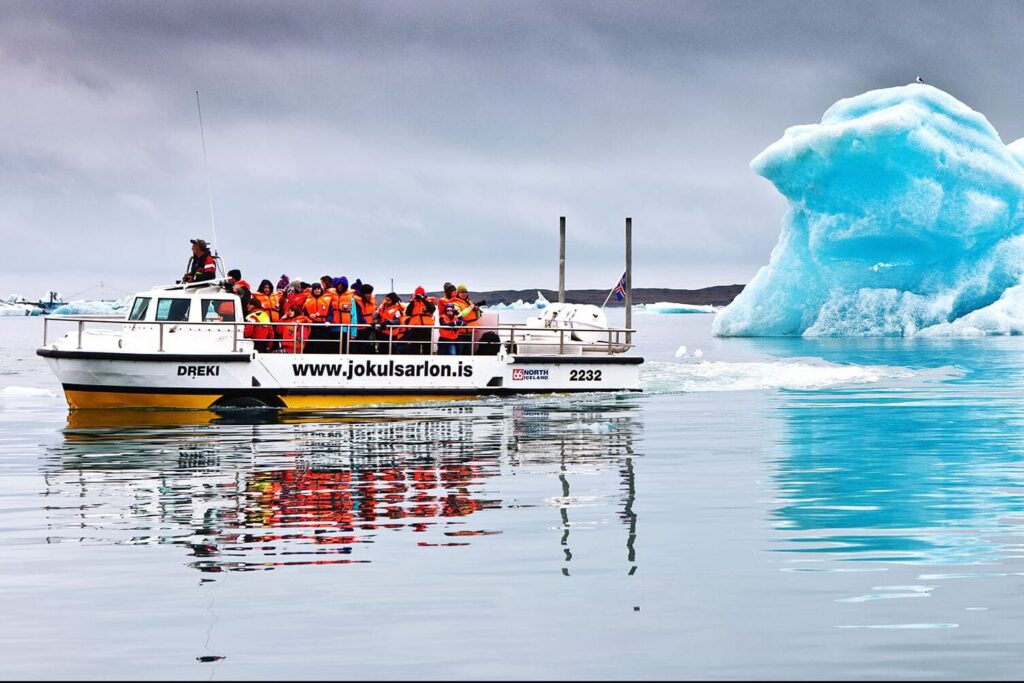 Join in the conversation and discover more great days out over on Facebook and Instagram
Looking for other days out inspiration in Iceland with Kids? We have a number of great ideas.
40 Best Things to Do in Iceland With Kids
Perlan Interactive Museum Review
The Plane Wreck Shuttle Southern Iceland Review
Icelandic Lava Show in Vik Review
Skogar Museum in South Iceland Review
Caves of Hella Review