I don't know about you but I am useless at following a set walk that goes off into the countryside. We always end up getting lost. For the purpose of this post I have chosen places for families to go for a walk where it isn't a case of crossing this stile, walking a bit down that road, crossing that field or wait is it that field. In this post I cover walks in all four counties of the East Midlands – Derbyshire, Leicestershire, Lincolnshire and Nottinghamshire.
These are places where you can visit, get out and stretch your legs without worrying too much about getting lost. They are perfect for visiting as a family. Some require you to pay for parking. I haven't included any places where you have to pay for entry unless it's incredibly cheap.
70+ Family Friendly Walks in East Midlands
DERBYSHIRE
Cost: There may be a charge to park
Address: It has 3 main entrances which are the Coppice car park, Mill Lane and Melbourne Close.
Belper Parks is used on a daily basis by residents who enjoy walking, exercising their dogs or as a route through to the town centre. It's a wonderful natural play area for local children and brings the countryside closer to home for local residents. Users can take a stroll through the woodland whilst absorbing the stunning views. Picnic benches are provided at several key locations throughout the park. The park is 40 acres in size.
---
Cost: Pay and display car park
Address: Cromford, Wirksworth, Matlock DE4 4GT
Black Rocks is a weathered outcrop of Ashover grit which can be reached by a short, but steep climb, from the car park. The climb up onto the gritstone outcrop of Black Rocks is rewarded with superb views. Waymarked walks guide you through the Forestry Commission woodlands of Cromford Moor. Beautiful walk, lots of parking, with a little cafe on site too, stunning views across Derbyshire and miles of well signed beautiful walks
---
Cost: Sheepwash Car Park = £1.50 for two hours and £3 for the whole day. Millfields Car Park = £2.50 for two hours, £4 for the whole day. Visitor Centre Car Park = £3 for two hours, £5 for the whole day. More about parking.
Address: Ashbourne. Derbyshire. DE6 1ST.
Carsington Water is a large reservoir surrounded by wildflower meadows and native woodlands, ponds and reedbeds. It can take 3 to 4 hours to walk around the whole reservoir. There are plenty of facilities on site such as watersports, cycling and walking paths, a play area, cafe and visitor centre.
---
Cost: There are many car parks and places to park. Some are free others are with a charge.
Address: Chesterfield
The Chesterfield Canal, known locally as the 'Cuckoo Dyke' is beautifully green and peaceful, with barely a house in sight at the eastern end. It is 46 miles in length with many access points. Turnerwood is a picture-perfect hamlet on the Chesterfield Canal. There are magnificent locks and great walks through peaceful countryside with plenty of wildlife spotting opportunities.
---
Cost: There are many car parks and places to park. Some are free others are with a charge.
Address: Cromford
Now a picturesque and relaxing place to go for a countryside walk, Cromford Canal was once a buzzing hub of Derbyshire's industry. The northern stretch of the canal lies within the Derwent Valley Mills World Heritage Site and is an attractive visitor destination, with five miles to explore along the towpath. Because of the rich diversity of wildlife, the canal is designated as a site of special scientific interest.
---
Cost: All of Darley parks are free
Address: Darley Park Drive, Darley street, City Road and Old Chester road car parks
Darley Park is on the banks of the River Derwent. It has a total area of 80 acres and forms the largest part of the Darley Open Spaces. There's beautiful gardens to walk around with Hydrangea and butterflies. Plus cafe, play areas. There are large open spaces with a couple of paths to follow and wander alongside the River Derwent.
---
Cost: There may be a charge to park
Address: Ilam – Ilam, Ashbourne, Derbyshire, DE6 2AZ. Dovedale – Dovedale,, Ilam, Ashbourne DE6 2AY
Ilam park to the stepping stones: Discover the limestone countryside of the southern Peak District, famed for its wildlife and geology. This is a popular 1.5 mile walk for families and dog walkers all year round. You can choose to extend your walk by continuing along the valley to Milldale, to see more of the limestone valley. The walk starts at Ilam Park, where you'll find a National Trust car park, tea-room, shop and toilets. Some parts of the walk can be muddy so suitable footwear is advised. Please click the link above for the full walk. When you get to the stepping stones see how many fossils you can spot in them.
---
Cost: Entry to the park is free. All day parking is £4.80
Address: Borrowash Road (A6120), Elvaston, Derby, DE72 3EP
Located in Derbyshire, near to Derby and Nottingham, Elvaston Castle Country Park encompasses approximately 321 acres of open parkland, woodland and more formal historical gardens. Within the estate, structures such as the recently renovated golden gates, Moorish temple and ha-ha wall provide a fascinating glimpse of the past. There is a play area, cafe and a few other facilities.
---
Cost: Car parking is £3 for all day which is pay on entry, so you will need to have the correct change with you.
Address: Derby DE65 6EG
Foremark is ideal for walkers with a variety of trails which take you along the reservoir,
through the woodland areas down to Carver's Rocks, a site of special scientific interest. Although there is no circular route around the reservoir there are 4 lovely walking trails for you to enjoy. Ranging from 3/4 mile to over 3 miles. There is also a play area for the kids. Click here for a map. Plus a sailing club and a kiosk for food and drinks on selected days.
---
Cost: Free parking
Address: Water Meadow Lane, Chesterfield, Derbyshire, S41 8XP
This is a large country park on the outskirts of Chesterfield with a beautiful lake, which is home to ducks, swans, coots and Canadian geese, with fishing sites around it. There are play areas for children, cycle paths and footpaths through and around the park. You will find picnic tables at the Linacre road car park and also at the lake and football pitches. The park covers 141 acres.
---
Cost: Free for National Trust members or £5.00 for adults and £2.50 for children.
Address: Derby DE22 5JH
There is a 3.5 mile walk which gives extensive views. There are fine trees, shrubs, azaleas and rhododendrons, roses, and good autumn tints. The stunning house with Robert Adam's interiors is also open and a must see. It also houses Lord Curzon's Eastern museum with many objects from his time as Viceroy of India.
---
Cost: There is a pay and display car park
Address: Bamford, Peak District National Park
Ladybower Reservoir is a large Y-shaped reservoir in the Upper Derwent Valley, at the heart of the Peak District National Park. Ladybower Reservoir is surrounded by stunning countryside with magnificent views of water, woodland and moorland. The area is a magnet for outdoor-lovers and there many circular walking and cycling routes nearby, plus stunning viewpoints such as Bamford Edge.
---
Cost: The car park costs £1.50 for up to 2 hours or £3 for the whole day.
Address: Woodnook Lane, Cutthorpe, Chesterfield, Derbyshire S42 7JN
Suitable for both big and little legs, you can explore the site using the paths that weave around the reservoirs and through the wooded valley. There are several trails around the 3 Reservoirs at Linacre. The paths are well edged and you can make up any length of walk you like. Part of the trail around the Upper Reservoir crosses the water on a boardwalk – parents with children should take care as it has no railing. In spring, the woods around the Reservoirs are carpeted with bluebells.
---
Cost: There may be a charge to park.
Address: You can join the trail at the following locations: Hadfield, on Platt Street. Torside Car Park (B6105) opposite Glossop Sailing Club and Woodhead Station (A628).
The Longdendale Trail is an English long-distance trail following the former Woodhead railway line, which ran between Manchester and Sheffield and closed east of Hadfield in 1981. It has shallow gradients and a smooth surface that makes it popular with families and cyclists. The trail is 6.5 miles in length.
---
Address: Manor Park Road, Glossop, Derbyshire, SK13 7SH
Cost: There may be a charge to park.
This is a very popular 60 acre park located in Old Glossop It has formal gardens, woodlands, a newly refurbished playground, skate park, tennis courts, two bowling greens, crazy golf, miniature train, cafe, open play spaces, a lake and river.
---
Cost: Parking charges are up to one hour £1.50. Up to 2 hours £2.20. Up to 4 hours £3.60.
Address: Markeaton Ln, Derby DE22 4AA
Markeaton Park is Derby's most visited park and is one of the most popular attractions in the East Midlands. The park has many features that mark this history: ancient veteran trees, historic lost roads, old arable field patterns, the 18th century park and buildings and the remains of a Second World War army camp. Markeaton Park has a number of surfaced paths taking you to the main areas. Why not venture off the beaten track and explore the park on their Parkland and Woodland Walk. Or wander alongside the lake and have a picnic on their Lakeside Walk?
---
Cost: Pay and display parking
Address: The most parking is in Bakewell where there are several pay and display car parks in the town and a small car park next to the Trail at Bakewell Station. Use postcode DE45 1BU to get the central Bakewell car parks.
---
Cost: There may be a charge to park
Address: Slack Lane, Heanor, Derbyshire, DE75 7GX
Nutbrook Trail is a 10 mile traffic free path between Long Eaton, Shipley Country Park and Heanor for use by pedestrians and cyclists. The trail runs along the Erewash Canal and a dismantled railway line. You'll pass through the pretty Manor Floods Nature Reserve where there is a nice lake and lots of wildlife to look out for. The final section takes you through the lovely Shipley Country Park to the finish point at Heanor. It's a great park with 700 acres of woodland, lakes and parkland.
---
Cost: Padley Gorge Trail, Hope Valley S32 2HY
Address: There may be a charge to park
Follow the Padley Gorge Trail through this stunning wooded valley in the Peak District. The trail runs along the lovely Burbage Brook with its pretty waterfalls, rocky boulders and wooden bridges. You start off at Grindleford Station which you can reach direct from Manchester or Sheffield. The trail is signposted so you can pick it up quite easily. It runs for about 1.5 miles through Yarncliff Wood and then into more open countryside. You can return the same way or head into the beautiful Longshaw Estate to extend your walk.
---
Cost: Depending on where you choose to access the canal there may be a charge to park
Address: The canal runs from between Ashton under Lyne, east of Manchester, and Whaley Bridge, Derbyshire.
The Peak Forest Canal is one of Britain's most scenic waterways, running through magnificent landscape to the edge of the Peak District. It is 15 miles in length with 16 locks. For much of its length, the canal runs alongside the pretty River Goyt. Both the canal and the river are havens for plants and wildlife. You find several places to visit along the canal including the village of Marple with its Oldknow walks and heritage trail.
---
Cost: Free entry and parking
Address: Pavilion Drive, Staveley, Chesterfield, Derbyshire, S43 3WL
Poolsbrook Country Park has something for everyone with miles of walks, woodlands, lakes (great for fishing), meadows, sand play areas for children. cafe, picnic sites and four miles of trails of cycling, horse riding and walking and lakes for angling. The park is home to many forms of wildlife including an impressive range of birds. The park covers 180 acres. There is a caravan park also on site.
---
Cost: The centre is free to enter but parking is charged at £1.50 for an hour or £4.00 all day
Address: Burton Rd, Rosliston, Swadlincote DE12 8JX
Rosliston Forestry Centre is a hidden gem in the heart of The National Forest in South Derbyshire offering lots of activities for great days out, from quiet walks to action-packed family fun activities. Come and see nature at its best. Rosliston's mix of woodland and meadow, ponds and play areas offer the perfect playground for visitors of all ages and physical abilities, all year round. Spot the wildlife, join a guided walk or take advantage of our packed programme of events.
---
Cost: £4.00 for all day parking
Address: 40 Station Rd, Hayfield, High Peak SK22 2ES
The Sett Valley Trail is a 2.5 mile recreational trail for walkers, cyclists and horse riders linking New Mills and Hayfield. It follows a former railway line through outstanding countryside and forms part of the Pennine Bridleway National Trail. At New Mills there is access from the Sett Valley Trail to the dramatic Torrs Riverside Park and to Mousley Bottom via he Millennium Walkway. This is an access for all trail, allowing prams and mobility scooters access from New Mills town centre to Hayfield.
---
Cost: Entry is free but a pay-and-display parking charge applies in their main car parks at the visitor centre and next to Mapperley Reservoir.
Address: Slack Lane Heanor DE75 7GX
Shipley Country Park is near Derby and Nottingham and offers 700 acres of attractive and varied landscape. Whatever the season, there's always lots to see and do in the park – walking, cycling, horse riding, bird watching, angling, picnicking, kite flying, jogging, wayfaring, photography, exploring the park and much more. There's also some superb play areas and an outdoor gym.
---
Cost: Car parking is £3 all day at the main car park.
Address: Calke Road, Melbourne, Derbyshire, DE73 8DN
Located in the heart of the growing National Forest in Derbyshire, Staunton Harold Reservoir offers a range of attractive walks and leisure activities. Although it is not possible to walk in a circular route around the reservoir, there are a variety of walks from each of the three car parks at Staunton Harold. There are also links with longer trails to Foremark Reservoir, Calke Abbey and various public footpaths. There is also a play area.
---
Cost: Free to walk although you may have to pay for parking depending on where you choose to access the trail.
Address: Plenty of Tissington Trail car parks at Parsley Hay Hartington Station and Ashbourne. Further parking at Alsop Station, Tissington and Thorpe
The London and North Western Railway (LNWR) between Buxton and Ashbourne first opened in 1899. Following the closure of the line around seventy years later, the Peak District National Park bought the route in 1971 and turned it into a traffic free trail for walkers and cyclists.The Tissington Trail runs for 13 miles from Parsley Hay in the north to Ashbourne in the south.
---
Best Family Friendly Walks East Midlands
LEICESTERSHIRE
Cost: Parking is £4 for all day, there are cheaper prices if you wish to visit for an hour or so
Address: Beacon Rd, Woodhouse Eaves LE12 8SP
Beacon Hill is one of the highest points in Leicestershire and boasts spectacular views of Charnwood Forest and the Soar Valley. Covering 128ha, the Country Park consists of mixed woodland, grassland, open heathland, wetlands and rocky outcrops. It has a range of interesting features that await any visitor. The most visible aspects of the management of the Park's habitats are the grazing sheep, cattle and alpaca that are moved around the site to graze different areas of grassland and heathland. Separate cycle, walking and all-abilities paths around the Country Park ensure access for all users is available.
---
Cost: All day parking is £2.50
Address: Ambion Ln, Sutton Cheney, Nuneaton CV13 0AD – this is the address of the heritage centre
The country park includes a network of surfaced trails which radiate from the famous Bosworth Battlefield Visitor Centre around a wonderful farmed landscape, connecting with the Ashby Canal and the Battlefield Railway at Shenton station. The site of the Battle of Bosworth is of national significance and international interest. It is infamous as the place where King Richard III lost his life and crown to Henry Tudor, and the beginning of the powerful Tudor dynasty.
---
Cost: Mid-week parking for a car is £3.00 and £4 at weekends
Address: There are five car parks. Their main address is – Bradgate Park, Newtown Linford, Leicester LE6 0HE
Bradgate Park was first enclosed as a deer park around 800 years ago. It provides 830 acres of publicly accessible countryside close to Leicester City Centre. The Park offers a wild and rugged landscape with dramatic rocky outcrops and gnarled old oak trees, many of which are well over 500 years old. If you do not fancy exploring the hills, the lower part of the Park is easily accessible, with a tarmac carriage-way running through this area, that is suitable for wheelchairs and pushchairs. The Visitor Centre is in the heart of the Park, alongside the carriage-way at the Deer Barns, where you will also find one of our two Tearooms.
---
Cost: On-site parking is free
Address: Washbrook Ln, Oadby, Leicester LE2 5JJ
Brocks Hill Country Park covers an area of 30 hectares (67 acres) and contains a variety of wildlife habitats including woodlands, wildflower meadows, ponds and a community orchard, all laid out with accessible paths. The site has received a Green Flag award for well managed parks. The country park contains two play areas and a den building area encouraging natural play. Other features at Brocks Hill include sculptures, gardens, an orienteering course around the park, a memorial tree and interpretation regarding the resident wildlife.
---
Cost: Parking and access is free
Address: Burbage Common is reached via the layby off the B4668, Leicester Road, between Earl Shilton and Hinckley. Burbage Common, Hinckley LE10 3DD
Burbage Common is Hinckley & Bosworth Borough Council's largest countryside site and is located on the edge of Hinckley, within easy reach from both east and west midlands. Great for walkers, and dog lovers alike, a mix of semi-natural woodland and unspoilt grassland is 200 acres in size.
---
Cost: Depending on where you park you may or not have to pay
Address: By car – SAT NAV: LE16 7RA, long stay car park is off the Gumley Road and costs £2 a day. There are other access points and places to park
For a fascinating family day out in Leicestershire, head to our iconic Foxton Locks. There are flights of locks all over our network – but not like Foxton. It's home to two amazing feats of engineering in the heart of Leicestershire, on the Grand Union Canal. As well as the longest and steepest staircase locks in the UK, the site is home to the remains of the inclined plane, a magnificent, if slightly weird, piece of Victorian engineering. Why not take some time out to watch boats travel up or down the locks, or take a boat trip yourself.
---
Cost: Parking is over £4 for 3 hours, there are cheaper options available
Address: 115 The Park, Market Bosworth, Nuneaton CV13 0LP
Market Bosworth Country Park is to the east of Market Bosworth town. The 35 hectares landscaped Country Park was formerly part of Bosworth Hall deer parkland. The park features a lake, a planted arboretum with many different exotic species, a wildflower meadow and a community woodland.
---
Cost: Free
Address: Wymondham Way, Melton Mowbray LE13 1HP
Melton Country Park is an area of open space 137 acres (55.5 hectares) in size, 10 minutes walk from the centre of Melton Mowbray. The park been awarded the Green Flag award for the past 3 years, and has been named "One of the best parks in the UK". Several play areas can be found, including one with an iplay unit next to the visitor centre, a large play area at the southern end of the park, and scattered play equipment through out the park.
Cost: Free and free to park
Address: Furnace Lane, Moira, Swadlincote DE12 6AT
Open all year round, and great for picnics, woodland walks, cycling and much more. Take a stroll along the towpath of our restored section of the Ashby Canal, discover a variety of wildlife and explore our lime kilns. 36 acres. There is also a museum and you can have a trip on their Narrowboat the "Joseph Wilkes".
---
Cost: Free, there are no parking charges
Address: 14 Ravenstone Rd, Ibstock LE67 6NW
Sence Valley Forest Park is a 60ha country park created by Leicestershire County Council on a former opencast colliery site near Heather. It includes the River Sence and three major lakes, which attract a wide variety of wildfowl. There are surfaced paths which are also suitable for bikes. Explore the mixed forest on our network of trails or test your navigation skills around the wood on one of their orienteering courses. A bird-spotter's paradise, 150 bird species have been recorded in the area so make sure to stop by the bird hide.
---
Cost: Parking is free
Address: Reservoir Road, Thornton, Leicestershire, LE67 1AR
The variety of trails around Thornton allow you to have a gentle stroll or a more energetic walk whilst you take in the beautiful scenery. Peaceful and picturesque, Thorton is a location that offers a wide network of trails and footpaths both around the reservoir and through the woodland areas.
---
Cost: All day parking is £2.50
Address: Wanlip Rd, Fillingate, Leicester LE7 8PF
Watermead Country Park is a network of lakes woodlands and nature reserves created from 340 acres of gravel workings along the River Soar to the north of the city. Watermead Country Park is now a haven for wetland wildlife enjoyed by nature lovers, walkers and families. The park has fine lake views and woodland walks with good paths and picnic areas. A life sized sculpture of a mammoth inspired by the mammoth, bison and deer bones found in the gravel workings overlooks the 92 acres of Watermead. There is also a play area.
---
Easy Walks East Midlands
LINCOLNSHIRE
Cost: Free
Address: Mortal Ash Hill, Scunthorpe DN16 3WR
Ashby Ville is a 2.4 kilometer loop trail located near Scunthorpe, Lincolnshire, England that features a lake and is good for all skill levels. The trail is primarily used for walking and nature trips.
---
Cost: There may be a charge to park
Address: 55 Hall Dr, Lincoln LN6 7SW
This is a 50 acre park with green space, woodlands, a lake, children's playground, and a variety of wildlife and nature to spot, just south of Lincoln city centre. There is a lake, woodlands with footpaths and cycle paths. Plus a zip-wire, large green spaces, with bandstand. Children's play area, bowling green and fountain garden.
---
Cost: There are no charges to park or visit
Address: Hoop Lane, Wragby, LN8 5JR
Chambers Farm nature reserve is located on the site of a medieval woodland and is well known for its wide range of butterflies. It is spread across 900 acres and has been rated as one of the best Forestry Commission sites in the UK for its insect life. There is so much to see and do, including organised foraging, and many places to walk and relax with family, friends or the dog. Facilities include a small car park, a picnic area, toilets
---
Cost: Parking and access is free
Address: Far Ings Road, Far Ings, Barton-upon-Humber, DN18 5RG
This chain of flooded clay pits and extensive reed beds along the Humber bank from west of Barton-upon-Humber to New Holland is a legacy of the brick and tile industry. The site comprise the open water of Ness Lake, large areas of reed bed, grassland, hedgerow and scrub. The Visitor Centre has wonderful panoramic views across the reserve and the estuary, along with a gift shop and refreshments. There are three waymarked visitors' routes and the site is 59 hectares.
---
Cost: It is easy to find free parking near access points to the canal paths
Address: Lincoln to Saxilby
You can walk or cycle along the Fossdyke Canal Trail which runs alongside the canal from Lincoln to Saxilby – around 6 miles. It is a a Roman built canal which joins the tidal River Trent to Lincoln's High Bridge. You can walk as much or as little as you like but it's one way there one way back. You could visit Burton Waters along the way.
---
Cost: Parking is free and so is visiting the marsh and centre.
Address: Rspb, Roads Farmhouse, Frampton Roads, Boston PE20 1AY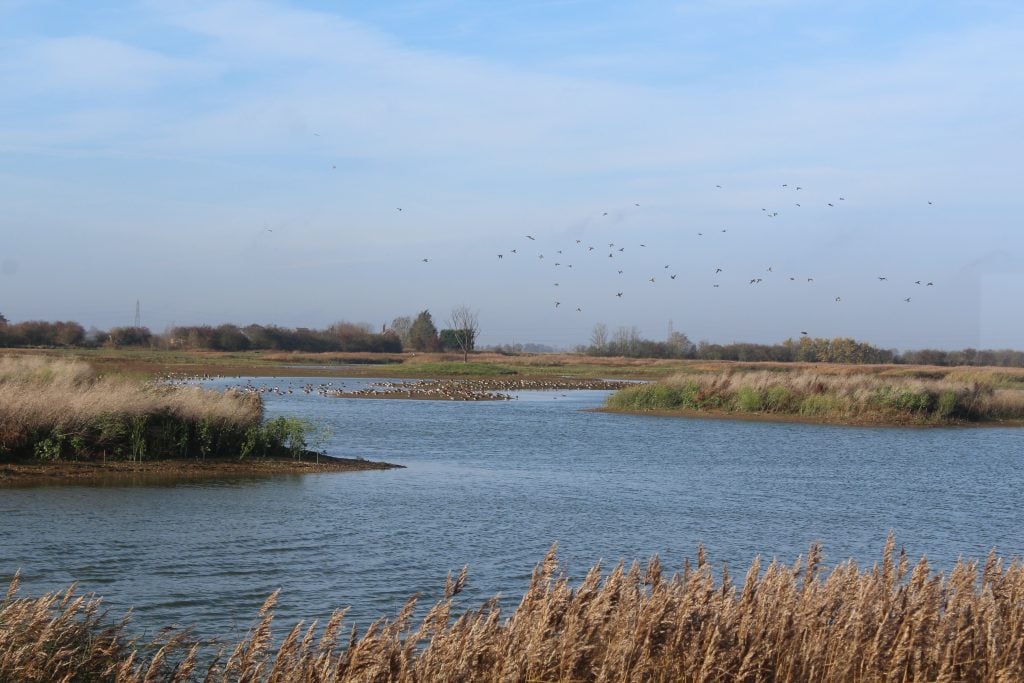 Blessed with a variety of freshwater habitats, Frampton Marsh provides close views of the abundant birdlife of The Wash, one of Europe's most special places for wildlife. Frampton Marsh is one of the best places for wildlife in the UK. It is at the leading edge of visitor and habitat nature conservation planning. Facilities include a visitor centre, more than 3km of accessible footpaths to explore and three hides – two with 360-degree views.
---
Cost: There are two car parks at Gibraltar Point – Beach Car Park and the larger Visitor Centre Car Park. There is a charge of £2 for 2 hours or £5 for the day
Address: Skegness PE24 4SU
Gibraltar Point national nature reserve is located by the sea near Skegness on the Lincolnshire coastline. It is an unspoilt haven for wildlife, especially migrating birds. There are plenty of traffic-free paths for the kids to run freely on. Plus you will see some beautiful views along the way. There a number of walkways, cycle tracks and fully accessible paths through Gibraltar Point. There is also a relatively recently built visitor centre which includes a cafe, shop and toilets.
---
Cost: There is no charge to park or visit
Address: 377 Skellingthorpe Rd, Lincoln LN6 0EY
Covering more than 200 acres, Hartsholme Country Park is a stunning open space to the south of the city. Hartsholme is a Green Flag Award winning park containing Victorian landscaped gardens, a large reservoir, woodlands and grasslands. There is also a visitor centre, children's play area, cafe and a three star rated Touring Park and campsite.
---
Cost: There is a small charge to park
Address: Crowtree Ln, Louth LN11 0QW
Hubbards Hills is an area of natural beauty to the west of Louth, formed by a glacial overspill channel at the end of the last ice age (about 40,000 years ago). The River Lud now meanders through it. A wonderful place for a family picnic, to walk the dog or just for a leisurely stroll, at any time of the year. At the park you'll find delightful woodland trails along the River Ludd which meanders through the park. It's a great place for a picnic but there's also a nice cafe on site if you prefer. It is only a short walk but it's a great place to spend some time paddling in the stream.
---
Cost: There may be a cost to park depending on where you choose to access the path
Address: Skegness to Mablethorpe coastline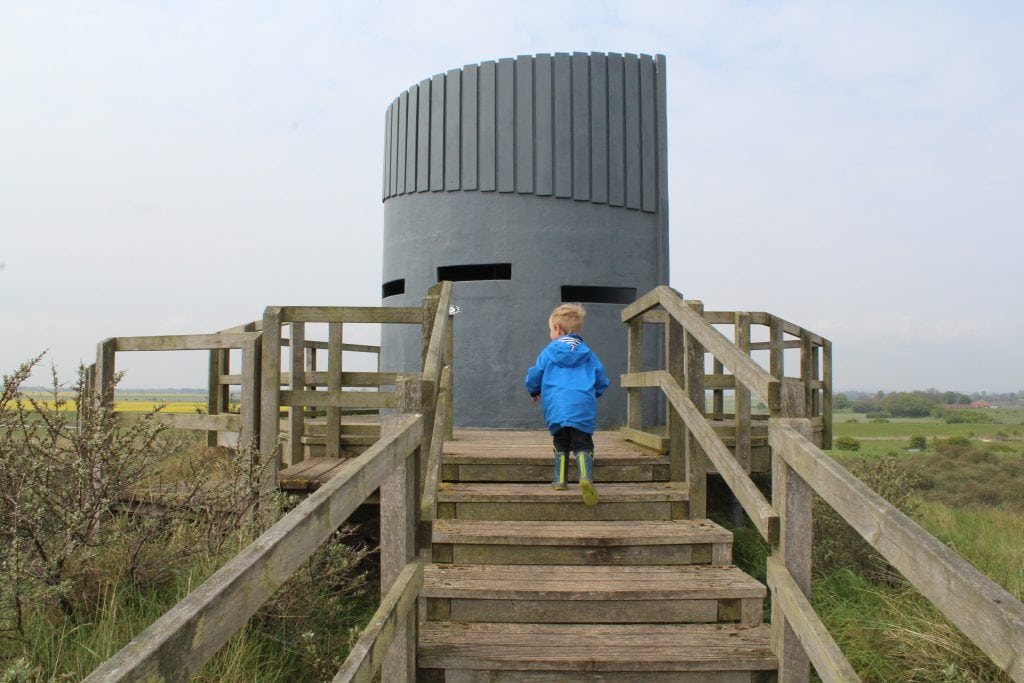 The 16 mile walk takes The route will take you from Skegness to Mablethorpe, enabling people to explore the route's 'natural and diverse wildlife', according to Natural England. There is a new boardwalk at popular spot Chapel Point, improving access to the North Sea Observatory. Walkers can also take in the views at the popular walking sites of Anderby Marsh, Chapel Pit and Wolla Bank Reedbed. Once finished it aims to be 80 miles long. Meaning any area of beach in Lincolnshire should have a path for a long walk next to it.
---
Cost: There may be a small charge to park
Address: B1195, Spilsby PE23 4JB
The reserve has one of the few surviving semi-natural wet valley systems, while the Country Park offers mixed woodland walks. This diversity supports a wide range of birds and other wildlife including butterflies and dragonflies. Snipe Dales offers three waymarked trails that can be enjoyed throughout the year. These include the 'There and Back Trail' – a one mile linear walk; the 'Country Park Trail' – a one and a quarter mile circular walk through the Country Park woodlands; and the 'Snipe Dales Round' – a three and a half mile circular walk through the reserve.
---
Cost: There may be a charge to park depending on where you choose to park
Address: Woodhall Spa – please click the link above for access points.
Walk, cycle or ride the Spa Trail on 3 miles of flat, surfaced path/bridleway along the mid-section of the old Horncastle to Woodhall Junction railway line and part of the Horncastle Canal. This easy, traffic free route is ideal for wheelchair users and families with young children and pushchairs. This trail, part of the Viking Way long distance footpath, passes through woods and rolling countryside. Sculptures made from wood, stone and metal are scattered along the way, reflecting local wildlife and links with the past.
---
Cost: Free to park and visit
Address: Maltkiln Road, Barton upon Humber DN18 5JR
Next to the Humber Bridge, on the waterfront at Barton upon Humber, you will find Waters' Edge Country Park and Visitor Centre. The park is home to rich and varied wildlife including many rare and migratory birds. You can follow a series of walks around the ponds, taking you through reed beds, woodlands and wild-flower meadows. Children will love the two adventure playgrounds and there is plenty of free parking. When open the Visitor Centre is free to visit. It has interactive displays and games to educate families about caring for their environment and nature.
---
Cost: £2 to park in the warmer months and £1 in winter
Address: Moor Ln, Thorpe on the Hill, Lincoln LN6 9BW
Whisby Nature Park is a beautiful landscape near Lincoln, full of wildlife, walks and trails. Once barren and lifeless, this amazing place now abounds with wildlife. The park was created by quarrying for sand and gravel, but nature has reclaimed the pits and bare sand, creating habitats for many species. There are six waymarked trails to choose from at Whisby Nature Park ranging from 1.2 to 3 miles. Paths are level and in many places have a hard surface of compacted limestone. When visiting, please keep to the paths as some areas are potential dangerous, particularly the deep water and disused washing channels.
---
Walking with kids in East Midlands
NOTTINGHAMSHIRE
Cost: Parking is £3.00 all day, the centre is free
Address: Barton Lane, Attenborough, Nottingham, NG9 6DY
Attenborough Nature Centre is an award winning visitor and education facility surrounded by the tranquil waters of the beautiful Attenborough Nature Reserve. The Nature Centre houses a host of facilities including meeting rooms, education facilities, interactive displays, a nature shop, and the Café. The Nature Reserve itself is a 226 hectares outdoor site. The full walk around the reserve should take around three hours so a half day visit is ideal with the Nature Centre providing great facilities before and after your walk. Attenborough has 4 bird hides with unique features.
---
Cost: Free admission and car parking
Address: Park Rd, Bestwood Village, Nottingham NG6 8TQ
The 650 acres of Bestwood have a richly varied landscape, wildlife and industrial heritage. This serene oasis, now popular with walkers, cyclists and bird-watchers, was once home to one of Britain's busiest coal mines. There is a play area and the circular walk is 3 miles.
---
Cost: I believe parking is free
Address: Ilkeston Rd, Bramcote NG9 3JT
Bramcote Hills Park is approximately 27 hectares in size, comprising a mix of woodland and parkland. It is a focal point for community participation in leisure and recreational activities and is a much appreciated facility for dog walkers, parents with young children and families. There are many key and varied features to the park, including the Holocaust Memorial Garden, the cycle path and extensive areas of mixed woodland and open parkland. Historical features include
the ice-house, the site of the former Bramcote Hills House and the walled garden. Facilities include an exciting play area, trim trail and more. A number of paths lead off to more places to walk.
---
Cost: There may be a charge to park
Address: Skegby Road, Sutton in Ashfield NG17 2PL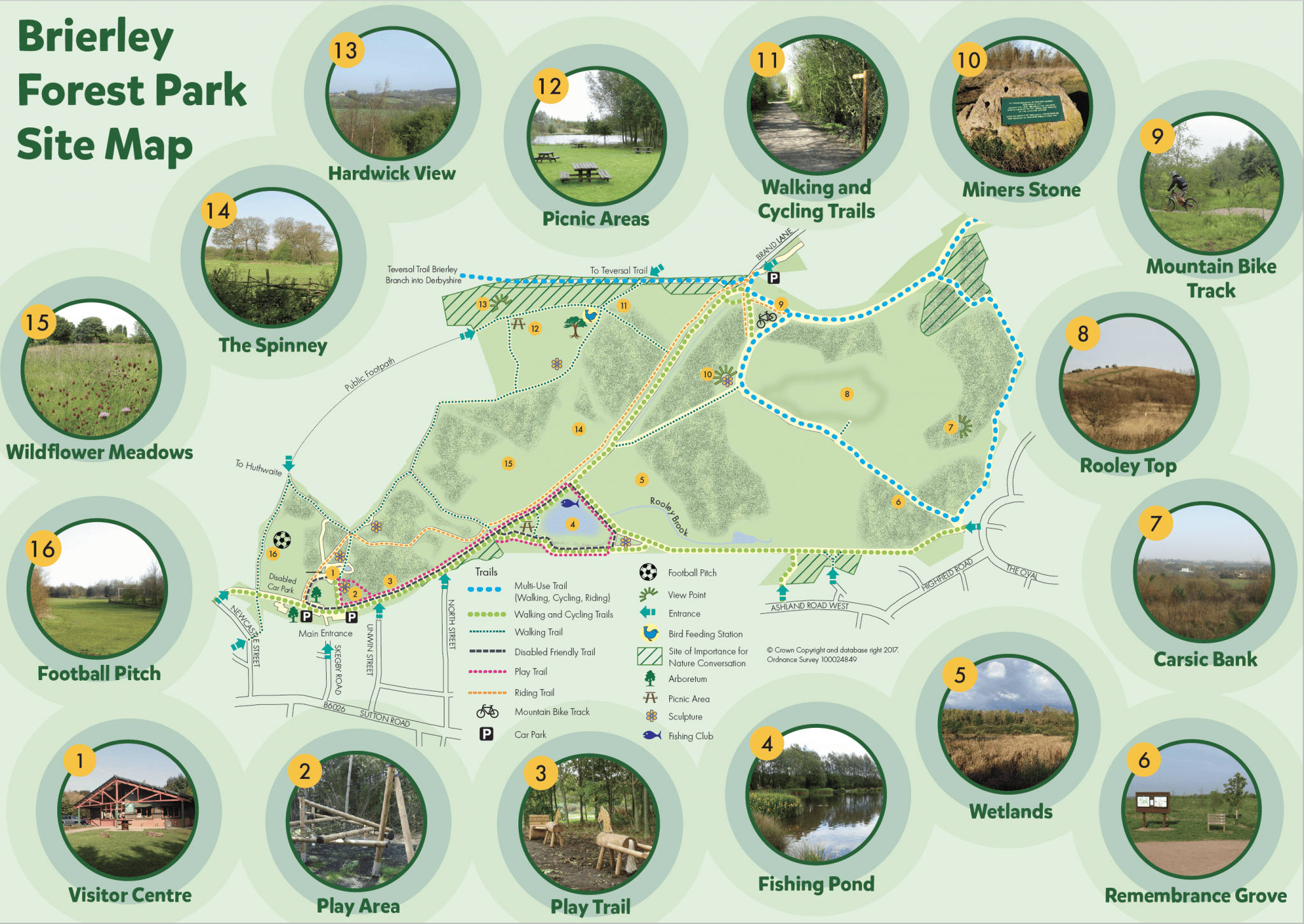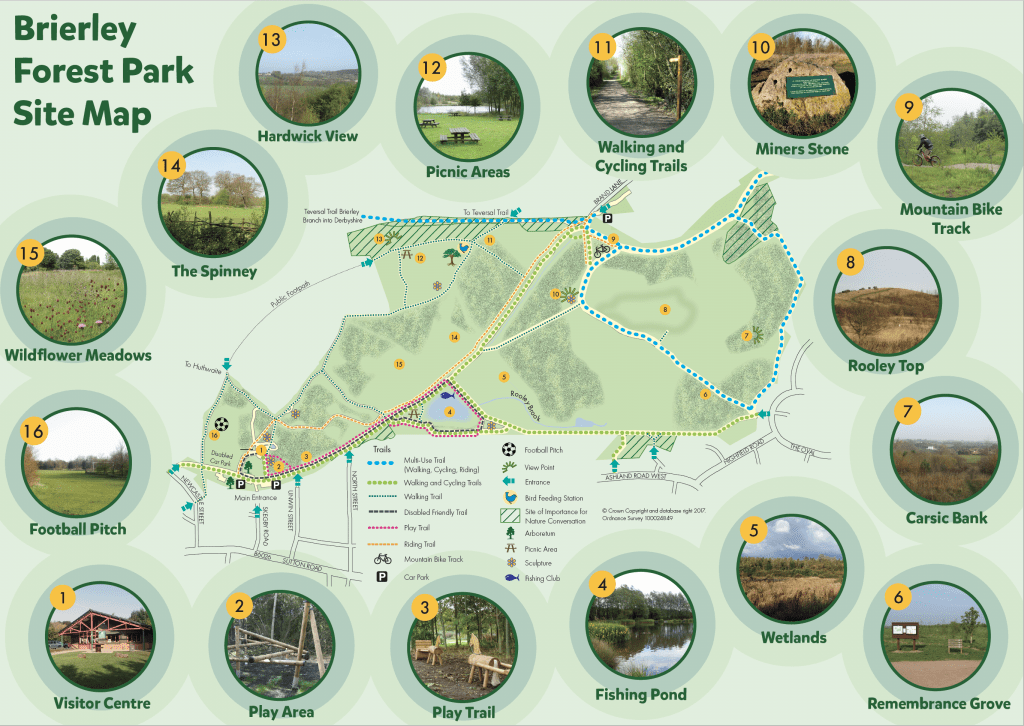 Brierley Forest Park was developed as a Country Park between 1992 and 2000, to provide footpath, cycling and horse riding networks through a series of plantation woodlands, hay meadows, water bodies, streams and wetland areas. Originally a former colliery site, Brierley Forest Park has been transformed into a wildlife haven with walks covering over two miles. The park is over 78 hectares in size and also provides recreation facilities including a football pitch, children's play area and play trail, fishing, mountain bike track, sculpture features and a visitor centre with café facilities.
---
Cost: Parking is free at the main entrance car park but through the barrier there is a £1.00 charge
Address: Mile End Rd, Colwick, Nottingham NG4 2DW
Enjoy several miles of lovely, waterside walking and cycling in this country park in Nottingham. The park contains two large lakes, a marina, woodland and meadows. The River Trent also runs through the park so there is scope for continuing your walk along the Trent Valley Way walking route. There is also an excellent visitor centre with cycle hire available.
---
Cost: Admission and parking are free.
Address: Hollygate Ln, Nottingham NG12 3HE
The Park has been created from the reclaimed land of a former colliery site. The park has been landscaped with woodlands, lakes, and wetland areas. There are 200 acres of public open space to explore on foot, by bike or on horse back. There are four waymarked walking trails, starting from the car park on Hollygate Lane. Yellow Trail is a short route of 3km on a level path, Blue Trail is 4km with some uphill path, Green Trail is 4.75km with several sections of uphill path, and Red Trail is 5.8km and encompasses the two high points within the Park.
---
Cost: There may be a charge to park depending on where you choose to park
Address: Nottinghamshire and Derbyshire
The Erewash Valley Trail takes in beautiful countryside, wildlife and waterways but it's never far from the towns and villages on the borders of Derbyshire and Nottinghamshire. Once renowned for mining and lace mills, our area has inspired great names like author D.H Lawrence, designer Paul Smith, and actor Robert Lindsay. Cleaner waterways have seen a rebirth over recent years as otters and salmon return and regular sightings of bitterns and water voles. With easy routes for walking or cycling, but never far from amenities, the Erewash Valley is a great place to get away from it all without going far.
---
Cost: There are no charges to visit
Address: Spring Ln, Nottingham NG4 4PE
Gedling Country Park is 580 acres of open space, footpaths and wildlife for you to enjoy with stunning views over the surrounding area. There are a series of trails to allow you to get round the park easily. They are graded for length and difficulty so you can take anything from a quick stroll with a pushchair to a strenuous workout. Top Hard (Red) – 2.8km long with some steep inclines. High Hazles (Blue) – 1.4km with gentle slopes suitable for wheelchair users. Plus two others.
---
Cost: It is free to park and visit
Address: North Rd, Retford DN22 8SG
This nature reserve in Retford has several waymarked walking trails to try. There's lots to see with waterside walks along several pretty lakes and the River Idle which runs right through the site. The site consists of a beautiful 450ha network of lakes, wetland, grassland and scrub. It is home to a diverse range of wildlife and is recognised as one of the richest birding sites in the region.
---
Cost: There may be a charge to park
Address: 7 Church St, Langold, Worksop S81 9NR
Langold Country Park is located just 5 miles north of Worksop in the village of Langold. The site, which is owned and managed by Bassetlaw District Council, covers an area of 300 acres of parkland. The park itself comprises of varies woodlands, wildlife and butterfly meadows, open grassed areas, a large fishing lake, play areas and much more for families and visitors to enjoy throughout the year. There is even a splash area.
---
Cost: £3 an adult. Children under 16 are free. Bird food is an additional cost.
Address: 4 Corkhill Ln, Normanton, Southwell NG25
The 9 acre Swan Sanctuary is magical and unique. The shaped contours of parkland encompass 5 beautiful lakes and are planted with an array of shrubs and trees, making every turn of the path a journey of discovery. It is a place of tranquillity with it's many beautiful places to just sit and let time go by. It truly is a place of peace and interest at any time of year. Although it's not a relatively long walk it is a lovely walk and you can spend lots of time feeding the swans and other water birds.
---
Cost: Summer parking charges of £4.00
Address: Rufford Abbey Country Park, Ollerton NG22 9DF
Set in beautiful parkland, Rufford Abbey offers over 870 years of history, from its origins as a 12th century cistercian monastery to its period as a Jacobean era family home. There is plenty to explore; with walks through the native woodlands, a lake and gardens plus a range of attractions, activities and places to relax and eat. There is an adventure play area, crazy golf, boating lake and more.
---
Cost: Access to park is free, parking is just £1
Address: Mere Way, Nottingham NG11 6JS
The park is set in beautiful countryside just south of Ruddington. It covers approximately 210 acres. It is an ideal place for many activities, with a network of over 8 kilometres of footpaths. There is also a large play area.
---
Cost: Entry is free. Parking is free for RSPB members or £4.00 for non members
Address: Sherwood Forest NNR, Edwinstowe, NG21 9RN
Sherwood Forest, the legendary stomping-ground of Robin Hood, is a 450 acre country park in Nottinghamshire. Managed by an RSPB led consortium in partnership with the County Council, the park is home to the Sherwood Forest National Nature Reserve and is designated a Site of Special Scientific Interest. The forest has 900 veteran oak trees including England's Tree of the Year 2014, The Major Oak. During holiday periods, there are guides in traditional medieval costumes in the forest, offering information to visitors. There is a Robin Hood-themed play area plus a seasonal train and fun park.
---
Cost: All day parking is £6.00. There are cheaper options available
Address: Edwinstowe, Mansfield NG21 9JL
Sherwood Pines is the largest forest open to the public in the East Midlands with over 3,300 acres to discover. It's a centre for a wide variety of outdoor activities from a relaxed stroll to Go Ape Tree Top Adventure and much, much more. Facilities at Sherwood Pines Visitor Centre include cafe, cycle hire, children's adventure play trail and toilets. A short way marked woodland walk takes you to Robin Hood's Hideout, recently declared a top ten English natural play spot. The sand play village aimed at young children and the raised walk way by the visitor centre are popular places too. The forest often has special trails for families.
---
Cost: Parking is £3.00 for the day or cheaper if you want to visit for less than a day
Address: Netherfield Ln, Newark NG22 9EP
Thoresby Park, within the heart of Nottinghamshire, is a lovely place to visit all year round with a range of attractions for all the family no matter how young or old. The extensive grounds cover over 1000 acres of rich unspoilt English countryside, with a range of facilities and attractions. There are signposted circular walks around the estate that's accessible to all. Wheelchair and pushchair friendly, the walk takes up to an hour…depending on your pace! The circular walks takes in the sights and sounds of the estate including the lovely River Meden and St John's Church in Perlethorpe.
---
Cost: Entrance is free. It costs £3 for parking for 3 hours and £5 all day
Address: Nottingham NG8 2AE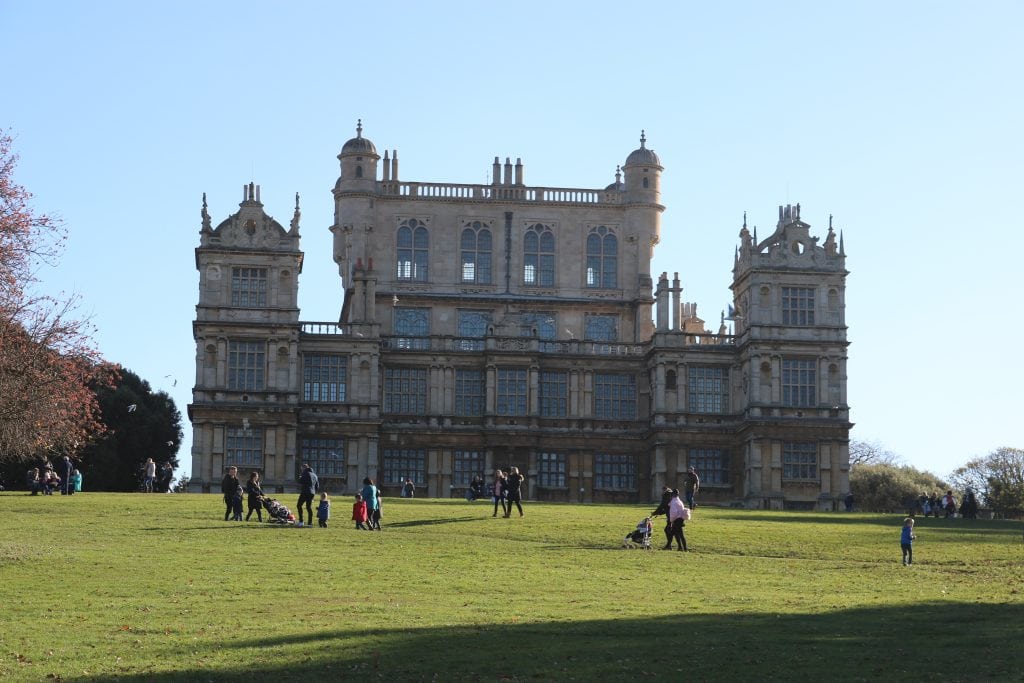 There's plenty to see and do at Wollaton Hall. Enjoy Natural History exhibits, tours of the house, the grounds and lake, formal and botanical gardens, playground, cafés, shops and much more. Built in 1588, Grade I listed Wollaton Hall nestles in 500 acres of parkland boasting diverse habitats including grassland, wetland and woodland. The parkland is used regularly for orienteering, geocaching and popular amongst birdwatchers, photographers and wildlife spotters.
---
Cost: All day parking is £8.00. There are cheaper options if you don't want to spend a long time there.
Address: Oakham
Set around beautiful Rutland Water and covering 4,200 acres of open countryside, the park offers everything from walking and cycling to fishing and watersports. There is also our fantastic nature reserve, managed by the Leicestershire and Rutland Wildlife Trust and home to the Rutland Osprey Project. There is also a beach, play areas, mini golf, Bugtopia and more.
---