Miniatur Wunderland is a model railway and miniature airport attraction in Hamburg, Germany, and the largest of its kind in the world. As they only allow a certain number of people in at one time queues can soon build up. My best advice is to get there as early as possible so the queue isn't as long. Some days they even open until midnight and late evening it can also be at its quietest.
Highlights for us were when day turned to night for all the miniature places and everything took on a different look and sometimes special effects. My son loved that there were lots of push buttons – they have more than 200 push buttons. More about them below. Everything is controlled by computers and so far over 760,000 working hours have been invested in creating Miniatur Wunderland.
*Disclaimer. We were provided with press tickets for the purpose of this review. All opinions and photos are my own and must not be duplicated without prior permission
We arrived around 10am on a drizzly summer's day. Most of the time slots were booked up for the day but we were allowed in with our tickets even though we didn't have an allocated slot. This may not be possible if you turn up on the day without a ticket and if they are fully booked.
Review Miniatur Wunderland Hamburg
We have been to a few model railways in our time but this does not compare to anything we've ever seen before. If I could describe it with one word the word would be 'Epic'. You arrive on the 2nd floor and you have to follow the signs up to the start. Even at the start you still don't really get the full idea for the vastness and wonderment of this place. There is a reason it's called Wunderland! Please read on to find out more in our review of Miniatur Wunderland, Hamburg.
How long does a visit take to Miniatur Wunderland?
The answer to this question is – a lot longer than you're expecting. I had been recommended two hours. If you ask google people typical spend 3.5 Hours there. That's about what we spent and we rushed the last bit which was a shame. Make sure you allow at least three and a half hours if not more. There is so much to see and spot.
4th floor
As mentioned above you follow signs to the start which means getting up to the 4th floor. We weren't entirely sure of protocol at the start. Are you supposed to queue and follow each other around, can you just find a spot and squeeze in.
USA
Miniatur Wunderland is miniature versions of main tourist sites and landscapes in different countries around the world. You are encouraged to start at the USA which was it turned out the hardest country to see properly as it did get very busy here. It also soon became apparent that it was every man for himself. There was no queuing system and basically if you see a gap take it. The lovely thing is that they have lots of platforms along the barrier for kids to stand on. It was also convenient for taking some great photos from above.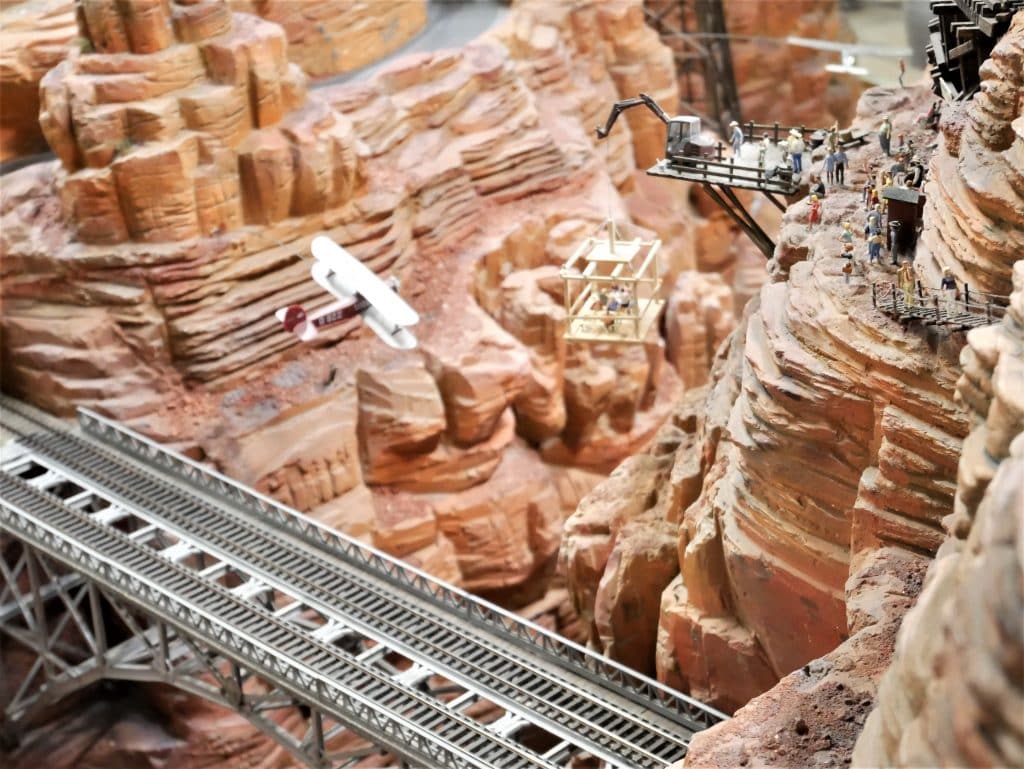 We started by watching miniature trains, cars and lorries travelling around the USA. One of the highlights here was the Grand canyon. Be careful as Miniatur Wunderland can give you serious Wunderlust.
There is also a mini version of Las Vegas which was where we experienced the lights going down for the first time. Las Vegas was transformed with sparkly lights. There is also Florida with Miami beach, the Florida Keys and Cape Canaveral where a rocket takes off every now and then. That's the really wonderful thing watching everything that moves. It is essential to stop at each new "view" and just take everything in. There are so many things that move.
If you wait for one of the 200+ buttons to go green you need to read what the button controls. This then gives you a clue of what to spot and you should then spot something new moving or turning on. There are so many amazing things such as fire brigade putting out fires, mini people drinking beer, buildings opening, roadworks starting and so much more. It has to be seen to be believed.
Hamburg
Behind the USA you will find Hamburg. This area is quite large and after leaving the USA we didn't have too much trouble finding a space for ourselves. Well until we reached the airport that is. More about that later. It was lovely for us to have seen so much of Hamburg the day before on the bus tour.
It meant that virtually everything was recognisable to us and great to see in miniature such as the Elbphilharmonie which spectacularly opens when a button is pressed, the harbour, dockyard, and many many trains. They even have a miniature version of the Lion King and Mary Poppins theatres.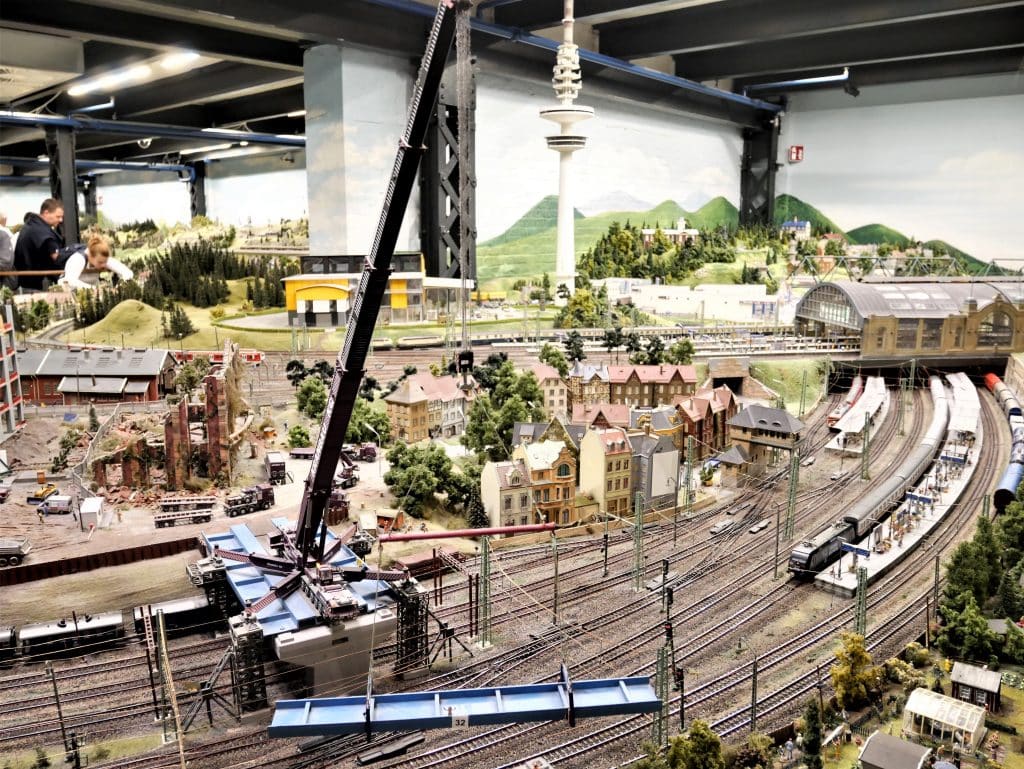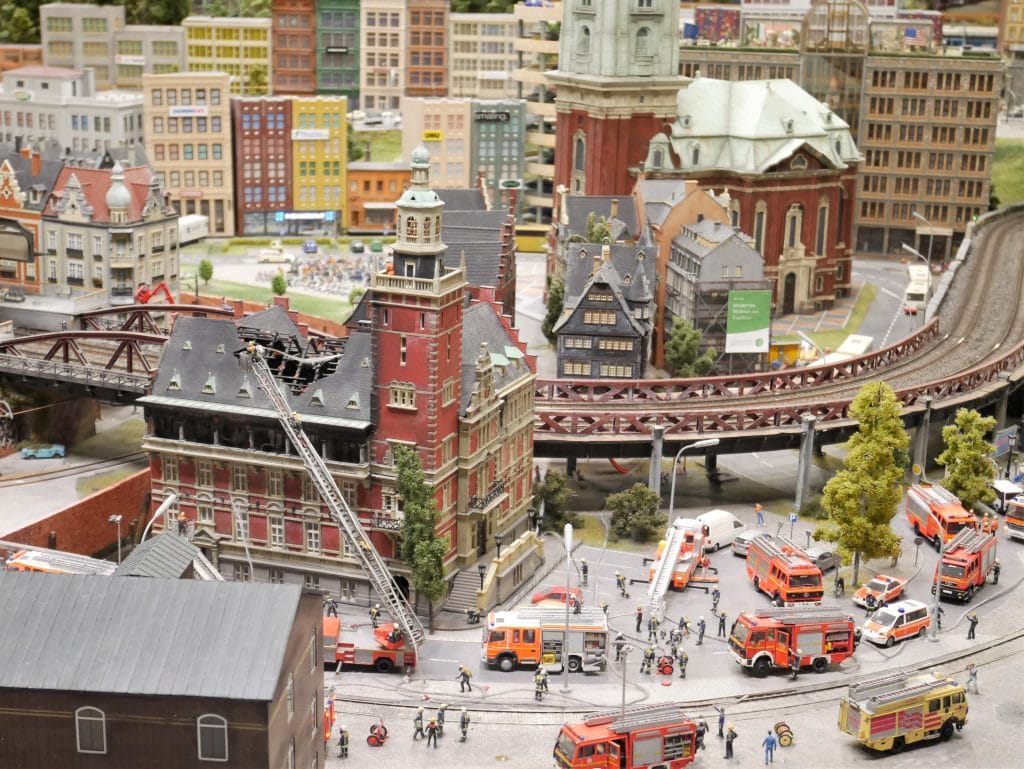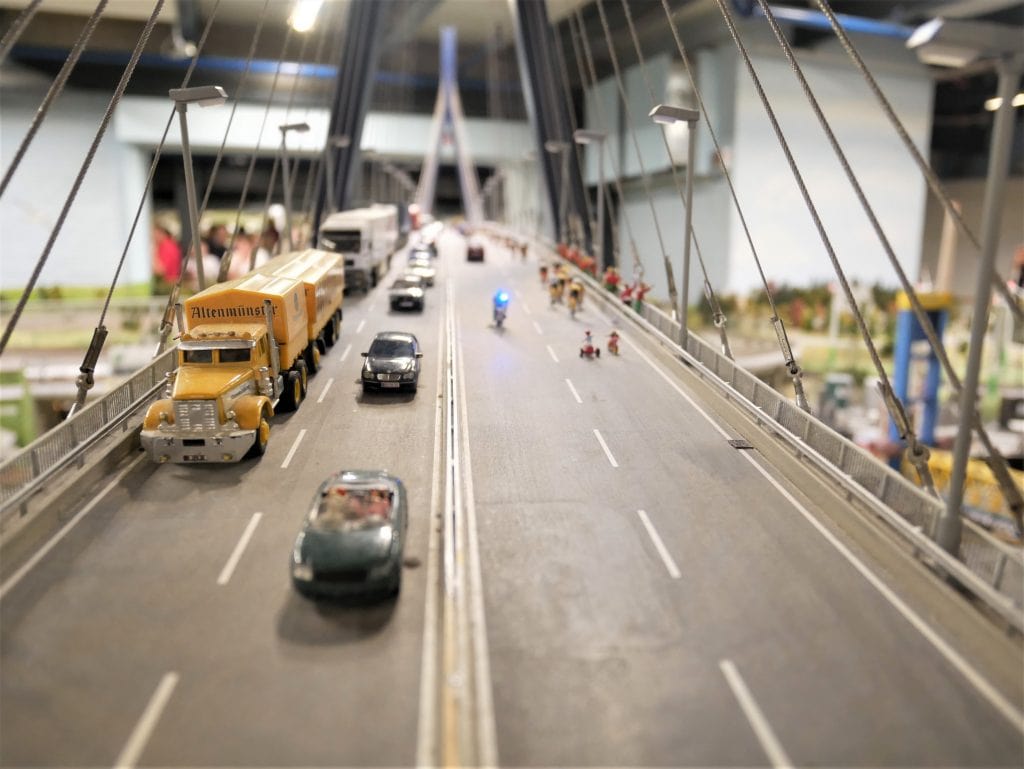 Scandinavia
If you head right here you then enter Scandinavia. If you're not sure what you're looking at there's normally little signs to read. I loved the look of the International garden exhibition in here and I've added it to our list now.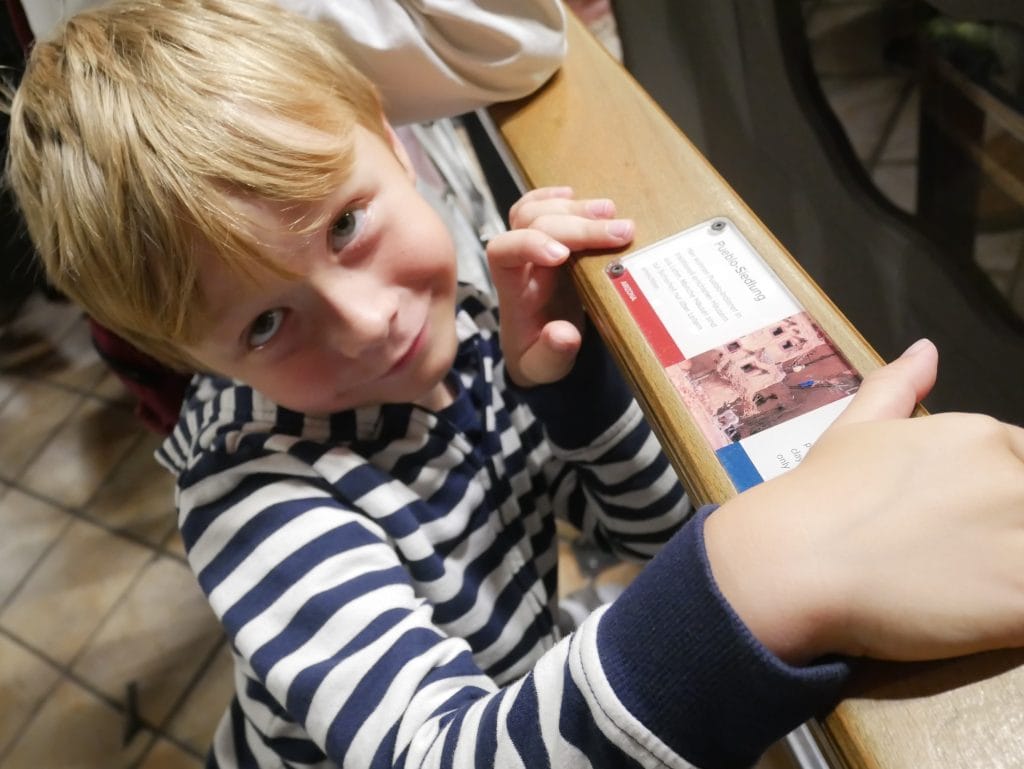 There was also a circus and the highlight was the AidaAblu cruise ship that moved slowly along in the water. It's worth waiting for it to go dark in this area as in the corner you will find a snow covered Finland and the northern lights shine on the wall. It was lovely to see and my son loved it as it brought back memories of our holiday to Lapland last winter combined with seeing the northern lights in Iceland this year.
Middle Germany
After our holiday to Germany I would love to explore more of this wonderful country. Middle Germany has inspired me even more. The landscape looks fantastic. There was a really cute fun fair here complete with moving rides, plus a long ice train track and the famous Black forest complete with castles.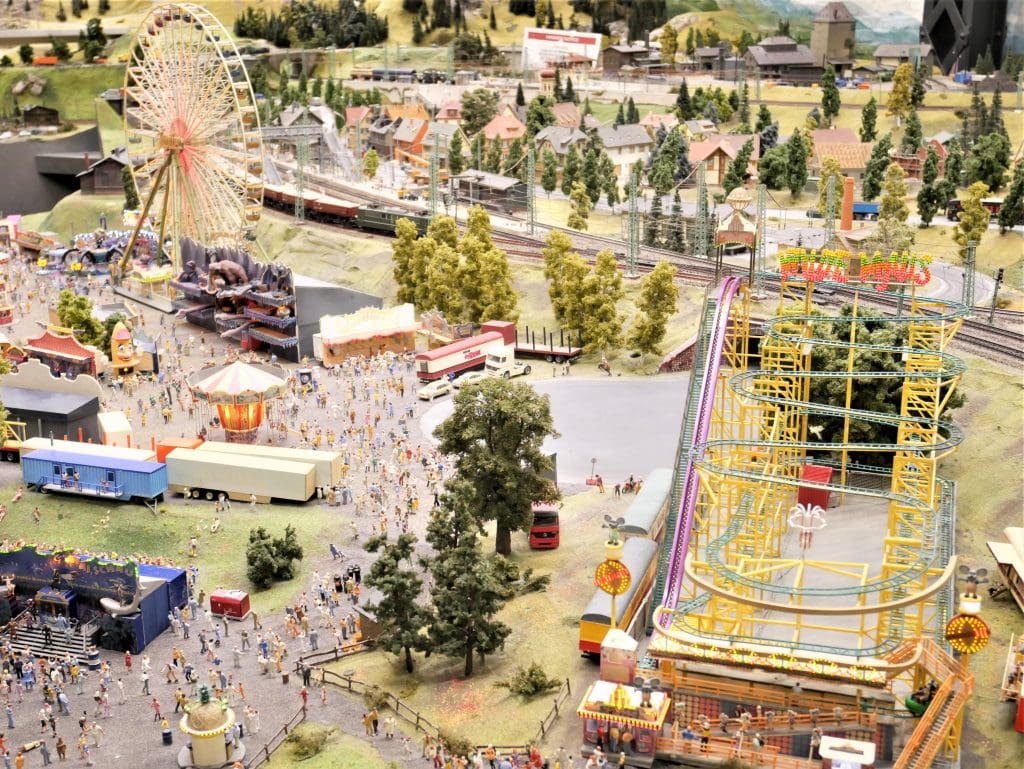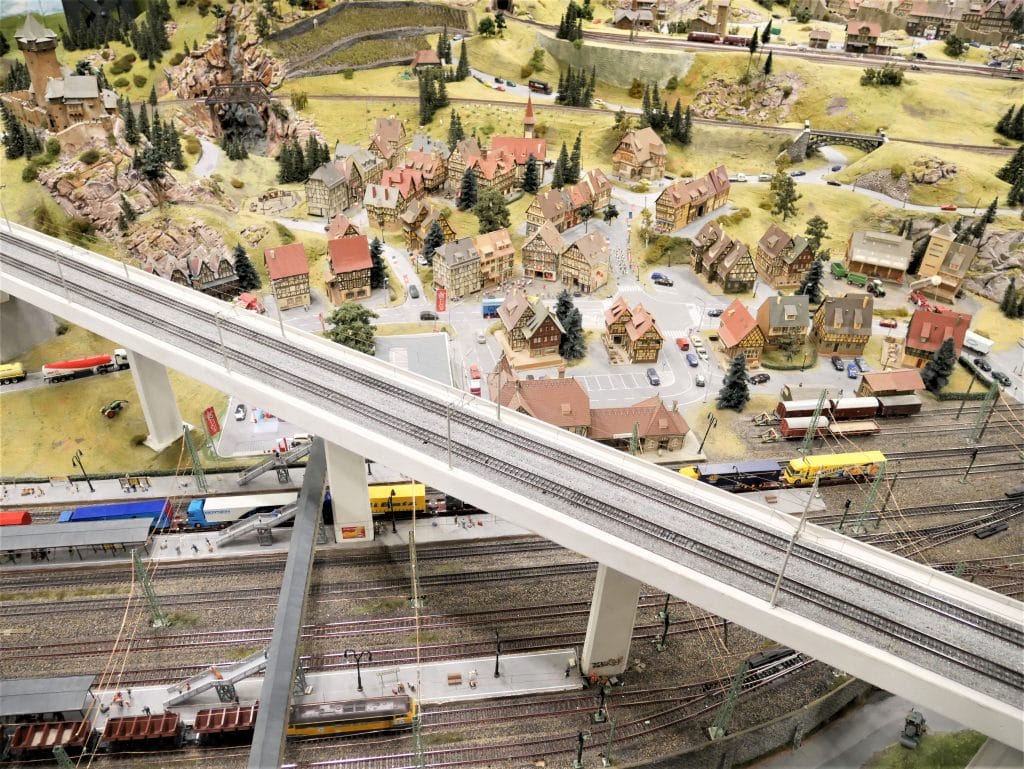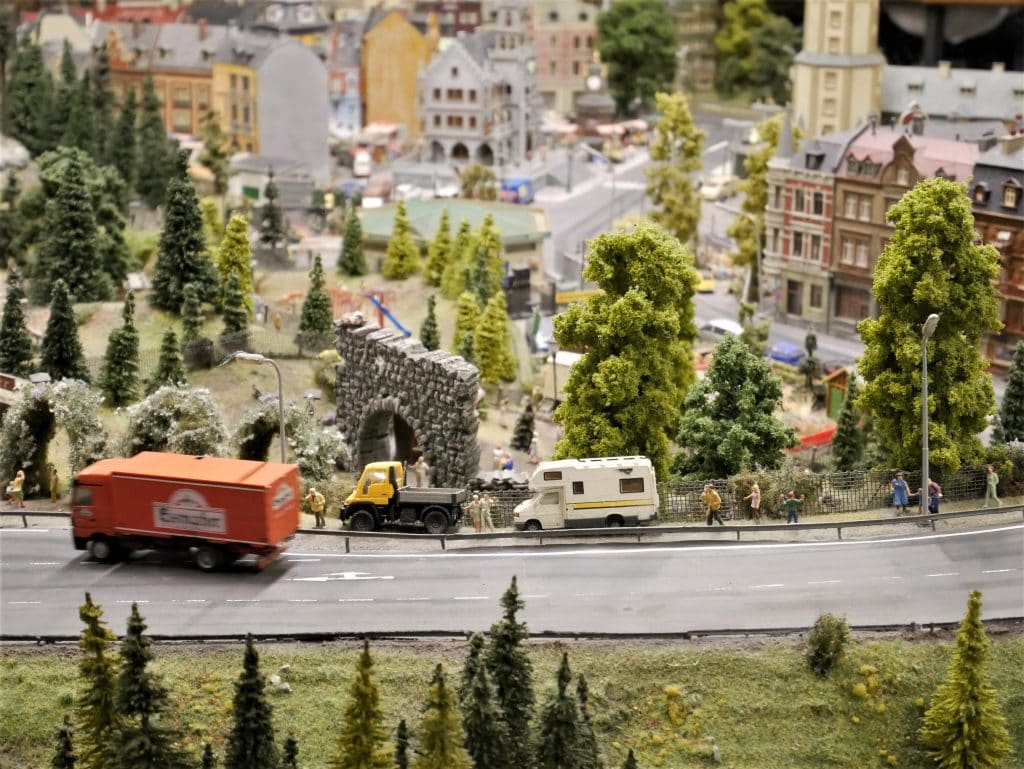 Kniffingen
Kniffingen is a made-up place with made up castles and monuments. We loved watching the cars going about their business in this area, especially when the lights went down.
Austria
Austria also takes on a life of its own when the lights go down. There's a big fluffy cloud hanging over Austria and this has a thunderstorm whenever it goes dark. You can also expect plenty of snow, cable cars and skiers in Austria. By now we'd already been there for well over two hours so we were starting to hurry along more than I'd have liked which was a shame.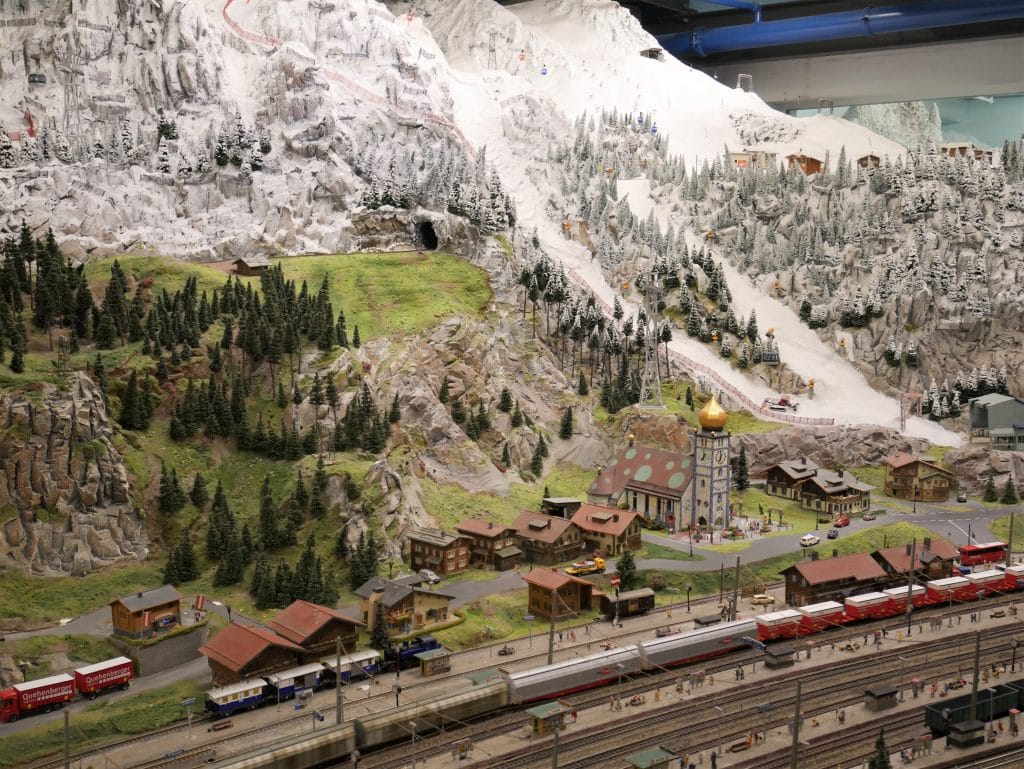 Switzerland from above
When you leave Austria you enter into another area of the 4th floor. When my son and I went in here we both said WOW. Switzerland takes up not only the 4th floor but also the 3rd floor. To convey the vastness of its mountains such as the Matterhorn it takes up two floors. They have a festival set up here with thousands of miniature people, a concert stage, tents and everything else you'd expect from a festival.
Airport
Next to Switzerland, you will find the airport. This is perhaps the area where people spend the most time. The reason being is that there is so much to see. You start by a multi-storey car park for the airport with hundreds of cars. As you make your way around you come to the airport terminals with moving planes, luggage being put on and off, refuelling and more.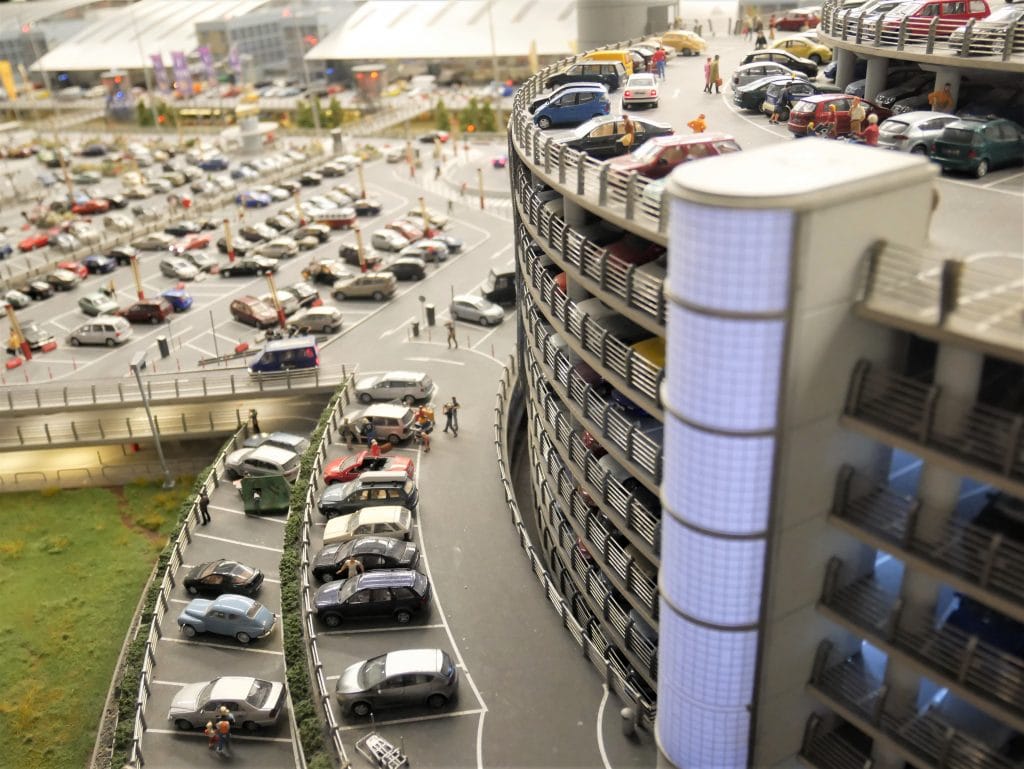 But the highlight and the area you will have to wait to get a spot in is the runway. Here you get all the realistic sights and sounds where you can watch planes take off and land. There's a good range of planes and everyone had a big smile on their faces while they were watching. The airport highlights how cleverly everything has been put together. How it all works and works so well is mind-blowing.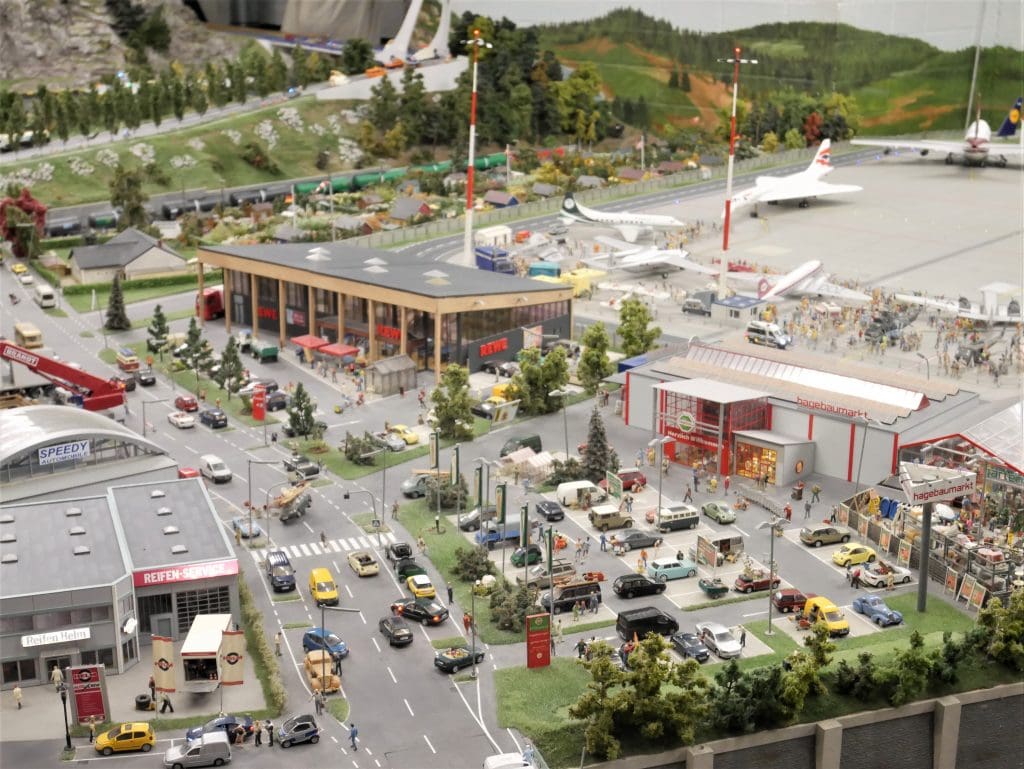 3rd floor
Italy
It was now approaching our third hour at Miniatur Wunderland. It was also time to head on down to the 3rd floor. This doesn't have anywhere near as much to see as the 4th floor but that doesn't mean it's any less exciting. We headed over to Italy first and a miniature version of Rome with the trevi fountain where you can actually throw in money which goes to charity. They have all the main sites including the Colosseum, Vatican, Roman Forum and more.
As you move around you see plenty of the gorgeous Italian scenery. I loved this part especially the miniature towns and villages such as the Cinque Terre and Amalfi Coast. This was also lovely to see lit up. No detail has been left out and we could even see washing out on balconies.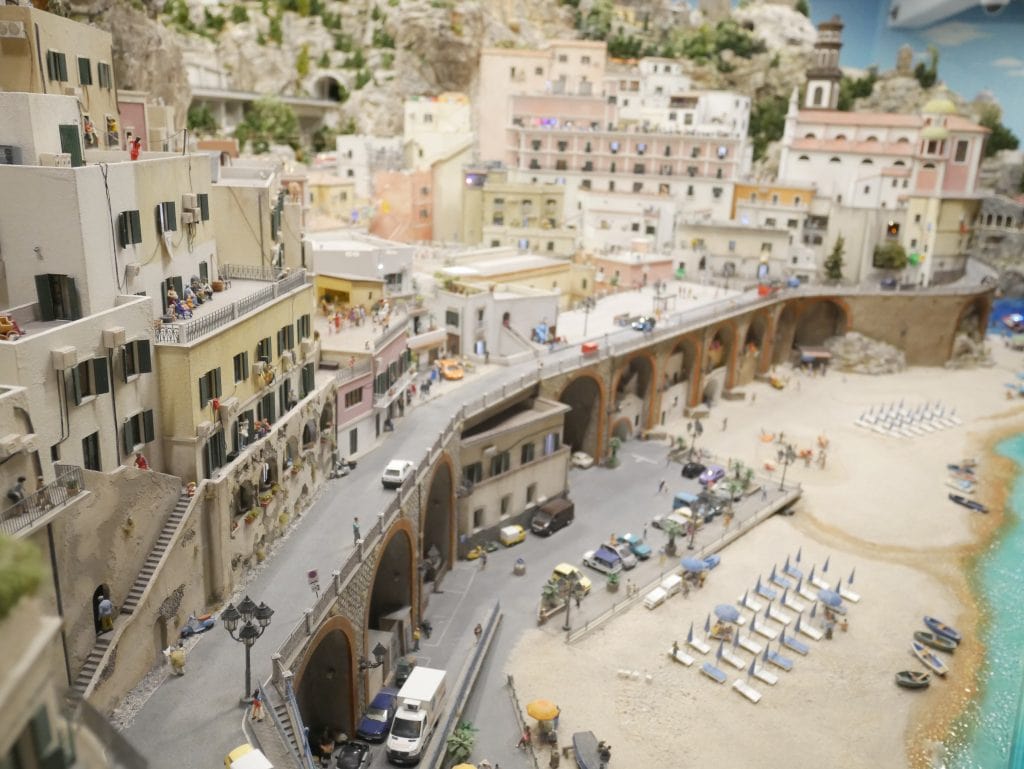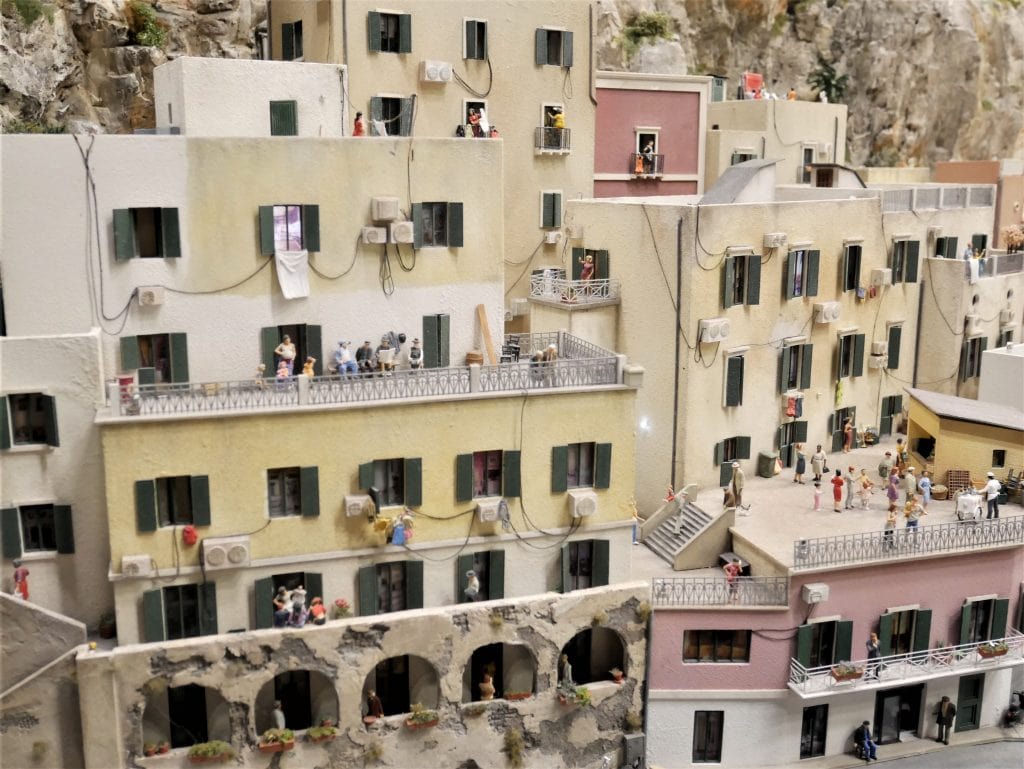 I'd never even heard of Rimini before but after seeing it in miniature I now want to go. There are all sorts of theme parks and water parks. Make sure you are in this area when it goes dark as Vesuvius above a miniature Pompeii erupts with realistic sound effects and lava flowing out the famous mountain.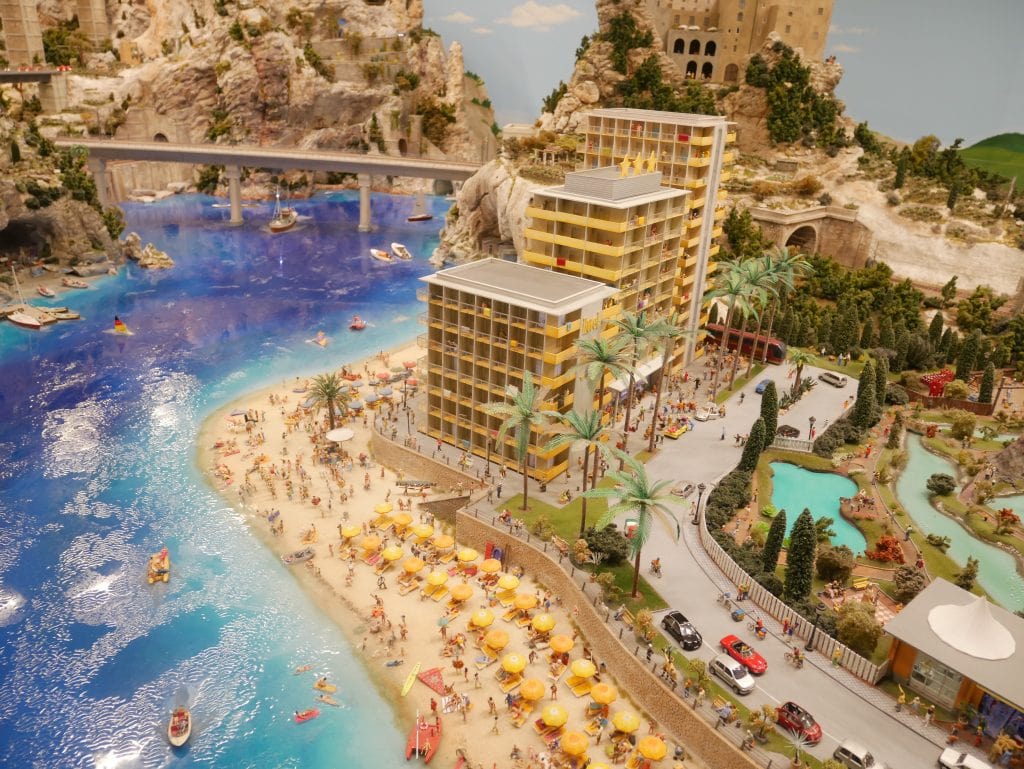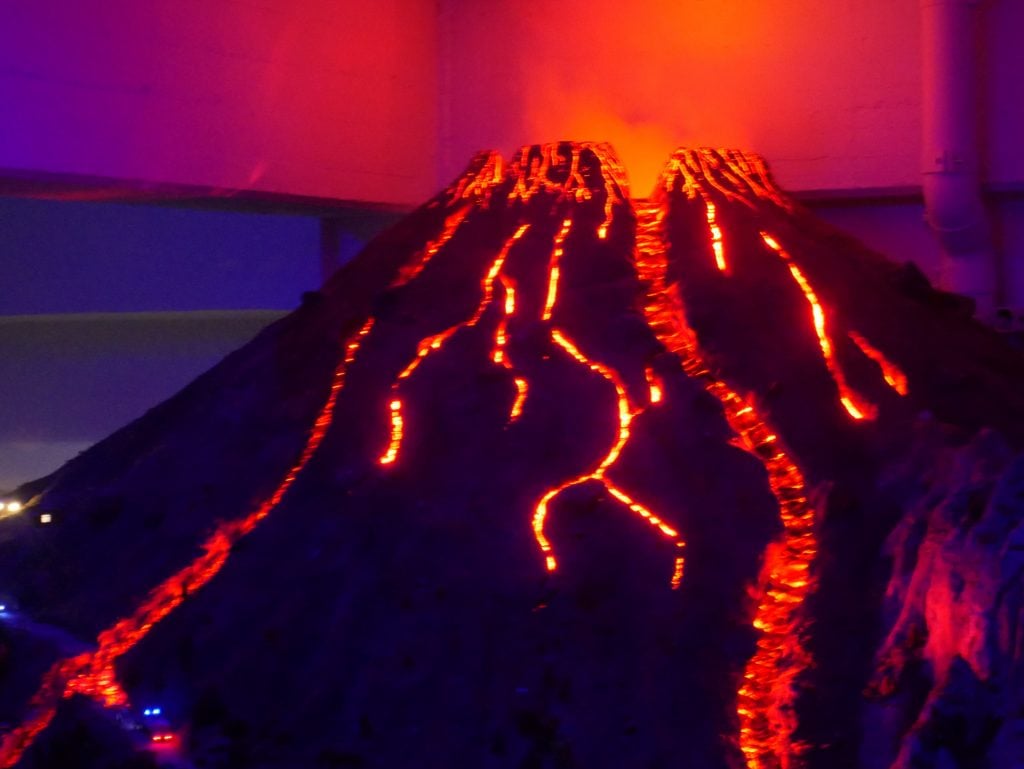 I was starting to panic a little now as I'd heard that they'd recently re-created Venice but on first glance, I couldn't see it anywhere. Luckily we spotted it and we spent an absolute age looking at Venice. It was especially exciting for us as we went just a couple of years ago. We had a great time spotting all the sites and there are some really nifty interactive buttons to press here. They have covered everything from the Doges Palace to St mark's basilica, Rialto bridge and the Grand canal with all the gondolas.
Switzerland from below
Also on the 3rd floor you can enjoy Switzerland from down below. From the 4th floor you are looking at two levels one of which is down. This is where you can look at this part closer up.
At the bottom of the stairs on the 3rd floor you will find a huge miniature concert arena. This is excellent. I have never seen so many miniature people and many of them move. When the lights dim lots of little lights come on. We were really taken with this and spent a long time stood taking it all in.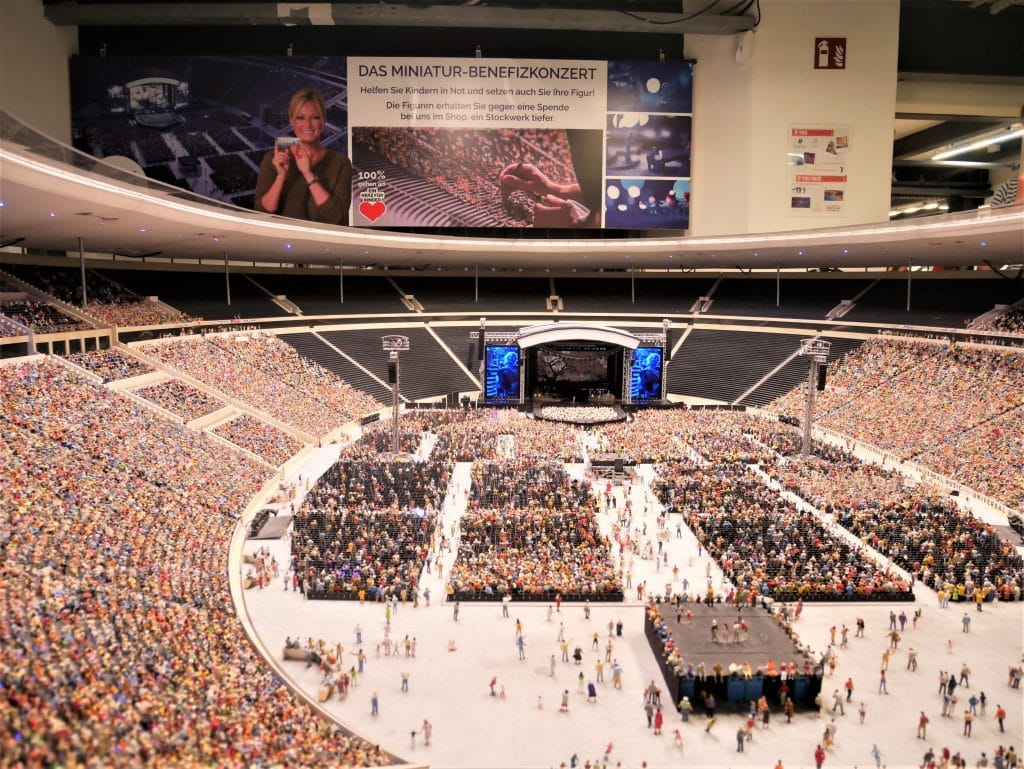 On the 3rd floor there is much of their current work on progress. You can see them working on their new additions of Monaco and Provence. Once they've done with creating these two places they will continue to work on even more exciting new projects.
2nd floor
The 2nd floor is the entrance level. This is where you will find the large gift shop, cloakroom and a self-service restaurant with a modern train carriage theme. We loved the shop especially all the magnets to choose from. They ask people to put their backpacks and other bulky items in the cloakroom. It is 50 cents an item. I asked if I had to put my backpack in and they said I didn't have to if I didn't want to. I was glad we didn't as we couldn't have gone that long without a drink.
Important Information
Miniatur Wunderland is open 365 days a year, always at least from 9:30 am – 18:00 pm. Some days it is open from 7:30 am which is what I think all attractions should do during peak times, especially for families with children that get up early.
As the attraction gets so busy you can purchase a timed slot and day in advance on their website. This enables you to skip the queue. Prices fluctuate online according to the time of day you want to visit. The highest online price for an adult is 15,00 euros and 7,50 euros for a child under 16 years. Children under 1 meter / 3 feet are free.
How to get to Miniatur Wunderland
Miniatur Wunderland is centrally located in the Speicherstadt (the historic warehouse district) of Hamburg. It can be reached conveniently by bike, metro, bus and car.
The Speicherstadt lies in the heart of Hamburg, between Rathaus (town hall) and the famous Elbphilharmonie. Right in front of the Miniatur Wunderland stops bus line 6, the nearest subway station is called Baumwall (U3) and the next tram station is Stadthausbrücke (S1 & S3)
In front of the building, there's also a StadtRAD-Station (city bike station) and a parking lot.
Exact address is:
Miniatur Wunderland Hamburg
Kehrwieder 2
20457 Hamburg – Speicherstadt
---