What you should know:
There's always an app for that.
Photo Pass
Meal plan or room discount?
Fast pass
VIP fast pass
Buy in advance
Batteries
On site
Early Magic Hours is a real thing. Guests with EMH are allowed into the park a whole 2 hours before any one else and have exclusive access to Fantasy Land. 2 years ago, we had completed Fantasy land by the time our 2 hours was over and successfully making our way to the next land in the park. Fantasy land is also the first park many off-site guests run to as this is home to Peter Pan, the Carousel and It's a Small World.
Hotel Atmosphere. The hotel just vibes Disney, even if the off-site location is decorated in Disney style.
Starting next year, Disney hotels will resume offering characters at their restaurants; this was canceled for 2 years and apparently brought back by popular demand. When booking your hotel reservation, it is also possible to book various shows and restaurants, like Buffalo Bill or Chef Mickey's at the same time. Not all offer breakfast included so be sure to check into that before assuming anything, but there are several options available at Disney Village should you choose to leave the hotel to eat.
Disney hotels also offer public transit to and from the park. These buses only service Disney hotels so you won't be fighting off-site guests for a chair, but a bus is still a bus. When booking online, they all mention how far of a walk you are looking at. While walking home after 12 hours in the park sounds like the last thing you want to do, once you see the bus lines, you may change your mind.
Price. As a budget traveler, I would be lying if I said their prices weren't a little high. Yes, you get what you paid for, but I don't require 24 hour access to the pool, or sauna, or room service… I would gladly take a reduced price in exchange for fewer unnecessary amenities.
Unless you are staying at the Disney "moderate" resorts, buses may be required. I dislike taking such crowded buses, and without physical barriers to keep guests from swarming the bus (like they have at Walt Disney World), it can sometimes be borderline unsafe for small children.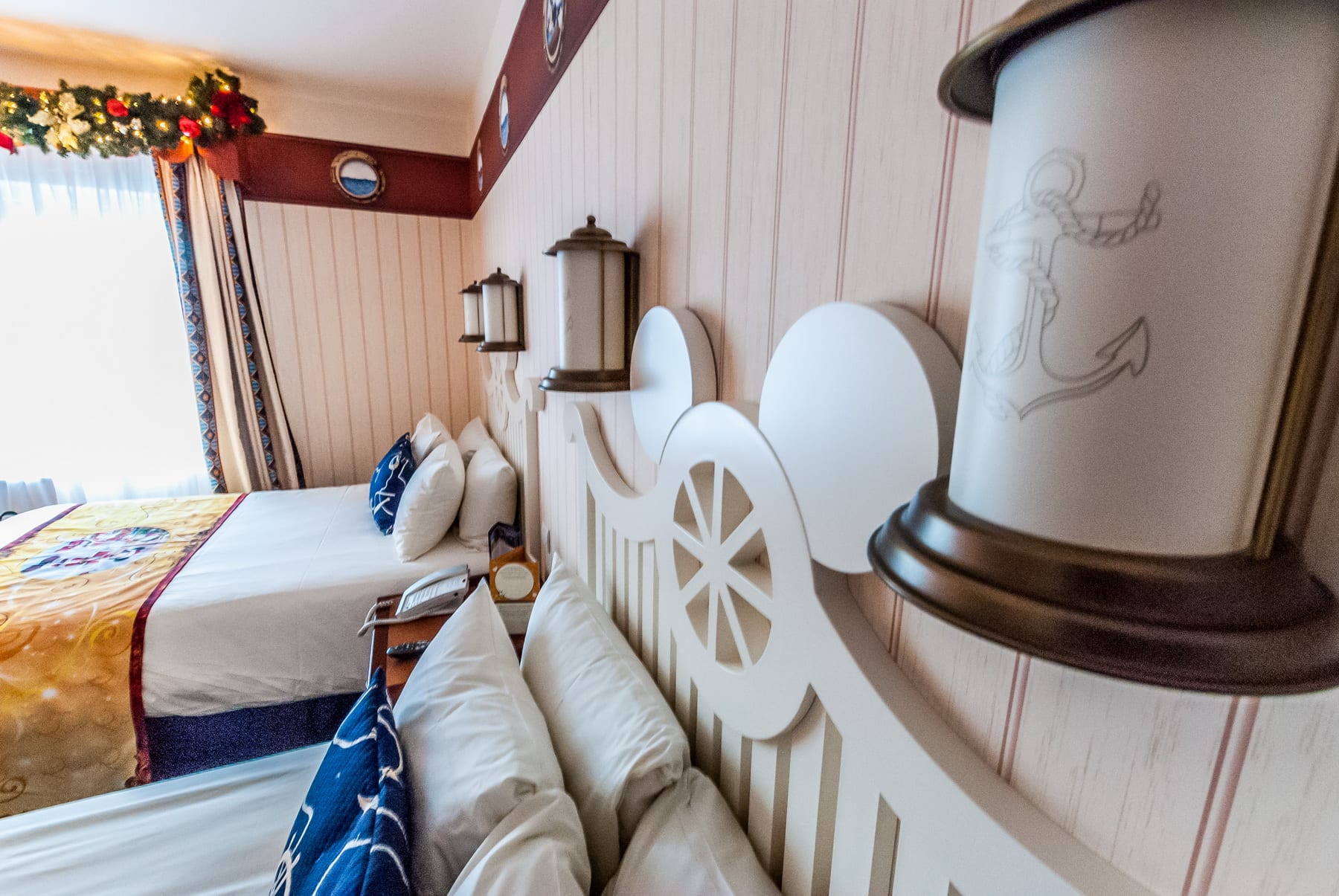 Off site
Budget. An off-site location can cost almost half vs on site.
Breakfast is included
Rooms were roughly the same size anyways
Free bus
Can be booked through a third-party agency
Was not a reasonable walking distance
Shared the bus with 4 other hotels – catching it after the fireworks was rough
Quality of customer service not quiet to standard
Cleanliness and maintenance problems. Had a handful of dirty dishes on the racks during breakfast. I was not pleased.
Poor gift shop options
Zero baby care options
Don't over plan | Don't under plan either
How to Prepare for Disneyland Paris with kids
Baby care centre
Not all Baby Centres are created equally.
Rent or bring your own stroller
---