Spain is a great family-friendly destination. There is plenty to do when you get there and the weather is great almost all year round, especially from around April onwards. It's certainly somewhere where you will want to cool down in the pool and where the kids will have great fun playing in the waterpark.
There are a lot of hotels in Spain so we have rounded down to 10 of the best family-friendly budget hotels as times are tough right now and we are all feeling the pinch. You can find out all about the pools etc. on offer at each hotel below plus some extra useful info. Hopefully, it will help to choose your next holiday to Spain that bit easier.
*affiliate links – clicking to book or view will cost you no extra
Happy Holidays (In no particular order ….)
Address: Carrer Nou de la Rambla, 12, 08001 Barcelona, Spain
About – Gaudi Hotel is situated right next to Las Ramblas, a large boulevard which runs through the heart of Barcelona city centre, this modern hotel is close to the popular tourist areas of Barcelona such as the incredible Sagrada Familia and Placa Catalunya.
Conveniently, it has a variety of traditional Spanish and International restaurants and bars nearby. After a day of sightseeing, the hotel's rooftop sun terrace is the ideal spot to enjoy the city's views, and there is a cute plunge pool up there, the perfect spot for cooling off after a busy day of sightseeing.
The rooms at this hotel are modern and comfortable, and most offer a small terrace, ideal for enjoying a glass of wine in the evening. Guests can choose from either "room only" or "bed and breakfast" board options. There is a gym on-site and free wifi throughout the property.
---
Address: Av. Mediterráneo, S/N, 04740 Roquetas de Mar, Almería, Spain
About – The Pierre & Vacances El Palmera combines a modern style with a taste of Spanish culture. This popular All-Inclusive resort is a great choice for those looking for a relaxing break with a beach close by. The hotel's swimming pool features several slides, which the younger guests will love, plus there is a large sunbathing area.
Kids will also enjoy getting involved at the on-site Kid's Clubs and the adventure playground. If you fancy a day by the sea, then the hotel is just 300m from the golden sands of family-friendly blue flag beaches.
The local town of Roquetas de Mar offers a variety of attractions suitable for all ages. Featuring a roll call of beautiful beaches, this typically Spanish resort town is a haven for relaxation. Situated on the southern coast of Spain, this area offers a variety of natural beauty and exciting activities.
---
Address: Av. Carvajal, 2, 29640 Fuengirola, Málaga, Spain
About – The Globales Gardenia Hotel is located right on a beautiful beach in the super-popular holiday destination of the Costa del Sol. The hotel offers a variety of facilities and services to ensure that you have a relaxing and enjoyable experience while you are enjoying superb views of the ocean.
Its pool area is spacious and there are plenty of activities for everyone, such as water aerobics and games for the whole family. The hotel's All-Inclusive package is a great way for the whole family to enjoy a break without having to worry about spending extra money on meals.
It also offers a variety of activities for everyone, such as water aerobics and games for the whole family. Guests staying at the hotel are entitled to up to three days entrance and use of the superb facilities at the Aquamijas Waterpark, a guaranteed day out of fun and excitement for all the family.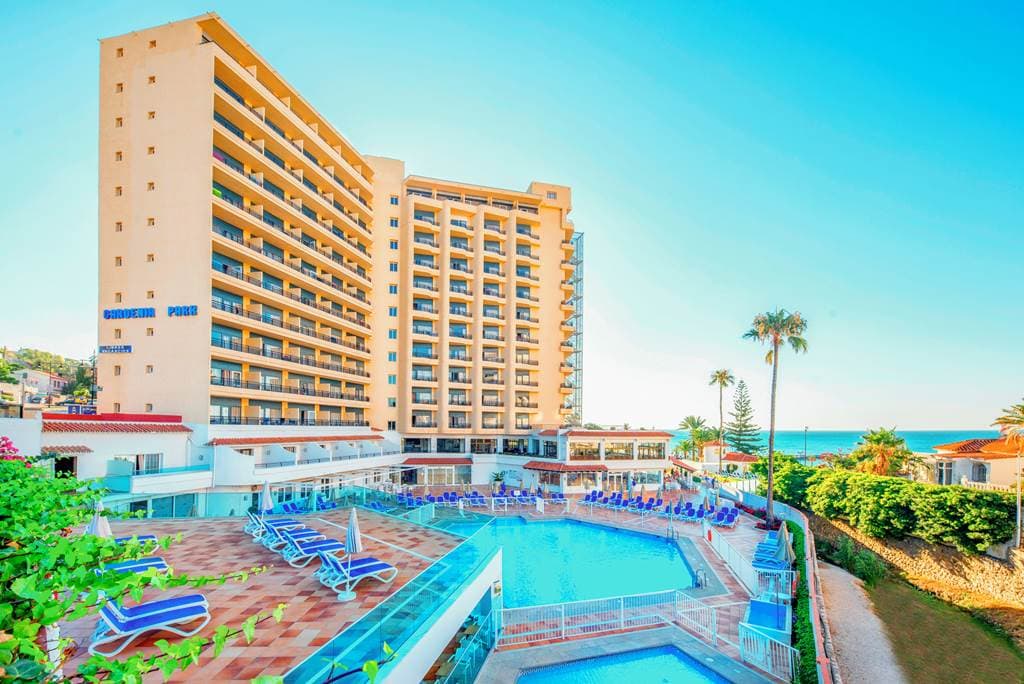 ---
Address: Av. Pau Casals, 1, 17310 Lloret de Mar, Girona, Spain
About – The Hotel Rosamar Maritim enjoys a splendid location, right on the beach of Lloret De Mar and so is only a stone's throw away from the golden sands and lapping waves. This property is ideal for those seeking to get away from it all and indulge in some sun.
The nearby Costa Brava is known for its local charm and delicious food. The resort centre is also close by, so for those who are craving a taste of the local cuisine, there is a good choice. The hotel showcases modern rooms and a superb location make it an ideal choice for families looking for a friendly, yet classy place to stay on the Costa Brava.
If you're looking to treat yourselves with something a little more fancy, you could choose to upgrade to a room with a swimming pool and access to the facilities of the nearby Rosamar Garden resort.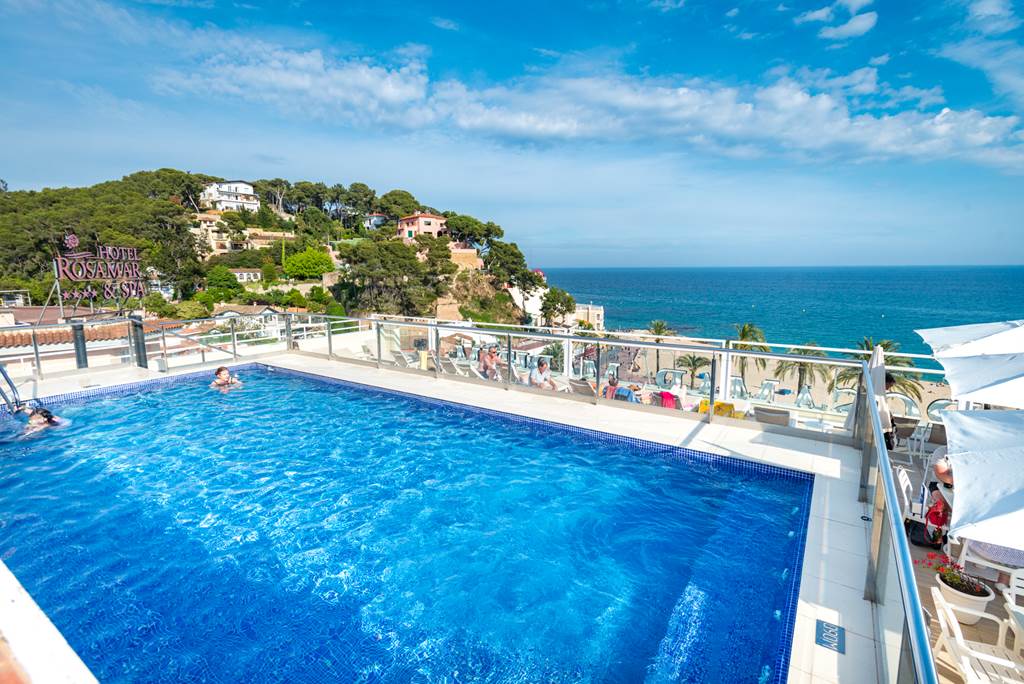 ---
Address: C. Gerona, 45, 03500 Benidorm, Alicante, Spain
About – The Hotel Sol Pelicanos Ocas is very well known worldwide as it was the setting for the hit TV show "Benidorm." This iconic property has all the star quality that you'd expect from a 5-star hotel, with a variety of outdoor pools and a choice of two buffet restaurants serving local and international cuisine. It also features five bars, all of which are designed to provide a variety of entertainment.
The hotel is geared up throughout for family-friendly holidays, as it offers a variety of facilities such as a playground and children's clubs. It's only 300 meters from the famous Levante Beach. There are all sorts of activities organised by the hotel including aerobics, aqua aerobics, dance classes, pilates and table tennis. Younger guests are invited to daily fun and games at the on-site Kid's Club where they will enjoy arts, crafts, music and much more.
---
10 Best Cheap Hotels in Spain
Address: C. la Toja, 25, 29620 Torremolinos, Málaga, Spain
About – The Occidental Torremolinos is a great family-friendly resort in the heart of Torremolinos. Its bright, spacious rooms, large lagoon-style pools and wellness spa make it the perfect place to unwind and get away from it all. There are also various activities for the whole family, including mini-golf, a children's club and two good-sized outdoor pools, one of which features a splash park which will delight younger guests.
The hotel is located close to a popular sandy beach and is ideal for people who are looking to make the most of the local area. There are various traditionally Spanish restaurants and bars close by. Torremolinos is well known for its Spanish culture and offers many days out exploring local culture and history. From hiking trails and beaches to the botanical gardens and tapas bars, this area has something for everyone.
---
Address: Carrer de la Ciutat de Reus, 42, 43840 Salou, Tarragona, Spain
About – The Villamarina Club is a great choice for families with a variety of activities and facilities to keep everyone entertained. This hotel has a fun atmosphere and enjoys a fab location very close to the beach. There are a variety of restaurants and a cinema also within easy reach. There is a kid's activity program and a selection of British favourites, as well as local cuisine available from the buffet restaurant.
The Villamarina Club's adults-only rooftop terrace is a great spot to escape the hustle and bustle and enjoy some precious "you" time. A huge bonus to being a guest at the Villamarina Club is that you can enjoy unlimited access to Aquapolis Waterpark.
This awesome attraction features a massive variety of rides and water-based entertainment. If relaxation is more your thing, then take a dip in the Wave Beach, enjoy some of the calmer water flumes or just soak up some rays on a sunbed while the others get their adrenaline fix!
---
Address: Manada de Elefantes, Av. del Sol, 195, 29630 Benalmádena, Málaga, Spain
About – The Holiday World RIWO Hotel enjoys a privileged location with sea views, near Benalmadena on the Costa del Sol. Benalmadena is a tale of three parts: the Old Town, the bustling downtown, and the glittering beaches it's a great place for all the family to explore. Its palm-lined streets and gardens provide guests with a variety of options for dining.
The hotel offers a variety of facilities for families, such as a swimming pool, a kids club, and a buffet restaurant. However, its most popular feature is the exclusive Beach Club. This fun-filled splash park, open during summer months, offers free entry to those taking advantage of the All-Inclusive package at the hotel.
Back at the hotel, you can enjoy the super outdoor freshwater pool which features a children's section. The area surrounding the pool is ideal for a spot of sunbathing and features sunbeds, hammocks, and parasols for guests to enjoy.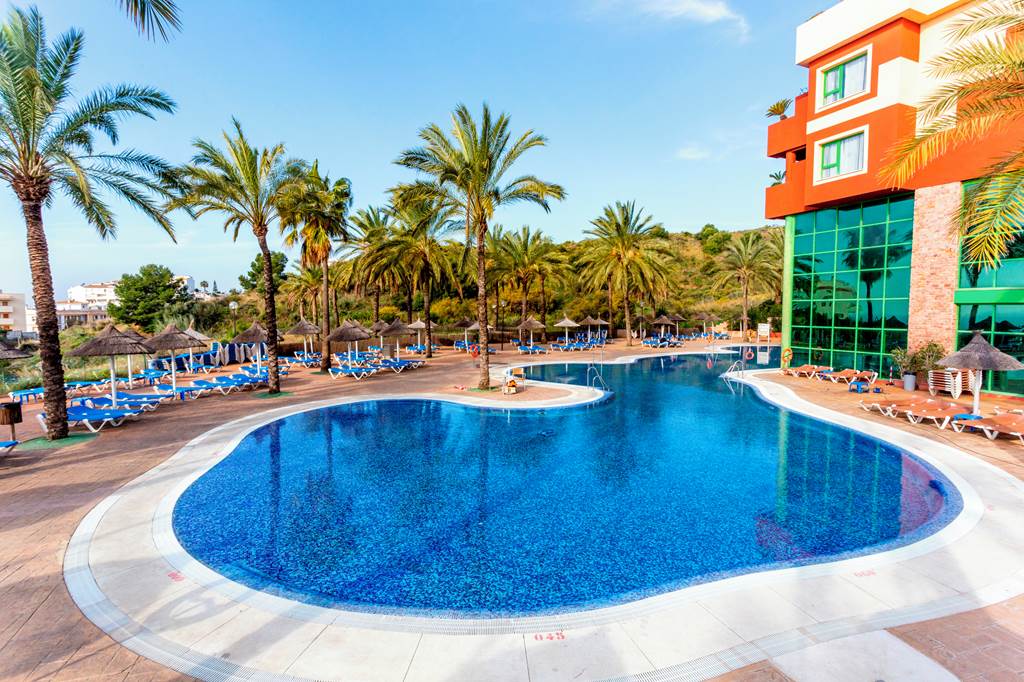 ---
Budget Hotels in Spain For Families
Address: Avinguda des Pont d En Gil, s/n, 07769 Cales Piques, Illes Balears, Spain
About – The Globales Apartamentos Binimar is located in the centre of Cala'n Forcat and is a few minutes away from a stunning, golden sandy beach. This large complex is ideal for families with its large pool area and a variety of evening entertainment which will delight all ages. The hotel is well located near to the local town which offers a choice of restaurants and bars all within easy walking distance.
The complex is set in a beautiful garden and features two pools, one exclusively for children, and there is also a spa tucked away, which is exclusively for the grown-ups! There is a variety of food and beverage options, including a pizza shop and a buffet restaurant.
Besides live performances, this complex also has a variety of other entertainment, such as mini-discos and karaoke. There is a generous all-inclusive board option available ensuring guests can enjoy total peace of mind throughout their stay.
---
Address: Carrer del Terrer, 7, 43840 Salou, Tarragona, Spain
About – Hotel Belvedere is a great destination for a fun holiday in the sun with the family. The onsite restaurants are certainly noteworthy, with a variety of international and local buffet restaurants and a snack bar, perfect for light refreshments and ice cream!
In the evenings the lounge comes alive with music, shows and bingo. The pool is the centre of attention, and staff host various activities such as foam parties and a daily aqua aerobics class. There's also plenty of room for relaxation in the hotel's various spa facilities, such as a Turkish bath, whirlpool bath, and a massage room.
The centre of Salou is a 10-minute walk away from the hotel, and it features a variety of shops, restaurants, and bars, ideal for grabbing your souvenirs and meals away from the hotel. The area is very close to PortAventura, Spain's number one theme park and the ultimate day out for all the family.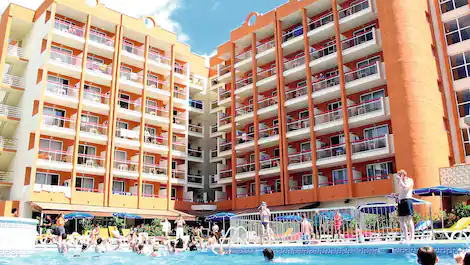 ---
Please conduct your own research through reviews and the company's websites with regards to the facilities, the rooms and upkeep of the above hotels. The above information is for reference only. Please also check their cancellation policies with regards to Covid-19 and any current travel restrictions.