To help you plan your next holiday overseas we have compiled a list of the best family hotels in Tenerife. These are 10 hotels we would love to visit as they look great for families. Below we will list the name, location and main facilities at these hotels. Sometimes it can be a tough job wading through hundreds, if not thousands of choices, hopefully, this will eliminate the time-consuming searching.
Tenerife is the largest of Spain's Canary Islands. It has great weather all year round making it a great all year round holiday destination. There is plenty for families to do on the island and it boasts some great beaches and water-based activities.
*affiliate links – clicking to book or view will cost you no extra
Happy Holidays (In no particular order ….)
Address: Av. J.M. Galván Bello, S/N, 38639, Santa Cruz de Tenerife
About – The Bahia Principe Fantasia Tenerife is a truly magical destination for all the family when on holiday in Tenerife. Located in the popular area of Golf del Sur, the hotel is just moments from the sea and offers fabulous facilities that are straight from a fairy tale! The fantasy castle, that lights up at night, sets the scene for the younger guests as they enjoy the funky brightly coloured splash parks and creative, sociable children's clubs.
Older princes and princesses are also well catered for as they are invited to spend time in the adults-only infinity pool which showcases extensive sea views, and the indulgent Bahia Spa. For those who love the water, there are five swimming pools to enjoy.
The hotel operates an All-Inclusive board basis which includes buffet-style meals in the main restaurant, as well as 3 a la carte dinners per each seven-night stay.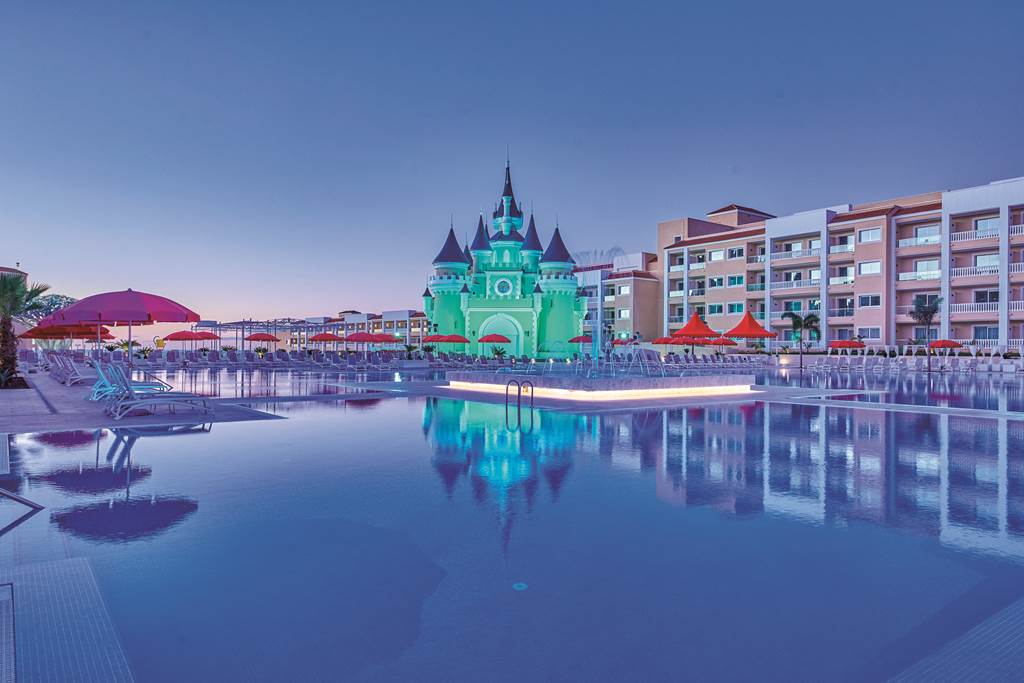 ---
Address: C. Idafe, s/n, 38670 Adeje, Santa Cruz de Tenerife
About – Enjoying an elevated position with far-reaching views of the Atlantic, the Bahia Principe Sunlight Costa Adeje is a super option for families looking for some Tenerife sun.
The resort takes on a village-like vibe, with brightly coloured buildings, a sociable square area featuring a stage, and a whole range of shops including a hair salon and a spa.
There are three swimming pools, with the main one being generous in size and also a stunning and tranquil infinity pool, ideal for relaxing. The main pool is the base for various aquatic activities organised by the hotel, including water polo and aqua aerobics. Land-based activities include archery, mini-golf and table tennis.
There are six restaurants at the property, including an international buffet, a Mexican diner and a Brazilian specialising in meat dishes. Lite bites are available throughout the day at the poolside snack bar.
---
Address: C. Gran Bretaña, s/n, 38660 Costa Adeje, Santa Cruz de Tenerife
About – Dreams Jardin Tropical is an attractive hotel made up of white Moorish style buildings situated within bright vibrant gardens which face the ocean. The hotel has its own exclusive Beach Club located just moments away which features a saltwater dipping pool and a restaurant sporting a stunning sea view.
Throughout the Dreams Jardin Tropical, there is a feeling of luxury and elegance. The guest rooms are bright and airy, and if you really want to spoil yourselves then request an upgrade to enjoy stunning terraces and a swanky coffee Nespresso machine in your room!
There are two swimming pools for guests to enjoy, plus an indulgent spa where a whole variety of massages and treatments are available. For those who enjoy a more active lifestyle, there is a well-equipped gym on site.
Five restaurants offer a whole range of international cuisine, ensuring there is something for everyone to enjoy.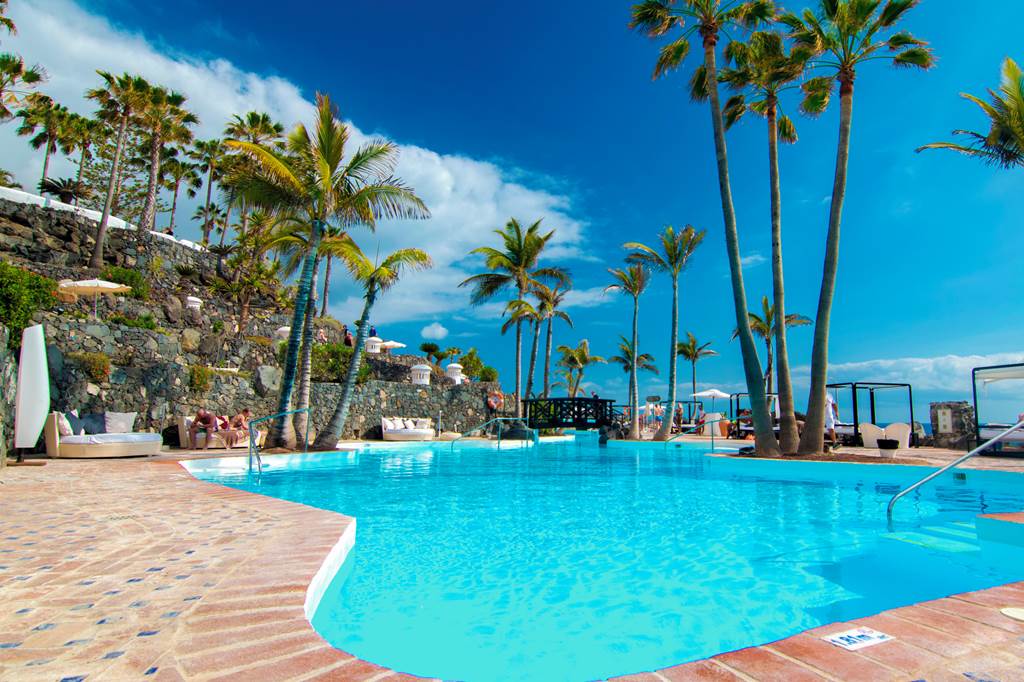 ---
Best Hotels For Families In Tenerife
Address: C. Fernando Lopez Arvelo, 1, 38660 Costa Adeje, Santa Cruz de Tenerife
About – The GF Victoria is the ideal hotel for those wanting family-friendly facilities with a touch of class. The property enjoys a stylish design with luxurious features.
Younger guests are very well catered at the splash park where there are super colourful slides, jets and sprinklers. There is also a cool surf pool and an outdoor adventure zone for them to explore. Grown-ups are well taken care of too, as they are invited to visit the adults-only activity and bar zone located on the rooftop. Up here you will also be greeted by a stunning infinity pool suspended over the façade of the building with glass walls and bottom.
Even the spa has been thoughtfully designed to ensure each member of the family can enjoy a relaxing treatment.
There are three restaurants where you can enjoy meals, each serving a range of international cuisine including Italian and local Spanish delicacies.
---
Address: C. Meandro, 3, 38640 Arona, Santa Cruz de Tenerife
About – The Gran Oasis Resort is just a short drive from the beach and has some superb family-friendly facilities.
There are two large main pools for guests to enjoy, one of which features a splendid whirlpool. Children have their own pool too, where they can splash around to their heart's content. Out of the water, there are plenty of activities to enjoy on dry land including basketball, volleyball and football.
The property enjoys far-reaching views across the Atlantic on one side and the very popular Las Americas Golf Course. This is of course the ideal location for golf enthusiasts for this reason. The nearest beach is an easy five-minute shuttle bus ride away.
The on-site restaurant offers an international buffet serving flavours from right across the globe, and the bar comes to life in the evenings with professional shows for all the family to enjoy.
---
Address: Avenida Adeje 300, Av. Playa Paraíso, s/n, 38678 Adeje, Santa Cruz de Tenerife
About – When it comes to super cool facilities, trendy décor and a sensational location the Hard Rock Hotel Tenerife has it all. The entire property has a futuristic vibe and is the perfect destination for those seeking a stay somewhere a bit different. The aquatic facilities are awesome, featuring three main pools including one for adult use only. Kids will be happy in the fabulous splash park that includes slides and a waterfall.
A very exciting feature of the Hard Rock Hotel Tenerife is the open-air stage – the only one on the island – meaning you may be treated to some famous live acts performing whilst you are at the resort.
Kids clubs to suit all ages are available daily and offer guided activities such as hip-hop workshops, x-box competitions and music mixing classes! While the youngsters are busy adults are invited to unwind at the on-site spa where there is a whole array of treatments on offer.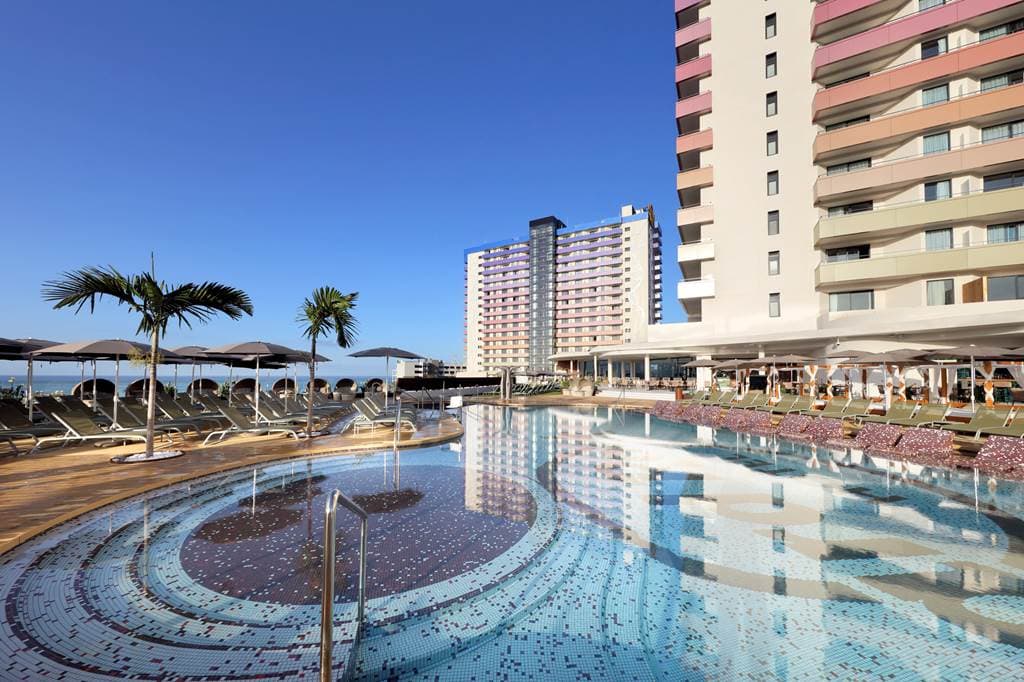 10 Great Hotels Tenerife
Address: Av. de Bruselas, s/n, 38660 Costa Adeje, Santa Cruz de Tenerife
About – The elegant Hotel Bahia Del Duque is a striking and luxurious property both inside and out. Located right on the stunning sands of Playa del Duque Beach the hotel enjoys beautiful views and offers its guests exceptionally good facilities.
All sorts of water sports are hosted on the beach for those who enjoy the kick of adrenalin, whereas if you prefer the prospect of some well-earned rest and revitalisation then there is a world-class spa offering a sensational variety of treatments.
There are no less than five pools, two of which are heated and one dedicated to the younger guests.
Mealtimes are a superb experience at the Hotel Bahia Del Duque with an astonishing eight restaurants serving dishes from all over the globe. There are also poolside bars offering snacks, refreshments and ice creams throughout the day.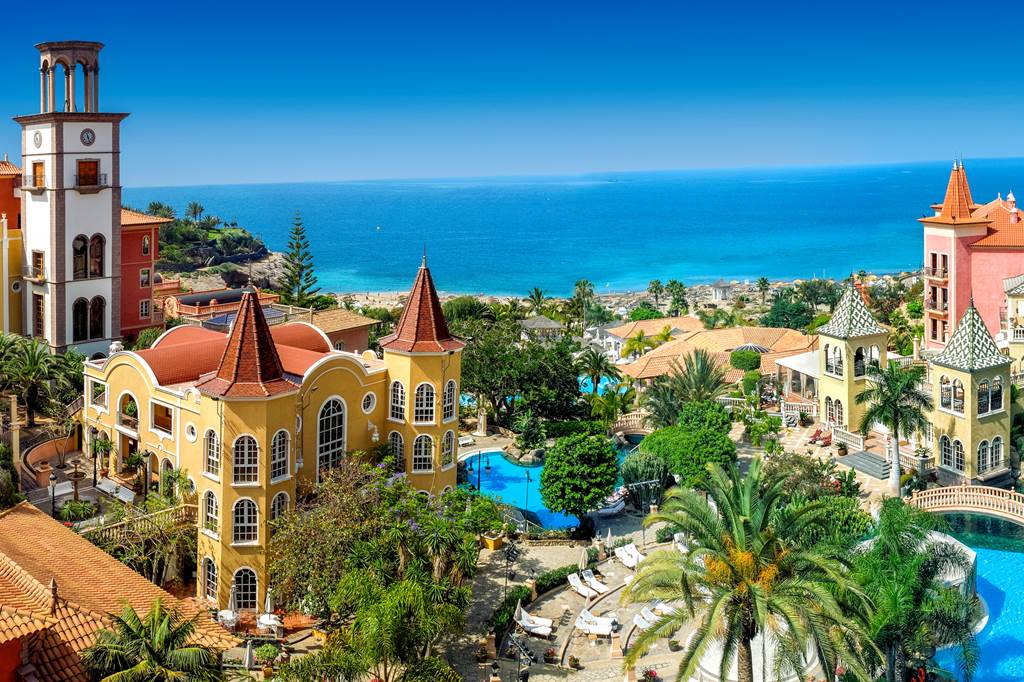 ---
Address: Av. de España, 5, 38660 Costa Adeje, Santa Cruz de Tenerife
About – The Hovima La Pinta Beachfront Family Hotel is geared up for family enjoyment inside and out. From the clever use of nautical décor to the sea-themed mural and interactive virtual aquarium, the ocean is celebrated throughout the property.
The hotel enjoys an enviable beachfront location, ideal for those who love water sports or days sunning themselves on the sand. Back at the hotel, there are two outdoor pools and a children's splash park. Younger guests can also enjoy the immersive kid's clubs and the fun playground.
The Family Rooms at the Hovima La Pinta Beachfront Family Hotel are a superb choice for those travelling with younger children as they feature separate kids' bedrooms, perfect for getting the little ones to bed while parents can enjoy a relaxing glass of wine in the main room. The Family Rooms also offer direct access to the splash park.
---
Address: C. Gran Bretaña, 1, 38660 Costa Adeje, Santa Cruz de Tenerife
About – Iberostar Hotels are known worldwide for their excellent family-friendly facilities, top class service and elegant surroundings. The Iberostar Las Dalias is no exception, and it also boasts a fabulous location, in the centre of Tenerife's beach capital the Costa Adeje.
Outside of the resort, you find yourself among a buzz of bars, restaurants and beaches that are just a ten-minute walk away.
The Kid's Clubs cater for all age groups and offer all sorts of fun activities including arts, crafts, dancing and games. While the youngsters are busy adults can make the most of the time and visit the spa for a relaxing treatment. There are three outdoor pools, one of which is solely for the use of grown-ups.
There is a fantastic large buffet-style restaurant serving cuisine from all over the world, plus there are snack bars near the pools so you easily grab refreshments.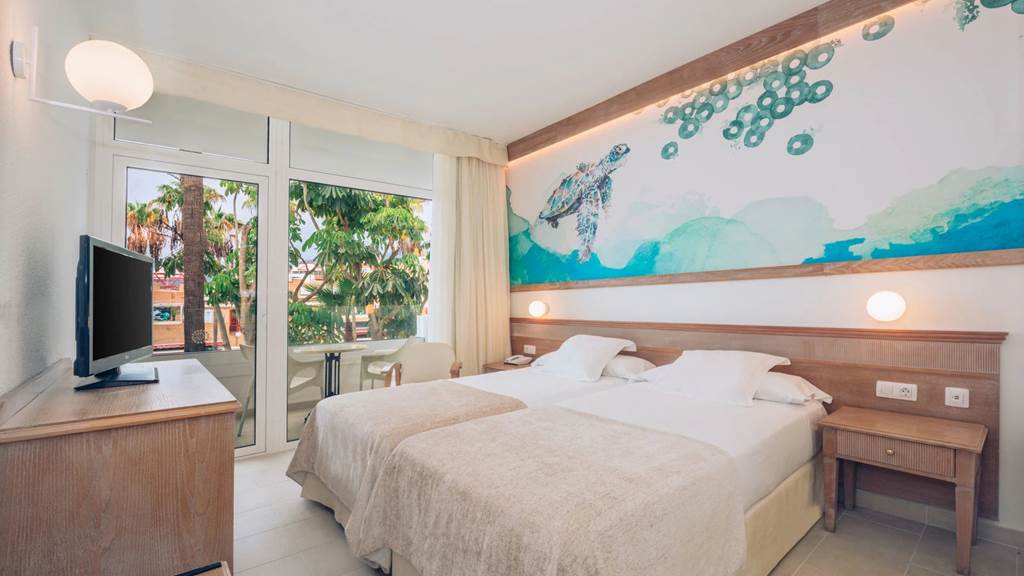 ---
Address: C. Londres, 15, 38660 Costa Adeje, Santa Cruz de Tenerife
About – The award-winning Iberostar Selection Anthelia is a magnificent hotel and offers views, facilities and quality of service that is guaranteed to take your family holiday to another level.
Boasting stunning views of Tenerife's most beautiful beaches, the extensive grounds of the hotel are luxurious and exotic. Perfectly manicured palms sway gently over the colourful gardens and shimmering pools. There are six pools in total, one of which is heavenly for the younger guests as it features a pirate ship, slides and water cannons.
The family rooms are airy, spacious, and elegantly decorated. There is an award-winning spa on-site, which provides the very best in revitalising and relaxing treatments. While parents are indulgent themselves at the spa, younger guests can sign up for the Star Camp, which is a scout type affair and involves great activities including cookery classes and art.
---
Please conduct your own research through reviews and the company's websites with regards to the facilities and upkeep of the above hotels. The above information is for reference only. Please also check their cancellation policies with regards to Covid-19 and any current travel restrictions.