We LOVED and I mean LOVED our meet and greets at the two Universal parks in Florida – Universal Studios and Islands of Adventure. They were such a refreshing change to our meet and greets at Disney. Now don't get me wrong we had some amazing meet and greets at Disney World, with our highlights being Chewbacca, Buzz Lightyear and Goofy. However, the meet and greets at Universal had much smaller queues and felt less rushed. We rarely waited more than a few minutes and sometimes not at all. Now that's always a bonus. Plus some of them lasted for ages (namely Donkey from Shrek!)
It's not always guaranteed that certain characters will be in certain places throughout the day. In fact, they swap around a lot. This post is merely to give you an idea as to where to look out for certain characters. A few have designated spots but even then they swap around the characters.
Universal offers photo connect which is similar to Disney's Photopass but in no way do you have as many opportunities for photos as Disney. Some of the character meet and greets have a photo connect photographer who will take your photo and hand you a card for you to then purchase the photo, should you wish.
We never bothered with it here although we loved using Photopass at Disney World. You can purchase a photo connect star card which means all the photos that you have taken that day are then yours. This costs just over $70.00 a day. There is also often a member of staff more than willing to take a photo or video with your own camera so I'm not sure it would be a good investment as there aren't as many photographers as at Disney. I've also heard a lot of downsides about using Photo Connect.
Universal Studios Character Meet and Greets –
Where to Find Them
Minions & Gru – Universal Studios Character Meet and Greet
Right, let us start with the Minions. When you enter Universal Studios park in Orlando Florida the first main ride is on your left just after the entrance. This is Despicable me Minion Mayhem. Once you have ridden the 4D ride you exit via the shop. This is where we found our first Despicable me/Minion meet and greet. If you don't want to go on the ride you can still meet the character in the shop. They do swap around the characters.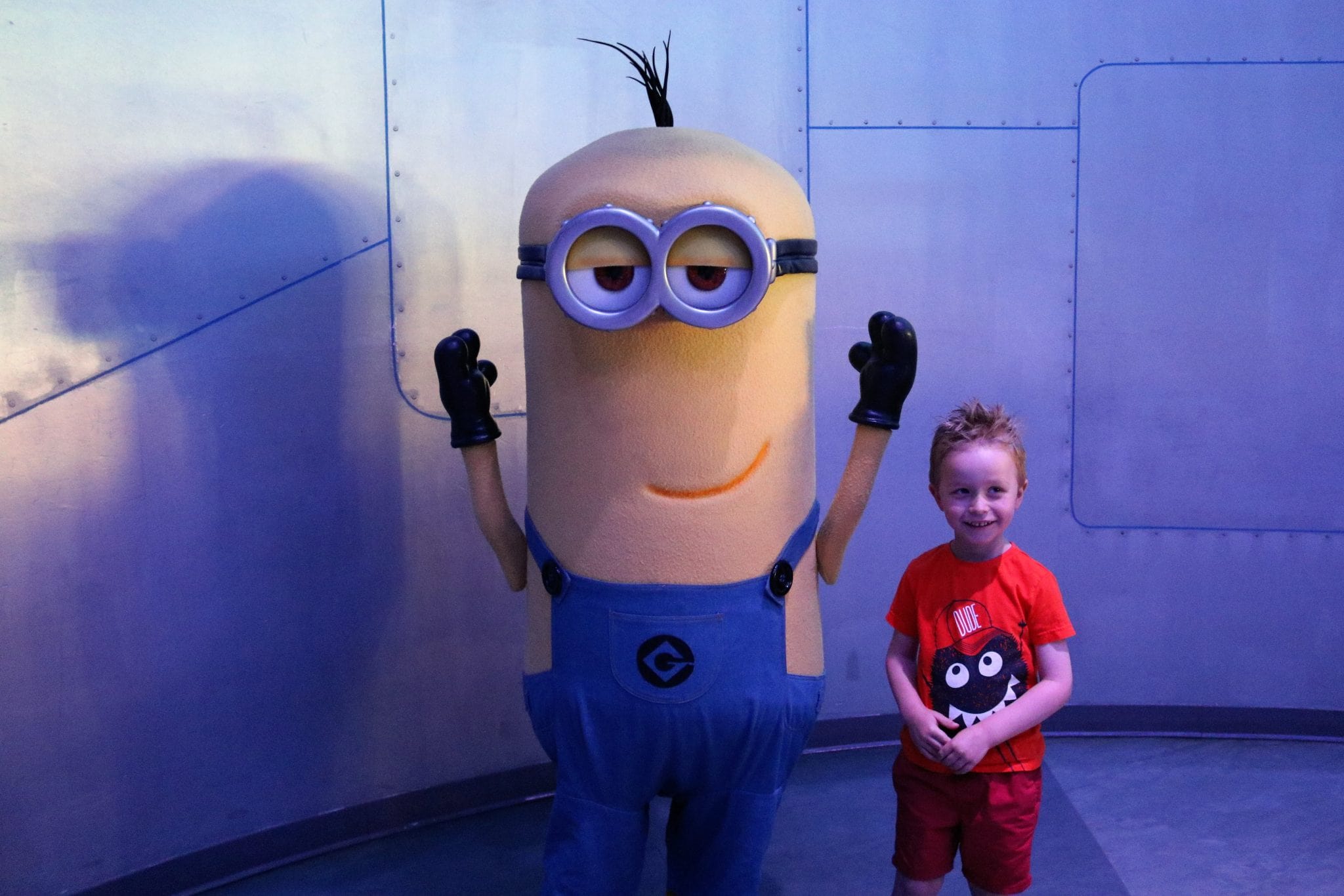 If you head for the parade start and end point at Universal Studios there is also a Despicable me mini parade which is one of the four Character Party Zones (see below for more). Once the characters have come out and done a mini show you are able to meet them afterwards. Timings for this will be on your guide map. At the Despicable me character party zone you could meet Gru, Vector, Agnes, Margot and Edith. Sadly the Minions are humans, so to speak, which was a shame as it would have been fun to see and meet Kevin, Bob, Dave and Stuart. In fact, the Minion humans were a little annoying as they insisted on being in everyone's character photos.
Shrek, Donkey and Friends – Universal Studios Character Meet and Greet
Shrek, Donkey and Friends are also at a permanent spot which is tucked on a side street at the top of the Shrek 4-D attraction. Your guide map will state times for the meet and greets, however, it won't state who is there and when. We passed by one day just after Puss in boots had finished. Sadly we never saw Shrek or Fiona there, however, we did manage a meet and greet with Donkey who was hilarious.
Don't assume this will be a boring meet and greet. It was like talking to the real Donkey and oh my goodness he was so quite witted and funny. I'm never wearing those shorts ever again after he said they looked like pyjamas haha! He did a great job of imitating our English accents.
Transformers – Universal Studios Character Meet and Greet
The Transformers character meet and greet is located almost opposite Shrek and Friends (around the back of Shrek 4-D). Which is also near to one of the exits for the Transformers shop. This meet and greet always had the longest queues but A. It was worth the wait and B. They are some of the most popular characters at Universal. It's not a meet and greet in the usual sense as you aren't allowed to touch the characters.
This is for obvious health and safety reasons. The Transformers are so realistic and it's hard to believe that there is a human being inside them. They do sometimes talk to the crowd especially when they arrive and leave but they rarely talk during the meet and greets. The three main characters Optimus Prime, Bumblebee and Megatron are rotated throughout most of the day.
Character Party Zone Nickelodeon's Spongebob Squarepants Meet and Greet
Spongebob squarepants have a 'fixed' meet and greet spot in the Spongebob shop near to the E.T. ride. Times will be listed in your park guide however the characters are changed around as and when they please. Sometimes when we walked by we noticed that there was no one there.
One way to make sure that you have lots of Spongebob characters to meet and greet in the same place is the Character party zone mini parade. The time for this will again be in your park guide. There will be the opportunity to meet Spongebob Squarepants, Patrick Star and more. The queue was a lot longer for Spongebob and our son was happy to meet the other characters as he'd only ever seen Spongebob once before.
This was our favourite of the 4 character party zones. All the characters were so friendly and many of them took the time to interact with Jamie. He loved it and it was a great experience for him.
Character Party Zone – Other character meet and greets
The other two character party zones mini parades are currently the Secret life of pets and Dora, Diego and Boots.
We never had the chance to see Dora, Diego and Boots but to be honest we didn't know the characters anyway. We did hang around for the Secret Life of pets character party zone but it was a bit disappointing compared to Despicable me and Spongebob Squarepants. They weren't characters out on about on the street. Instead, they were on a float. They did seem to interact a little but my son wasn't impressed.
The Blues Brothers
We spotted the Blues brothers characters driving in a car down one of the side streets. They do sometimes leave their car for photo opportunities.
Marilyn Monroe
We also spotted Marilyn Monroe in a car when we were stood outside Race through New York starring Jimmy Fallon. Her car was then stopped over near Revenge of the Mummy where we saw her get out of the car for photos.
Hollywood Boulevard Character Meet and Greets
We found and spotted quite a few different characters to meet and greet on Hollywood Boulevard. There's no set time of the day that characters can appear and you're not always guaranteed to see them. One day we spotted Hello Kitty and it was the only time we ever saw her there. If the Mystery Machine is parked up it's often likely that some characters from Scooby Doo are close by waiting to be met. But again it's not always guaranteed. They often swap the characters that are with Scooby Doo.
Another day we spotted the Simpsons camper van driving around but no characters. Then another day the camper van was parked up and Homer and Bart were stood by it for character meet and greets. Again the Simpsons characters can vary throughout the day and aren't always there.
The Simpsons – Universal Studios Character Meet and Greet
As well as sometimes being able to meet The Simpsons characters on Hollywood Boulevard they also have a permanent spot next to the Simpsons ride. I have to say that this was my favourite area in Universal Studios.
We are massive Simpsons fans and have watched it for years and years. I love how they've done this area. It is literally like walking around a Simpsons set. We were completely giddy taking photos and selfies. There's so many different non-human character sets to meet. I have around 20 photos of us posing by various things. Here are a couple of my favourites.
We were absolutely thrilled with the short queues to meet some of The Simpsons characters. They again have no set schedule as to who is out and when.
On the outskirts of the Simpsons area, you can sometimes find Marty McFly or Doc Brown and the DeLorean. We spotted him on just the one occasion.
Where to find The Trolls at Universal Studios – and other characters
I have seen this question asked a lot in some of the Universal Facebook groups that I'm in. Where can we meet the Trolls. Well, my answer is outside near to the ET ride. They have a character meet and greet spot there and we saw the Trolls during one of our visits.
My son refused to be photographed with them though and another day we were there we saw Curious George there instead. If your kids – or yourselves – are desperate to meet them it would be worth asking a member of staff in that area. Barney can sometimes be at this character meet and greet spot. Other characters I've heard that you can find at Hollywood Studios are Woody Woodpecker and Popeye. They can also be both found at Islands of Adventure.
If you also fancy a photo on E.T.'s bike they have a green screen at the end of the ride. You can take your own photo however it will have a green background. The 'real' photo would need to be purchased from them.
Islands of Adventure Character Meet and Greets –
Where to Find Them
There are less meet and greet characters at Islands of Adventure than Universal Studios. We did, however, manage a few meet and greets during our visits to the park. We found Kung Fu Panda just as we were leaving Marvel Superhero land just as we were heading back to the Port of entry area.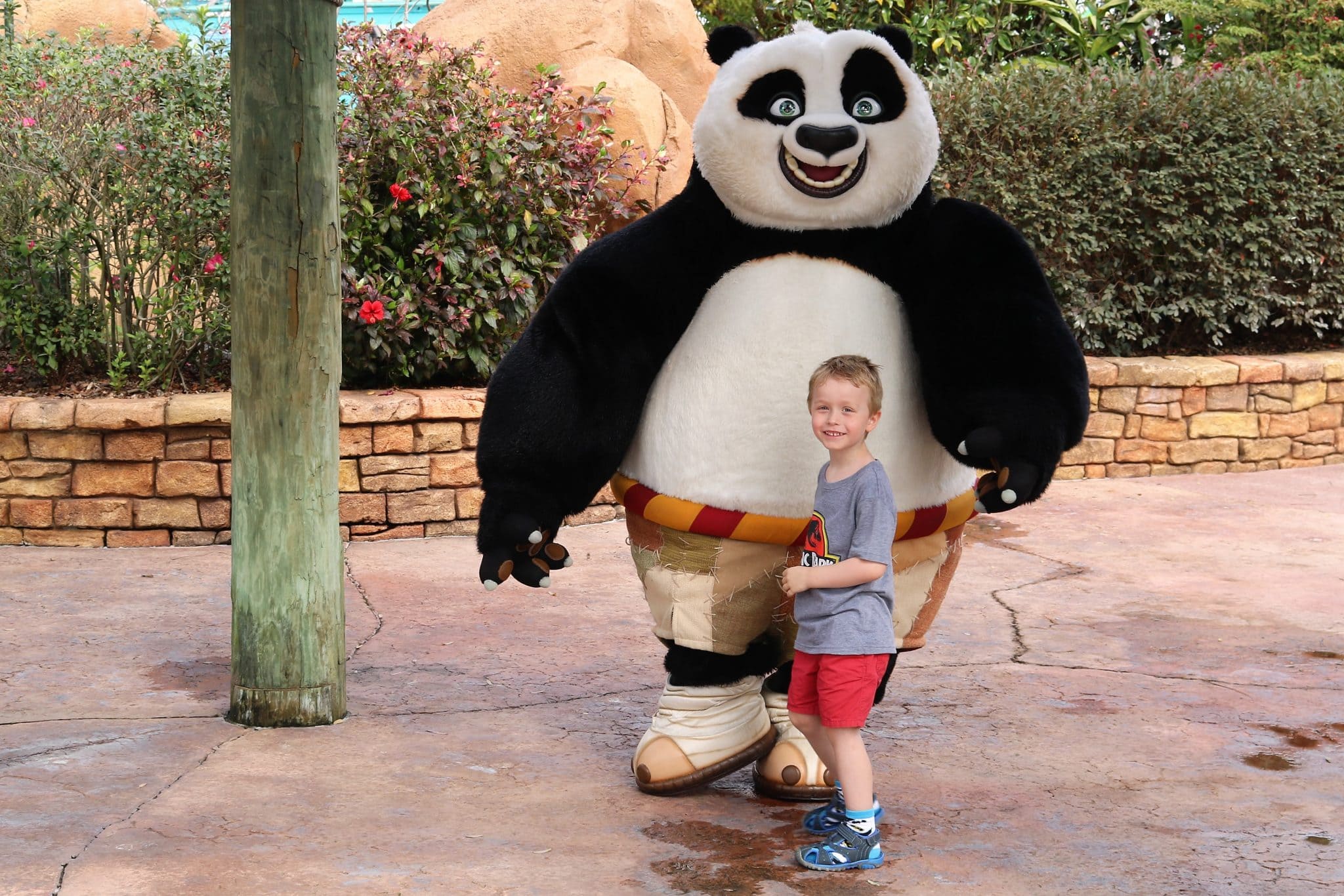 Cat in the Hat – Dr Seuss Characters in Islands of Adventure Meet and Greets
Over in Seuss Landing there are plenty of Dr Seuss characters that you can find to meet. Near the Caro-Seuss-el and the entrance to the Trolley train ride we found a couple of separate meet and greets with the characters. They were even swapping characters over while we were meeting other characters so again this is a turn-up and see who is there kind of meet and greet.
We met Cat in the hat with Thing 1 and Thing 2. After we met them we also met the Grinch and Sam I am.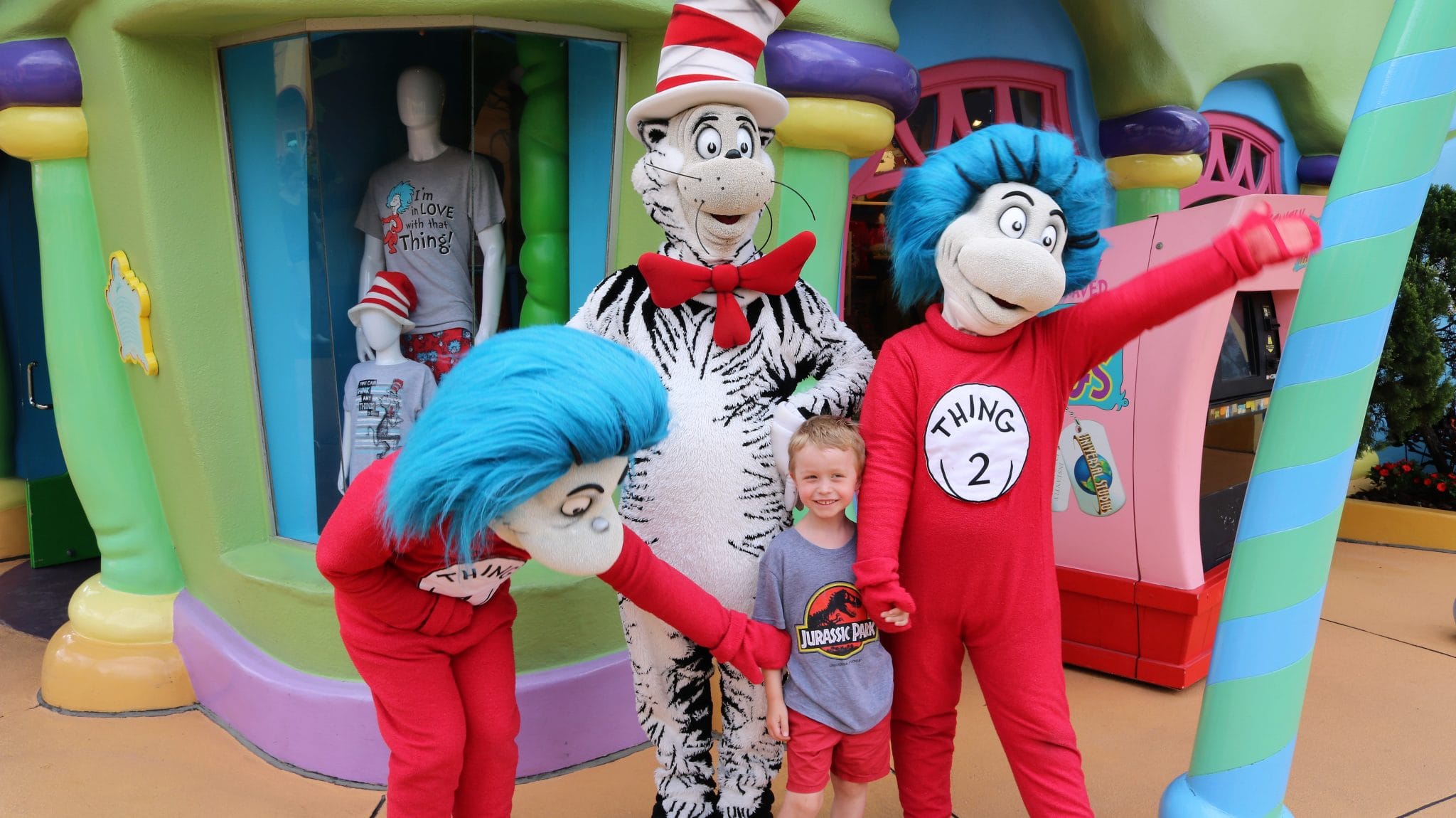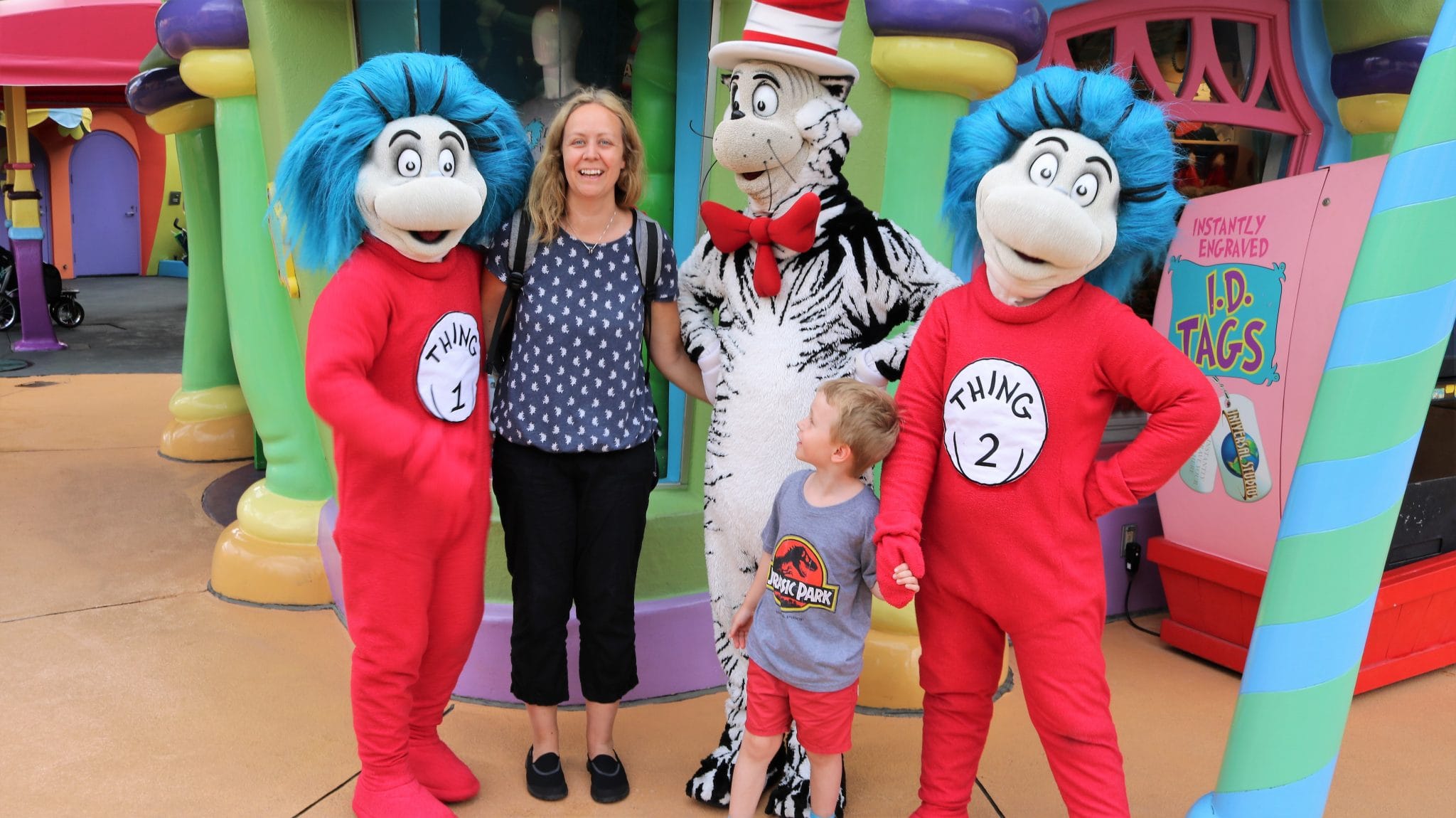 Meeting lots of Dr Seuss characters in Seuss Landing.
Marvel Character Meet and Greets at Islands of Adventure, Universal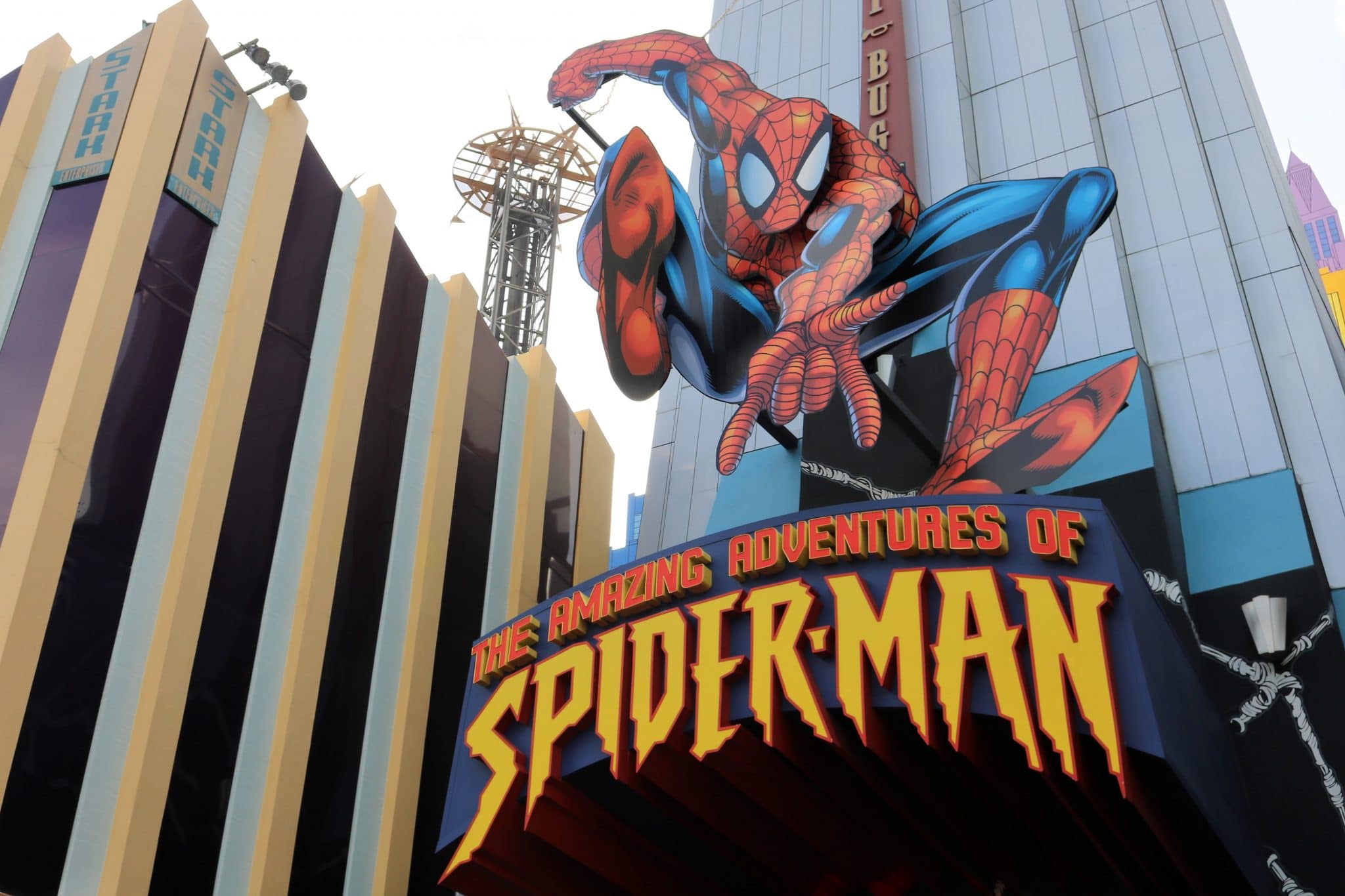 Spider-man has a separate meet and greet to the other Marvel characters. He can be found in the shop in between Cafe 4 and Captain America Diner. This is a green screen meet and greet. When we walked in there was no sign of Spider-man just a green screen and a counter full of products you can purchase for your photo with Spider-man. I asked if it was a green screen photo and if you had to pay. To which I was told yes so we left. I have since been informed that you can take your own photos with Spider-man they will just have a green screen instead of the backdrop that you'd get if you purchase a photo from them.
Opposite the Spider-man meet and greet you will find another area for other Marvel meet and greets with characters such as Captain America, Wolverine, Storm, Green Goblin, Doom and more. They tend to come out into the street and wander around for their meet and greets.
Classic Comic Strip – characters meet and greet at Islands of Adventure
Over in Toon Lagoon, they have a permanent spot for classic comic strip character meet and greets. They alternate between Popeye, Betty Boop and Olive Oyl. Not all characters will be there during a given day and who is there varies with no set times for each character.
Harry Potter Characters that you can meet at Universal Parks Orlando
You can't meet the main characters at Universal parks in Orlando however you can meet some of the 'lesser' but fun characters. At The Wizarding World of Harry Potter – Diagon Alley (Universal Studios) you can meet Celestina Warbeck and the Banshees, Knight Bus Conductor and a shrunken head.
At The Wizarding World of Harry Potter – Hogsmeade (Islands of Adventure) you can meet Beauxbatons and Durmstrang, choir frogs and Hogwarts students.
Raptor Encounter
This isn't a Universal character as such but my goodness was the meet and greet fun. Your guide will take a group of you through to stand in line to meet their Raptor. There's lots of drama and then the Raptor appears behind a pretend security fence. Please watch my video. It will explain it all!
Universal Orlando Tickets
Are you looking for 2-3 park tickets for Universal in Orlando, Florida? Most of the Facebook planning groups I'm in recommend this website for purchasing your tickets. These tickets will include the Hogwarts express from park to park.
---
This post may contain affiliate links. This will cost you no extra if you click to buy. Why not subscribe to my monthly newsletter to keep up to date? Or keep in touch on social media. We are very active on Facebook, Twitter and Instagram. Why not pin this post for later? Simply click on the image below and maybe give us a follow as well.