One of the hardest things we had to decide on was where to stay on our bucket list holiday to Iceland. My Mum kindly offered to treat us and I was given the instructions to find somewhere decent as we were going to Iceland so let's go in style. I spent a long time looking and researching. I came to the conclusion that a base in Reykjavik wasn't for us and that it would be nice to be out in the countryside.
As I had a day out visiting the south of Iceland in my sights I wanted the location to be good for also visiting the Blue Lagoon, the golden circle and Reykjavik for the day. After reading many blog reviews I kept seeing Hotel Ranga come up again and again. When I looked it up I could see why it is so popular with near to perfect reviews across the board.
*This post contains affiliate links
Review Hotel Ranga Iceland
The Northern Lights
Hotel Ranga is not far from a small village called Hella. It is, however, situated well out into the countryside that any street lights don't affect the sky at night. Because of this Hotel Ranga is billed as one of the best hotels to see the Northern lights in Iceland. So not only was it an ideal base but we were also excited about the prospect of seeing the northern lights.
Another great thing about Hotel Ranga is that when you go to bed each night you can request an Aurora wake up call. Basically if the hotel night 'watchman' spots the northern lights they will ring you up. We stayed for 5 nights and 1 night we had a wake-up call where we literally just missed the lights. But the night after the call came and we got outside just in time to see the northern lights. They weren't at their brightest but it was still an amazing sight. Sadly I didn't get a decent photo. They do have some amazing Aurora photos on their website though.
If you have a room facing towards the river you will need to go out the front of the hotel to see the northern lights. If you try and look out your window it is more than likely that you won't be able to see the lights.
Hotel Ranga also has a stargazing observatory.
Our Bedroom at Hotel Ranga
Our deluxe room had a large wardrobe with dressing gowns, slippers, safe, ironing board, fridge and more. They had drinks and snacks in the fridge. They weren't complimentary but they were priced at the same price as the bar. The room had tea and coffee making facilities, a phone, TV with plenty of English language channels, a small table and chair. Plus a sofa and coffee table. Another smaller chair and table and a stool. The rooms have free Wi-Fi.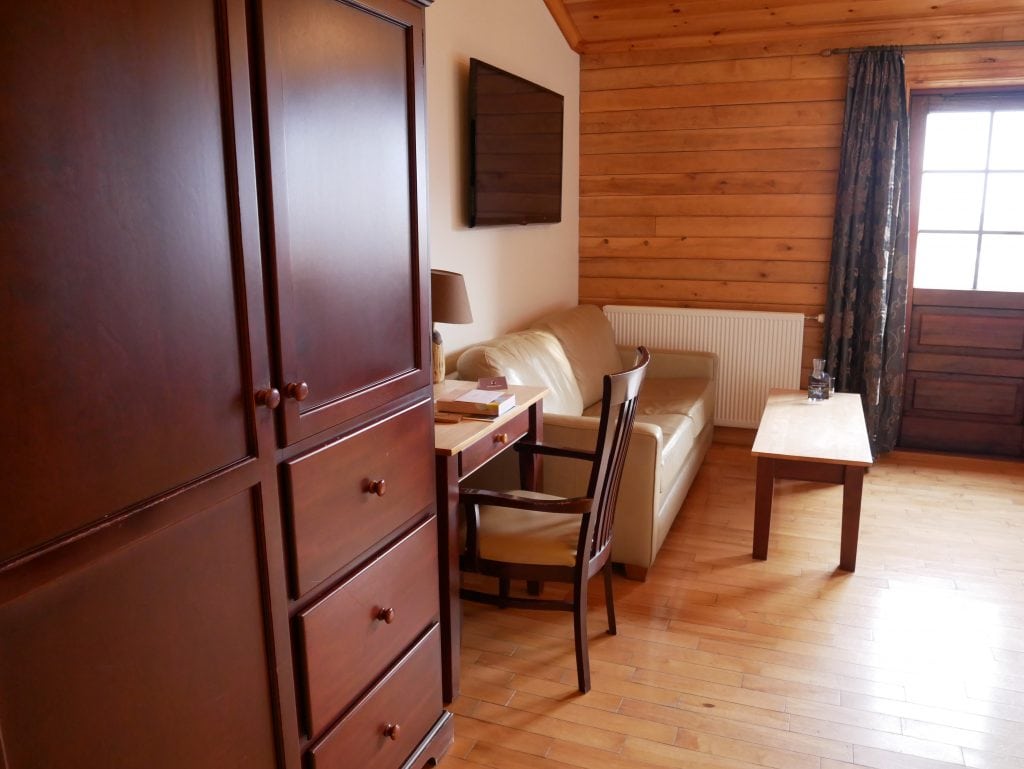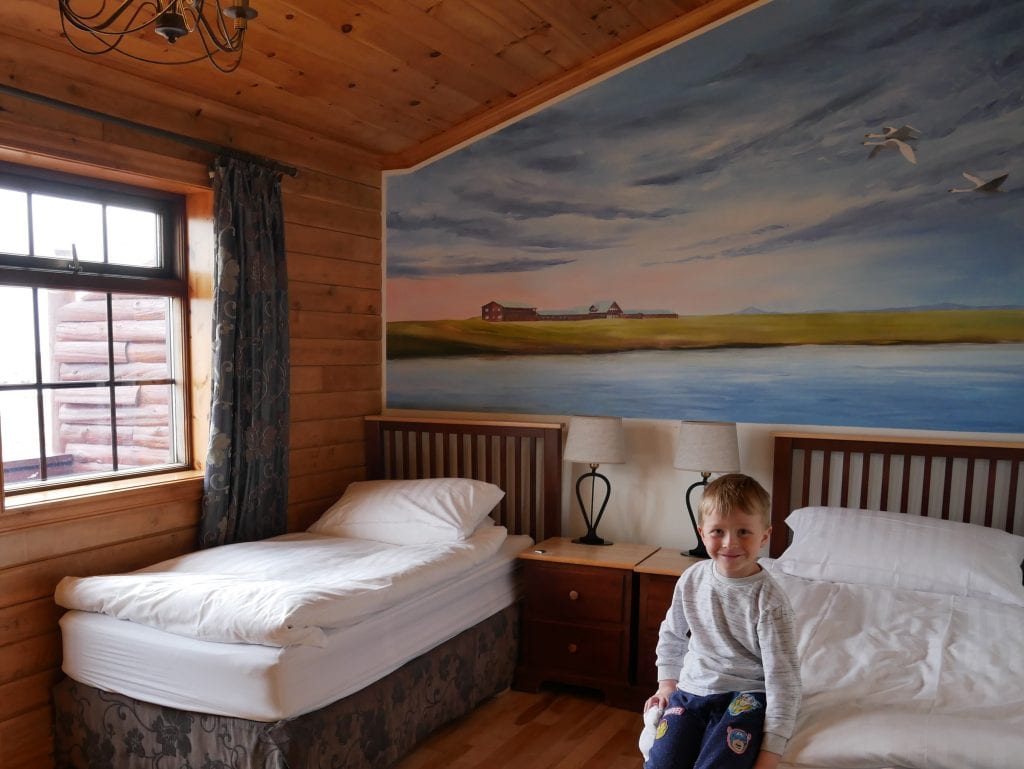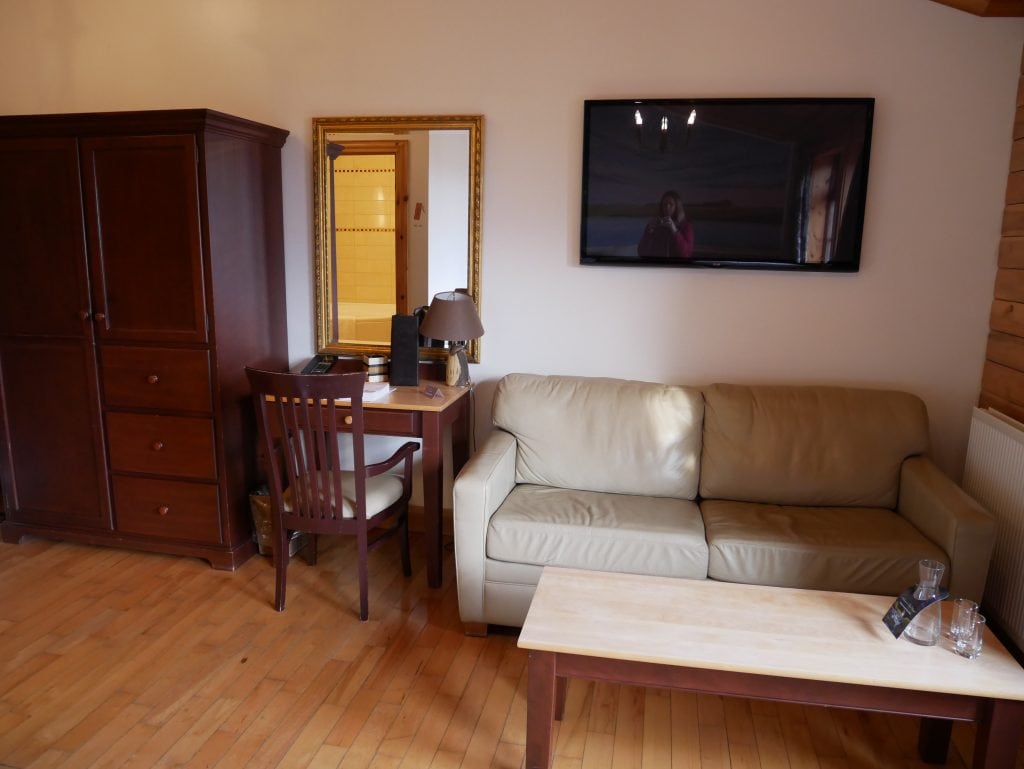 We had a river-side view and we were directly opposite one of the 3 hot tubs at Hotel Ranga. The hot tubs were rarely used and there was no-one in any of them when we went in.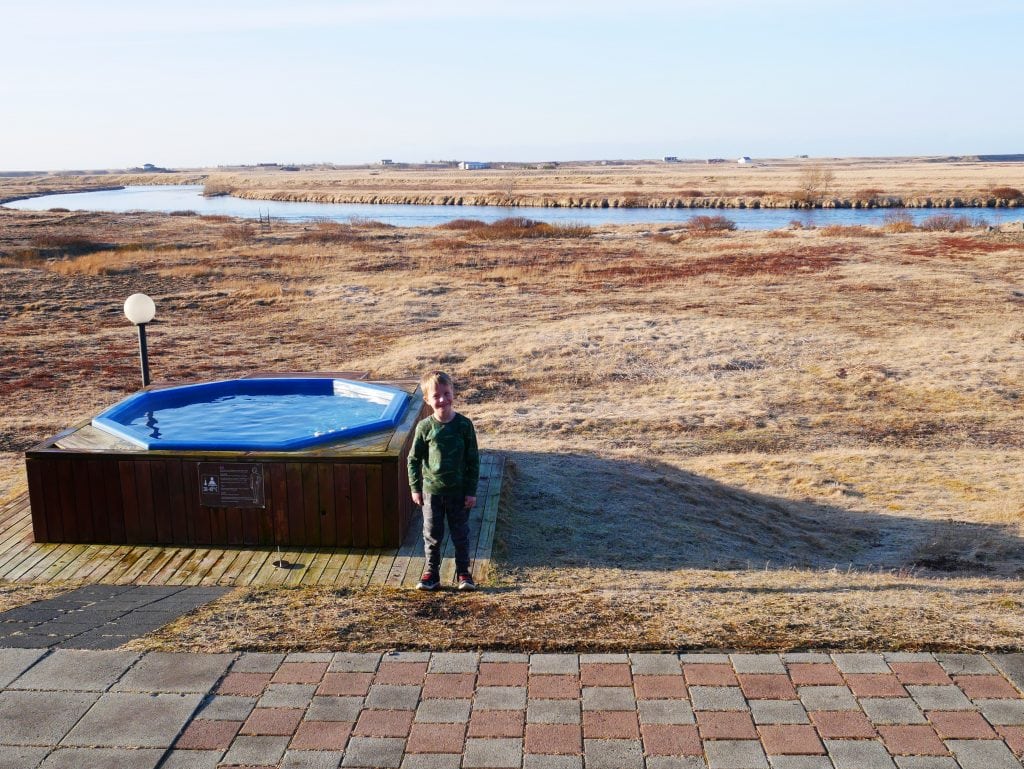 Our bathroom was very large and it even had a spa bath. This had an over-head shower, but no shower curtain! There was a good selection of toiletries in the bathroom which were topped up every day. We were also given a chocolate every day which my son was delighted about.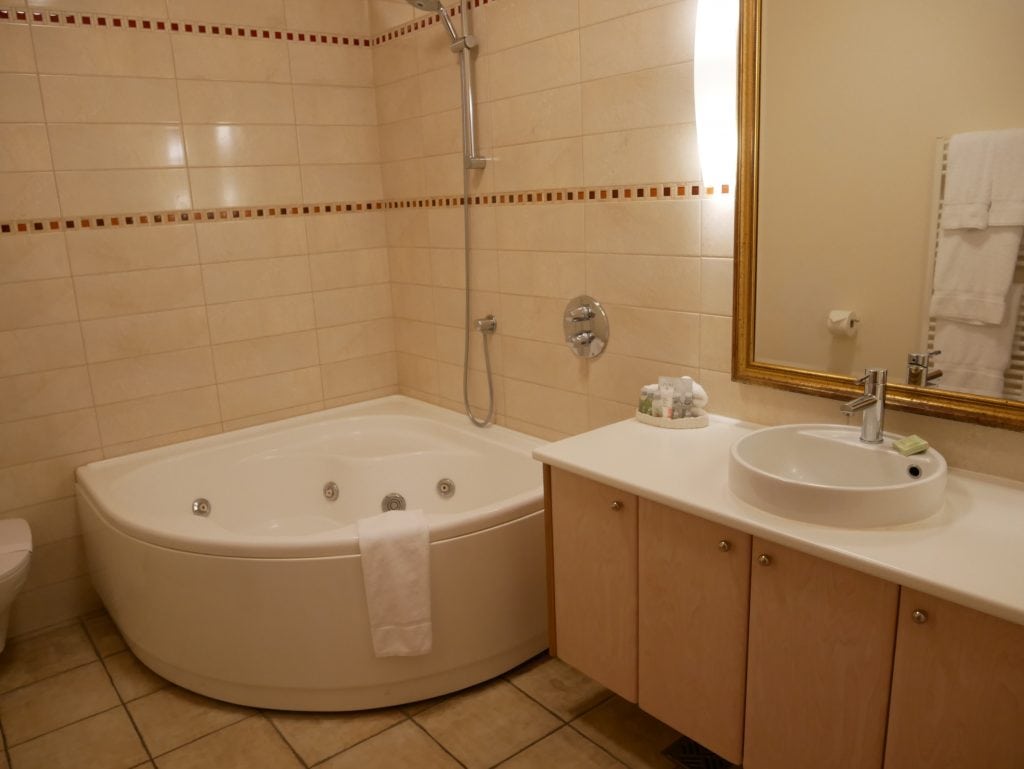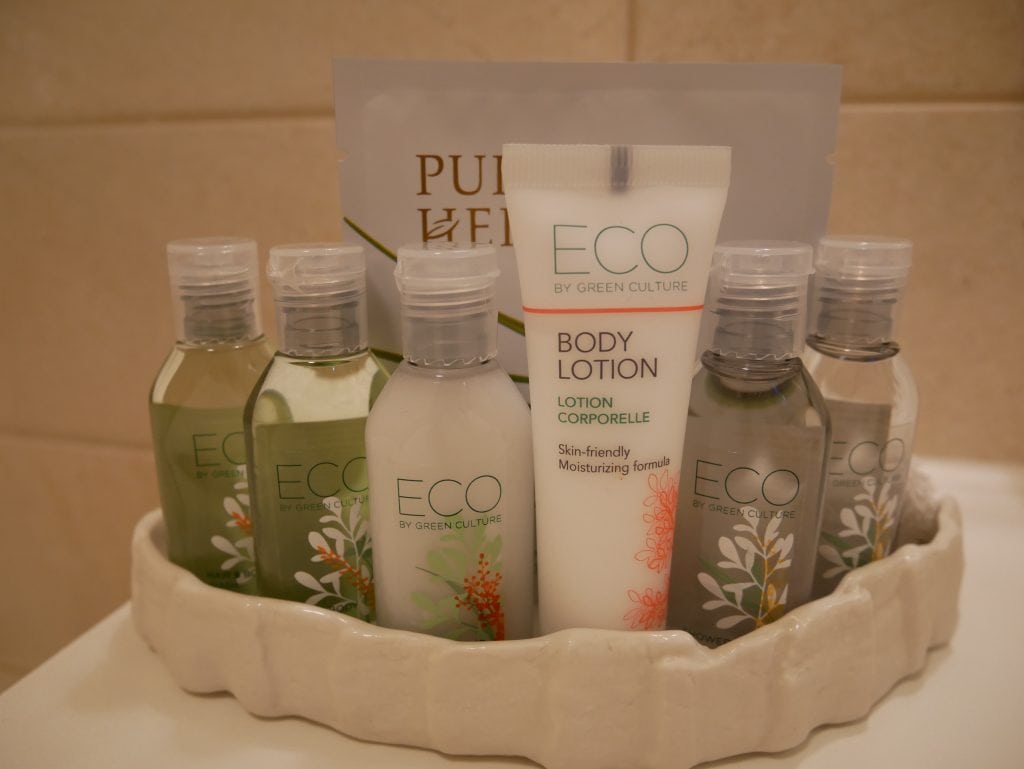 It is free to park at the hotel and reservation was not needed.
Around the Hotel
As mentioned above there are three hot tubs for everyone to use at Hotel Ranga. You are welcome to wander around and down to the river but do be careful with children as there is a small pond as well as the river.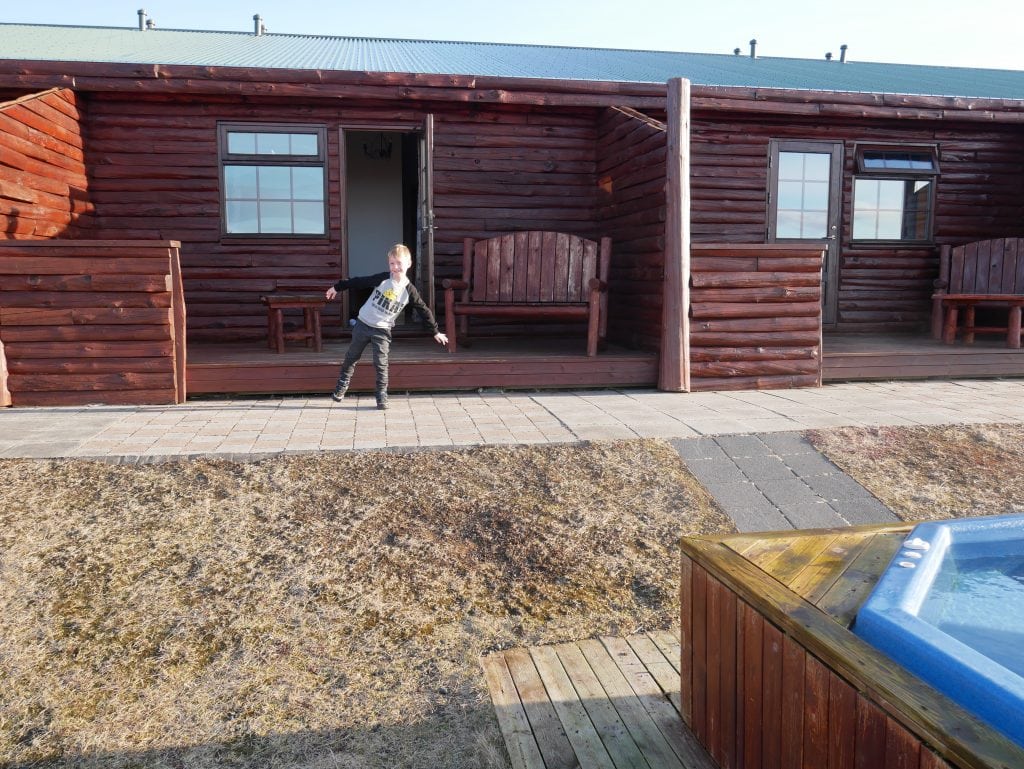 The hotel is in the style of a log cabin. It has a wonderful large glassed room coming off the central part which is where the restaurant is. This is also where breakfast is served.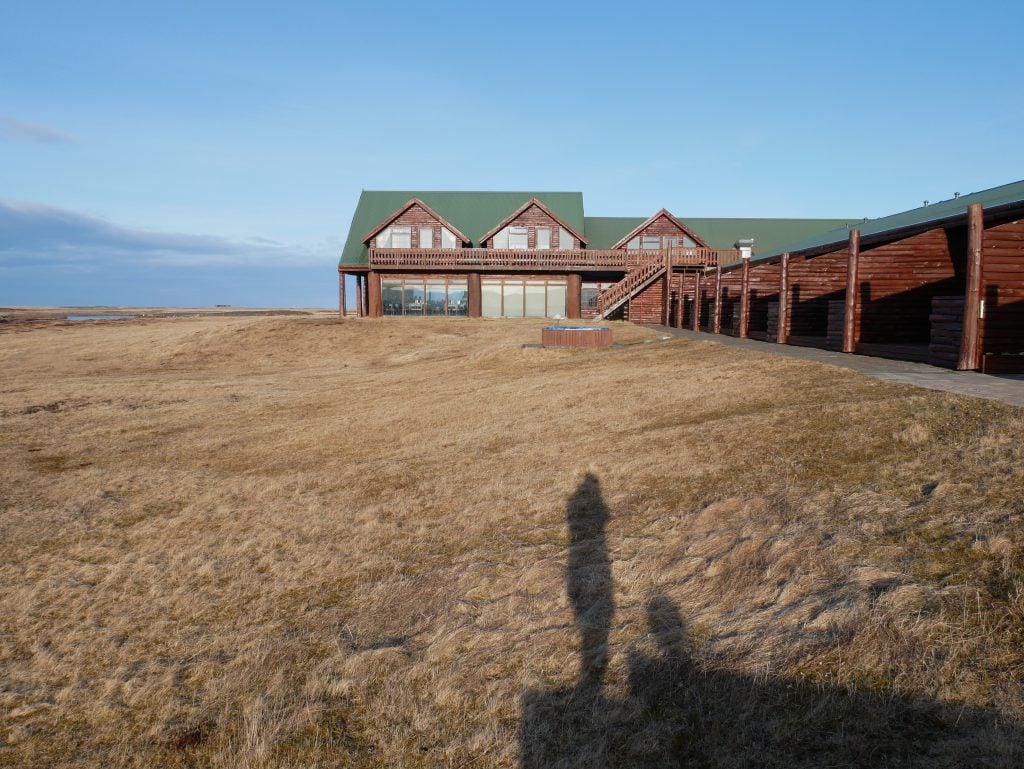 The restaurant at Hotel Ranga is like the rest of Iceland far from cheap. The food, however, was absolutely wonderful and to Michelin star quality. We ate incredibly well during our stay at the hotel and my son had some wonderful large portions of food every night. My favourite two dishes were the langoustine starter and the lamb main course. Both were incredibly tasty and bursting with fantastic flavours.
The staff were very attentive and friendly. We started the meal off every night with some wonderful complimentary bread and lemon butter. The owner even came to talk to us a couple of times and made my son feel very special.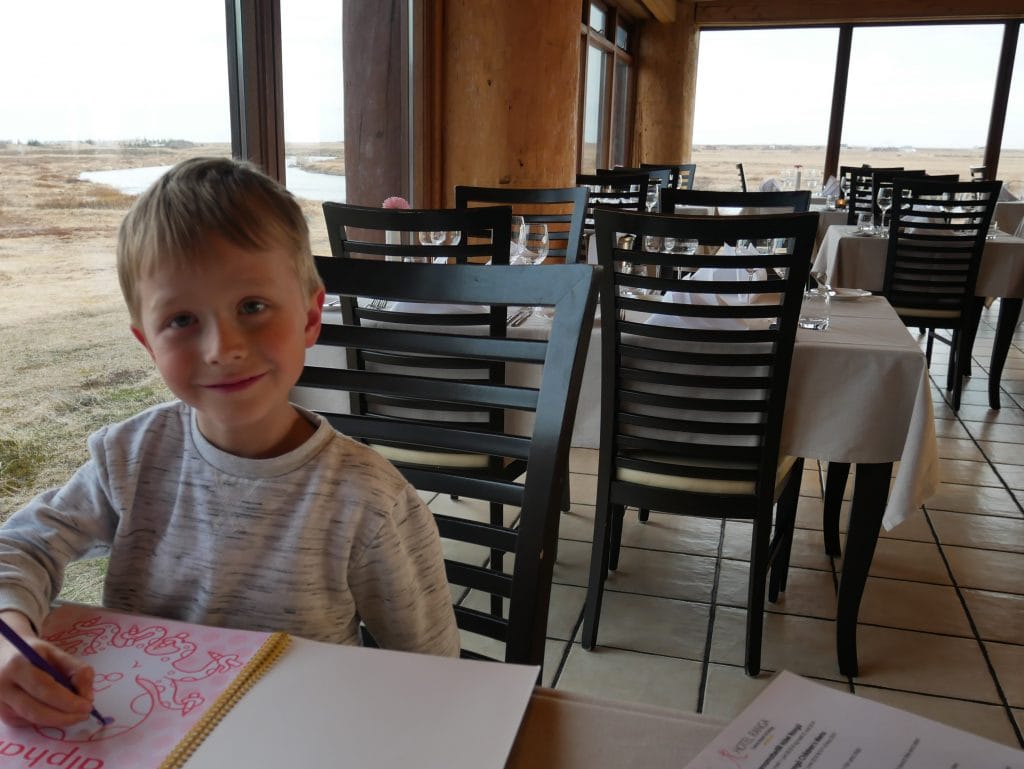 Hotel Ranga Iceland | One of the best Hotels to see the Northern Lights | Review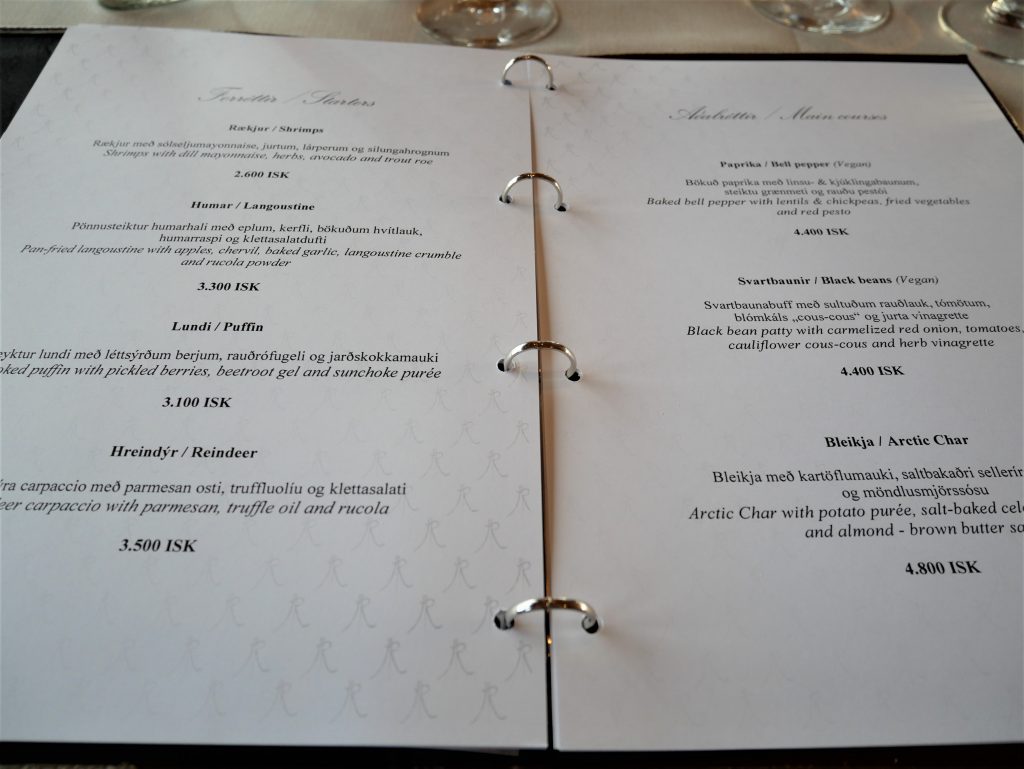 Breakfast was always a wonderful choice of food. You could choose from the buffet which included cereal, fresh fruit, bread, meats, cheeses, yoghurt and much more. You could even make your own waffles. My Mum and I opted to have something cooked every morning. I had a couple of omelettes and I also tried the scrambled eggs which were really good. My Mum opted for mushrooms, tomatoes and bacon. There was even a bottle of champagne out every morning.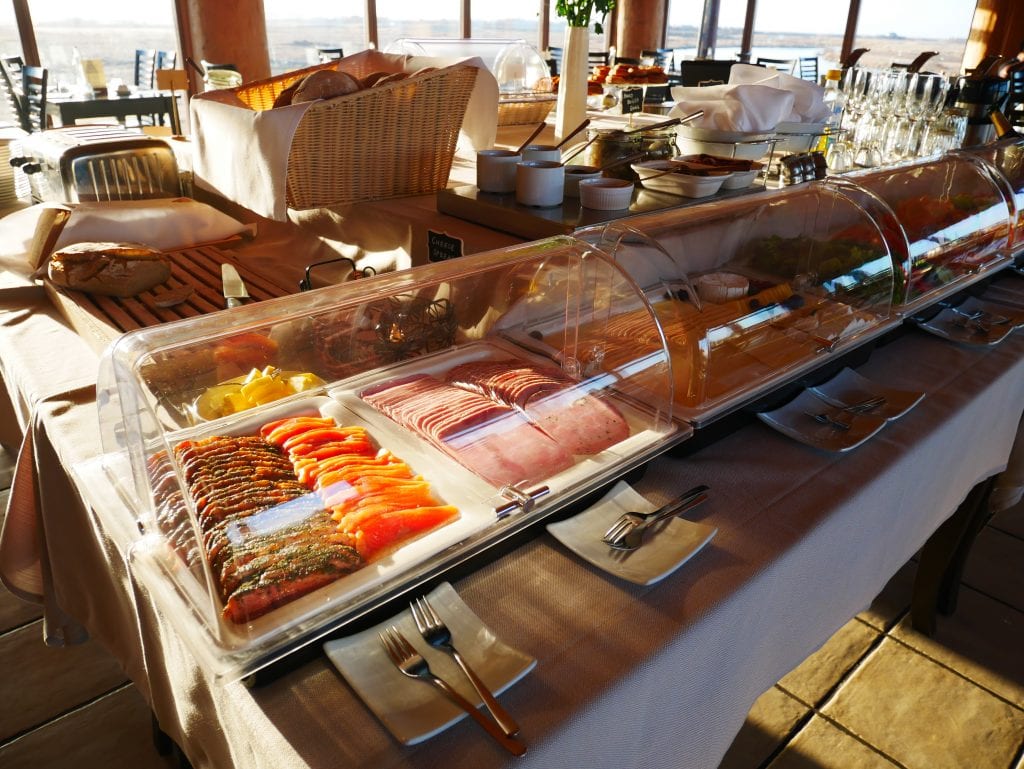 The hotel has a small lounge bar area upstairs. They also have a big telescope up here and a chair that plays like a harp.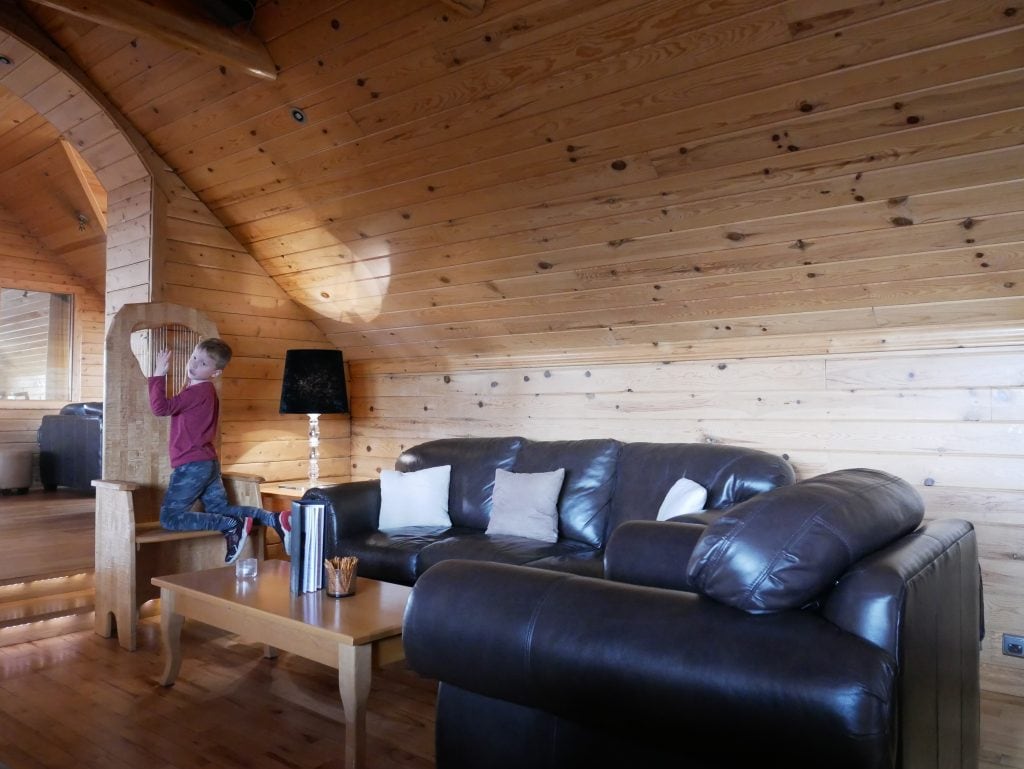 The hotel also has a few nice touches. Such as pens in the rooms that say 'stolen from Hotel Ranga' on them. There are a few lounge areas around the hotel and my son loved the polar bear and wicker chair that was like a den to him.
We had a wonderful stay at Hotel Ranga. It was an ideal base for us. The rooms were spacious and always clean. The food in the restaurant and at breakfast was wonderful and the staff were all friendly and helpful. Plus we saw the Northern Lights. We wouldn't hesitate to return.
---
I hope you enjoyed my review. Please comment below. Never miss a post and subscribe to my newsletter. We are very active on social media and we would love a follow please on Facebook, Twitter or Instagram. Why not pin this post for later? And give us a follow. Simply click on the image below to take you over to Pinterest.