To help you plan your next holiday overseas we have compiled a list of the best family-friendly hotels in Europe with swim-up rooms. These are 14 hotels we would love to visit as they look great for families. Below we will list the name, location and main facilities at these hotels. Sometimes it can be a tough job wading through hundreds, if not thousands of choices, hopefully, this will eliminate the time-consuming searching. All of these hotels have what they advertise to be swim-up rooms, other room options are available.
Many resorts and hotels now offer guests the option of a swim-up room or suite with direct access to a swimming pool from its terrace or sometimes from a short set of stairs. If you click on a link in this piece, we may earn affiliate revenue.
Address: Glyfada, Pelekas 491 00, Corfu, Greece
About – Domes of Corfu is the ultimate when it comes to a luxury family resort. It enjoys a stunning location and offers excellent facilities to ensure every member of the family enjoys a wonderful and memorable vacation. Boasting an impressive beachfront situation, you are never more than a moment from the golden sands of Glyfada Beach. This convenient spot also ensures a short and scenic 45-minute transfer from the airport, and easy access to the popular local bars and restaurants.
Main Facilities – There are three outdoor pools, including a children's pool and an adult-only freshwater pool. There is also an indoor pool, plus a spa and sauna. It's important that the younger guests are happy and entertained and there is plenty to keep the little ones busy at Domes, including children's clubs, a creche, a playground and an indoor soft play area.
Swim Up Rooms -There are three choices of rooms with swim-up pools at Domes, each varying in size. The Sapphire Open Plan Suite and the Sapphire Sublime Open Plan Suite both sleep up to three people, while the Sapphire Sublime Family Retreat sleeps up to four.
Board Options – There is the choice of either half or full board, depending on your preference, and with five bars and four restaurants to choose from you will be spoilt for dining choices!
Address: Πάροδοσ, PEO Kissamou Chanion, Gerani 730 14, Crete, Greece
About – This stunning beachfront accommodation is just 2.5 km from the bustling area of Platanias Square. The nearest airport is Chania International Airport which is 23 km from Atlantica Creta Paradise.
Main Facilities – There are two restaurants on-site, as well as two swimming pools and a wellness centre. For the children, there is a playground and evening entertainment, and all the family will enjoy the on-site table tennis, darts and mini-golf facilities. A long sand-and-shingle beach out the front gives families plenty of elbow room.
Swim Up Rooms – Atlantica Creta Paradise offers six different options for swim-up rooms, to suit every party size and requirement. Every room offers air conditioning, as well as satellite TV and all guests are invited to enjoy a buffet breakfast as part of their stay. The hotel's rooms are spacious and designed with families in mind.
Board Options – The hotel is all-inclusive.
Address: Analipsi, Hersonissos, Crete 70014 Greece
About – The TUI Sensatori boasts a superb location, situated right on the stunning golden sands of Lyttos Beach, on Crete's northern coast. Plus, is a conveniently short drive of just 20 kilometres to Heraklion airport. At Tui Sensatori Atlantica Caldera you are invited to experience the art of indulgence.
Main Facilities – You can enjoy à la carte dining, a beauty spa, child-free zones and a well-admired children's club run by qualified and enthusiastic staff. The entertainment is one of the many high points of the hotel, providing something special for all ages. There are an impressive five pools altogether at Tui Sensatori Atlantica Caldera, plus a children's splash zone with slides. For some exclusive adult time, there is a luxury spa and sauna where you can unwind after a day of fun family activities including archery, tennis and football.
Swim Up Rooms – There are a number of options when it comes to choosing your swim-up rooms, each varying in size and position. All rooms do come with a balcony or terrace, air-conditioning, satellite TV, tea and coffee-making facilities, and a minibar!
Board Options – The hotel is all-inclusive, and with a choice of seven restaurants, you can be sure of a different delicious meal every day!
Address: Kolymvari 730 06, Crete, Greece
About – Nestled within stunning gardens and overlooking the white sands of Kolymbari Beach the 5-star Avra Imperial Beach Resort & Spa is waiting to offer you and your family a luxurious stay where you can make lifelong memories. Just a 5-minute walk from the resort and you will reach the centre of Kolymbari where you'll find shops, fantastic seafront restaurants and the stunning 14th-century Odigitria Monastery. Chania Airport is just a 40-minute drive away.
Main Facilities – You can look forward to fine dining at one of the five hotel restaurants, choosing from classic Cretan cuisine, exciting Chinese and Thai dishes, and traditional Italian food. The Avra Imperial is the perfect destination for all the family as it boasts 5 outdoor pools including a children's pool (freshwater). Indoor pool., a crèche, Alpha Kids Club, and the Teen Vault for tweens and teens. The adults are well catered for too! There is an award-winning wellness spa offering various beauty treatments, plus the use of the spa and gym facilities.
Swim Up Rooms – There is a fantastic choice of swim-up rooms, all differing in size and position. All the rooms are modern and decorated to create a warm, comfortable vibe. Every room is very well equipped with air conditioning, flatscreen satellite television, a hydro-jet shower, a large lounge and much more!
Board Options – Bed and breakfast or Half Board
Address: Poseidonos Ave 5, Paphos 8101, Cyprus, Greece
About – Proudly offering a splendid beachfront location the Constantinou Bros Athena Beach Hotel is the perfect vacation destination for all the family. Well known for its outstanding service and very high standards throughout, this hotel offers fantastic facilities. The hotel is perfectly located within the Paphos Resort to allow easy travel to all the wonders Paphos has to offer visitors including stunning sandy beaches, ancient castles and ruins ready to be explored, and outstanding local authentic bars and restaurants. The airport transfer is a very easy 25-minute drive which is ideal if travelling with children or impatient adults!
Main Facilities – In all the hotel boasts 6 restaurants, four bars, plus five outdoor pools including two children's pools with jets and slides.
Swim Up Rooms – For the ultimate in luxury and to truly experience a VIP stay then the Elite Class Superior Family Triple Swim-Up Suite is for you! It's very spacious and sleeps up to six guests. In addition to the luxurious furnishings and equipment in your room, as elite guests, you are also invited to use the Splash Park and Elite Bar and Entertainment Area.
Board Options – You can choose from four different levels of stay: bed and breakfast, half board, full board or all-inclusive.
Address: In Port Des Torrent, Ibiza, Spain
About – Holiday Village Seaview Ibiza has everything your family needs on vacation all within its own magnificent complex. It even boasts its own waterpark! It is located in the charming old port village of Port Des Torrent, an area which is the polar opposite in atmosphere and environment to its party-loving neighbour, San Antonio, well known for its buzzing nightlife. Seaview Ibiza is a 50-minute drive from Ibiza Airport.
Main Facilities – As we mentioned previously Holiday Village Seaview Ibiza's top attraction has to be its exclusive water park which has adrenaline-boosting slides and a fun splash zone. In addition to this, there is also an Aerial Adventure Course and Kid's Football and Performing Arts Academies run by qualified and enthusiastic staff. There are four restaurants available to enjoy at this hotel. These include a buffet restaurant, an Italian, the Sunset Grill, and a retro American diner.
Swim Up Rooms -If you are looking for the ultimate slice of luxury with your stay then book either the Swim-Up Deluxe Family Room with Poolside or the Swim-Up Family Room, both of which sleep up to four guests. In addition to all the luxurious extras, these rooms come with a kitchenette, 2 flatscreen TVs and a balcony or terrace as standard.
Board Options – This hotel offers its guests an All-Inclusive stay which allows complete peace of mind and no need to fear the bill at the end of your stay!
Address: Carrer Camp d'Avall, s/n, 07458 Can Picafort, Illes Balears, Majorca, Spain.
About – Zafiro C'an Picafort is located in the dreamy former fishing village of C'an Picafort. It is a resort that is relaxed in nature and modest in size, ideal for those wishing to escape the bigger and busier resorts. The local coastline is made up of gorgeous white sandy beaches and spectacular mountainous areas. The transfer time from the airport is 1 hour 45 minutes.
Main Facilities – Facilities at Zafiro C'an Picafort include two outdoor freshwater pools, with children's sections and a splash park. There is also an indoor pool, as well as a gym and a spa offering beauty treatments. For the younger guests, there is a Children's Club (4-15yrs) offering arts and crafts, small team games, sports, movie nights, water-based, storytime, drama and music and games consoles, plus a playground.
Swim Up Rooms – The accommodation offered comes in apartment form and for those wanting something special, there is the Premium One-Bedroom Apartment with Swim-Up which sleeps up to 4 guests. In addition to the swim-up and all the facilities one would expect from a luxury apartment, there is also the use of a private garden area.
Board Options – Board options are self-catering, bed and breakfast, half board or all-inclusive plus which includes à la carte restaurants, a children's buffet and cocktails and Cava for parents in the evenings.
Address: Calle Alcazaba, 4, 35138 Taurito, LasCarrer del Camí Reial Al Moll, 2, 07400 Alcúdia, Illes Balears, Majorca, Spain
About – Famous for its shimmering light blue waters Puerto Alcudia is somewhere that enchants you immediately. Surrounded by golden sandy beaches, magnificent yachts and charming towns and villages it has everything you need for the perfect family holiday. Zafiro Palace Alcudia is a luxurious resort with excellent and extensive facilities located just a short journey from the buzzy vibe of the Port of Alcudia. The airport transfer is one hour and 45 minutes.
Main Facilities – There are fantastic facilities at Zafiro Palace Alcudia including three outdoor pools: a pool with a children's section and one adult-only freshwater pool plus two indoor pools. For the younger visitors, there are Children's Clubs that cater for all ages from 4-15 years old and include a vast range of activities from arts and crafts to drama and gaming nights.
Swim Up Rooms – For an extra special touch, you can book the Zafiron Swim-up Suite or the Junior Suite, both of which sleep up to four guests. These beautiful rooms are located on the ground floor and have one bedroom plus a living area with a sofa bed, a large terrace furnished with daybeds, a private shaded garden and direct access to the pool.
Board Options – You can choose from various board options: Room Only, Bed and Breakfast, Half Board or All-Inclusive Plus. There are five restaurants on-site, including 1 buffet restaurant and 4 à la carte restaurants, serving a range of Spanish, local, Italian and international cuisine
Address: Carrer Llevant, s/n, 07760 Cala en Bosc, Illes Balears, Menorca, Spain
About – Zafiro Menorca is located in Cala'n Bosch in Menorca, a beautiful, bustling marina surrounded by sandy beaches. Well-known as one of the best and most popular family-friendly hotels on the island Zafiro Menorca effortlessly combines entertainment and activities with an atmosphere of relaxation that is sure to suit every member of the family. The transfer time to the airport is 1 hour 20 minutes.
Main Facilities – The extensive range of facilities on-site include a gym and a wellness spa, which offers various beauty treatments and therapies. There are two outdoor swimming pools, a Pirate-themed Splash Zone to delight the little ones, and then an indoor pool with a heated whirlpool. The younger guests will be well-occupied at the Children's Club getting involved with arts and crafts, games, drama, music, and stories. There is also a playground and a bouncy castle.
Swim Up Rooms – There is the option of booking the Premium One Bedroom Swim-Up Apartment for the extra special touch to your stay. These luxurious apartments sleep up to four guests.
Board Options – There are various board options to choose from: Self Catering, Bed and Breakfast, Half Board Plus and All-Inclusive Plus. When it comes to mealtimes there is one main buffet-style restaurant plus various snack bars around the resort.
Address: Kolymbia, Rhodes 851 03, Greece
About – The Holiday Village Atlantica Rhodes is located in Kolymbia, a sun-drenched resort on the east coast of the Greek island of Rhodes idyllically surrounded by mountains and ocean. The resort is just a five-minute walk from Blue Flag beaches. It is also just 55 minutes from Rhodes Airport ensuring an easy stress-free transfer both ways.
Main Facilities – The Holiday Village Atlantica Rhodes boasts five swimming pools including an indoor pool and a super fun kid's pool with slides, jets and an adventure park. As if all this aquatic fun wasn't enough there is also a well-organised entertainment programme which includes Aerial Adventures, volleyball, children's clubs, West-End standard shows and football and stage academies.
Swim Up Rooms – For that extra special and fancy stay why not treat the family to one of the exclusive Swim-Up rooms? There are various options for Swim-Up rooms differing in size and resort location, but all offer the ultimate in luxury.
Board Options – The board basis is All-Inclusive so you can relax and enjoy your vacation with no need for end-of-stay bill anxiety! The resort offers a generous five restaurants and seven bars to choose from, including an Italian, an American diner and an authentic Greek eatery.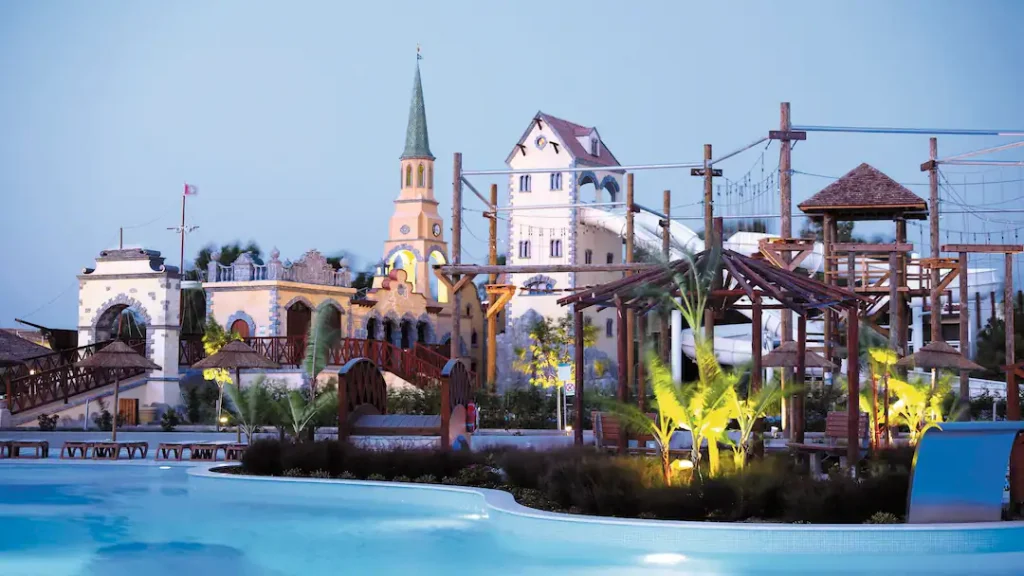 Address: Gennadi 851 09, Rhodes, Greece
About – You will find TUI SENSATORI Atlantica Dreams Resort and Spa in the south of Rhodes Island along the east coast. Once a peaceful fishing village it still remains quieter than its neighbouring party towns of Pefkos and Lindos and has also retained much of its traditional charm. Offering guests a private beach with exotic Bali beds and a wellness spa this resort really is a place of luxury. For those who like to explore and be educated, the resort is surrounded by an ancient Greek village to add some culture to your visit. The hotel is approximately one hours drive from Rhodes Airport.
Main Facilities – The family activities include everything from archery to Zumba. In the evening time, there are children's shows, professional stage productions and laidback live music. Of the five pools one is reserved exclusively for adults and there is also a children's splash park complete with slides, jets, and endless fun!
Swim Up Rooms – At Atlantica Dreams they offer a range of Swim-Up rooms differing in size and position. All rooms here are spacious and modern with free Wi-Fi. When choosing a Swim-Up room swim-up you get direct pool access. Family swim-up rooms (sleep up to 5) with a sliding door are also available, they sleep up to four.
Board Options – This hotel is All-Inclusive and there are six restaurants, including four where you can dine as part of your All-Inclusive package.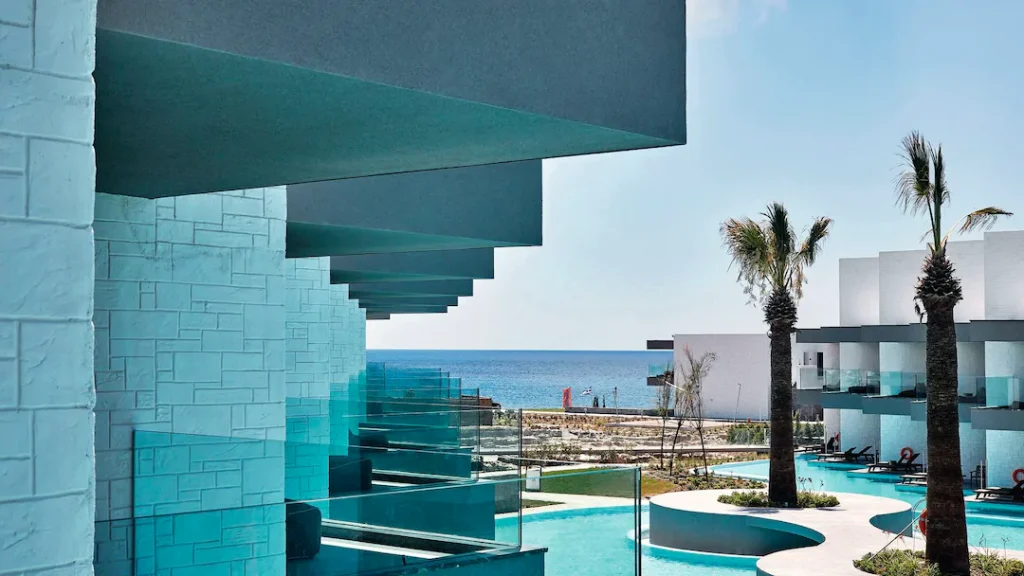 Address: Av. Adeje 300, s/n, 38678, Santa Cruz de Tenerife, Spain
About – The H10 Atlantic Sunset hotel is located within the idyllic resort of Playa Paraiso. Playa Paraiso is a beachside paradise particularly popular for its snorkelling, diving and water sports. There are also many traditional and authentic Spanish bars and restaurants to enjoy and really immerse yourself in Spanish culture. The hotel itself is bright and modern, offering spacious and comfortable rooms. The airport transfer is a very reasonable 40 minutes so ideal for those with younger children.
Main Facilities – There are four outdoor pools at the resort, including a children's pool and an Aqua Park with slides and jets. If you fancy even more adrenaline-filled aqua fun then the Siam Park Waterpark is just a short journey away from the resort offering giant slides and a lazy river! The younger guests are invited to get involved with the activities at the Children's Club for ages 4- 12 years. The fun will include games, arts and crafts and sports.
Swim Up Rooms – There are two varieties of Swim-Up rooms available at H10 Atlantic Sunset. You can choose either a double or a twin, both catering for up to three guests.
Board Options – As part of the All-Inclusive board basis on offer, there are six restaurants in all, including Japanese, Italian and British cuisine.
Address: Türkler, 07407 Alanya/Antalya, Turkey
About – The Eftalia Marin Hotel in Antalya, Turkey is a great option for families looking for some low-key fun in the sun. The area of Antalya is buzzing with tourists and the skyline is dominated by impressive hotel complexes. Everything the family could want from their holiday is within an easy car ride, including waterparks, beautiful beaches, historic ruins and the draw of local bars and restaurants to allow you to really embrace local life and culture. The nearest beach is Eftalia Island, approximately 800 m from the hotel and located across a road, assessed via an underpass If you choose to travel to nearby Eftalia Island for the beaches and waterparks. The airport transfer is two hours.
Main Facilities – The hotel has 2 outdoor pools including a children's pool. There is an on-site air-conditioned gym, daily entertainment and occasional evening entertainment in peak season. For children, there is a kid's club for ages 4-12, again in peak season. There is also a children's playground.
Swim Up Rooms – The rooms at the Eftalia Marin are dedicated to a nautical theme and offer a modern and comfortable stay. If you are looking for something extra special, there are Duplex Swim-Up rooms available that sleep up to six guests.
Board Options – All-Inclusive package extends to Eftalia Island too with wine, beer, soft drinks, and snacks available here. On-site you will find three restaurants, two of which are buffets offering international cuisine, and one a la carte serving authentic Italian dishes.
Address: Kalamaki 291 00, Zanta, Greece
About – The Caretta Beach Resort and Waterpark in Zante is a really popular choice with families. It has everything and more that all members of the family want and need from their holiday. Located in the idyllic area of Kalamaki, the beach is 1.4km from the hotel. The beach consists of glorious golden sands and turquoise waters, and there is even the opportunity to spot Loggerhead Turtles if you are lucky! For golf fans, there is a popular golf club nearby too. At the hotel you are just 4km from the vibe and bustle of Zante Town itself and the airport transfer is super convenient 25 minutes!
Main Facilities – At the hotel, you will find two outdoor pools, as well as a waterpark featuring slides, a lazy river, a kamikaze and a multi-lane racer! After all this aqua fun the family are sure to have worked up an appetite and there are two restaurants onsite for you to enjoy as part of the All-Inclusive package on offer. For adults, there is a wellness spa and a gym whilst the kids are busy and entertained at the on-site children's club and playground.
Swim Up Rooms – For that extra special touch there are Swim-Up Family rooms available, and these sleep up to four guests.
Board Options – All-inclusive.
Please conduct your own research through reviews and the company's websites with regard to the facilities, the rooms and upkeep of the above hotels. The above information is for reference only. Please also check their cancellation policies with regard to any current travel restrictions.