For the past two years, we have taken a mini-break to Bournemouth to see family. Both times we have stayed at the Highcliff Marriott Bournemouth. It's a great location and a good and comfortable hotel. Please read on for my review of the Highcliff hotel. It is currently rated very well on Booking.com with a 8.2 score of very good for the hotel and 9.2 for location.
*This post contains affiliate links. It will cost you no extra to book through our links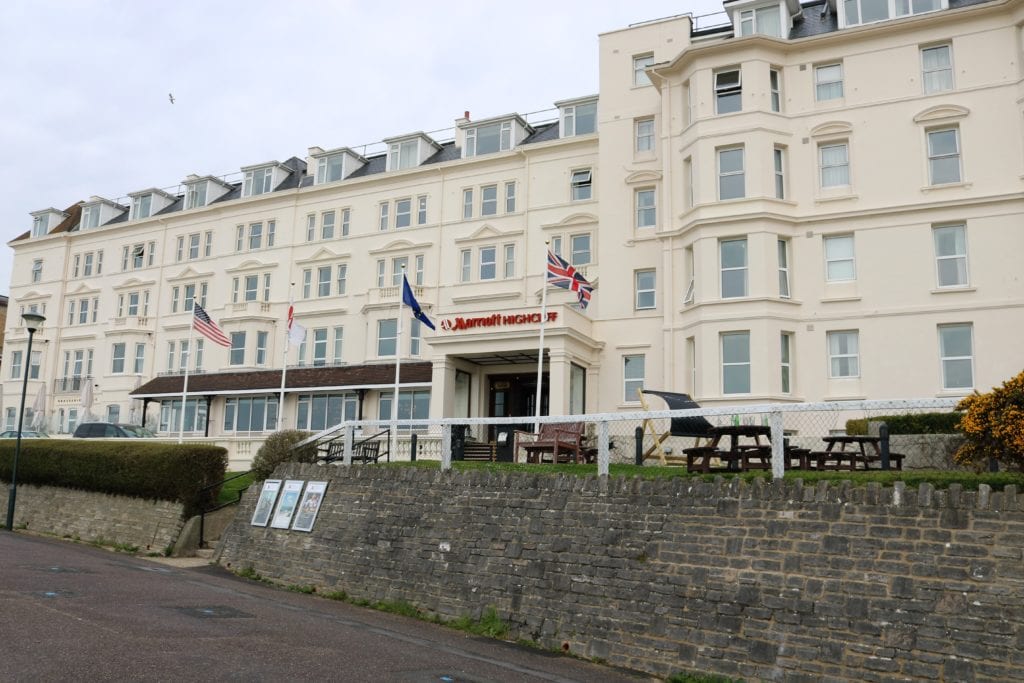 Highcliff Marriott Bournemouth Location
The Highcliff Marriott hotel is indeed on a cliff. It overlooks the beach at Bournemouth and this is a short walk downhill or you can take a lift down to the sea. It is also just a short walk to the centre of town where you will find many shops and restaurants. You don't have to walk down the hill to find restaurants as there are a few located near the hotel including a fabulous Thai. The hotel also has a really good restaurant that we ate at one of the nights.
Once you reach the bottom of the hill you will find Bournemouth pier, the Oceanarium and during the warmer months, they have fairground rides in this area. This is also where you can catch two different land trains, which go off in two different directions. For more ideas of things to do in Bournemouth please see my post – My Top 10 List Of Family Friendly Things To Do In Bournemouth.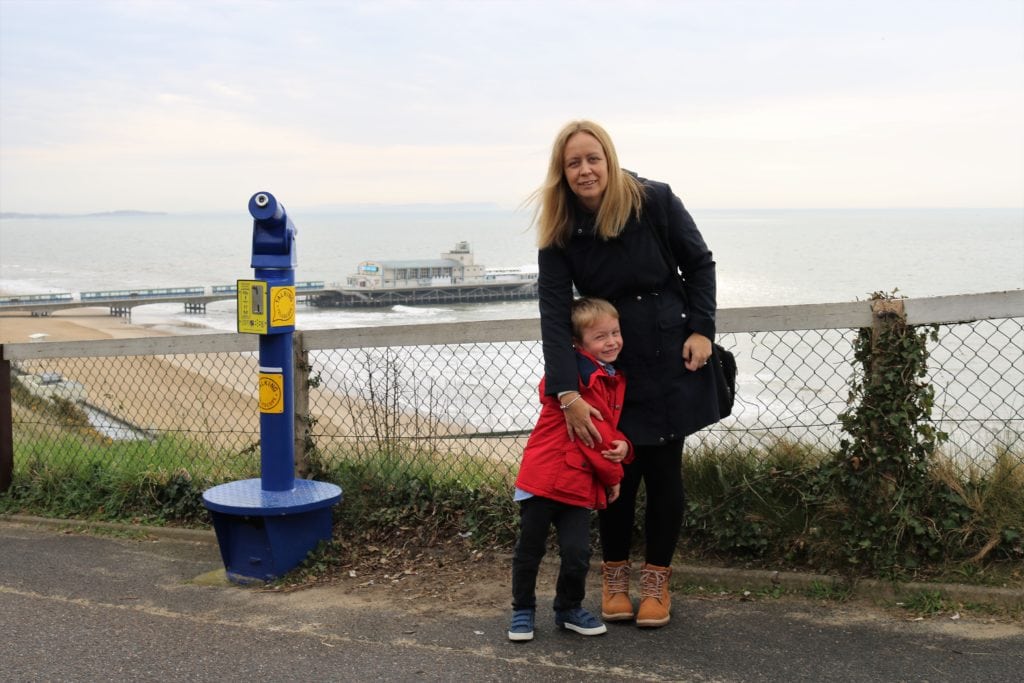 Facilities at the Highcliff Marriott Bournemouth Hotel
The restaurant and bar area plus some of the entrance hall has recently been renovated in 2017. They now have a lovely bar that overlooks the sea and a very modern restaurant which is also where breakfast is served.
The buffet breakfast is not cheap though and starts at £16.50 a head. It is excellent and I do recommend it, but try and get a room rate that includes breakfast as often this will be at a discounted rate.
Brasserie Blanc is their new restaurant and it serves some wonderful fresh food. I especially loved the scallops starter and king prawn main. They serve lunch and dinner here, as well as breakfast.
All rooms have free Wi-Fi access. Flat-screen TV and tea and coffee making facilities. There is a leisure club with a sauna, wellness suite, indoor heated swimming pool and outdoor seasonal pool. There is a gym and tennis court. Plus of course, the beach is just a short tram ride away (or a walk down the hill!). They also have facilities for disabled guests.
There is a pay and display car park at the Highcliff Marriott in Bournemouth. I warn you now it can be hard finding a space as parking is quite limited. We walk everywhere whenever we visit so once we have a space it remains to be our space. It's a shame that such a large hotel has such limited parking and I hope that they can find a solution. If you do struggle to find a space you can request that someone from the hotel helps you. Parking at the hotel costs £12.00 a day.
Rooms at the Highcliff Hotel
They have twin rooms, double rooms and family rooms at the hotel. We were booked into a twin room. They had made it into a super king though. We could have asked for the beds to be split but we were happy with it as it was. The room was large enough with bedside tables, 2 chairs, a desk with a chair, safe, tea and coffee making facilities. Plus a reasonably large bathroom. The Highcliff hotel also has family rooms. Our room was reasonably soundproof although we do now request rooms away from an internal door as these can be quite noisy.
We also had free toiletries in the room which were stocked up daily plus an iron, ironing board and trouser press.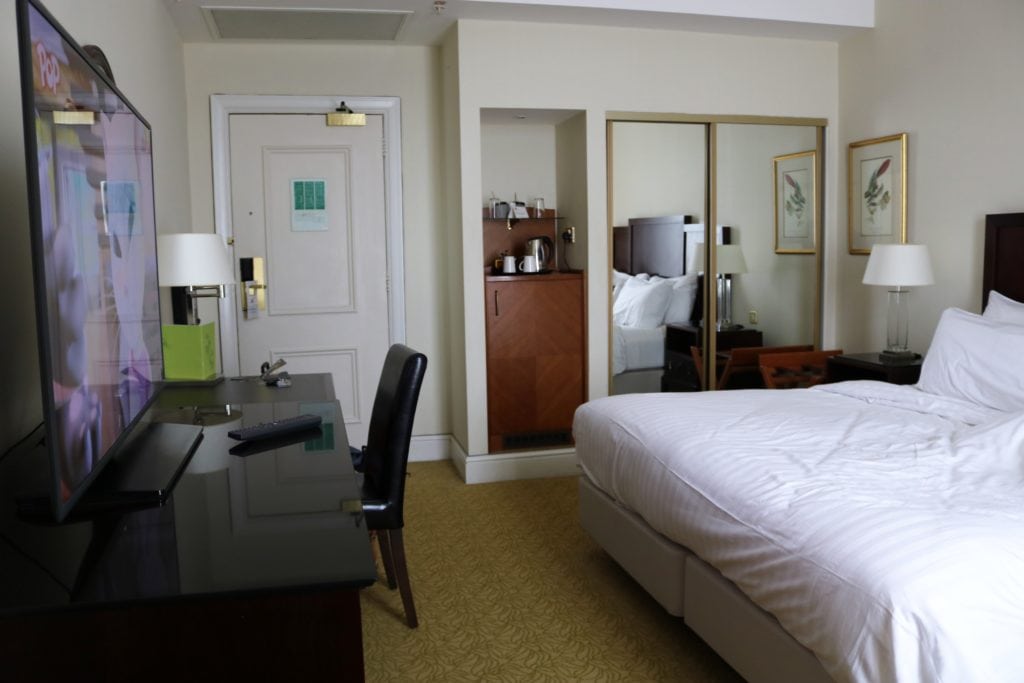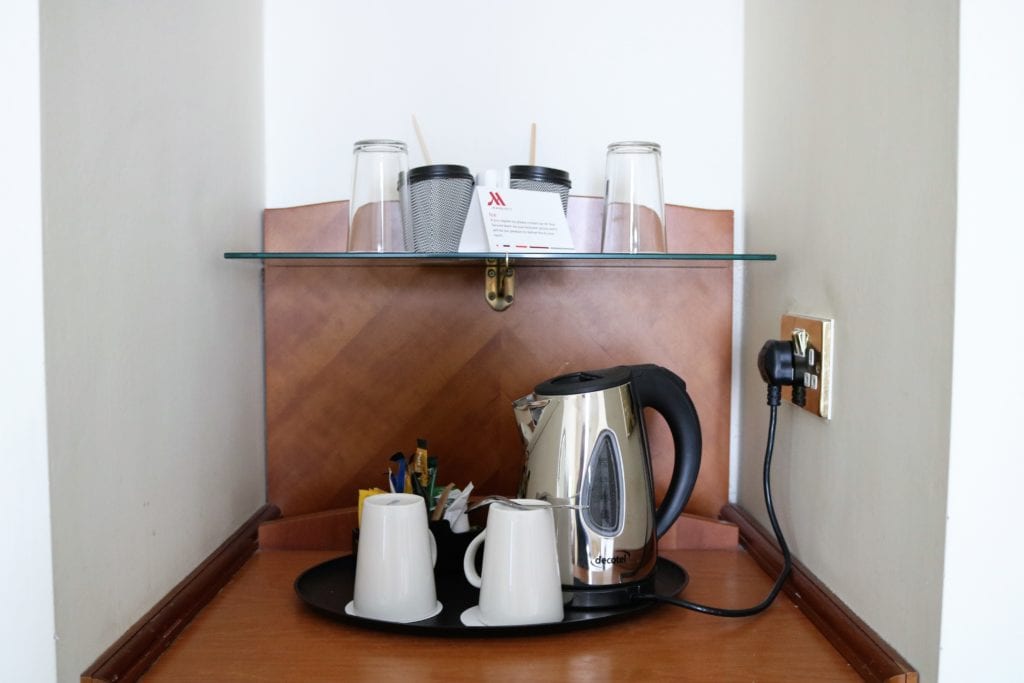 My son was given an activity pack when we arrived which was a nice touch and kept him busy for hours.
We stayed for four nights over Easter in 2017 and 2018. Our room cost on average £130 a night including breakfast.
---