Oh my goodness it's been years since I've been to Bournemouth. My Dad's sister and my cousins live down there and we really don't see them enough. My brother and I used to go with my grandparents to see them all when we were little. I have lots of fond memories of Bournemouth. Why they had to replace the quaint shell house with a block of flats I'll never know! *shakes fist*
When my Dad died last year we promised them all a visit and that is what we did. Myself, Mum and Jamie packed up the car and commenced our 5hr30 hour trip to Bournemouth for a 4 night holiday of sun, sea, sand and rides. (Only just over 4 hours driving time from Lincolnshire I may add). Bournemouth is on the south coast of England in Dorset. It is relatively easy to reach with a good system of motorways and dual carriageways for most of our journey down. Here is my list of my top 10 family-friendly things to do in Bournemouth, some of which are free or relatively cheap.
Things to do in Bournemouth with Kids
#1 – Visit Bournemouth Beach
We have our first freebie activity. The beaches down this part of the world have won awards for their cleanliness and this includes the beach at Bournemouth. Miles of golden sand welcome you and the sea was always near. (I say this because the sea is often really far out in Lincolnshire).
We visited over Easter and we were lucky to see lots of the sun while we were there. There was a cold wind around but it didn't put off all the holidaymakers. Even in non-swimwear weather, the beach was popular. I say non-swimwear we did spot some mad people wearing them and going in the sea.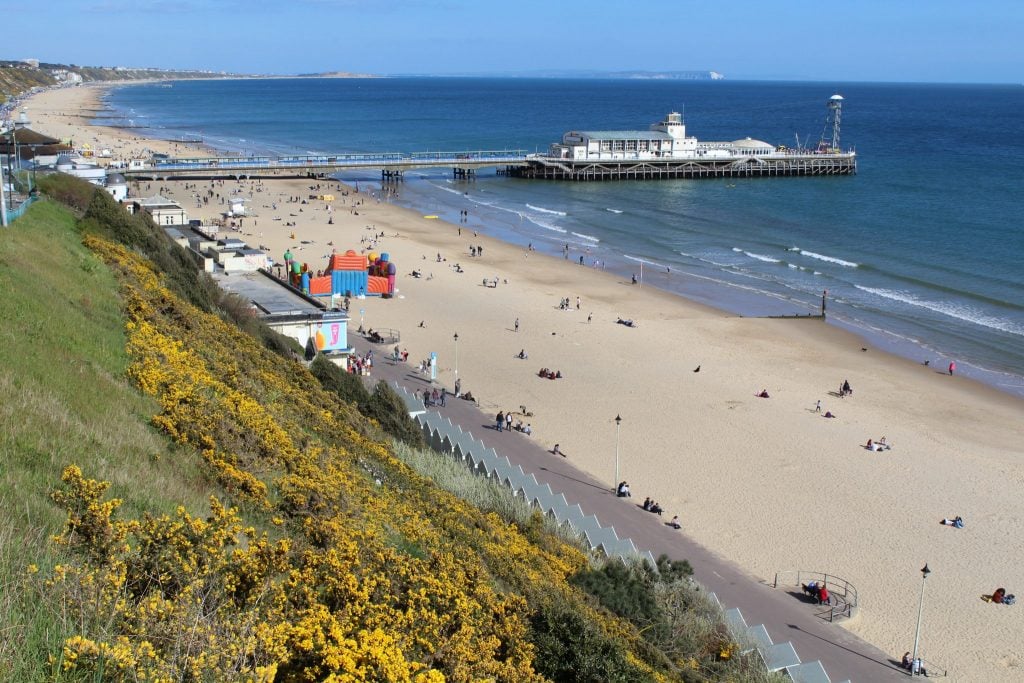 I loved the lifeguard beach huts, they were like something out of Baywatch, do I sound too Northern now? They can also provide good shelter from the wind.
We were so busy while we were there we almost didn't fit in some time on the beach. But it was promised and a promise is a promise. The sand is fine and not too sticky. However, it did actually make some relatively good sandcastles without digging down too far. Jamie loved his time on the beach. Mummy could take or leave sand.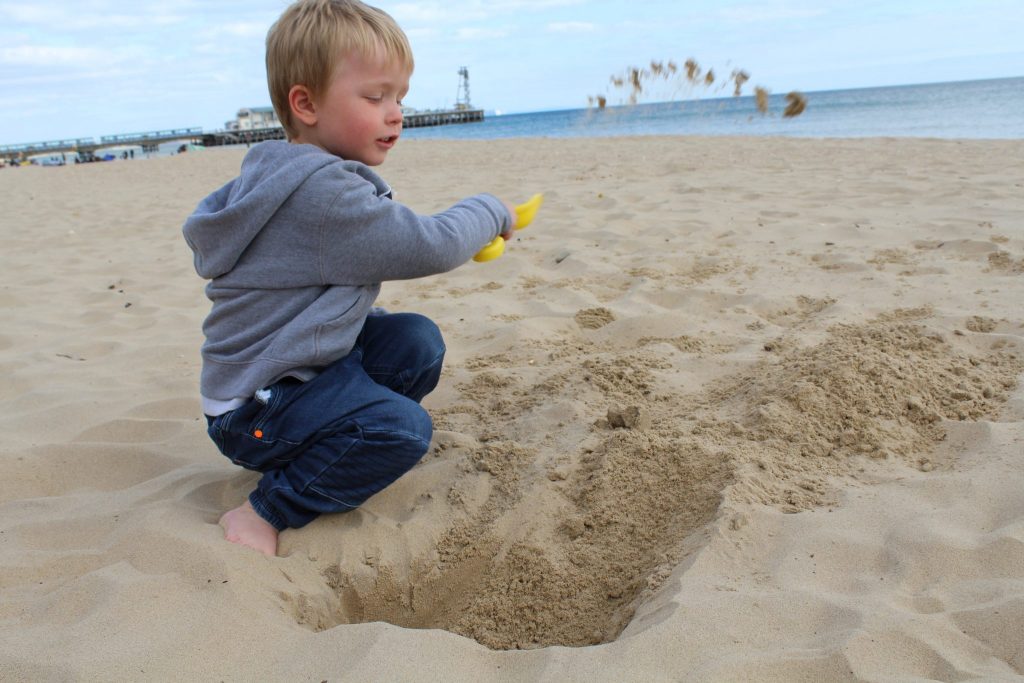 We were staying at the Highcliff Marriott right by the West Cliff lift so that is where we sat on the beach. It provided a lovely view with the lifts behind and the pier off to our left. They also had bouncy castles on the beach for the kids on either side of the pier.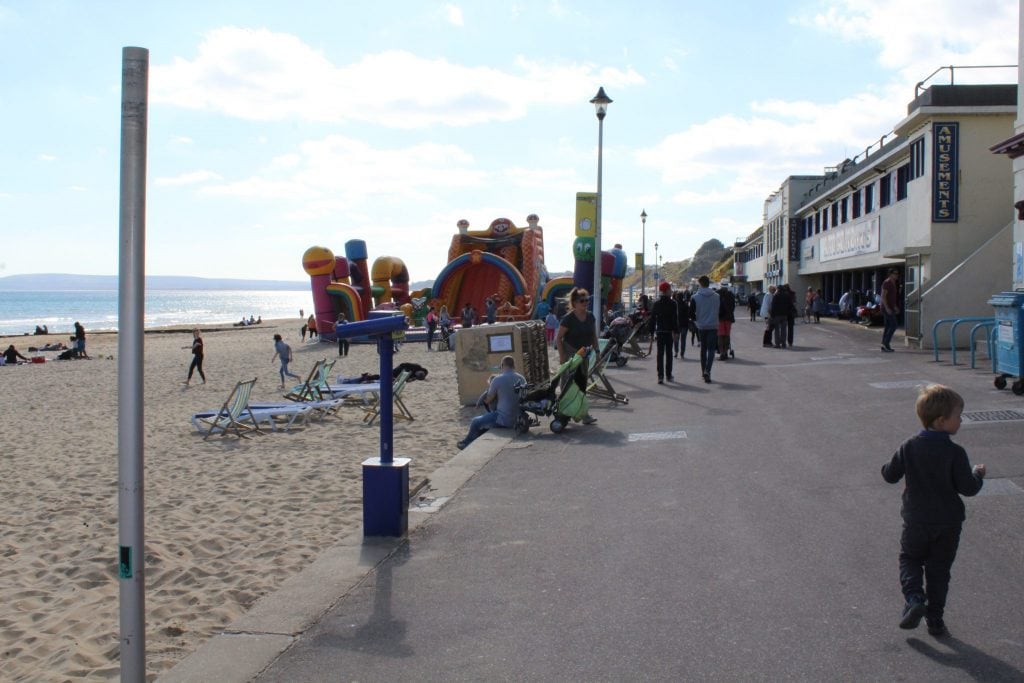 #2 – Walk in the Pavilion Gardens
Another free and lovely thing to do in Bournemouth is to walk in the pavilion gardens. The gardens start virtually opposite the pier and can be accessed under the flyover without having to go near any traffic. I honestly felt like I was truly on holiday walking from the pier to here. The gardens are really beautiful. There's a little stream running through, mini-golf for all and a cute little pavilion. They used to have a hot air balloon here but sadly it's gone now. It would have been a cheats way to ride in a hot air balloon for a bucket list!
We walked all the way from the area next to the pier right up to the shops via the pavilion gardens. It was nice to be able to walk in relative safety. I say relative there were two teenagers on bikes on the path where you aren't allowed to cycle (a pet hate of mine!).
#3 Have a Ride up the West Cliff Lift
OK, this isn't free and it doesn't take long to do. But it was a tick on our bucket list to go on a hill lift. It is cheap and loads of fun, especially for Jamie. He couldn't wait to go on again and couldn't understand why on the first time up he couldn't go straight back down. The west cliff lift was great for us as we were staying at the top of the hill.
Oddly you can't buy a return ticket but a single ticket for an adult is £1.50, junior (under 16) £1.10 child under 5 is free plus saver tickets. If you want to get the lift November-Easter I'm afraid you'll have to walk as it's shut.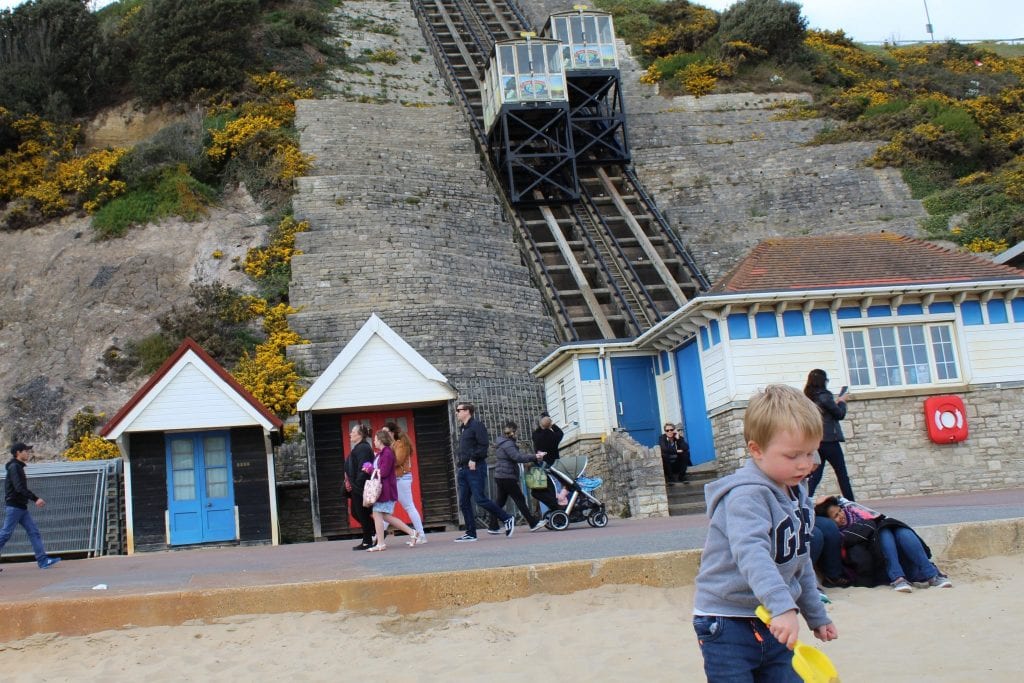 There are lovely views as you are going up (or down). And to not always have to walk up the hill was worth the money to us. We didn't mind a few walks up and down but sometimes we just couldn't be bothered. Plus a lift is much more fun, right?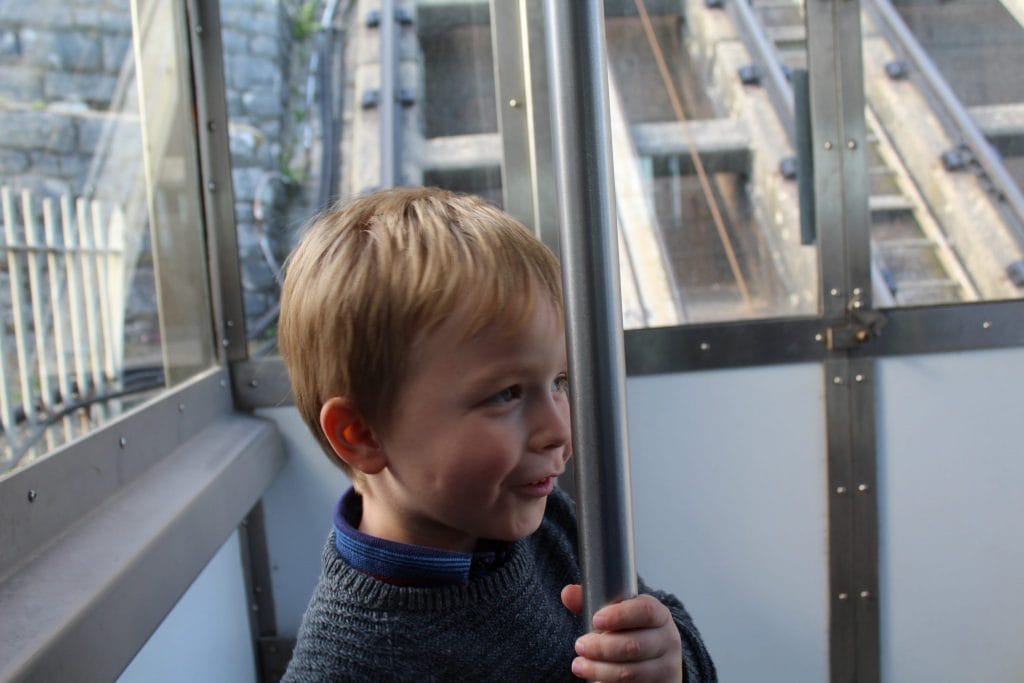 #4 Ride on one, or both, Land Trains
Top tip, one we wish we'd known sooner, a return ticket on one land train entitles you to also ride on the other land train at no extra charge. We left it too late on in the day to fit both in and I wish we could have because apparently, this was Jamie's favourite thing to do.
You can check the land train website for further information and confirm prices and running dates. 27th May – 30th September. Adult unlimited daily use is £5.50. Junior £4.00, under 5's are free and other fares are available. Single ticket prices are also available. 1st October – Spring bank holiday. Prices are cheaper. Unlimited daily use for an adult is £4, junior £2 and under 5's still free. You can also buy single tickets and other fares.
It was nice to have a zip up windows as having one down stopped the cold through draft you can get on land trains. Jamie had so much fun waving at everyone and nearly everyone waved back. He was in his element.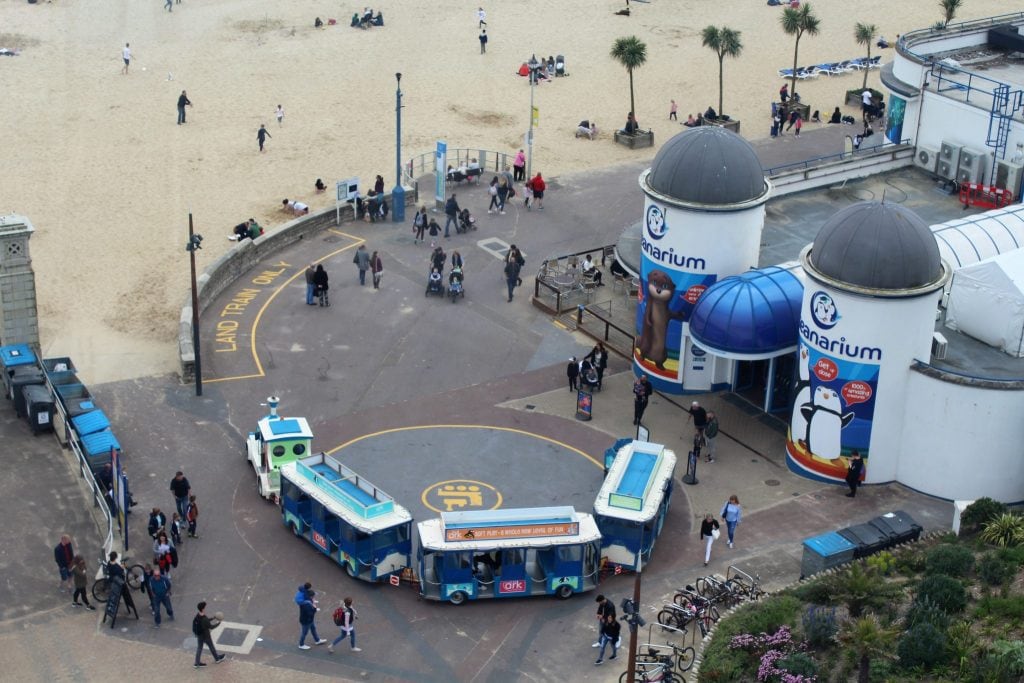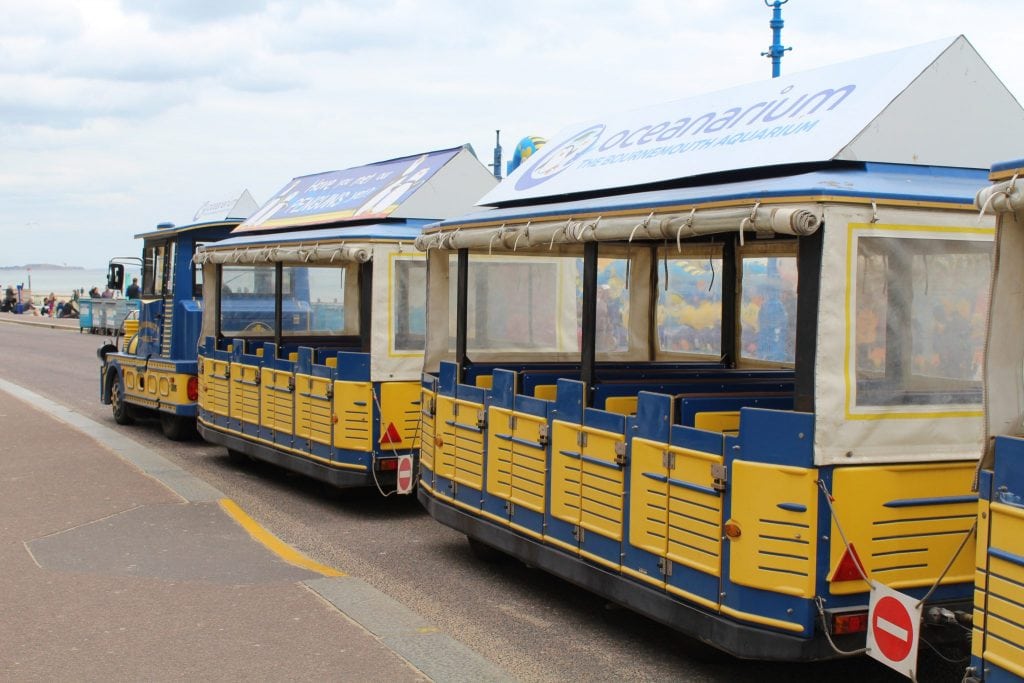 Things to do with kids in Bournemouth
#5 Visit Bournemouth Pier
I love Piers. We don't have long piers in Lincolnshire so going for a walk down Bournemouth pier was a must. Plus we had a little time to kill before the land train set off.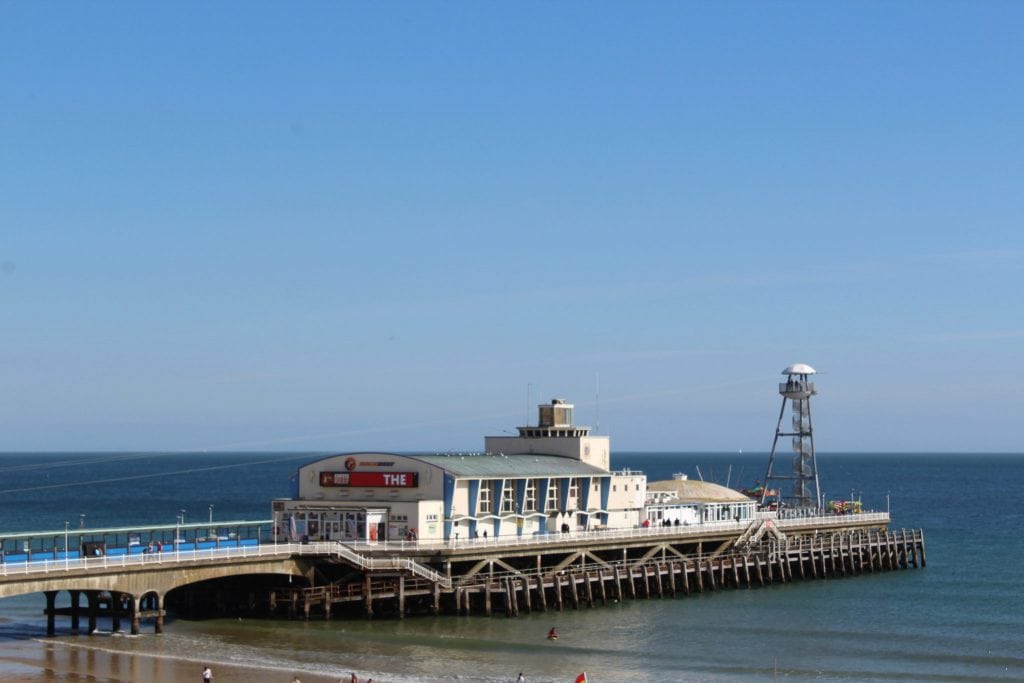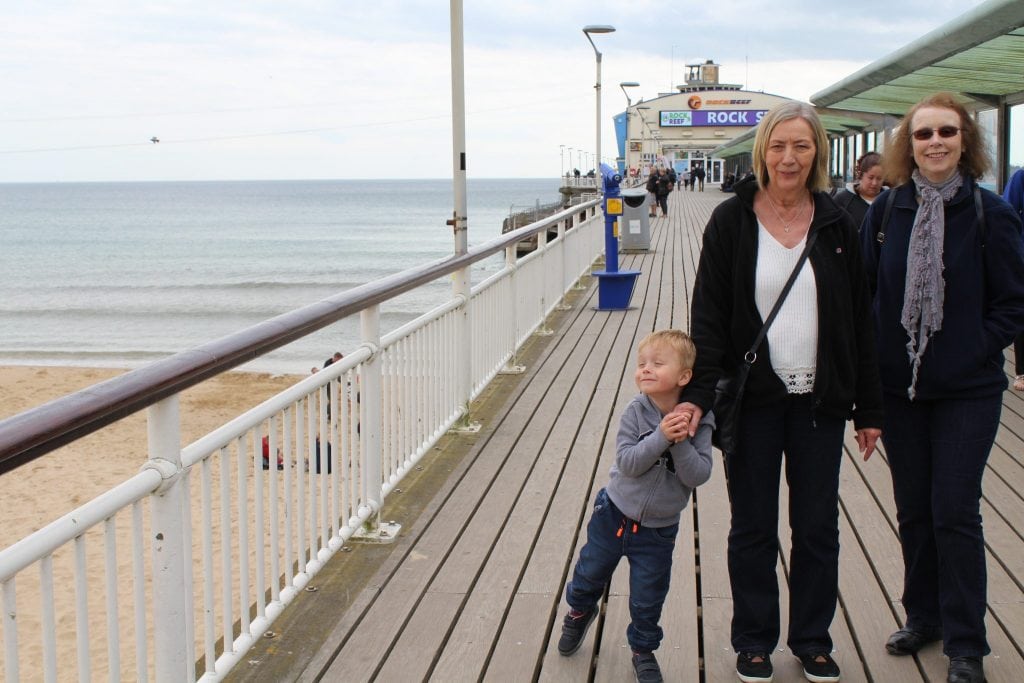 We paid £1.20 for an adult and under 5's are free. A junior ticket is priced at 80p. You can fish off the pier for £6.50.
The first pier built in the 1850s was destroyed by a storm. The iron pier you see today was opened in 1880 and is 775 feet long. Today it has the world's first zip wire off a pier. It is a dual line so you can race a friend. We had great fun watching people launch themselves off the launch tower. There is an indoor activity centre called Rock Reef. With a variety of activities such as a cave, climbing wall, Highline and more.
There is a restaurant towards the end of the pier and a few outdoor rides for younger kids which Jamie took great delight in trying. If you want to just sit and chill and take in the view there are deck chairs either side of the pier.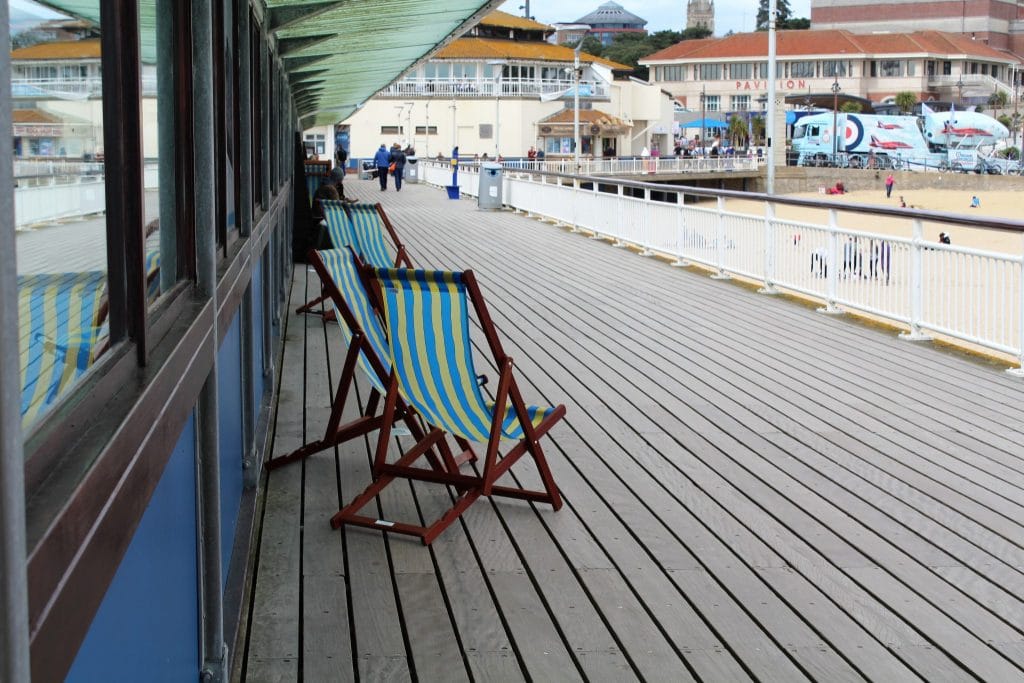 I have since read that there are pier excursions still via a paddle steamer and a motorised boat. We didn't see either. I would have loved to have gone on the paddle steamer.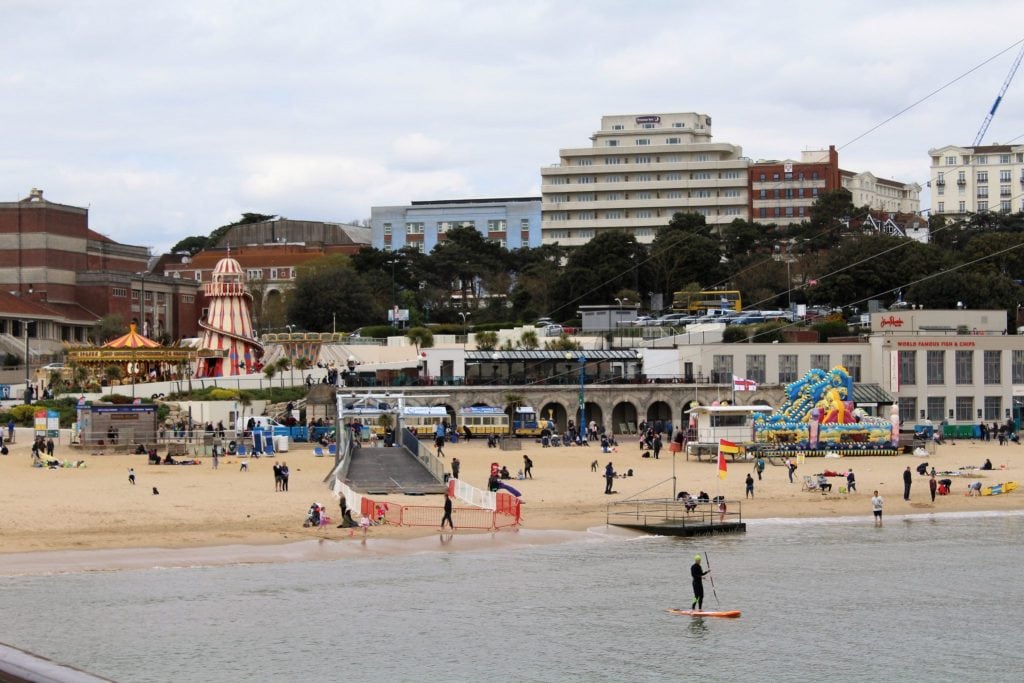 #6 Go on a ride at Bournemouth Funfair
This was a good way for us to lose money fast with a ride mad Jamie. But he'd done so much he wasn't too bothered about going on everything. It's such a lovely nostalgic fair. The funfair rides change but there was a really good selection while we were there over Easter. The funfair is not by the seafront all year round.
There were funfair stalls, plus a really gorgeous Helter Skelter (that I was sure I'd seen at Lincoln county show last year). There was a Merry-go-round and wooden swings. Away from this, there were modern rides such as a rather large and fun big wheel. There was also a red arrows simulator. I don't know how long either plan to be around for.
Jamie only had eyes for the helter-skelter. After two bad experiences for me (one involving bird poo and the other burning rubber on my shoes) Jamie had to go it alone. Well, I had to carry his mat up and someone helped him on at the top. The price was a little sleep at £2 a ride. I'd have expected £2 for 3 goes. Jamie didn't seem to mind of course! There is also an area here with water fountains for the kids to run through. Oh, how Jamie wished it was warm enough.
#7 Ride on the Big Wheel
I didn't even know this was here and I am unsure how long it is there to stay but catch it while you can as we loved it. What a surprise it was to see the wheel as we were walking down the west cliff hill to the beach. Jamie was so desperate to go on it so we promised we'd take him the next day when we had more time. And hey this is one for the bucket list right!
For £5 for an adult and £4 for a child, you can have a few turns on the big wheel. It was really good fun and the views were great. Jamie loved it. His smile was a picture. Again the wheel is not in Bournemouth all year round.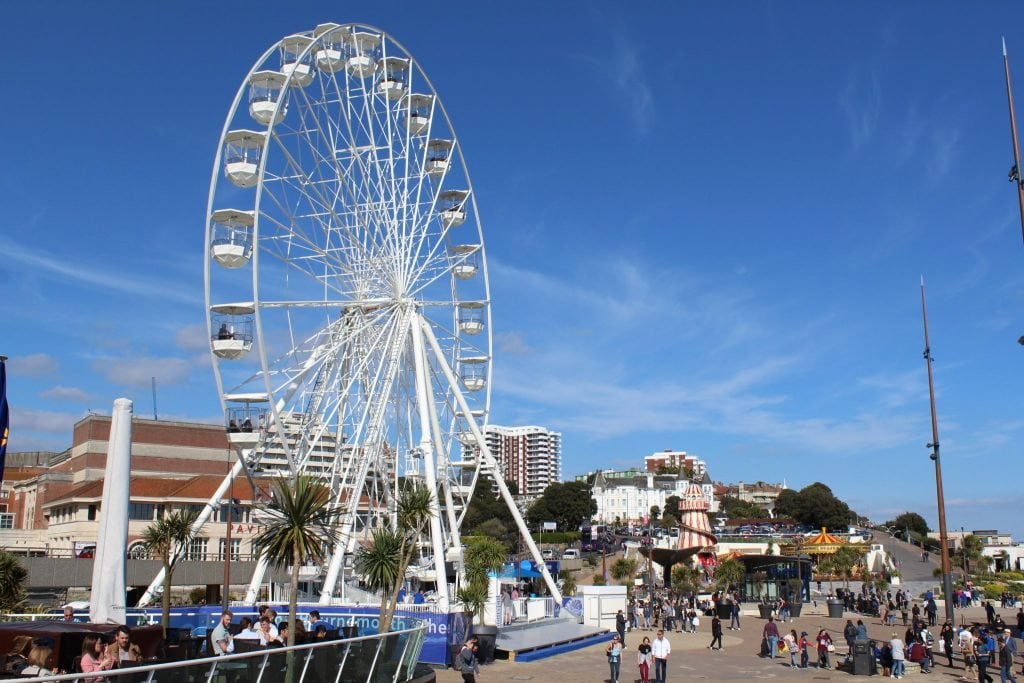 #8 Visit Bournemouth's Oceanarium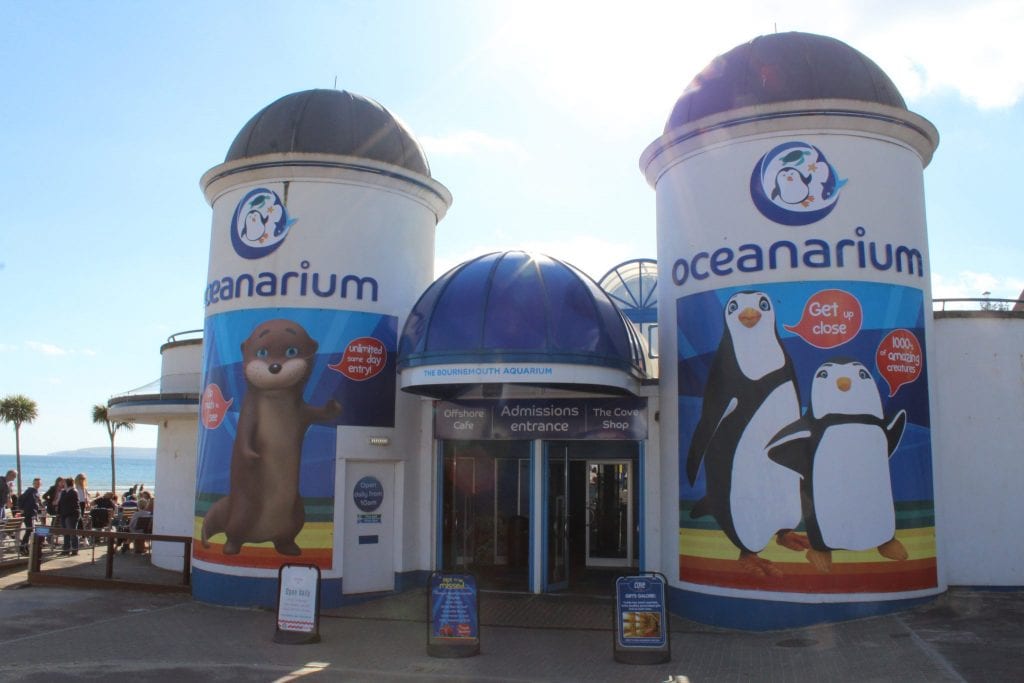 We really enjoyed our visit. There are tropical fish, penguins, sharks, otters, 150 species of fish, crocodiles, turtles and more. Children under 3 are free to enter. Prices online are cheaper than on the day. You can also save more money if you book in advance. We bought a family ticket for 2 adults and 1 child for £24.95 and a senior ticket for £10.25.
#9 Hire a beach hut on the seafront
Along the 7 miles of beaches around Bournemouth, there are over 250 beach huts that are available for hire. They are available daily, weekly or for a period of time.
Quote from Bournemouth beach huts "All beach huts come equipped with four deck chairs, a gas ring and curtains. Access ramps are available from beach offices for wheelchair users. " Online booking is not currently available but they provide a number in the link for you to ring to book.
#10 Day trip to Adventure Wonderland, near Bournemouth airport
The park is themed around Alice in Wonderland. They have yearly events and there are loads of rides for the little ones. Adults can ride on some of the rides too. There's a large outdoor playground, a huge indoor soft play, café and a very large maze.
Main season tickets from April 1st are £13.99 for adults and children ages 3+. Children 2 years old are £6.99 and under 2 are free. Senior tickets are £10.99 and disabled £8.99. They also have family ticket offers. Please see their website for other prices, including out of season.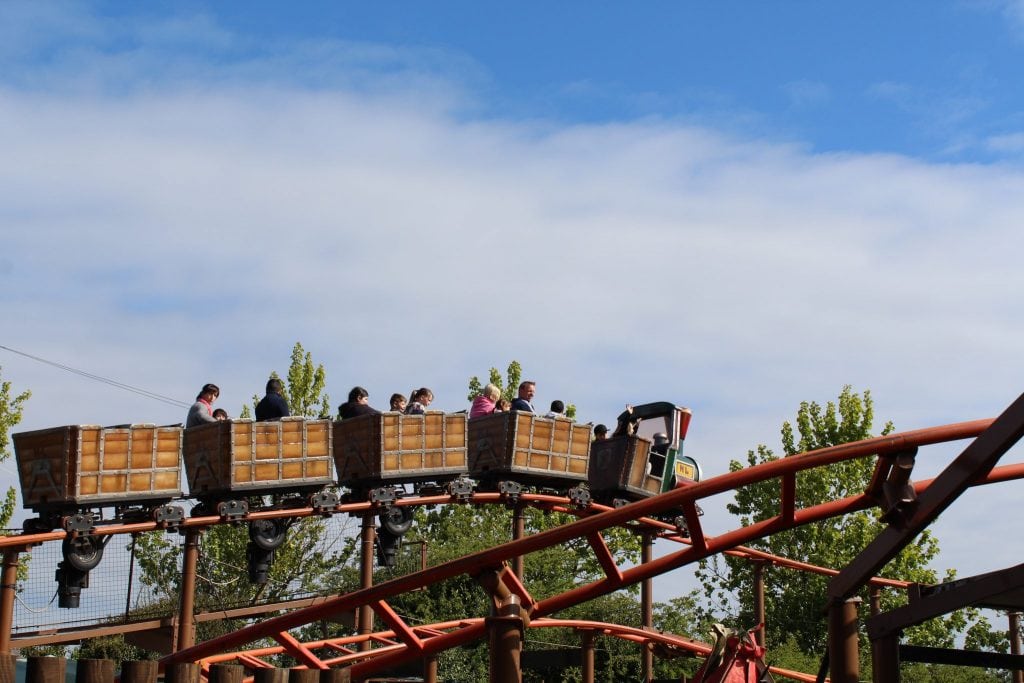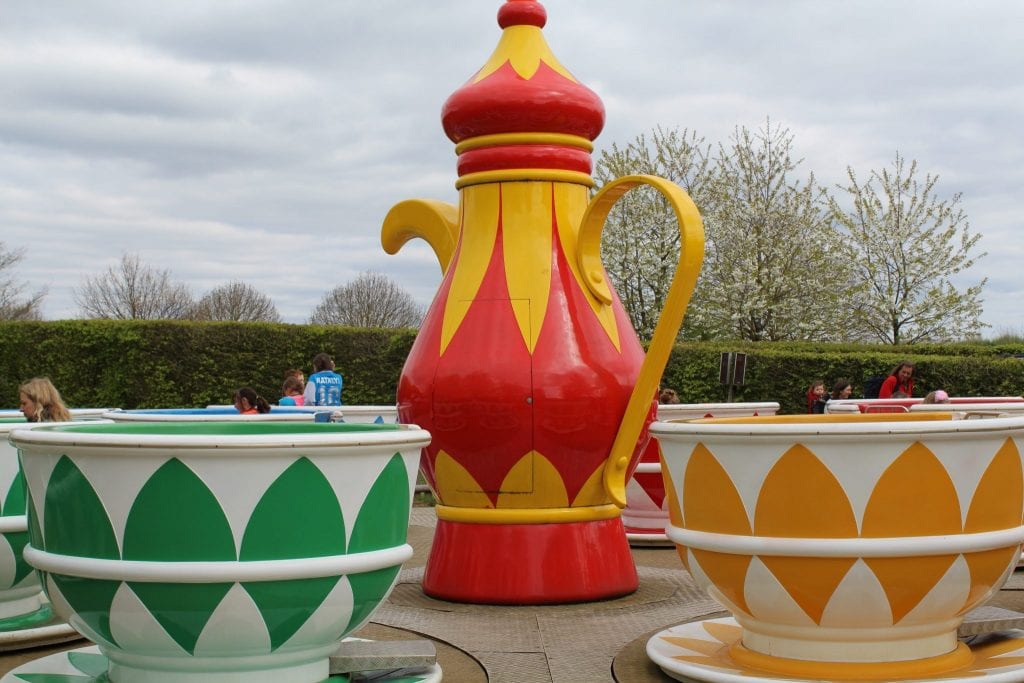 Here are some more photos from our holiday to Bournemouth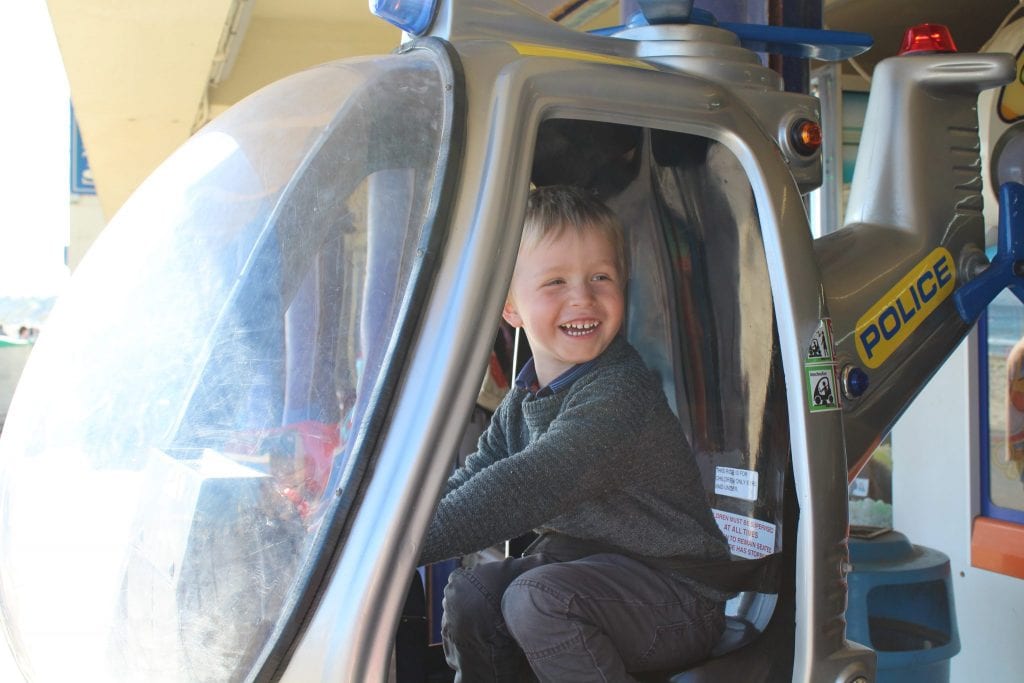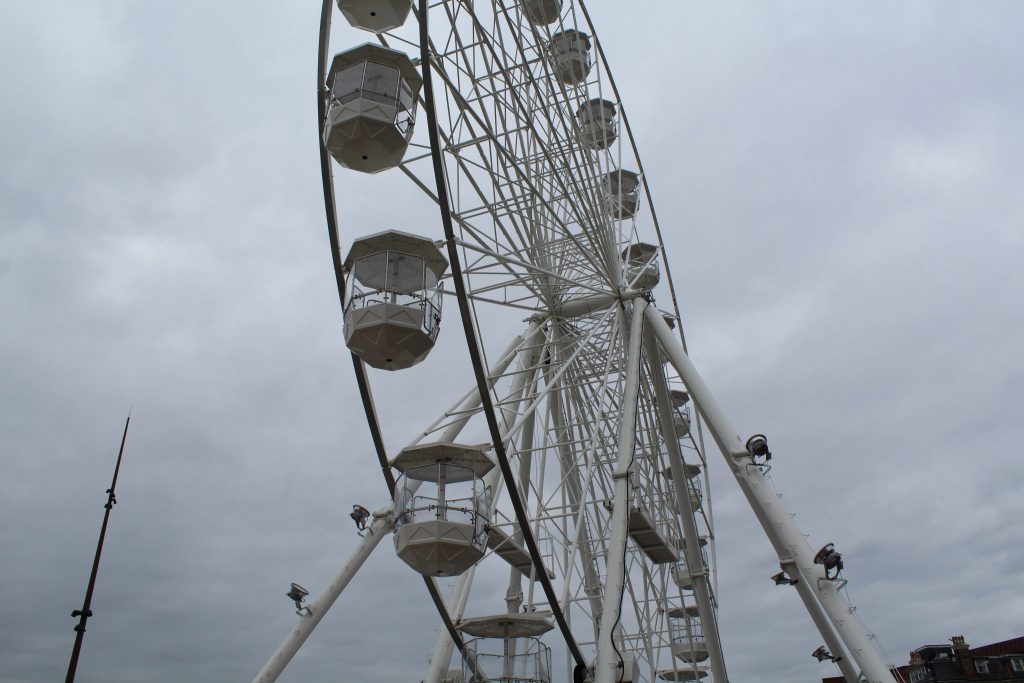 Places to Stay in Bournemouth
---
If you enjoyed my round up post please comment below. We'd love a follow, like or share over on social media. Links in various pages on every page. Why not save this post for later? Simply click on the image below to take you over to Pinterest. All words and photos are my own.