Things to do RSPB Bempton Cliffs review
RSPB Bempton Cliffs can be found on the coastline in East Riding of Yorkshire, on the outskirts of a small village called Bempton.
They have self-guided trails (including a Puffin Trail, Gannet Trail and Scavenger Bug Hunt Trail) and Discovery Backpacks for hire throughout the year. The backpacks contain binoculars, spotter sheets, a bird book and magnifying bug pot so that kids can explore the reserve and get closer to nature.
We spotted plenty of Gannets flying around. These birds are huge with the most enormous wing span. They are easy to spot because of this and they are incredibly loud. There are literally thousands of sea birds nesting along these cliffs and the sound of them talking to each other is amazing.
We also spotted Guillemots along the cliff edges, These are slender black birds with a white front. Gannets, Guillemots, Kittiwakes and Razorbills are the easiest of all the birds to spot as there's literally thousands of them on these cliffs. Kittiwakes are cute almost seagull like birds. There are other birds to spot if you are keen but these are the ones that you will easily be able to spot.
There is disabled access on to the paths. Out to the cliffs there are wooden platforms to help give you the best view possible of the nesting birds. Along the way you will spot many signs telling you all about puffins. You will also see many signs helping you to identify birds on the cliffs. They often have rangers posted on the platforms to help you understand what you are looking at.
Important Information RSPB Bempton Cliffs
Is there food and drink available?
There is a small cafe on-site.
What are the main things to do?
Cliffs with nesting sea birds, walks with paths and a visitor centre. There are toilets and a cafe.
What are the ticket prices?
*FREE to members of the RSPB or Cheap
*Prices are subject to change and/or discounts online. *FREE to members of the RSPB or Cheap. An adult ticket is £6 and child £3. Free entrance for first child and under 3s are free.
When are they open?
RSPB Bempton cliffs is open for most of the year although I don't recommend visiting on a misty/foggy/bad weather day. For up to date opening times and dates please follow this link.
Dog friendly?
Dogs are permitted outdoors on a lead.
Are they accessible?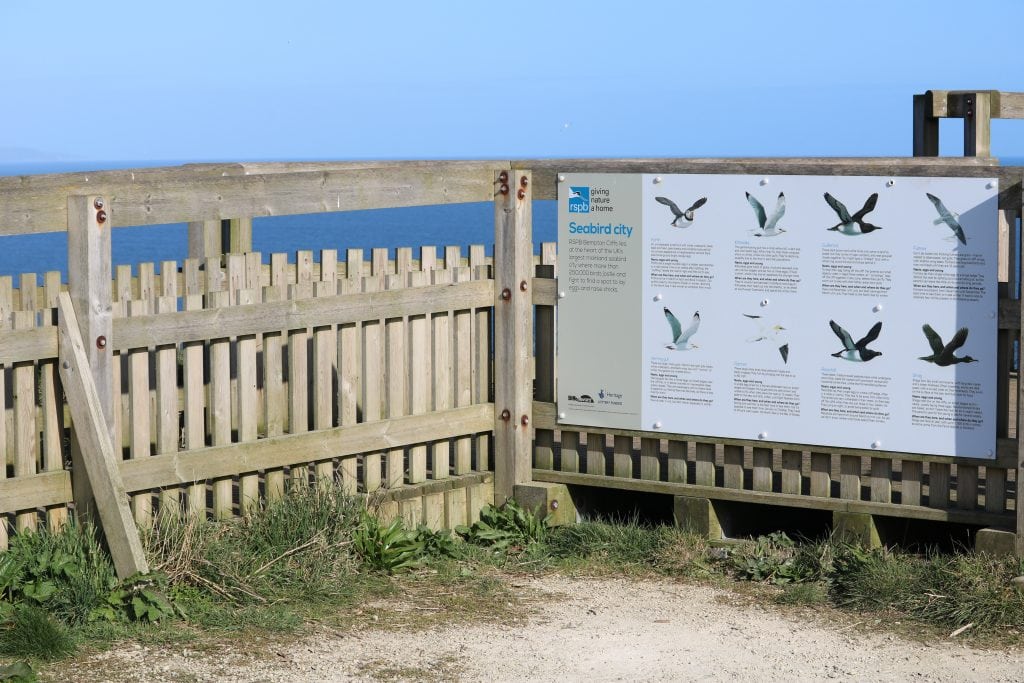 ---