Bridlington is in the East Riding of Yorkshire. It is a seaside town and a popular destination for holiday makers from West Yorkshire, Lincolnshire and other surrounding areas. We visited a lot when we lived in Lincolnshire and we have now settled here. So welcome to my town. I can guarantee you won't be bored in Bridlington as there's plenty to do.
The town itself is a little run down in places due to businesses closing but don't let that put you off. We need tourism to keep the town alive and there's plenty of regeneration happening within the town.
The area around the south beach and the Spa has had lots of money spent modernising it and Wetherspoons is currently being massively upgraded. Although this list is family-friendly it's not just for families. There is, even more, to do on the outskirts of Bridlington and just a few miles away. Because of this I will cover those attractions in a separate post.
Things to Do in Bridlington
A Visit to the Spa
The Bridlington Spa is a lovely building. It is a theatre, dance hall and conference centre. There is always something going on at the Spa. It has been refurbished in recent years but the dance hall and theatre rooms still have their old grandeur from the mid 20th Century. (It was originally built in the late 19th Century but has been destroyed twice by fire).
There is a lovely cafe area along the seafront side of the building with big glass windows looking out to sea. They have a lot of tribute acts, shows and artists perform there and we love their Pantos. Recently we have seen the Sooty show and Madagascar in the theatre there. They also sometimes have roller skating sessions in the dance hall.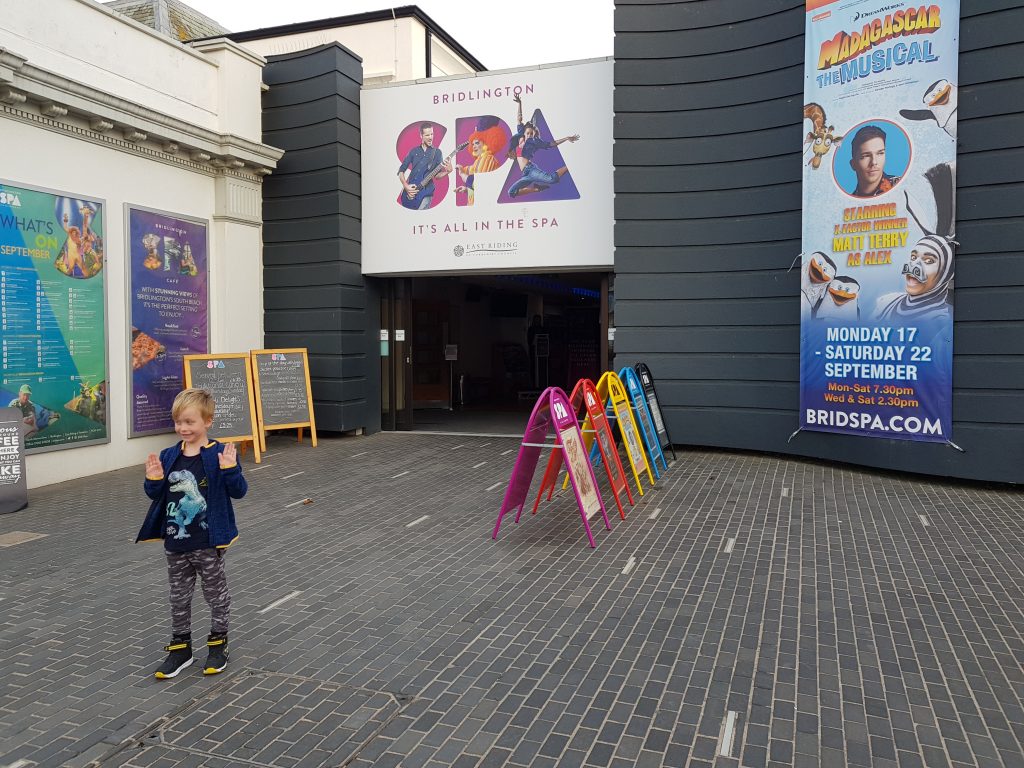 Amusements
One thing Bridlington is not short of is amusements. There are some smaller indoor amusements plus a couple of larger ones up by Jeromes. The two larger ones are great for collecting tickets and if I was to chose we'd opt for the Forum as we win a lot more tickets in here with some great prizes to choose from. They have hundreds of 2p slot machines, mini rides, fruit machines and more. Next door is Treasure Island amusements where you can also win prizes and play on the Donkey Derby.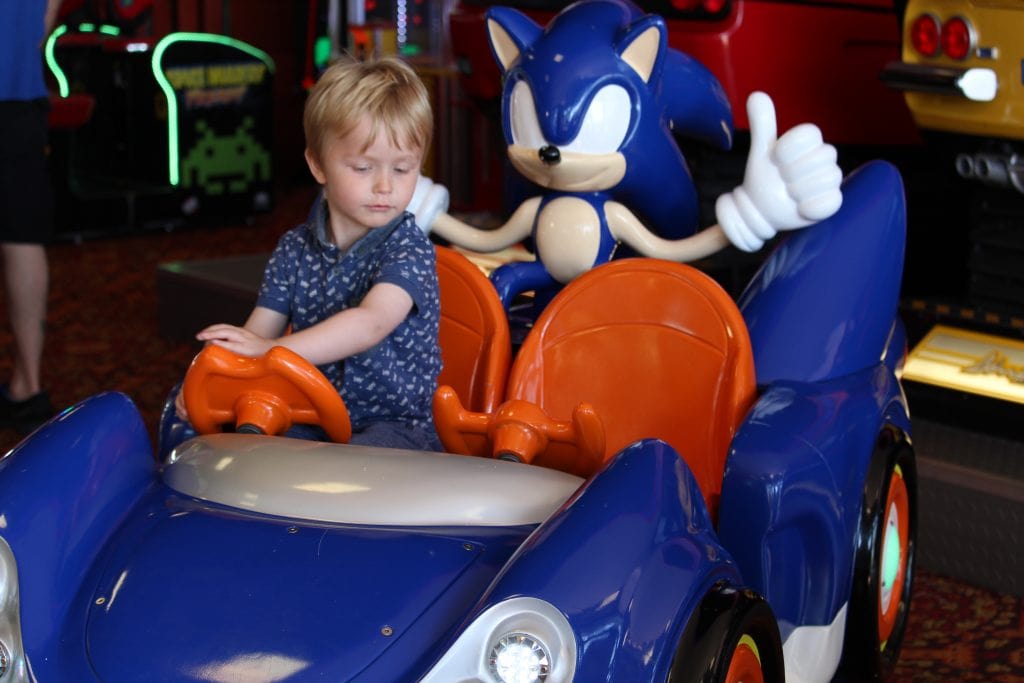 Bowling
The Forum amusements is also where you will find the ten pin bowling alley (and cinema). It's not cheap, we normally pay around £25 for the 3 of us to play for an hour.
Bridlington Priory Church & Bayle Museum – Old Town
Bridlington has a few churches but the most notable is the Priory church up near the old town. It's a magnificent church and it's a landmark easily spotted on your journey into the town. It's worth a visit if you have the time. It is free to visit but does have odd opening times. Please see their website for opening days and times.
The Bayle Museum is almost opposite the Priory church. The museum is in an old arched building. It is free to visit and the collection is dedicated to the history of the town and local area. They are only open midweek and are closed at weekends.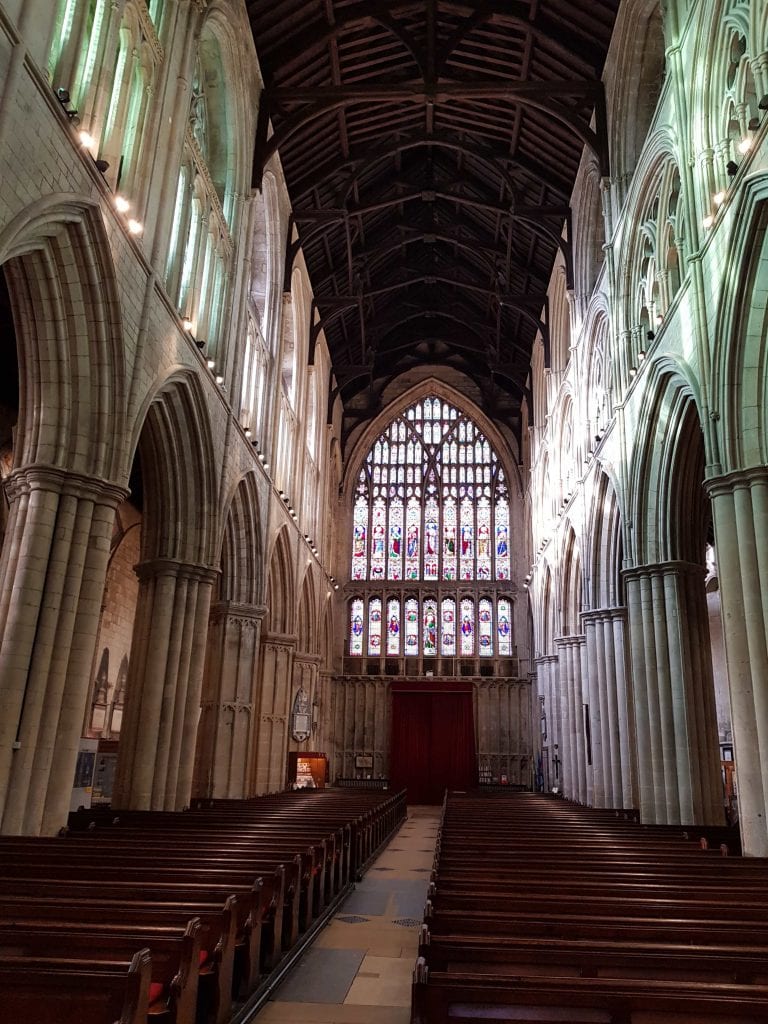 Cinema
As mentioned above the cinema in Bridlington is in the Forum Amusements. The seats and screens are a little dated but it's cheap. They have three screens and they show the latest films.
Crazy Golf
You will find the outdoor crazy golf course along the promenade at North beach. North Marine crazy golf has 15 holes and is situated by the sea. It even has a mini cafe with seats.
Dino World
This is a relatively new mini-attraction in Bridlington. Located on a side street off the harbour it is a fun few minutes for children and their adults. They've packed all sorts of things into a small space with a mini climbing wall, wobbly bridges, water, moving dinosaurs, mirror maze and more.
Escape Rooms
Whatever you're looking for and whoever you're coming with, we promise to give you an experience like nothing else in the town and leave you wanting to come back for more! Individually designed, our themed rooms are unique to us and allow you to enter into a fully immersive experience like no other. Unlike most other locations, none of our rooms are spooky or creepy – we place our emphasis on making our games challenging and entertaining for everyone. 60 minutes to complete the tasks, unriddle the mysteries, decipher the codes, and get back out before your time is up…
Fairground Rides
There are a few fairground rides by the north beach in Bridlington. They are in two slightly separate sections and you can't use ride tokens in both areas. The section more towards the harbour has more of the younger rides and the section nearer to the Leisure centre more the older rides including a big wheel. We tend to buy in bulk as that's when you can make the best savings.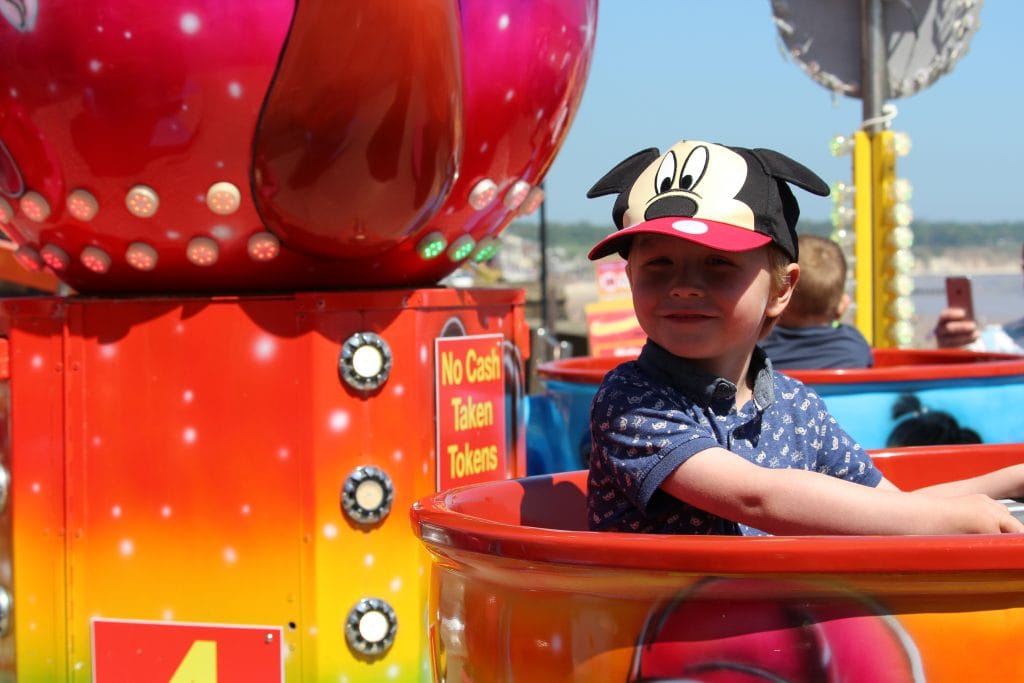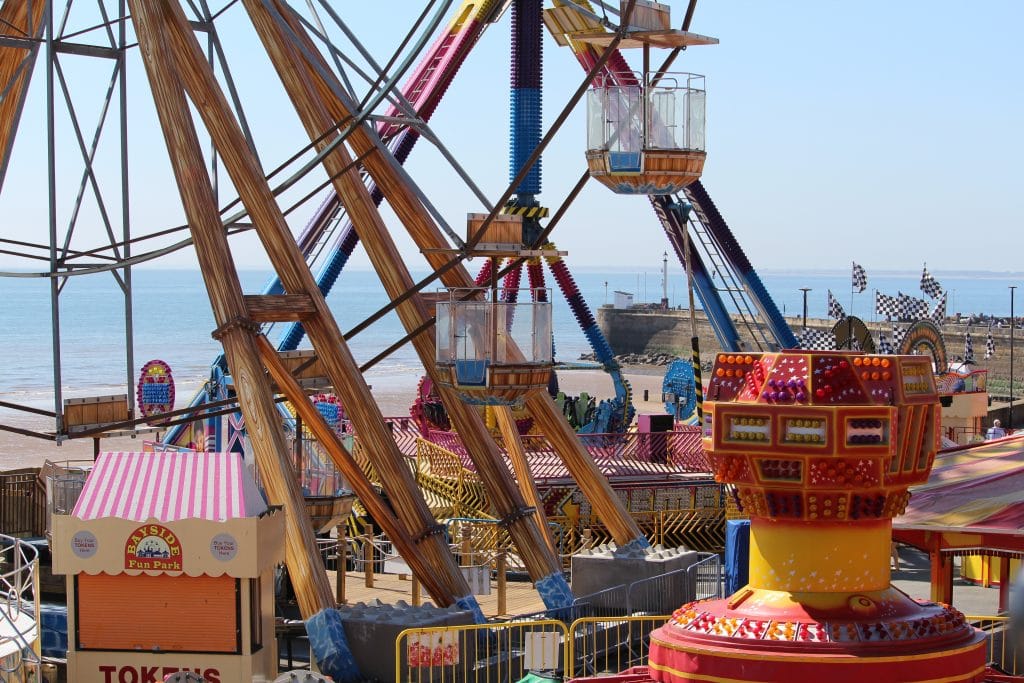 Fishing and Crabbing
Fishing from the harbour or the beach is a popular activity in Bridlington. There's some pretty big fish that you can catch. Sea fishing does not require a licence.
We like to go crabbing off the harbour wall. There's plenty of shops that sell the buckets, nets and bait. Kids will love to take part and you are pretty much guaranteed to catch something.
Land Trains
There are two land trains in Bridlington. One is up at the far southern point of the town. It starts just a short walk from the large park and ride car park. It then stops by the Bridlington Spa on the south beach.
The other land train starts by the Leisure centre up at the north beach and has a few stops along the way with its final stop being Sewerby Hall. We love to take a round trip on this and sometimes we stop off at the miniature village or at Sewerby.
Prices for both are very reasonable and you can purchase one way or return tickets. I will cover the Model Village and Sewerby Hall in another post – things to do near Bridlington.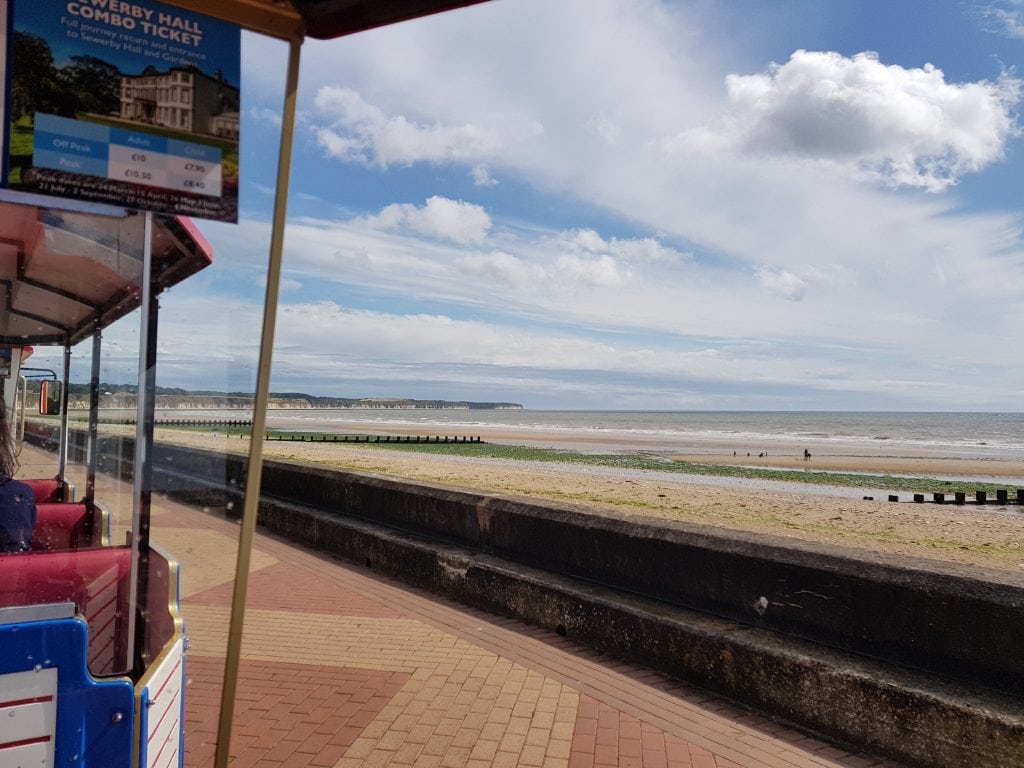 North Beach
The beach at the north beach is actually very different from the south beach. It can be a lot quieter but it won't ever be quiet as people promenade a lot along the north beach and will often use the beach along the way. There's a cafe that sells drinks, limited hot food and ice-creams, toilet facilities plus a take-away fish and chip shop.
There is also the Cookhouse and Pub (under the Premier Inn) alongside the north beach. It is also a great spot for rock pooling. As soon as the tide starts going out there are lots of rock pools and all along the wooden posts is a great place to find little crabs.
Paddle in the Paddling Pool
There is a small but free paddling pool down on the south beach. It's a lovely spot for kids wanting to cool off and have fun splashing about.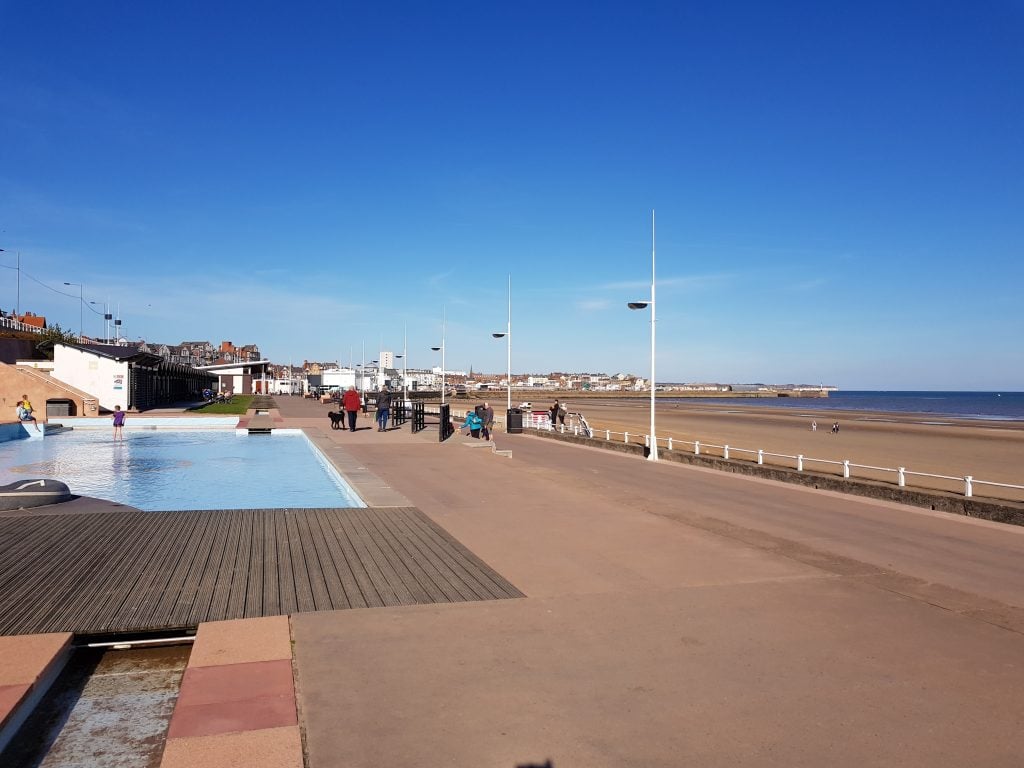 Pirate Ship Rides
You can go on pirate ship rides from the harbour. During quiet periods it is just £1 per person and just £2 per person during peak times. The ride out isn't long. It's only about a 10 minute round trip but kids will love it.
Pony Trekking
Woldgate Trekking centre is just on the outskirts of Bridlington. They have ponies for the novice and more experienced rider. They have a series of treks through woodland and over dales. All treks are escorted by experienced riders and nervous beginners may be lead if desired.
Clip and Climb – East Riding Leisure World
Clip and climb is a series of climbing-based activities providing healthy, challenging fun for all the family! Perfect for ages 4 to 84, children can visit and climb unaccompanied from age 11+. They have a good selection of fun walls to climb. I am unsure of the costs but my son wants to take part soon so I will update when I can.
Soft Play
There is soft play out of town but I will cover that in a Things to do near Bridlington post. The only soft play in town is within Jerome's pub by the sea at north beach. Montyzoomers has supervised soft play. Your kids can play while you relax in the bar. Children have to be between 4 and 14 years of age.
South Beach
South beach is very different from the north beach. At the south beach, there is usually a lot more sand. The beach is bigger here and although the tide does come in it doesn't cover most of the beach. There's also no big pebbles or rock pools on this beach. Instead, there's lots of shells and plenty of sand which makes it perfect for playing games on the beach.
There are free toilet facilities and a big bar selling takeaways, sit down food, drinks and much more. If you've forgotten any beach essentials the shop next door is perfect for stocking up. Dogs also aren't allowed on this section of beach from May to September, which is great for beach users that are worried about any dog mess. From the paddling pool area up to Fraisthorpe beach dogs are allowed all year round.
Speed Boat Rides
You can go on short but very fast speed boat rides from Bridlington Harbour. A ride costs £4 per person and lasts for around 10 minutes. They are dependant on the weather and the tide, they also don't run over winter.
20 Things to Do in Bridlington | East Yorkshire Coast
Swimming Pool – East Riding Leisure World
East Riding Leisure world in Bridlington is a recently built building with great quality facilities. The swimming pool is fantastic. There's a large pool plus a smaller kids pool. The kid's pool is perfect for swimming in and is always lovely and warm. They have a splash area with slides (some small plus 2 large fun slides), tipping buckets and more. If you pay to park in the car park make sure you take part of your ticket in for a refund if you are going swimming.
Treasure Island Mini Golf & Haunted House
This is located next to Treasure island amusements. The mini-golf has 10 indoor pirate-themed holes. The pirate haunted house is a walkthrough ghost house which costs just £1.50 each. It's a great attraction for when the weather isn't too good, although it does shut over the winter.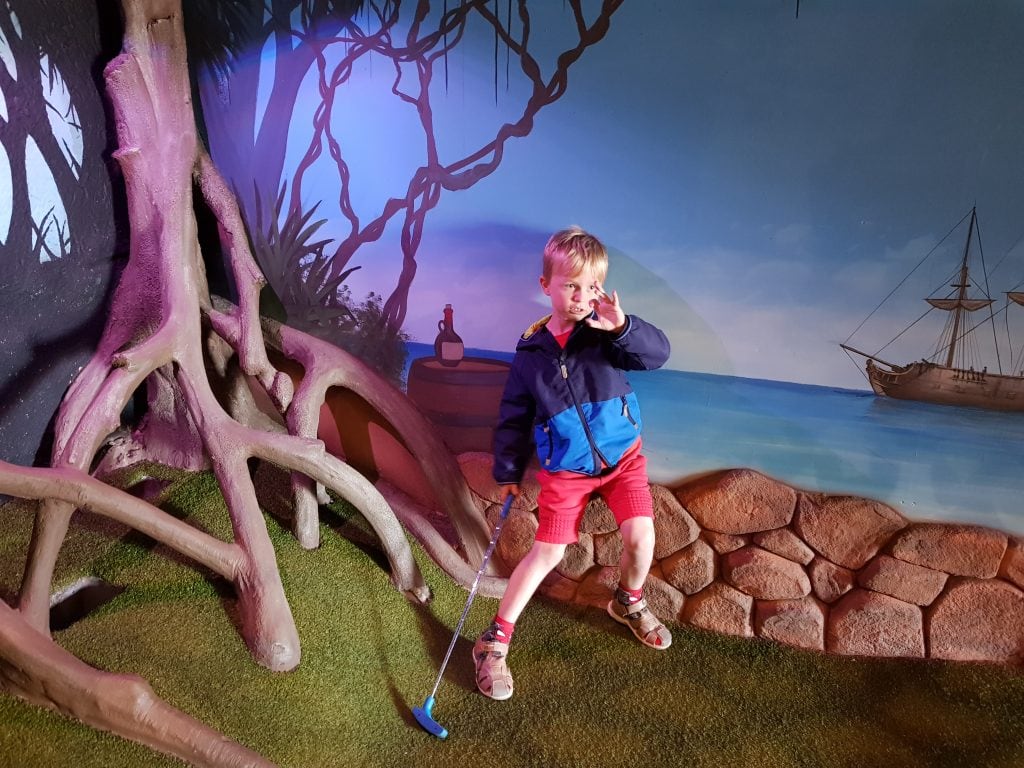 Yorkshire Belle
The Yorkshire Belle is a pleasure cruiser that sails from Bridlington Harbour. Sailing times do vary according to the tide and the time of year. They have a few different cruises. We like to go on the puffin cruise that takes you past Flamborough head and up to the main seabird colony a bit further on. There's nothing quite like the sound of all the nesting birds. There is a bar on board that sells alcohol, plus hot and cold drinks.
There are plenty more things to do in the local area. I will cover these in another post at a later date.
*This post contains affiliate links