We were so excited about the rides at Efteling in the Netherlands and they didn't disappoint. We watched quite a few videos on youtube to get our son used to the bigger thrill rides. The main reason was that he was tall enough for practically every ride there and that includes a big rollercoaster and a rollercoaster that goes upside down.
They have a minimum height of 1.2m which is surprisingly small for thrill rides. He is tall for his age though so most kids won't reach this height until perhaps 7 years old. We visited for our son's 6th birthday.
In this post, I will cover all the rides for children at 1.2metres and under. (or indeed over) At this height or taller is a perfect height and age for Efteling although there's plenty there for smaller children. The other great thing about Efteling is that even adults can go on the kid's rides.
The rides below are to be enjoyed by everyone. Please look out for my blog post coming soon for the best 2-day itinerary with kids of at least 1.2metres. Efteling is great all year round as there's plenty indoors and outdoors. There's also plenty of trees, shade and benches for hot days.
*disclaimer. We received a discounted press stay. All opinions and photos are my own and must not be duplicated without prior permission.
Piraña – River Rapids – Any height
Children under 1.20m can only ride under supervision. Children under 1.00 m must ride on an adults lap. Piraña is a long river rapid ride. You can sit 6 to a boat and you will get wet. Whether you get soaked or just a little wet is all down to where the water hits you. There was 5 of us on our boat and we all got, ring your clothes out, soaked. It was great fun though and we soon dried off afterwards in the heat of the day.
As water rapids go it was very realistic and the funniest part was when we kept getting stuck with other boats. At one point we got wedged against another boat while we were being squirted with water and they remained dry. We didn't get thrown about so aside from really young children this ride is suitable for everyone.
Carnaval Festival – Dark Ride indoors – Any height
Children under 1.00m can only ride under supervision. If you have ever been to Disneyland or Disneyworld you are most likely familiar with the It's a small world ride. This is Efteling's version but even better and even longer. You sit two to a car that run on a continual loop with lots of other cars.
This was a big favourite of our son's and his face lit up as he travelled around the world seeing all the different characters moving. The music is catchy but not too annoying. The ride lasts 8 minutes and even longer if you stop which we did both times. The ride is perfect for families and it is not scary in any way.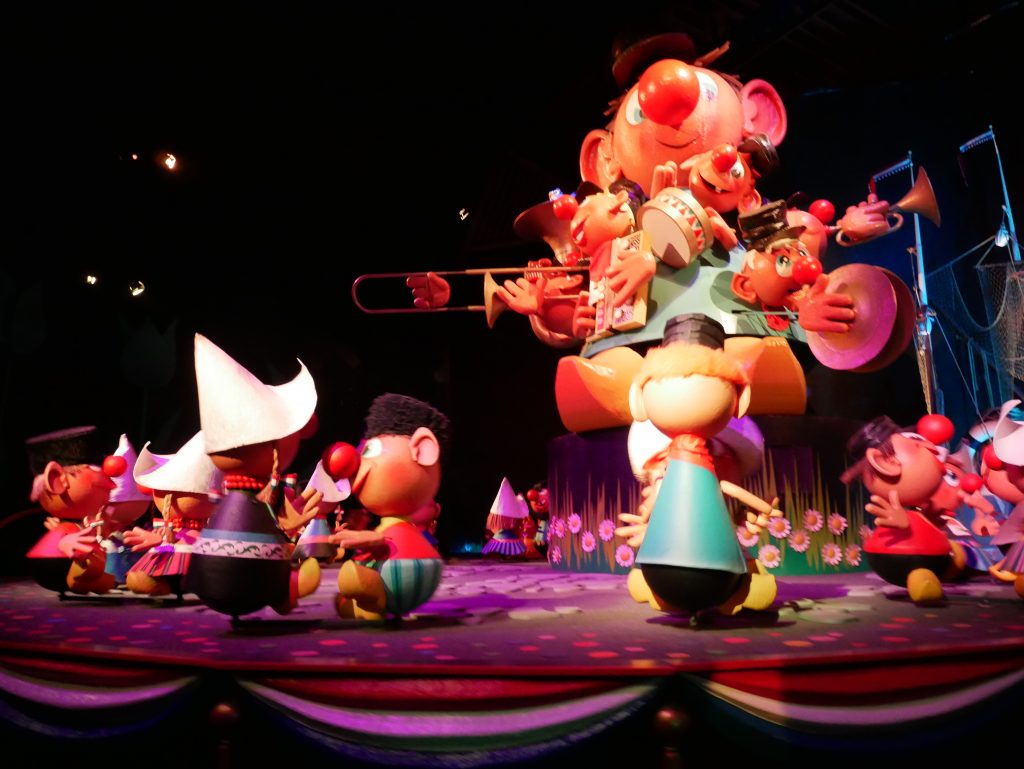 Stoomcarrousel – Steam Carousel – Any height
Children under 1.00m can only ride under supervision. The building that the Stoomcarrousel is located in is simply stunning. The outside of it is highly decorated and very much a relic from the past. Inside it doesn't disappoint.
The centrepiece is one of the loveliest carousels I have ever seen. There are also lots of tables and chairs to sit and enjoy a drink whilst listening to the authentic sheet music being played at the back. The carousel is quite fast and we picked three horses/pigs together that moved up and down in a row. This ride is suitable for everyone.
Anton Pieck Plein – Historic Carousels – Any height
Children under 1.00m can only ride under supervision. This area was a lovely surprise and somewhere we spent quite a bit of time. They have 5 old fashioned fairground rides here including 2 swing rides (although one was shut), 2 lovely carousels and a classic wooden cart ride that went up and down and round a track. Please see the photos below. One of the carousels had some lovely moving horses and a chicken that our son was very taken with.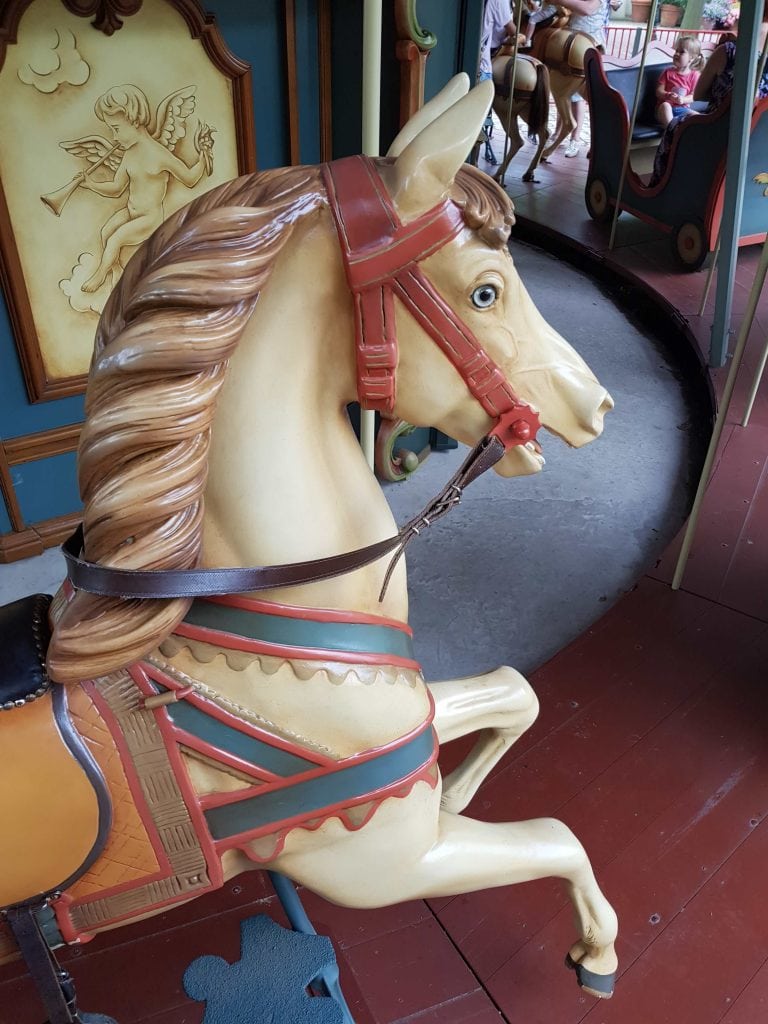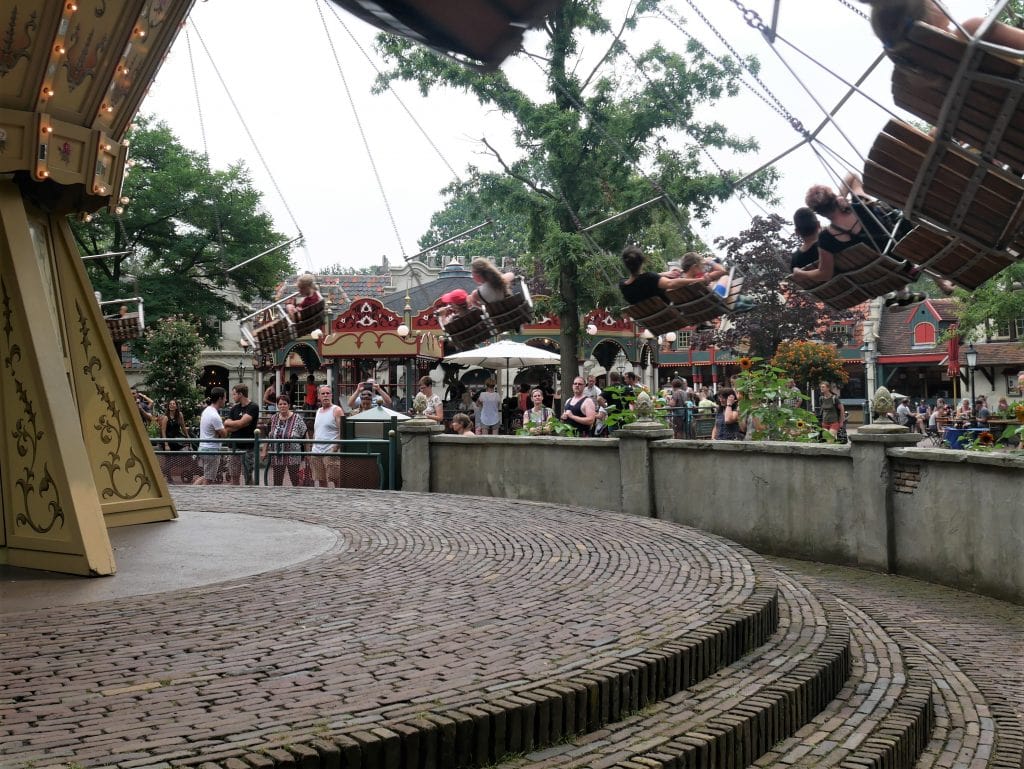 De-Oude-Tufferbaan – Classic car ride – Any height
Children under 1.10m can only ride under supervision. Sadly this ride was not open on any of the three days that we were there. From what we could see from the train it is a series of electric but old fashioned cars that move around a track. The ride would be suitable for everyone.
Monorail – Tour at height – Any height
Children under 1.20m can only ride under supervision. This is a slow ride at a moderate height and we were able to sit three of us together. You ride over elf villages and houses which you can also explore before or after you go on the ride.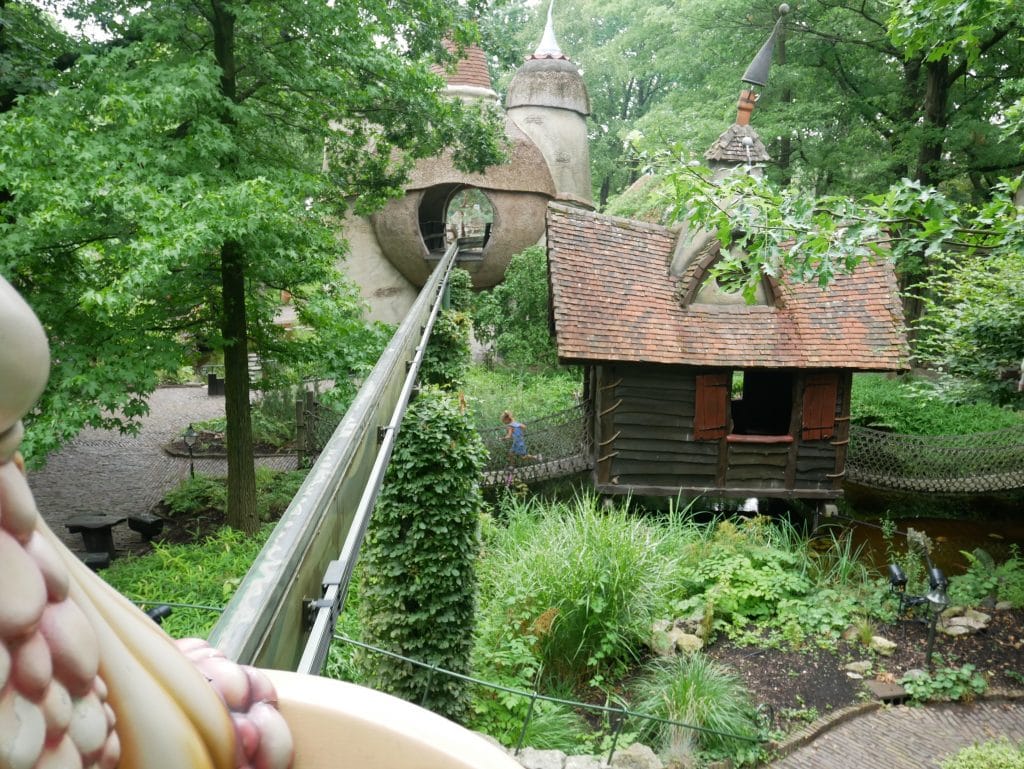 Monsieur Cannibale – Spinning Cauldrons – Any height
Children under 1.00m can only ride under supervision. This ride is Efteling's version of the tea cups. Sadly the middle table doesn't spin but the ride was still pretty fast-spinning us round and round. We loved the theme tune for this ride.
Pagode – Thai temple with high panoramic views – Any height
Children under 1.00m can only ride under supervision. This is not a thrill ride which was good as my husband was happy to come on it. It goes relatively high up to a height of 40metres. You can either stay sat down or look over the barrier. You are then treated with some wonderful views of Efteling.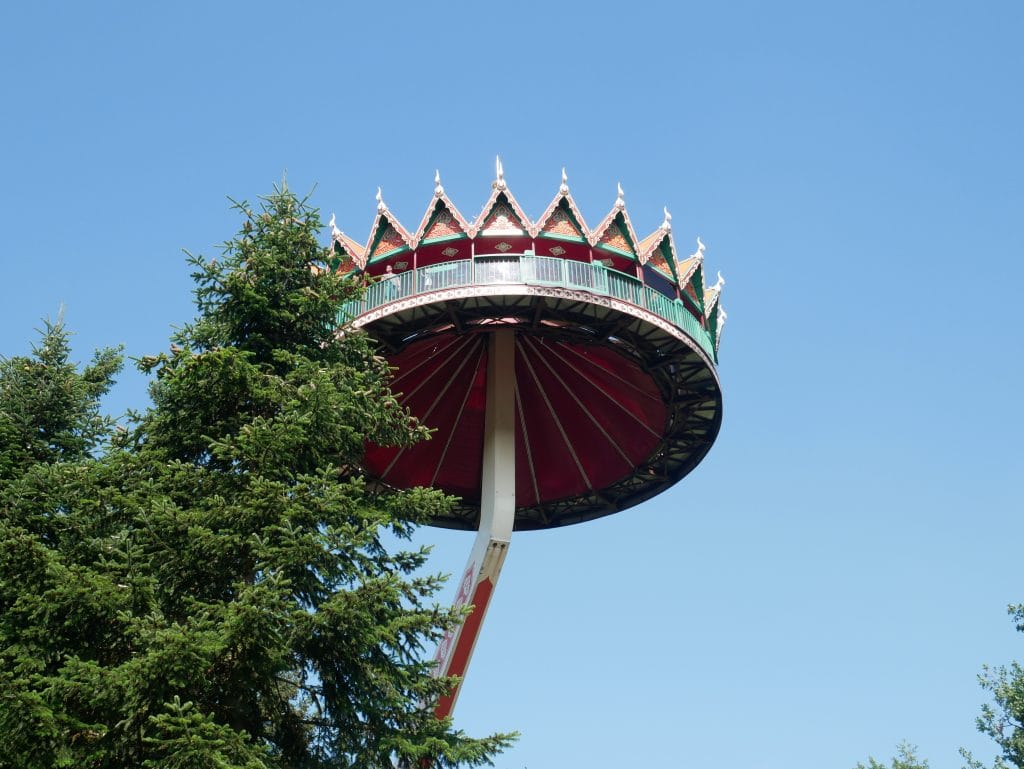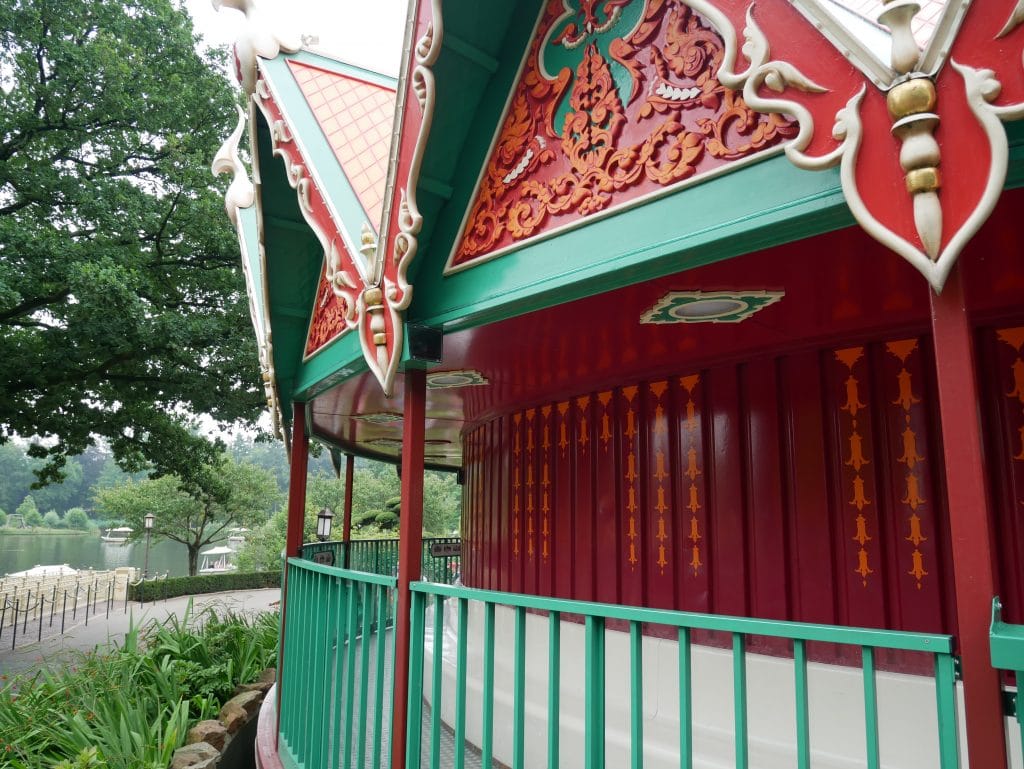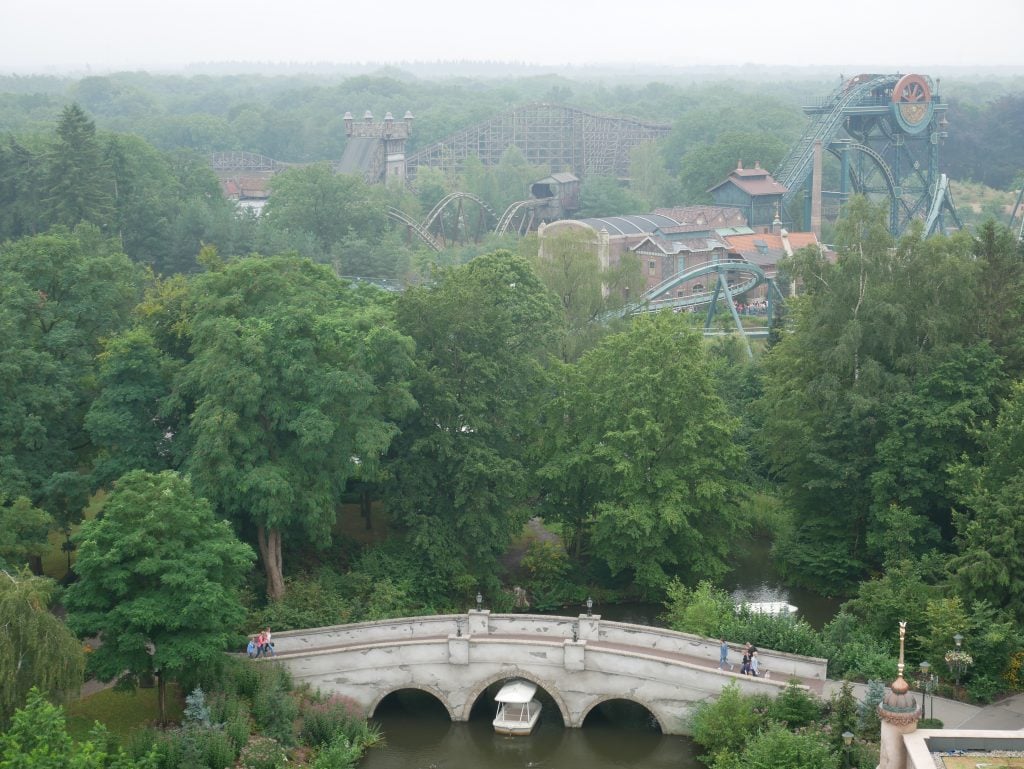 Kinderspoor – Peddle Trains – Any height
Children under 1.20m can only ride under supervision. You can sit two people in a pedal train and the idea is to peddle your own train around a really cute track. My son loved this and he was really pleased he could not only reach the peddles but help to peddle as well. The faster you peddle the faster you go so he had great fun getting us to go faster and then gliding along for a bit.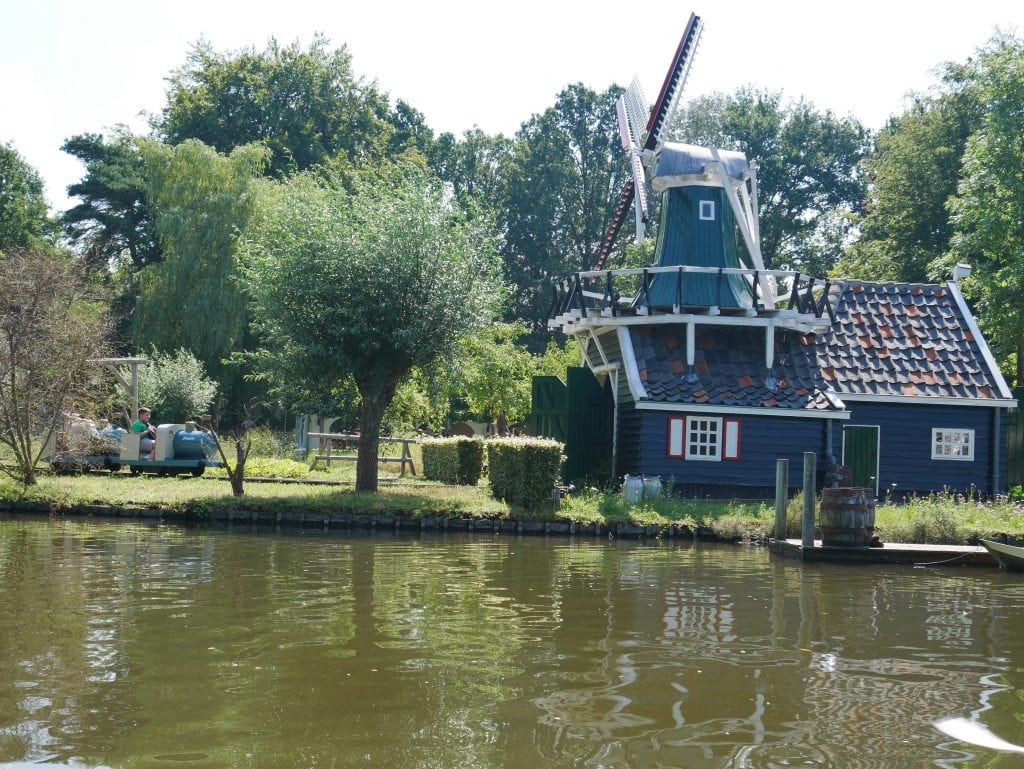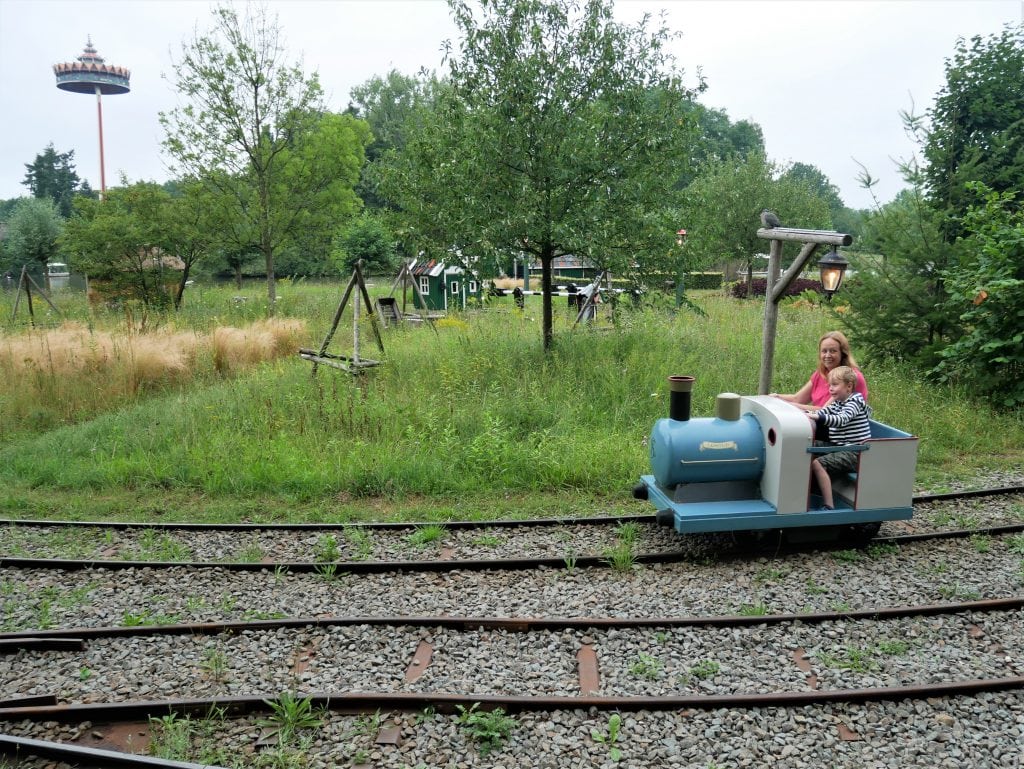 Polka Marina – Pirate's Carousel – Any height
Children under 1.00m can only ride under supervision. This is one of the quietest rides in the park. So quiet we could stay on the ride as much as we wanted. You sit 3 to a boat and it bobs up and down around a track with Moby Dick and the whale as the centrepiece. I think it normally shoots water at it but it wasn't working during our visit. I literally could not stay sat in my seat and I was swaying all over the place which caused much hilarity.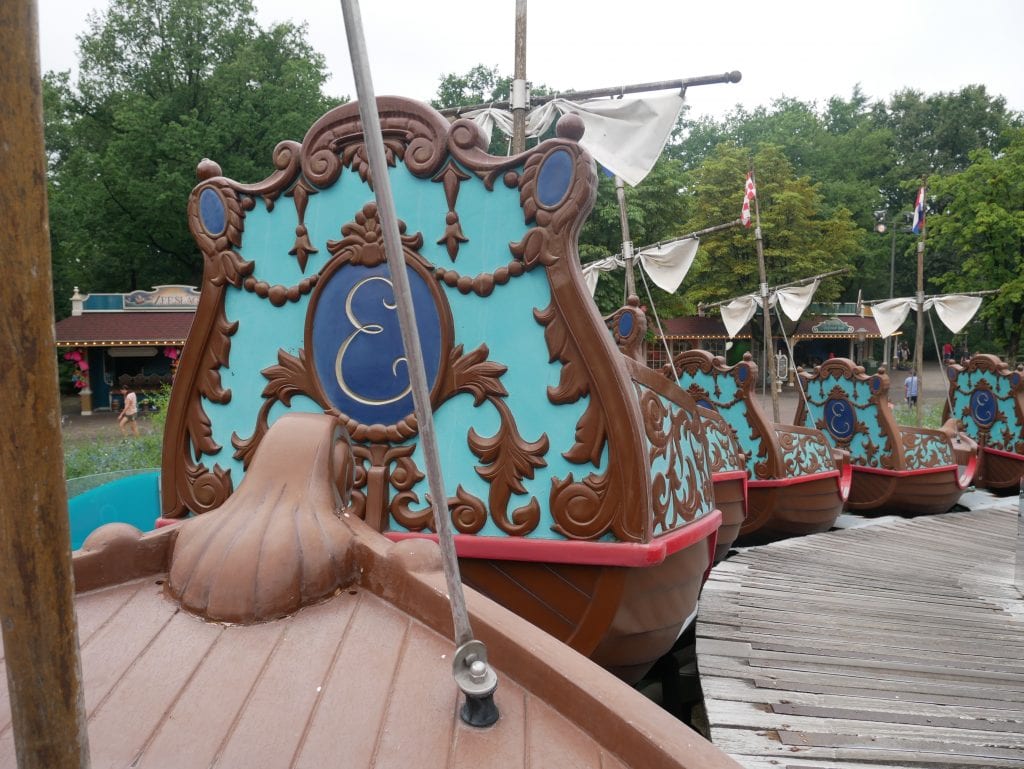 Stoomtrein – Tour through Efteling – Any height
We went on this steam train so many times, we loved it. I'm not sure how many trains they have running around the track at one time but it must be at least 2-3 because you never have to wait long for a train. Yet once you are on it it takes a long time to do a loop.
As well as doing a full loop on each of the days on the steam train we also used it a couple of times to transport us from the top part of the park to the middle left part. It would be nice to have a stop by the entrance as well. The sounds of the steam, the engine chugging and whistle whistling are the highlights. You even go through an Efteling station with moving characters which we loved.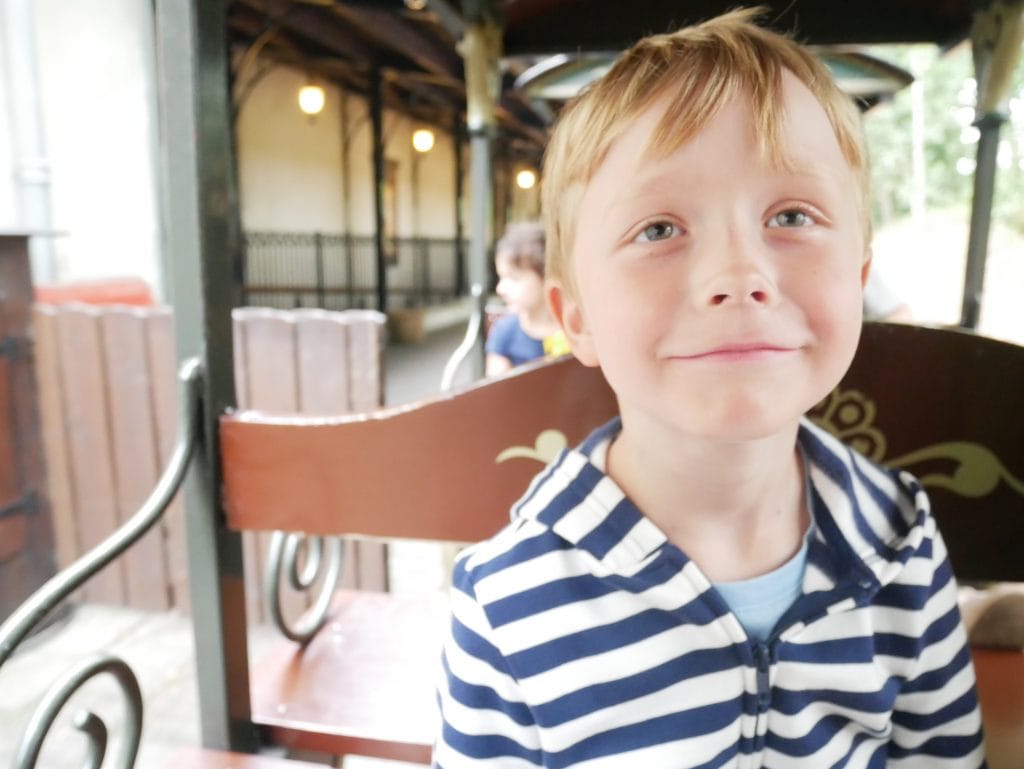 Gondoletta – Boat Ride – Any height
Children under 1.20m can only ride under supervision. 20 minute boat ride. The boat ride was a firm favourite of ours. We went on it two of our three days and both times we bought food to feed the ducks which made the sedate 20 minute boat ride around the lake even more fun.
The boats can seat quite a lot of people and there were warning signs that you may have to share a boat but even when it was busy we had a boat just to the three of us. It's a very pretty ride and I'd highly recommend it for some much-needed rest time. Your legs will thank you.
Halve-Maen – Swinging ship – Any height but is not suitable for babies
Children under 1.20m can only ride under supervision. This is a pirate ship that swings back and forth to a relatively high height. None of us are fans of pirate ships so we gave this a miss. I didn't get a photo as we had to run for one of the steam trains just before I was about to take a photo.
Fata-morgana – Dark Ride indoors – Any height
Children under 1.20m can only ride under supervision, frightening effects. We nicknamed this ride Ali Baba as it's a long water boat ride with an Arabian theme. It was one of our favourites especially as it opened early for hotel guests. It had a really catchy theme tune and sadly no indoor photos came out as it was so dark in there. The theming and animatronics were excellent and well worth going on.
Villa Volta – Mad House Indoors – Any height
Children under 1.00m can only ride under supervision. If you've ever been on Hex at Alton Towers then you will get a fair idea of what this ride is like. It is very clever. You enter into different rooms where there is an animatronic speaking in Dutch. Then when it is time your group all move into a room with long benches opposite each other. A barrier comes down and you start rocking. Then the room starts turning and I have no clue where all the different room scenes kept coming from but they did and it was very good.
Vogel Rok – Indoor Rollercoaster – Minimum height 1.20m
Minimum height 1.20m. The great thing about Efteling is that practically every ride flows well because there's more than one coaster or car running at one time. This is no exception. There are two rollercoasters that run on this indoor track and even when there's a queue it goes down quickly.
For most of the time, you are in complete darkness and you have no idea of where you are going. Which on the first ride is pretty scary but the rollercoaster has no really big drops and it drives really smoothly on the track. You literally feel like a flying bird with the wind rushing through your hair. The star-like lights near the end were a highlight for me. We all loved this ride.
Python – Steel Rollercoaster – Minimum height 1.20m
Double loop and corkscrew. This was my favourite ride at Efteling as I am a big fan of thrill rides. I am also a big fan of smooth thrill rides. Our son even went on it and said he liked it but he wouldn't go on it again. It has two full loops and 2 half loops. We didn't get thrown around at all and it was great fun (well for me).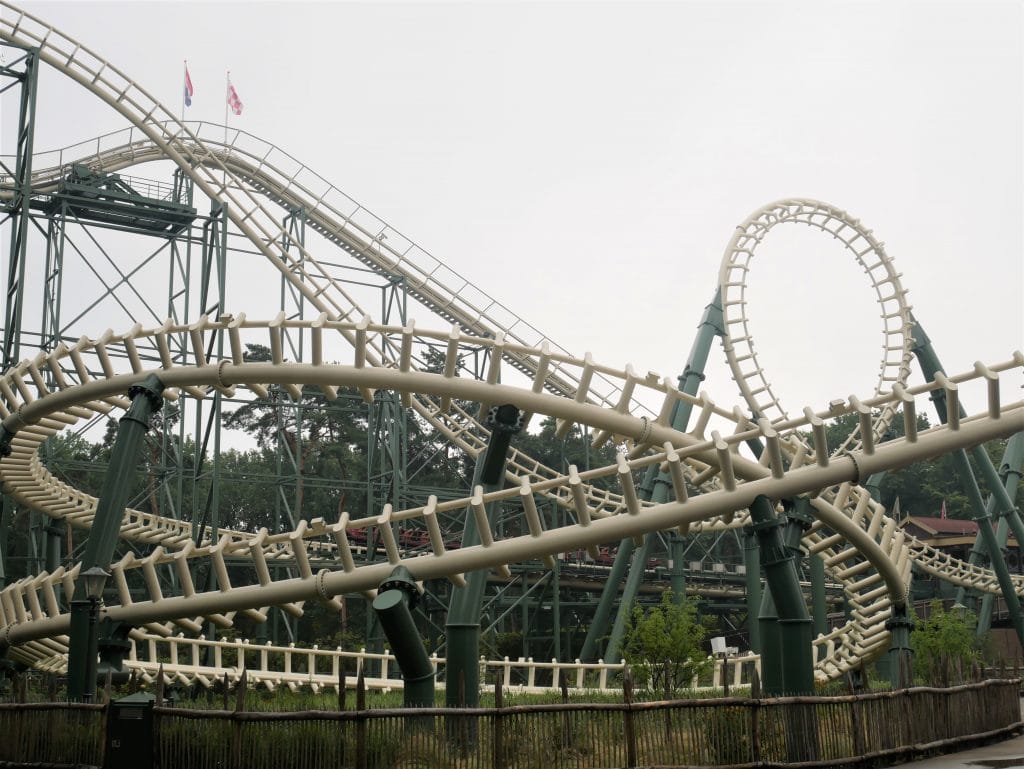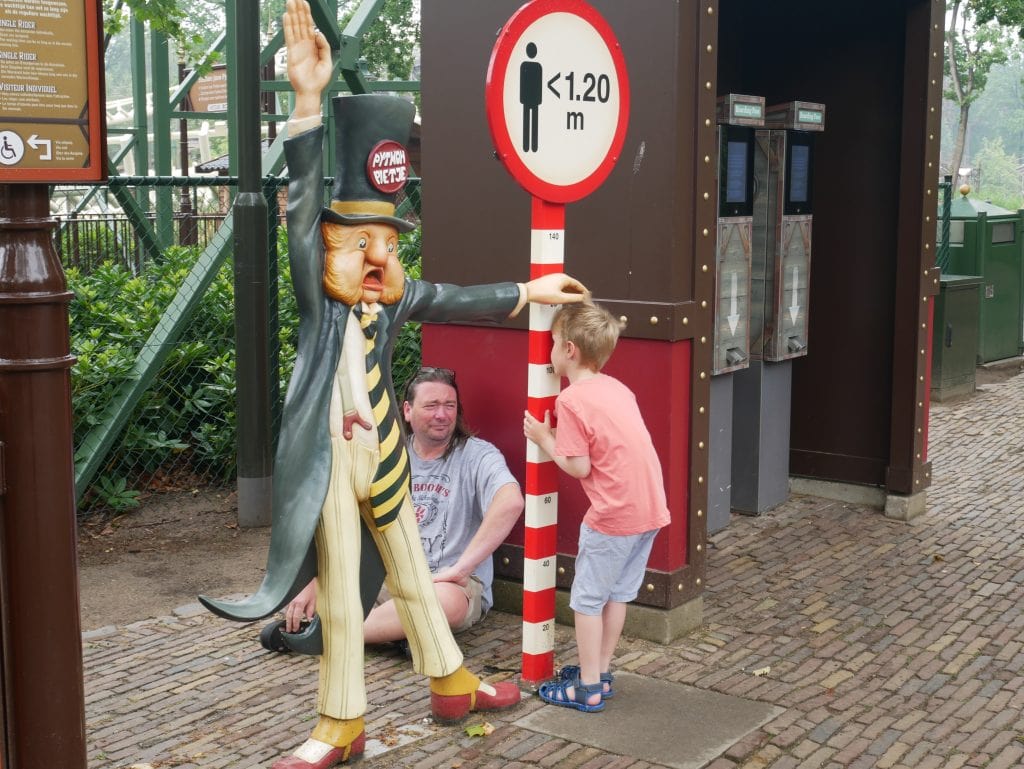 De Vliegende Hollander – Water Coaster – Minimum height 1.20 m
Might get wet. This is a roller coaster that rides on a traditional roller coaster track but also plunges into a lake and finishes with a sedate ride around the lake. There's a lot of suspense and slight fear of the unknown on this ride. Sometimes you have no clue when you're going to drop or what's going to happen next. I loved it!
Joris en de Draak – Wooden Rollercoaster – Minimum height 1.10m
I struggled to find a vantage point to take a photo of the wooden rollercoaster. It is massive and although there are no major steep drops it is very very fast. There are two coasters that go around the track at the same time and you basically race each other. I think we would have enjoyed this ride more if it had been a bit slower. We found it too fast and it hurt a bit being thrown around. Our son said he loved it but I'm not sure if he was just saying that or not. Everyone seemed to love it but it wasn't for us.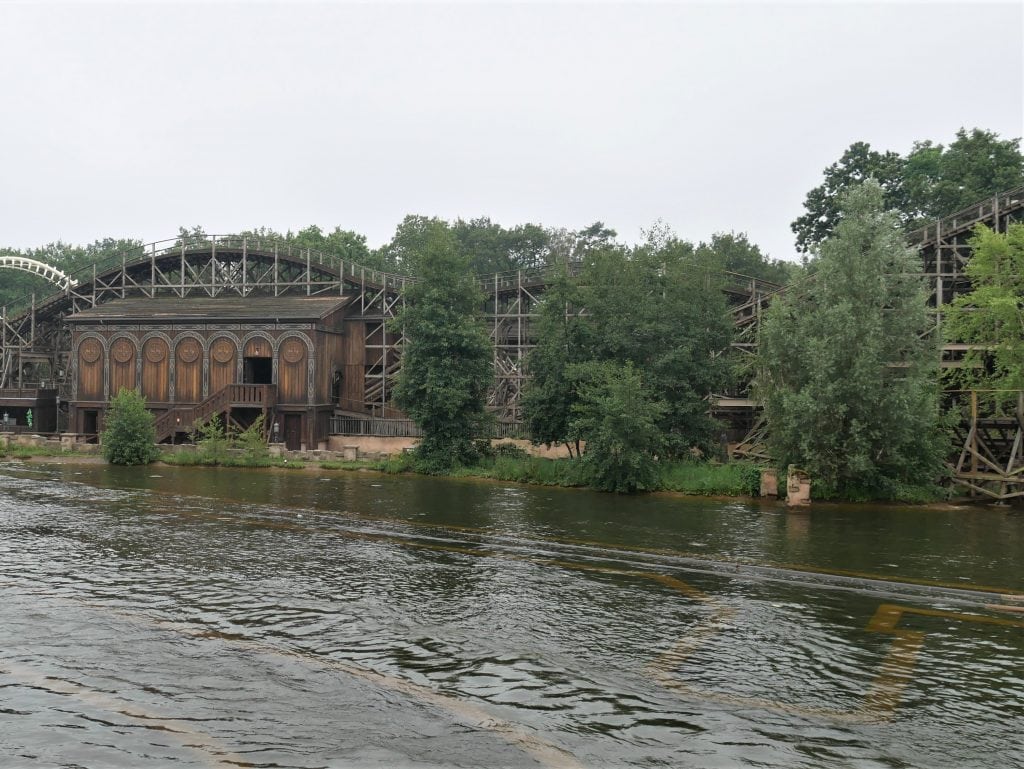 Droomvlucht – Dark Ride – No height limit
The queue for this ride can build up really quickly so try and do this early on in the day. We didn't on the second day and queued for at least 40 minutes. It's a nice ride but not really worth queuing 40 minutes for. You can sit a family of four in each car and you move along as if flying amongst fairies and elves.
The highlight comes after a climb upwards where you then move at speed round and round as if on a helter-skelter while getting closer and closer to a group of elves. This is another indoor dark ride where photos just weren't possible.
Symbolica – Palace of Fantasy – No height limit
Children under 1.20 m can only ride under supervision. This is the newest and one of the most popular rides at Efteling. Think Harry Potter meets elves. You enter a room as a large group and there is an introduction in Dutch and English. The Efteling Jester also makes an appearance. The stairs then part and you enter the next part of the queue through smoke. What a setting. You then have to choose which path you will take. This changes the ride ever so slightly.
You then board a car which seats at least 6 people. There is an interactive element on the front row but sadly not if you sit on the back row. You then glide into different rooms and at one point you even move around a dancefloor as if you are dancing with the characters. This is a firm favourite with children and our son loved this ride. It is a dark indoor ride so no photos came out well from the ride.
There is just one ride over 1.2m which is: Baron 1898. Minimum height 1.32m "To enter the mine, Baron 1898 plunges you down a 37.5 m free fall into the mineshaft at a speed of 90 km/h. Dare to embark on this wild ride? Be warned: even the bravest will have their hair standing on end!"
Efteling Fairytale Forest
The Fairytale Forest at Efteling is not a ride but it is an absolute must. It was the first attraction at Efteling and there are all sorts of fairytale surprises to be found. To find out all about the Fairytale forest please check out my review post –
Please subscribe to our Youtube channel for lots of fun days out ideas and holidays
---