We stayed at Efteling for three nights and with our stay, we had tickets included for four days. With flights and work commitments we managed to visit for three full days. On two of the three days, we managed to do just about everything bar one ride which we could have easily done on one of those two days.
Our third day was our son's 6th birthday and we let him choose everything we would do again. All of his favourite rides I will mark with a * below. If you do visit and stay over I recommend you do visit for at least three days as I'm sure you will love it as much as we did and you will welcome the third day exploring all your favourite rides again. This is our ultimate two-day family-friendly itinerary for Efteling for families with children of at least 1.2 metres in height.
The thing that really struck us about Efteling is just how good it looks. The park is exceptionally clean and the setting is stunning amongst woods and lakes. The theming is the best I've ever seen of any theme park and at just about every turn you will be impressed with your view. There are so many fun and mystical characters around the park, especially the bins that talk which are a huge success with children. I hope my photos below convey just how wonderful and magical Efteling is.
*disclaimer. We received a discounted press stay. All opinions and photos are my own and must not be duplicated without prior permission.
Efteling is in the Netherlands and it is approx. 1 hr 10 drive from Amsterdam airport and approx. 40 minutes drive from Eindhoven airport. You can take a ferry to Amsterdam or even France where it's about a 3-4 hour drive to Efteling.
The rides open 30 minutes earlier for hotel guests are: Fata Morgana, Bob, Baron 1898, Vogel Rok, Carnaval Festival, Monsieur Cannibale, Villa Volta and Droomvlucht.
Ultimate two day Efteling Family Friendly Itinerary – with children 1.2 metres and taller
Early Entry to Efteling information
As a guest at Efteling, you have early entry to the theme park. The park opens at 10 am and you have access to a select choice of rides from 9:30 am and you can enter the park from 9 am. This was great for us as we had time to enjoy breakfast on-site before heading to the rides for opening time. The itinerary below is possible without early entry as the park stays open until 8 pm or 11 pm most nights. Out of season Efteling closes at 6 pm. (see list above)
As a hotel guest, you enter via a side gate but do head round to the front entrance to take some photos. It's a very impressive main entrance.
We arrived at Efteling early every day and it was never clear where hotel guests were supposed to go. On the second day, we went up to the left side of the park without realising this wouldn't gain us early entry.
As Efteling guests, you need to head to the far right and walk up to the Fata Morgana ride. About halfway you should be asked to prove you are staying at Efteling by either showing your key card or park tickets. On our third day, there was no one there checking and everyone was piling into the early entry rides which was strange and a bit of a shame for us. We stayed at the Loonsche Land Village.
It is currently 10 euros to park at Efteling for the day. As guests, we could leave our car in the hotel car park for free and get the courtesy bus to and from the theme park.
Maps and Efteling App
When you enter Efteling there are plenty of paper maps available in different languages. We hardly referred to ours though as the app is excellent and very up-to-date. Efteling has free WI-FI so you don't need to worry about using up your data. It does drain your battery though so make sure you are fully charged or have a power bank. The App has an interactive map and also a locator icon so you can see where you are on the map. This makes it really easy to work out which direction you want to head in.
The Efteling app also has live ride time wait data so if there is a ride with a long queue you can perhaps find something else to do while waiting for the queue to get shorter. You can also easily find toilets, places to eat, other attractions, showtimes and much more. I wouldn't visit Efteling without using their app. It helped us make the most of our time there. The app is only available on smartphones. It is free to download and use.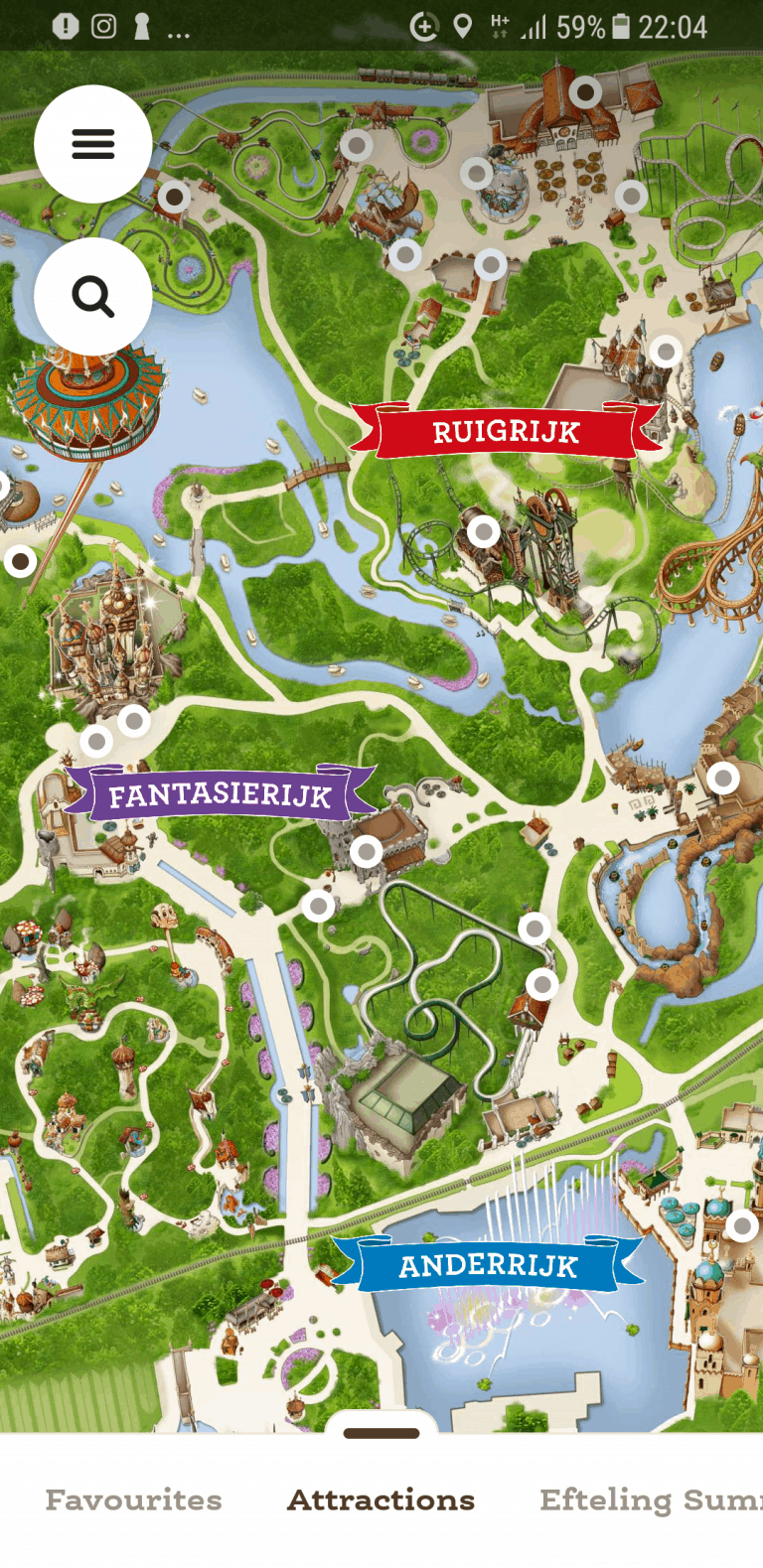 Is there a language barrier?
One thing I've been asked a lot is about the language barrier. We didn't find there to be one. Everyone we came across spoke English and some were incredibly fluent. The shows and quite a few other things are in Dutch but the odd bit of English is and was included. We lived in France for 14 years so maybe we didn't notice things being in Dutch as much as others might but it wasn't a problem for ourselves. In fact, the staff, in general, were wonderful. Most were incredibly friendly, helpful and seemed genuinely interested in talking to us.
Day 1 at Efteling theme park, the Netherlands
Because we had early entry to the park as we were staying at Efteling we caught the 8:45 am first bus of the day every day. This got us to the park just before 9 am when the main gates opened. We found a restaurant near the entrance that opened from 9 am and we stopped here for breakfast every day. There is a huge range of places to eat at Efteling from sit down A la carte (waiter service), to self-service and kiosks. You could eat for as little or as much as you pleased.
The park is split into 5 areas. Ruigrik where the thrill rides are plus the pirate-themed rides and one of the steam train stations. Anderrijk where you will find the tamer thrill rides such as Bob and Piranha plus other attractions. Fantasierijk which is mainly for Symbolica. Reizenrijk with mostly indoor or covered rides and Marerijk which covers a huge section of the park with the Fairytale Forest, fairground rides, the main show Raveleijn and more.
RUIGRIK
We decided we would go on the main thrill rides on day 1. Our son wasn't quite tall enough for Baron 1898 (1.32 metre) but this does open first if you want to ride on it.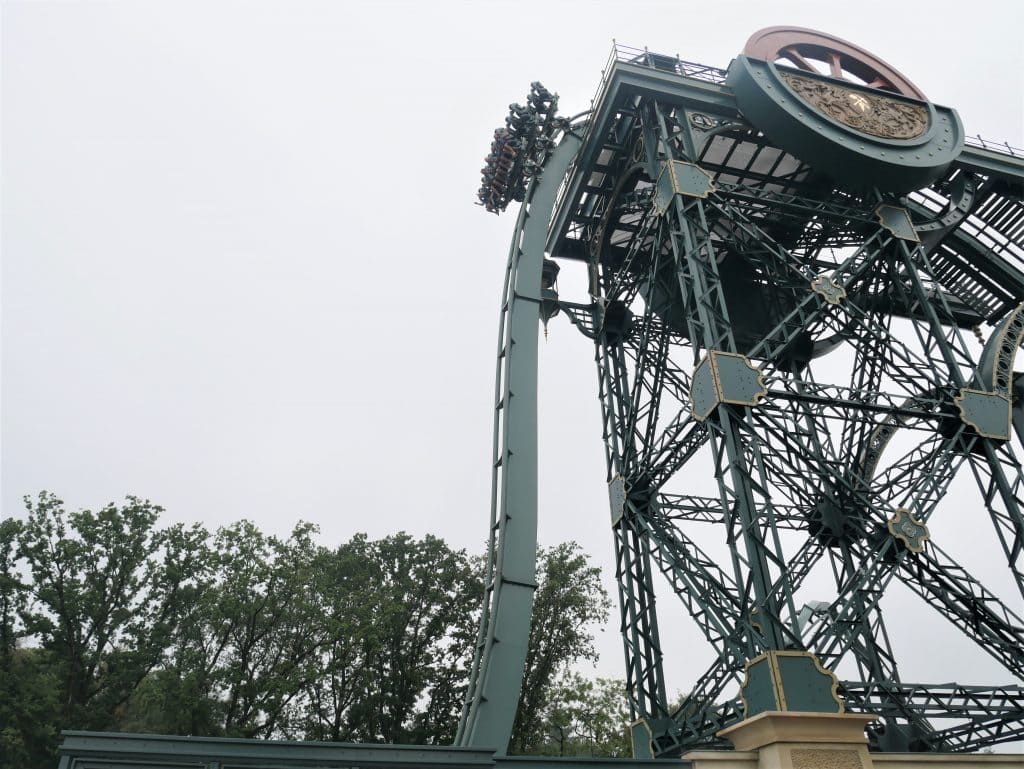 We decided to keep walking and wait by Python (1.2m) for when it opened at 10 am. This meant that we walked straight on the ride – in fact, we were the first on. You can actually get timed fast passes for this ride from the entrance if you visit on a particularly busy day. Python is a double loop and double half loop roller coaster. To find out more about each ride please see my post –
We wanted to experience the other thrill rides in this area with minimal queue time so next, we went on the Water Coaster (1.2m). This is a ride where you have no clue what's about to happen. Some of it is in the dark, some of it on a coaster track and some on the water in a lake which you are plunged into. You will get a little wet on this ride.
The final thrill ride in this area is the Wooden Roller coaster (1.2 metres). This is a ride where two roller coaster trains race each other around the track. This was a bit too fast for us.
After three thrill rides in a row, it was time to slow the pace down. We would recommend heading to Polka Marina the Pirate carousel. This is a fun ride which goes round and round and bobs up and down like it is on the water. We sat the three of us together and we were moving all about the place. It wasn't busy at all and we were allowed to stay on for a second ride.
There is also a pirate ship ride in this area which goes rather high. Plus when it is open make sure you fit in a ride on the Oldtimer track. This is a ride in electric but old fashioned cars around a track. This is a perfect family-friendly ride.
In this area of rides, there is also one of two stations for the Stoomtrein*. These are the steam trains that run all day long around the park. We never had to wait long for a train so I think there must have been a few. The sounds, sights and smell of the steam and the train moving and blowing its whistle are just wonderful and we managed a ride every day on the train.
Believe it or not even after a ride all the way around on the steam train and then on to the second stop again we still weren't near lunchtime.
MARERIJK
As mentioned above this part of Efteling is vast. It's the biggest area and we certainly didn't manage everything on day one. This is where the other train station is so we decided to stop here for some lunch. We chose to eat at the 'A La Carte' restaurant by the main Raveleijn show arena. It said opening time was 12 pm but when we got there we were told it wasn't due to open until 1 pm. So we spent the next hour going on a few of the rides in the Marerijk area of Efteling.
We started by going on Droomvlucht* which only had a 15-minute wait. This ride can get very busy so if the queue is this short go for it. Droomvlucht is a slow indoor ride through a world of fairies and elves. It feels like you are flying with and amongst them.
We then headed to Villa Volta where you sit in long aisles opposite the other side and you move while the scenery also moves. It's a very strange sensation and very clever. This ride is also indoors.
Afterwards, we had a wander around the elf village underneath the Monorail ride. There's also a nice playground in this area.
We had a quick wander into Anton Pieck Plein where there are 5 traditional fairground rides. We had a ride on one of the carousels and promised to return after lunch.
Lunch at Het Wapen van Raveleijn. This is a restaurant with table service. We were first in the queue so we got a good table right by the Raveleijn show. We only saw the show from the back of the arena but we still saw most of the action and it was fun getting glimpses of how everything works and how the show is set up before the crowds arrive.
The meal started well although we were surprised by the limited choice. We had meat, cheese, bread and fruit platter for just 8.95 euros. The service went a bit downhill though which meant we missed out on ice-creams.
Raveleijn Park Show – This is a live-action show with talking in Dutch. Headsets in English are available but weren't offered at the restaurant. The show is a stunt show with birds, horses, effects such as flames, explosions and a giant 5 headed serpent that comes out of the ground.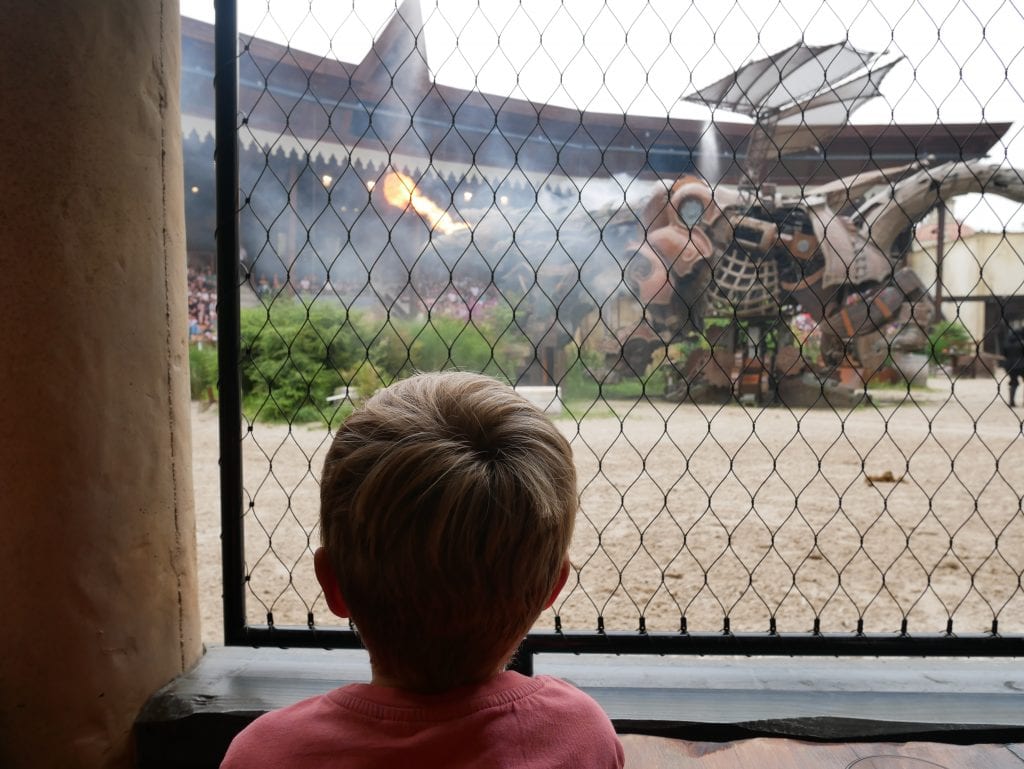 In the afternoon we managed to fit in more rides. We even left the park quite early at 4:30 pm so if you are facing bigger queues than us you will still be able to fit everything in. We stayed in Marerijk and headed back to Anton Pieck Plein to ride on the Monorail, two more carousels, a swing ride and a wooden round-a-bout type ride.
The Monorail was really lovely and we enjoyed looking down at the elves in their village below. We also enjoyed the classic fairground rides. The Stoomcarousel is set in the most wonderfully decorated building and walking inside is like stepping into the past.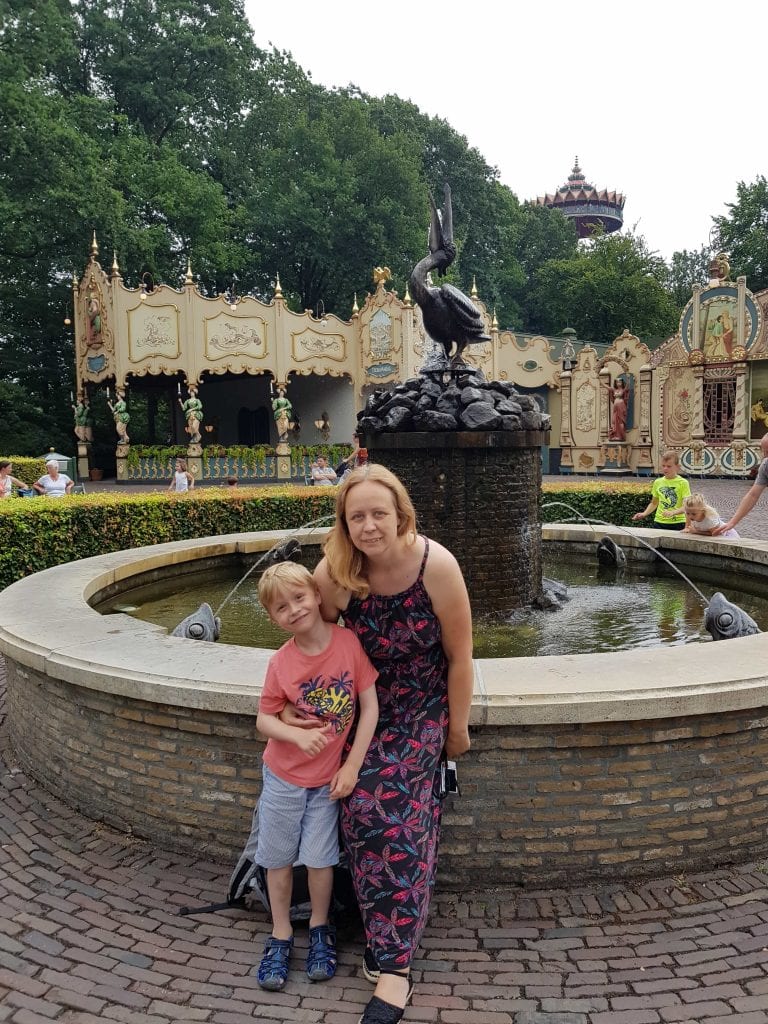 In the same building as the Stoomcarousel you will find Diorama miniature world. This is a must to go see it's really lovely with trains moving around the track, windmills and a lovely enchanting miniature world.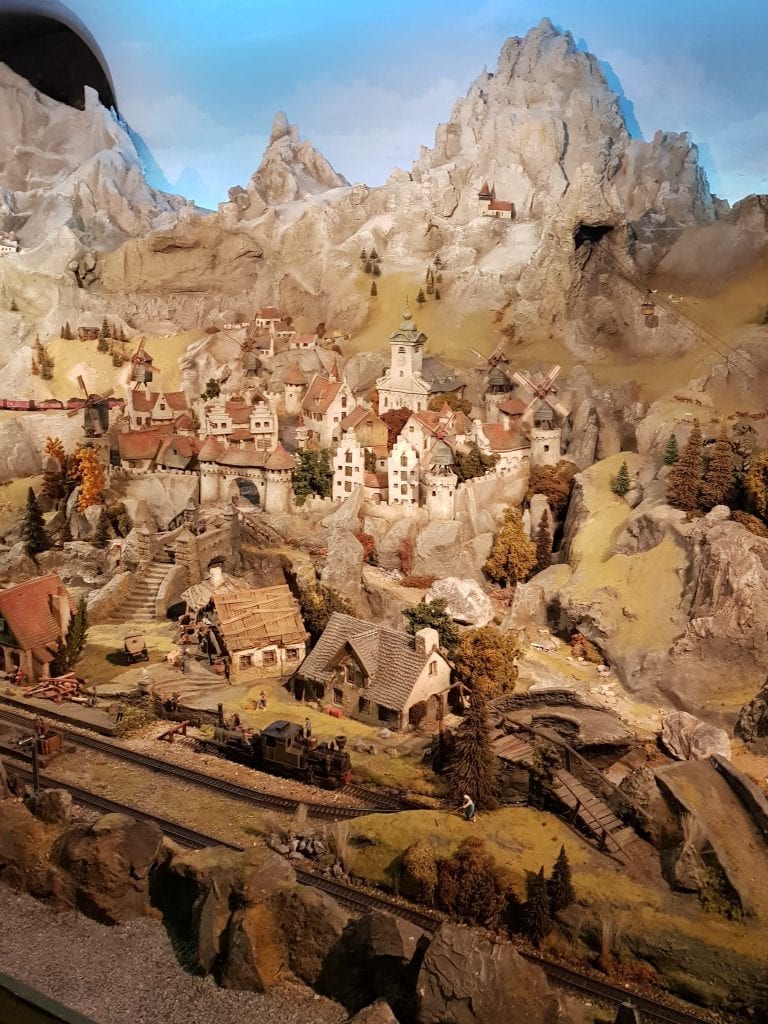 On our way out of the park, we noticed that Symbolica* had a relatively short queue. So we headed here next. It is one of Efteling's newest and more popular rides. It is an indoor dark ride but it is not scary. If you are lucky to sit in the front you have interactive elements. It's a ride through an enchanting palace and you will even get to dance around the dancefloor with the palace guests.
Our feet literally could not walk us any further so we headed down to the park entrance and booked ourselves into the popular Pinokkio's pizza and pasta restaurant for 4:30 pm the next day. We went for this time as we were also going to get tickets for the 6:30 pm show Caro which is in the same building as Pinokkio's.
This show is not on every night and I think it changes every few months but don't quote me. We were glad we didn't book online at 25 euros each as it turned out that if you book through where you are staying you can see Caro for just 7,50 euros each, which was a great saving.
It was a relief that we left the park when we did as the heavens opened and it poured torrential rain for a good few hours. Later we decided to eat at the Loonsche hotel which was very good and we had mussels, a tasty burger and ice-creams.
Review of Efteling Theme Park
Day 2 at Efteling theme park, the Netherlands
We started the day as we did Day 1 by getting the early bus into the park and eating breakfast there.
We then headed for the Haunted house but later realised we were waiting in the wrong area for hotel guests. It also turned out that the haunted house didn't open early.
For Day 2 and if you are a hotel guest I would recommend riding on Fata Morgana* first. It's a dark ride which says it has some frightening effects but I wouldn't say there was anything frightening. It's a slow boat ride – think Ali Baba/Arabian nights.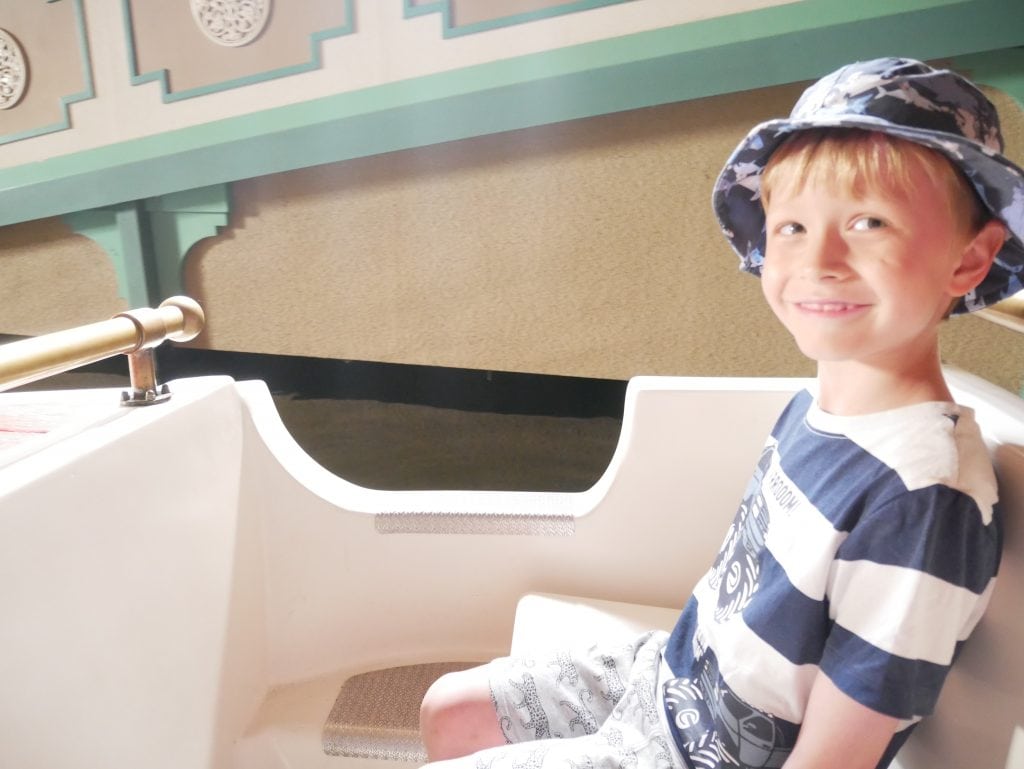 Luckily we realised in time and headed for the early opening (for hotel guests) of Bob* the Bobsleigh ride. This ride is no more and is being replaced later this year by a new ride called Max and Moritz. We can't wait to see what it's like.
I'd then recommend riding on Piraña. We got absolutely soaked so it was good to be able to walk around and stand in the sun afterwards drying out. Piraña is a raft ride and you can sit 6 in a raft. It's a white water ride with lots of waves that will lap over your boat and sprayers that will get you really wet. I recommend taking a plastic bag for your bag to go in and keep your feet off the floor.
We needed to dry out and a good ride to queue for to do that is Symbolica. We went on this the day before but were keen to do it again. If you didn't have early entry you may want to skip this from today's itinerary.
REIZENRIJK
After Symbolica we headed up to the top of the largest lake. First, we went for a ride on Pagode*. This is a Thai temple with wonderful views around the park. It goes high to a height of around 40 metres but the ride itself up and down isn't scary.
After Pagode the queue for the Gondoletta* boat ride was still reasonably short so we bought some cake from the nearby kiosk and fed the ducks, geese and other birds while we enjoyed a leisurely 20-minute boat ride around the beautiful lake. There are lots of boats that ride around the lake so you should be able to have one to yourselves. You don't have to do anything, the boats drive themselves.
We then headed to the top left of the Reizenrijk area which is part of the park we hadn't yet gone to. This has three rides, 2 indoors and 1 covered. First, we went on Monsieur Cannibale. This is Efteling's version of a spinning teacup ride. The theme tune is very catchy!
Afterwards, we went on Vogel Rok* (1.20 metres), Efteling's indoor roller coaster. The roller coaster itself is quite smooth and doesn't have any large unexpected drops. It is mostly in complete darkness but you will also go through tunnels with lights. The ride gives you the sense of flying.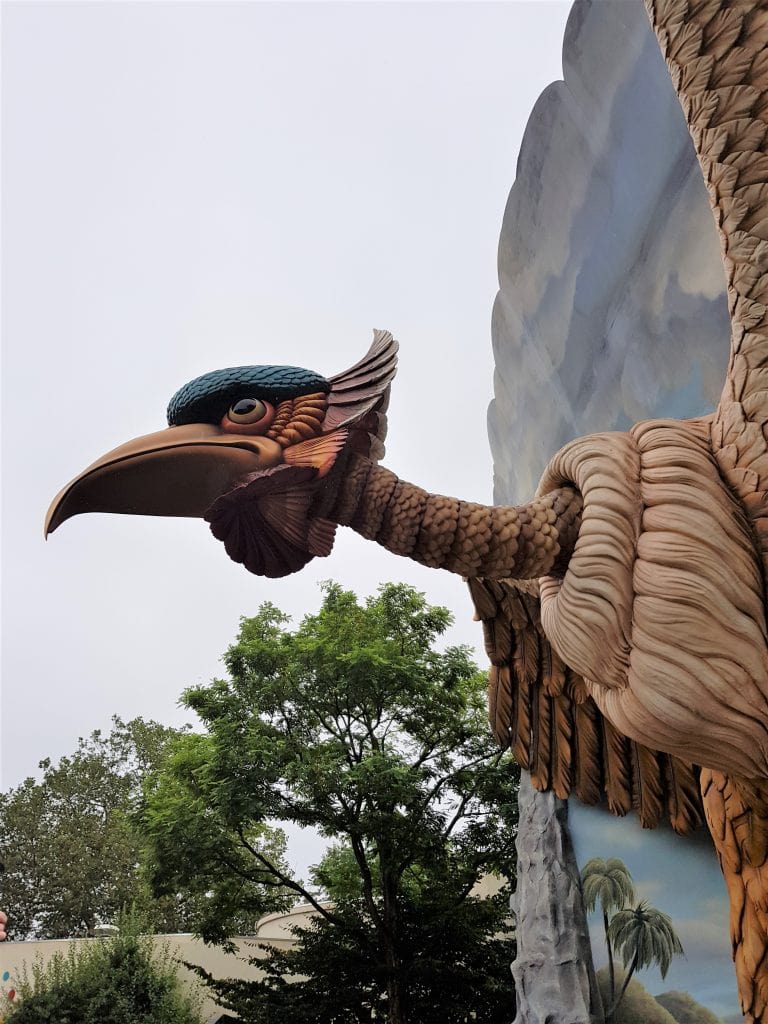 Just before lunch, we managed to fit in a ride on Carnaval Festival*. This is an indoor family ride where you sit in cars which seat a family of up to four and you journey around the world with colourful characters and another catchy theme tune.
There is a sit-down restaurant here where you can also grab a self-service meal. We had an early snacky lunch here as we had an early dinner reservation. In some of the restaurants, they have these lovely kid's meal boxes which include a light-up wand.
There's a lovely playground, Kleuterhof, next to here with all sorts of fun things to play on including a very interactive piano.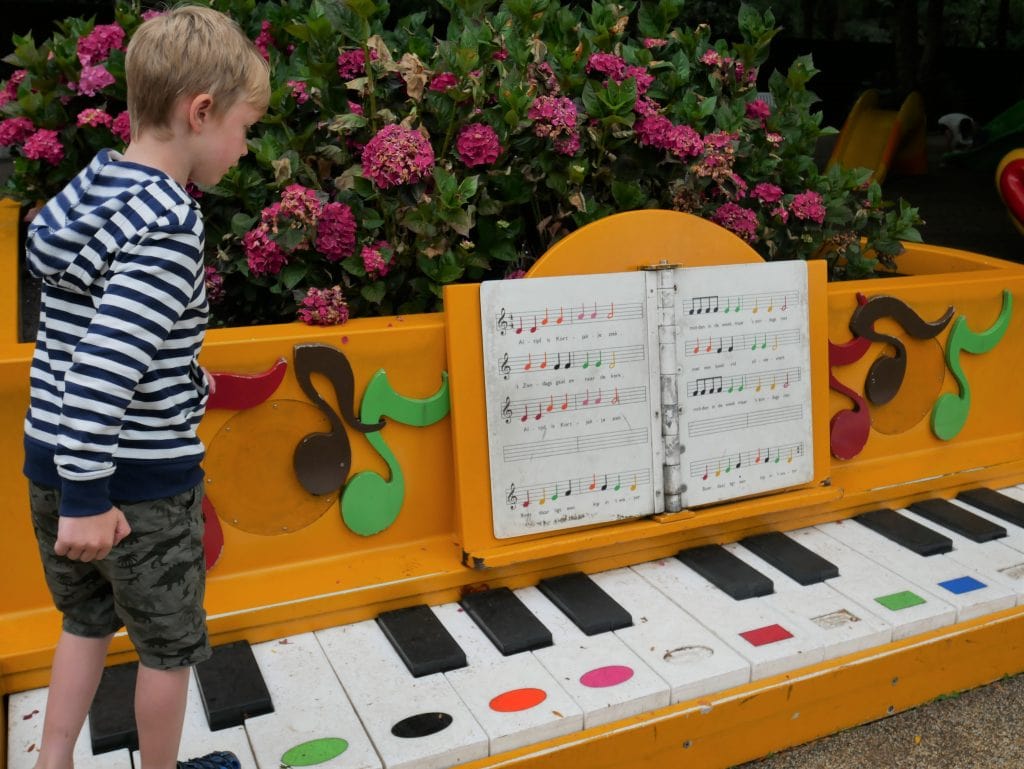 If you've got the time there is also a small and very child-friendly adventure maze in this area. It's not too hard to get lost and there are a few fun elements within including a bridge where you may get wet.
You must keep your eye out for their interactive bins around the park. Not only do they talk and encourage you to put your rubbish in the bin (in Dutch). But they also help suck in the rubbish and then thank you for it.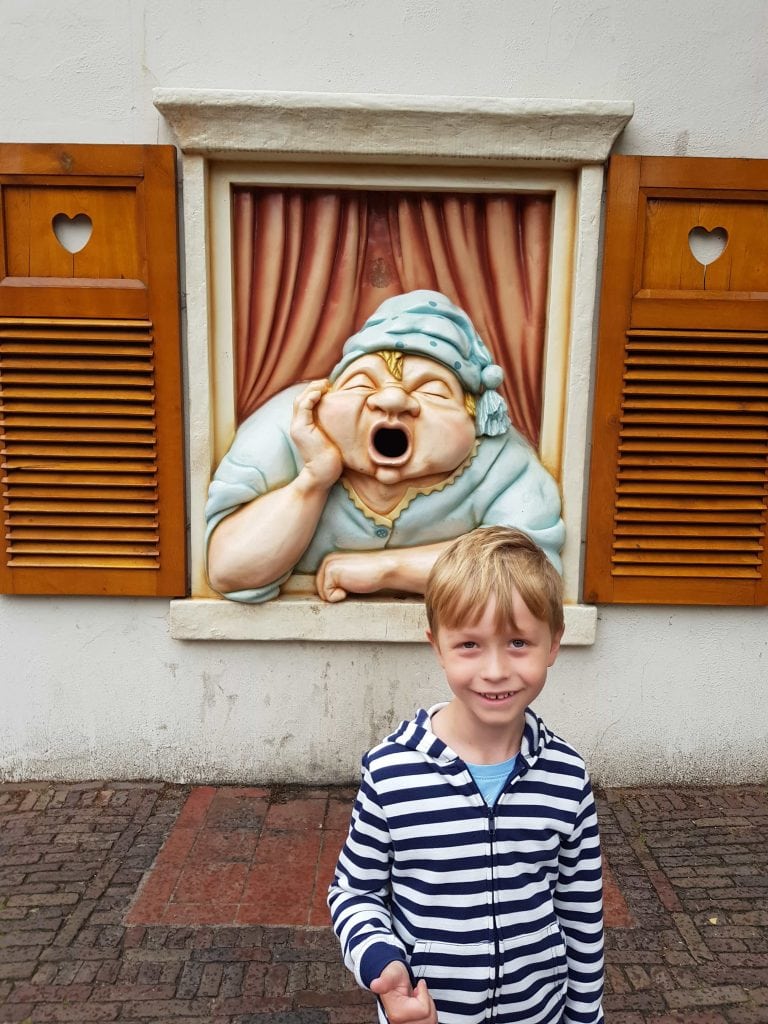 Just a short walk from the playground you will find Kinderspoor pedal trains*. You can sit two in a train and most children should be able to reach the pedals to help you pedal your mini train around the track.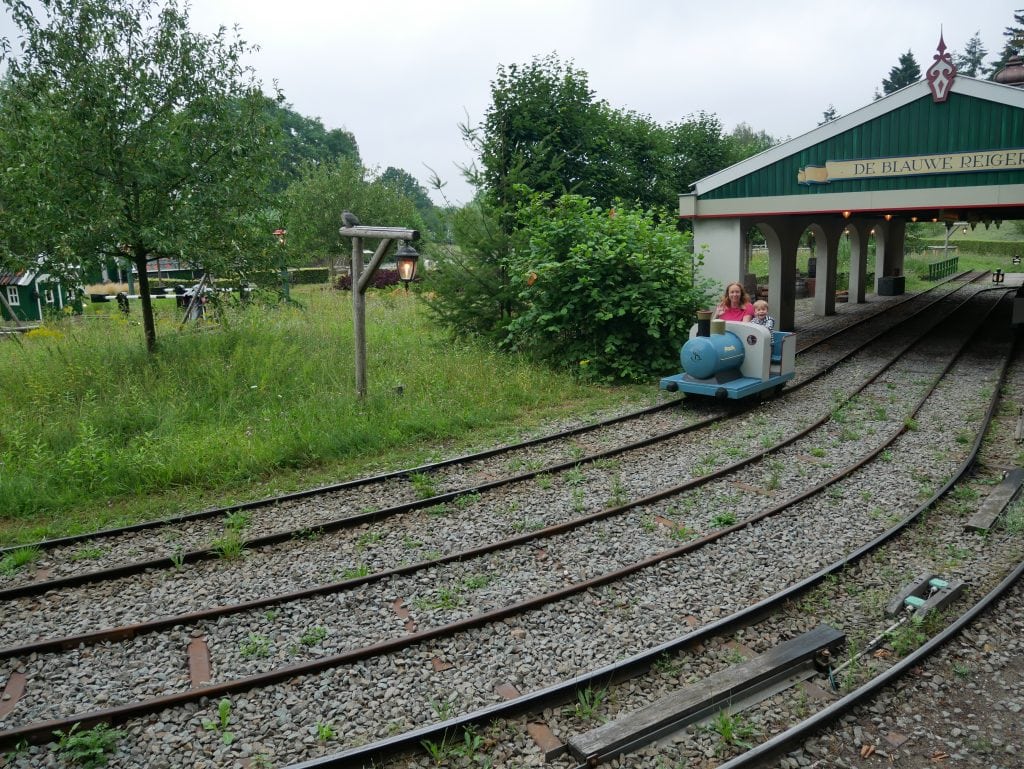 We crossed down the centre of the park to the Fairytale Forest*. This took us around 1 hour 30 to walk around and I have written a whole post about it as it was so wonderful. There are many Fairytales to find around the paths and they were excellent, done so well. This is not something to be rushed so make sure you have plenty of time for it. To find out more about visiting the Fairytale Forest please see – Efteling Review of the Fairytale Forest | Largest Living Picture Book.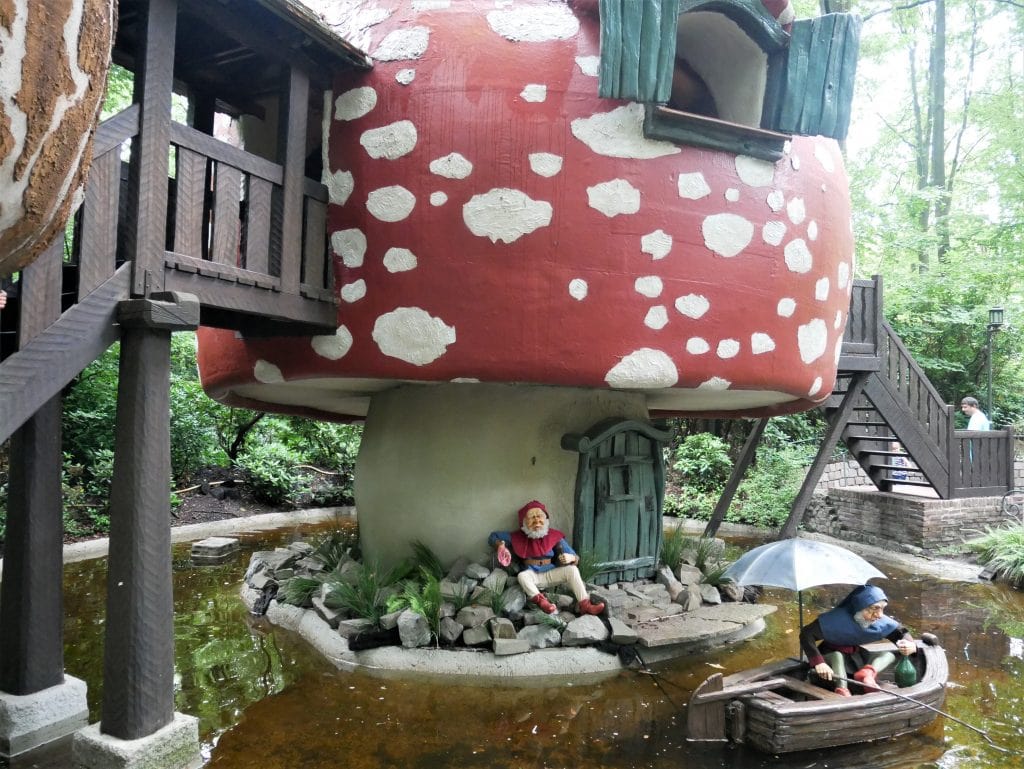 Depending on queue times you may or may not now have time for the two final attractions that we managed to fit in before tea. First, we headed for the Haunted House, Spookslot. You wait in a room until the other room has run the Haunted house show. I don't know why but I thought this was a ride. It is actually a large room where you stand on tiers and watch a haunted house animatronics show behind glass in front of you. We had mixed opinions on this.
We just about managed to squeeze in the 3D film Pandadroom* next to the Haunted house. The 3D effects were excellent and it was one of the best 3D films I've ever seen. Kids were reaching out for everything trying to touch them. The film is changing to Fabula later in the year but I'm sure it will be just as good.
It was now time to head for our 4:30 pm booking at Pinnokio's. We loved our restaurant experience here. The staff were lovely and friendly and we all really enjoyed our food. It's an old fashioned theatre themed room that you sit in and it really adds to the atmosphere.
One thing we really noticed at Efteling was just how friendly the vast majority of the staff are. They really make an effort to engage with you and were often asking us questions about our day. You can't beat service with a smile.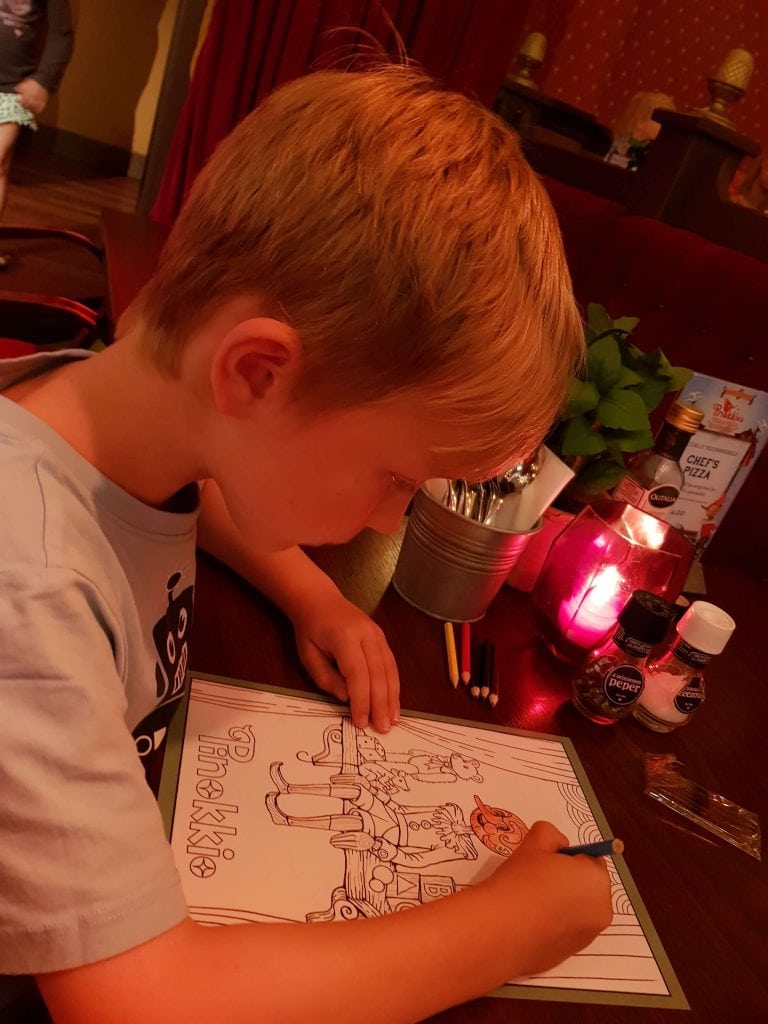 Our dinner was perfect timing for then going to see Caro* in the same building. They have a circus-type arena within this building and we loved how comfy the seats were. There were plenty of booster seats for the kids as well so even though our son had a good view he benefited from an even better view.
The show lasted for 1 hour 15 minutes without an interval. Don't forget if you stay at Efteling you can purchase reduced tickets through the hotels (can also be booked online). We all really loved it and I'd highly recommend it. It is based on a story about life and the life cycle of families. You can expect dancing, singing, jokes, acrobatics and special effects. It is recommended for 5+ but I saw much younger children in there. No photos or filming were allowed so I took a photo just before it started to show you the inside.
There was still more to do after Caro. Although the rides shut that day at 8 pm they were still open for their evening water and light show. Aquanura takes places at different times each night and usually more than once. I'd recommend you go see it when it is dark if possible as then you will be able to see the lights better.
It was very clever and we were amazed at how high they could shoot the water. It was all done very well and perfectly in time. It's a shame it was a dull day as my photo does not do it justice.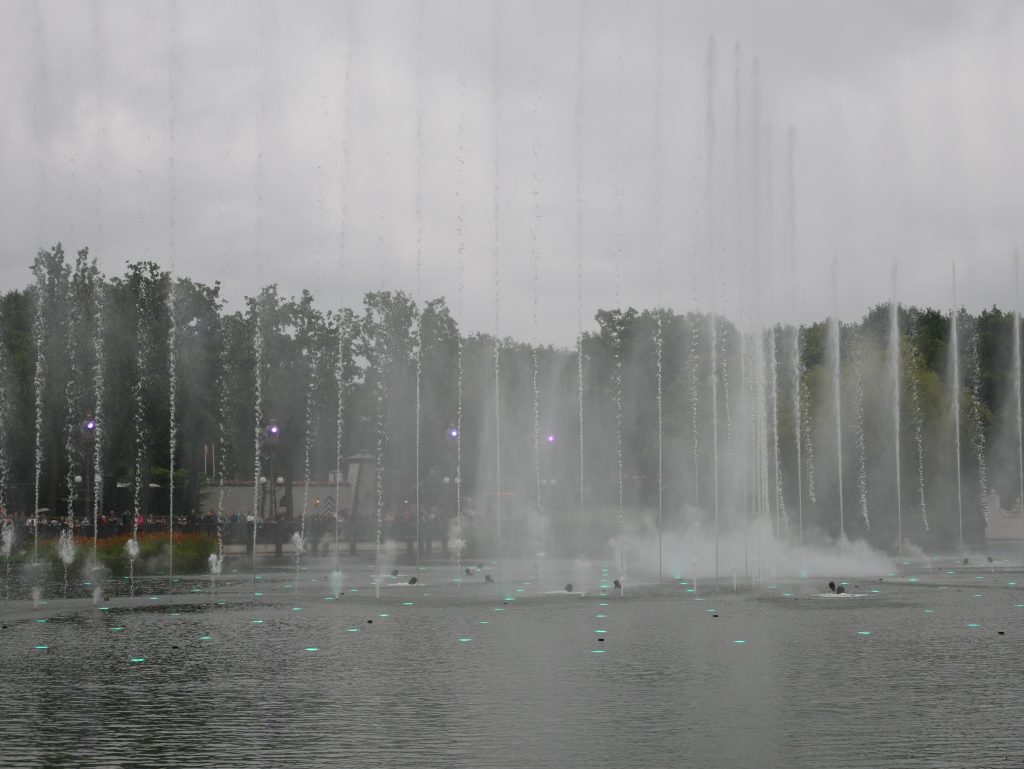 We went to bed tired but happy. We got so much out of our second day at the park. If your kids can go the distance you really can fit a lot in. On our final third day, it was our son's 6th birthday. We let him pick everything he wanted to do again and then worked out the best route through the park to do this. For some reason, it was a lot busier than the previous two days so we only just managed to do everything before our evening flight home.
I really hope you visit. Currently, Efteling has 90% Dutch visitors, which seems a shame because it really is a place worth visiting. I couldn't recommend it enough and hopefully, all my review posts will show how unique it is. It's most certainly not your bog-standard theme park. It's mythical, it's well themed, it's full of fantasy and fairytales and there are rides that will rival any in the UK.
---
I hope you enjoyed my review. Please comment below. Never miss a post and subscribe to my newsletter. We are very active on social media and we would love a follow please on Facebook, Twitter or Instagram. Why not pin this post for later? And give us a follow. Simply click on the image below to take you over to Pinterest.