We have recently returned from the most magical and wonderful stay at a Tree Lodge in Swinton Bivouac, North Yorkshire. We were guests of Swinton Estate but as always all opinions are my own and not influenced by a press stay. Swinton Estate opened Swinton Bivouac a few years ago. It is a glamping site and they have 6 Tree lodges and also a few Yurts. There is also a cafe on site plus one of the best follies I have ever seen in my life. Please read on to find out more.
*This post contains affiliate links. It will cost you no extra to book through any of our links
Where is Swinton Bivouac
Swinton Bivouac is in the heart of the beautiful Yorkshire Dales. It isn't too far from Ripon in North Yorkshire. The roads around Swinton are narrow single track country lanes. It takes 10 minutes to drive from Swinton Bivouac down to Swinton Estate on a journey that would probably normally take 2 minutes. It's very hilly so I wouldn't recommend walking unless you have a lot of time on your hands. You don't even have to visit Swinton Estate if you are staying up at the Bivouac but then you would miss out on their facilities which I will outline near the end of this post.
Our Tree Lodge at Swinton Bivouac – A Review
The Tree lodges at Swinton Bivouac are so quaint. They are certainly up there with the nicest looking accommodation I've ever stayed in, especially for glamping. This really is glamping at its poshest. We arrived at the cafe around 3 pm, after passing the field of yurts. We were given instructions on how to find our tree lodge and off we set. You can park near the lodges but not right outside. The walk to the lodges is then through a field and over a wall with steps set into it.
Each tree lodge has an outside balcony with two deckchairs and a bench. This is where your fridge is – it's literally a cool box in a small shed. We had brought our own which we left sealed up outside and it seemed to keep everything cool enough. The tree lodges are off the grid when it comes to electricity.
The Tree lodges are so lovely at night because the only light you have is some tealights and pillar candles in lanterns. There are also a few pretty fairy lights. We had brought a torch with us but we didn't really need it. The candles seemed to do their job.
We visited in late May. It was around 14oC outside so we needed the fire going inside. It had been set up ready for us to light and it lit and burnt so well. We loved taking it in turns to keep the fire going or lighting it on the other occasions. Our son loved the responsibility of bringing more wood in. You are supplied with enough wood for your stay. If you run out of wood, candles or batteries you can always pop to the cafe to ask for more.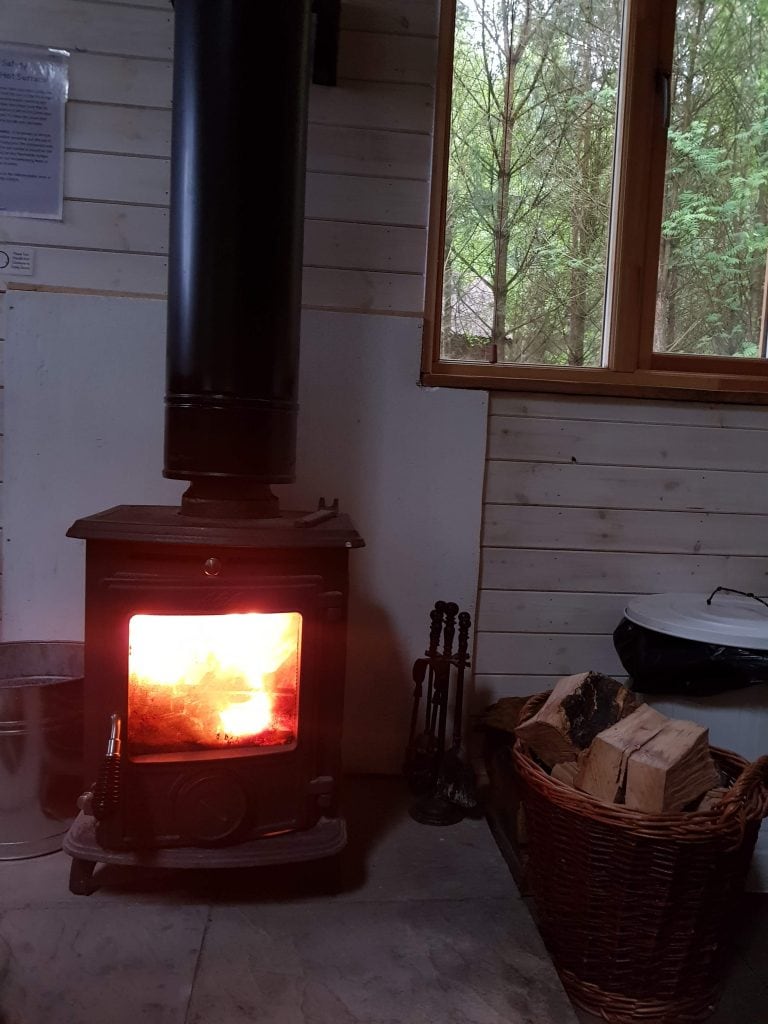 Each lodge sleeps 7 people on three levels. It was quite a challenge getting to the top of the ladder where the king-size bed is and down again. Our son loved the middle level with the three single beds and the bottom level with the double bed was like a den to him. What fun for kids.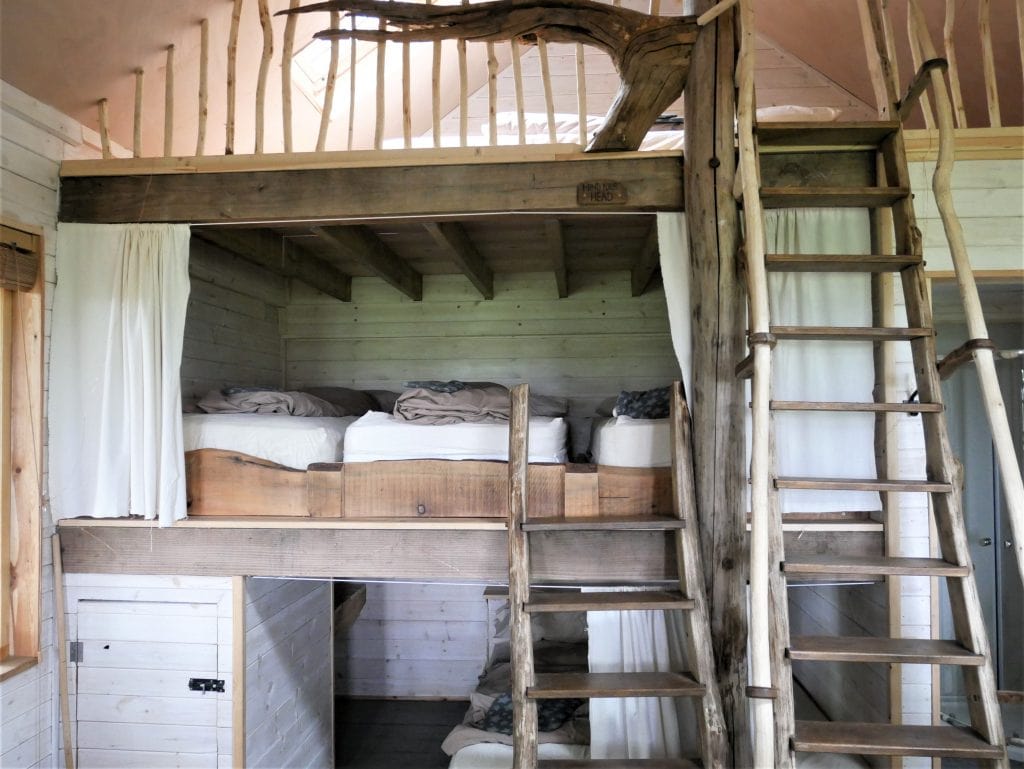 There's even a basic kitchen in each lodge. We had plenty of glasses, mugs, cutlery and dishes. There was a mini gas burner to cook on, plus a sink with gorgeous views over to the hills and neighbouring sheep. You are even provided with hot water bottles should you need them.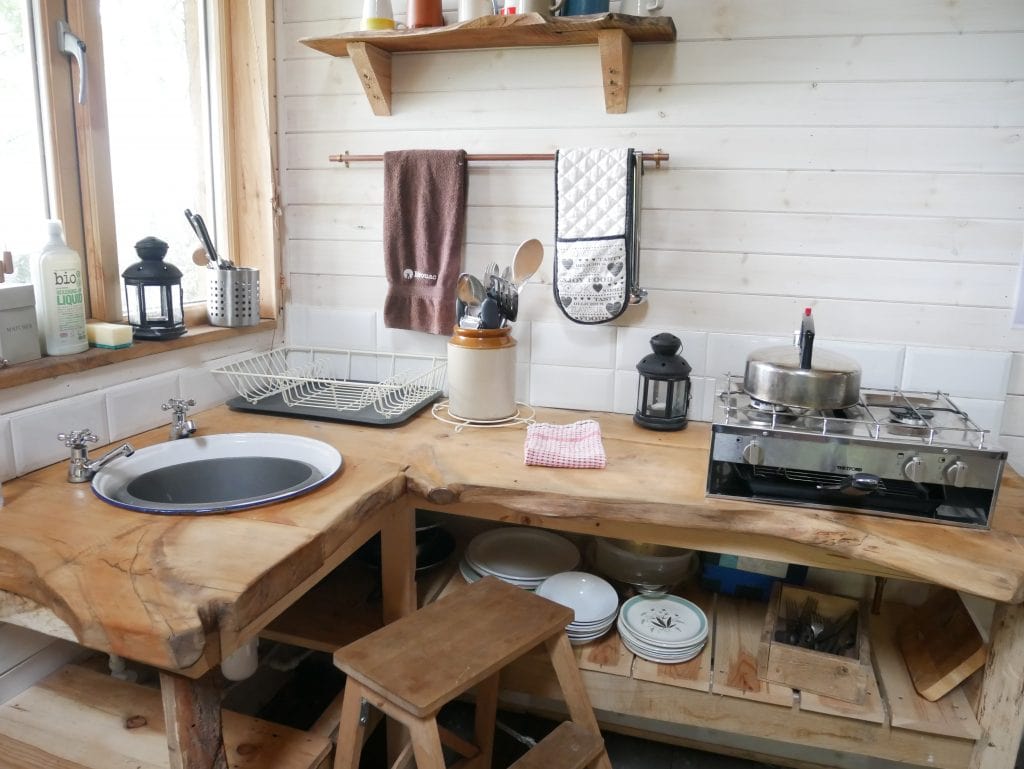 Next to the kitchen, there's a table with a bench and chairs. This, aside from a wicker chair, is the only seating indoors. There is no TV as there is no electric. The lodges even have a shower room with a toilet and a sink. We found the water very temperamental in the shower so our son was banned from having a shower as it went scorching at times.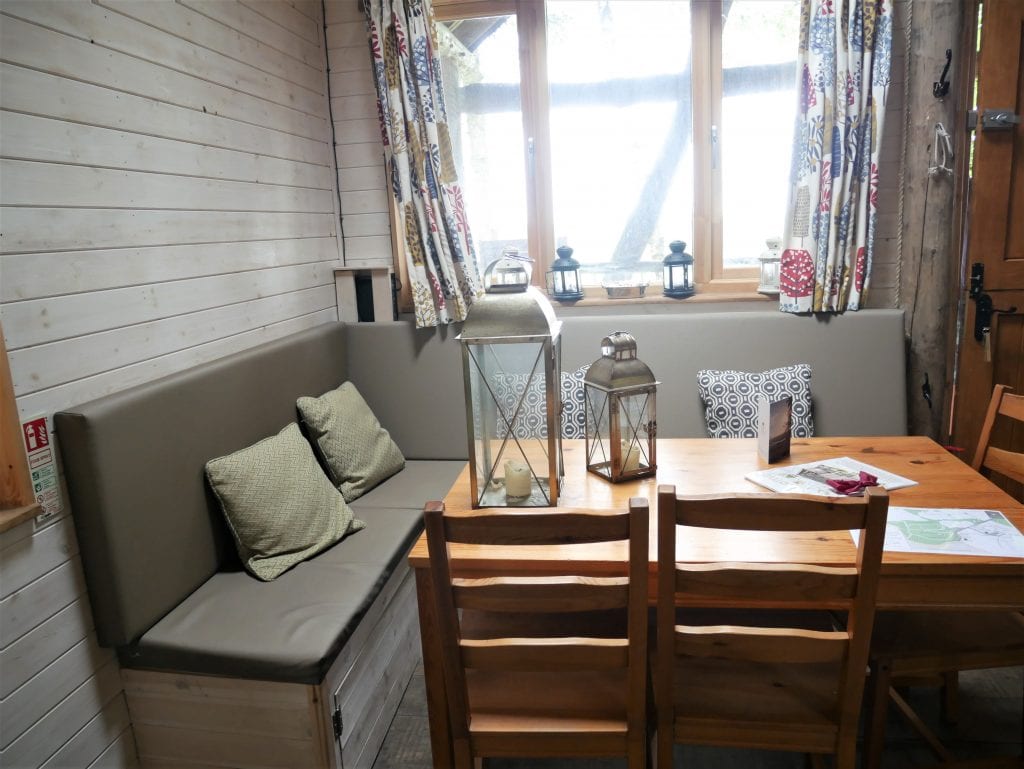 The forest surrounding the lodges is full of wildlife. We saw and heard birds I don't think we'd ever come across before. We even saw a baby woodpecker climbing the tree next to our lodge. It is such a gorgeous location especially with the views out to the surrounding hills. Just a short walk from the lodges you will find the most fantastic folly the Druids Temple (see below).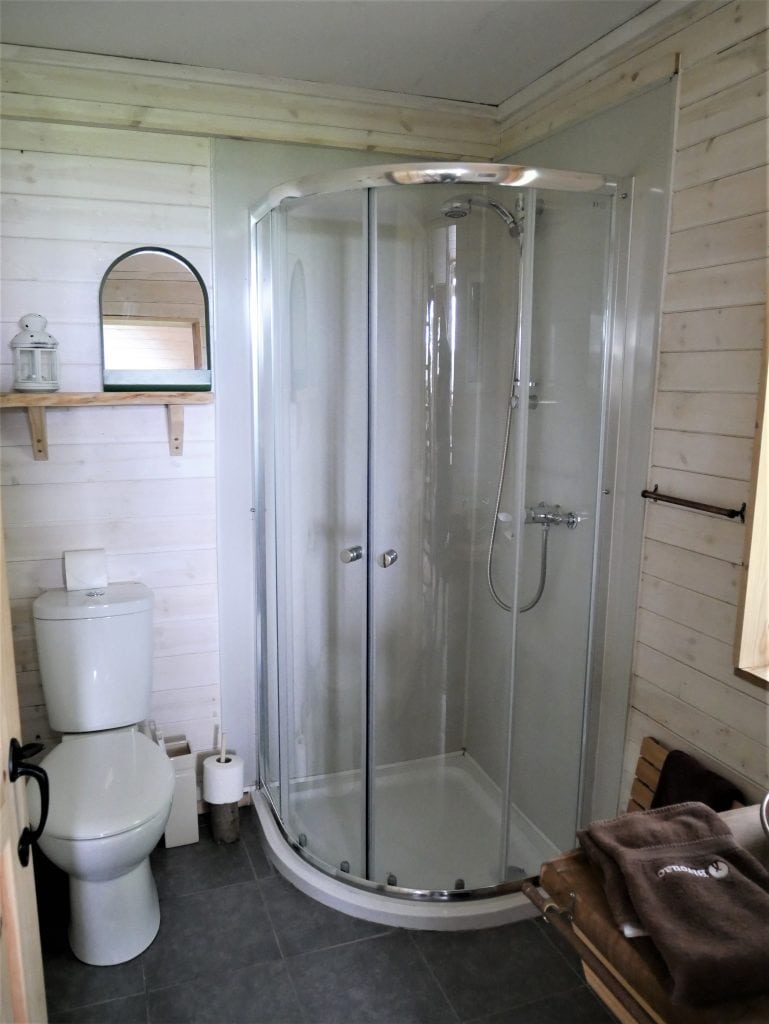 Our linen was included although some booking websites offer bedding and towels at an additional cost. We took our own towels but they did provide a couple for us. We could have hired some had we needed any. They provided us with washing up liquid and soap which is always welcome on a self-catering/glamping holiday.
Glamping with Kids in North Yorkshire
Druids Temple at Swinton Bivouac
From the lodges, it's not obvious which direction to head in to find the Druids temple. We did go a bit wrong but the walk trying to find it was idyllic. We eventually found a way through by following a line of fencing. Our arrival at the Druids temple was from up high and it was a great way to arrive at this wonderful site. The exact date of construction for the temple is unknown. Although it is said to have been built by William Danby (owner of Swinton Estate and nearby Swinton Park) in the late 1700's. It was built at a time when there was a great deal of interest in Druidism.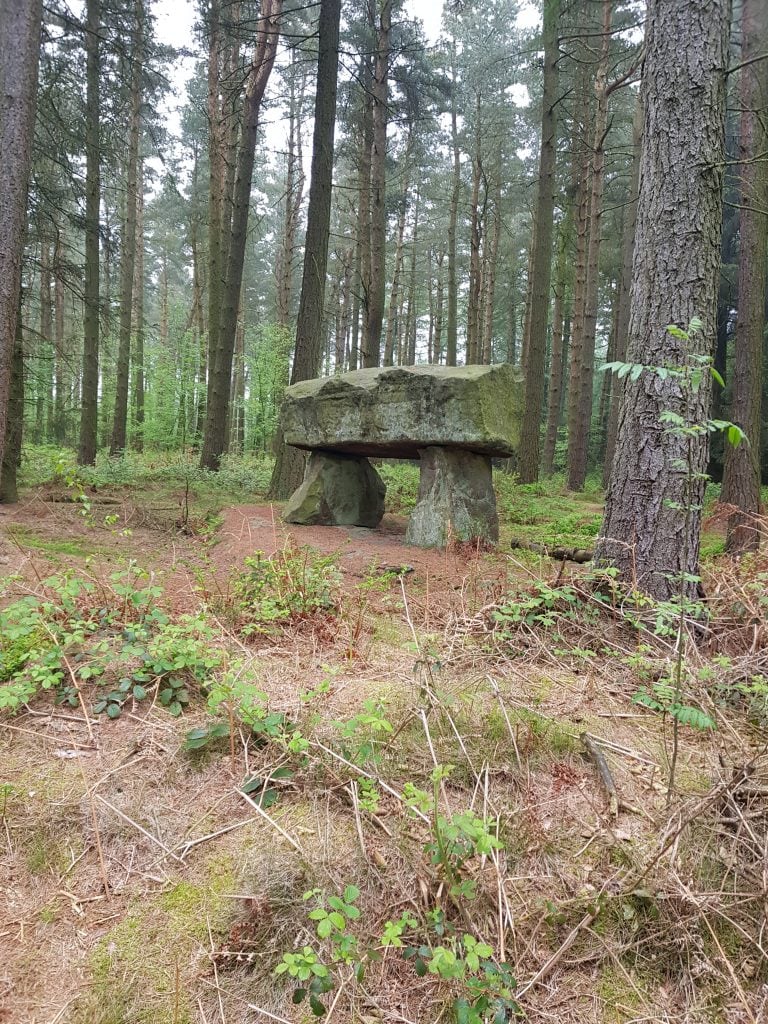 As well as the main Druids temple there are other follies to be found in the woods. It's well worth spending some time here walking the many trails in the woodlands. The Druids temple itself is very impressive with many large rocks forming the outer ring and with other large rocks used within. There's little cubby holes, a table and chairs made of rocks and a small cave at the back. The cave is rumoured to have luminescent bugs in it, sadly we didn't spot any. The temple is very easy to find from the car park.
The Cafe Bistro at Swinton Bivouac
We enjoyed a hearty breakfast at the Cafe Bistro at Swinton Bivouac after our first very comfortable nights sleep in our tree lodge. The cafe didn't open until 9 am so we gave our son a snack when he woke up and used that time to visit the Druids temple. We enjoyed a full English each which was wonderful. I'm such a pig I started eating mine before I remembered to take a photo. It just looked so tasty I couldn't wait to get stuck in.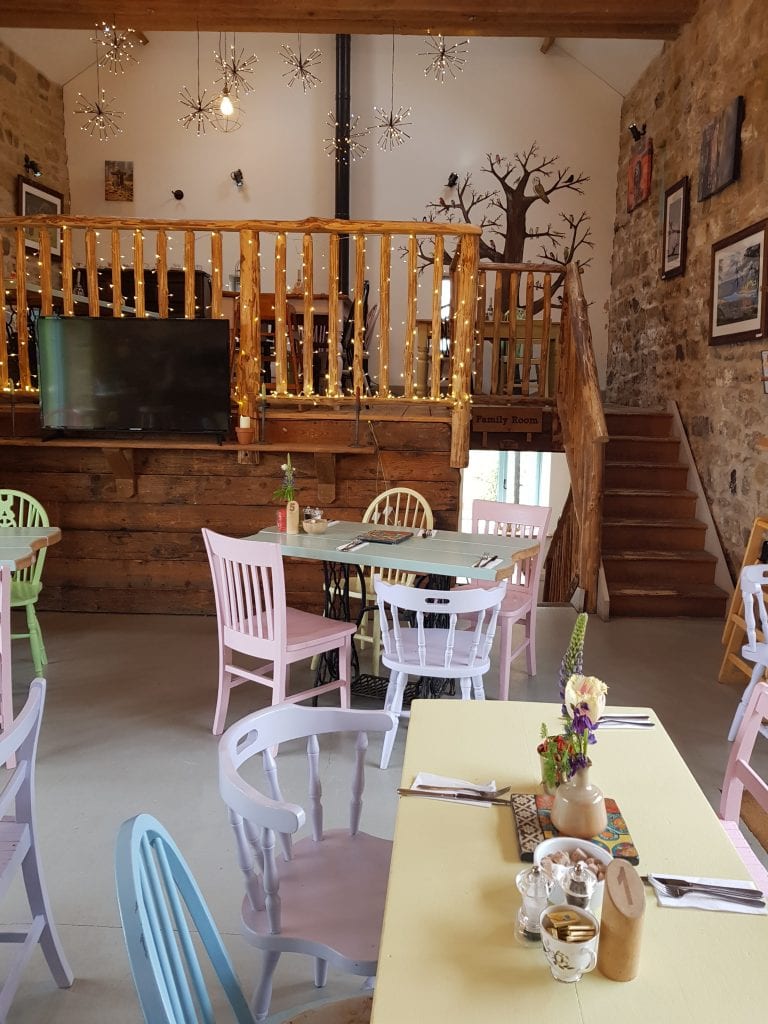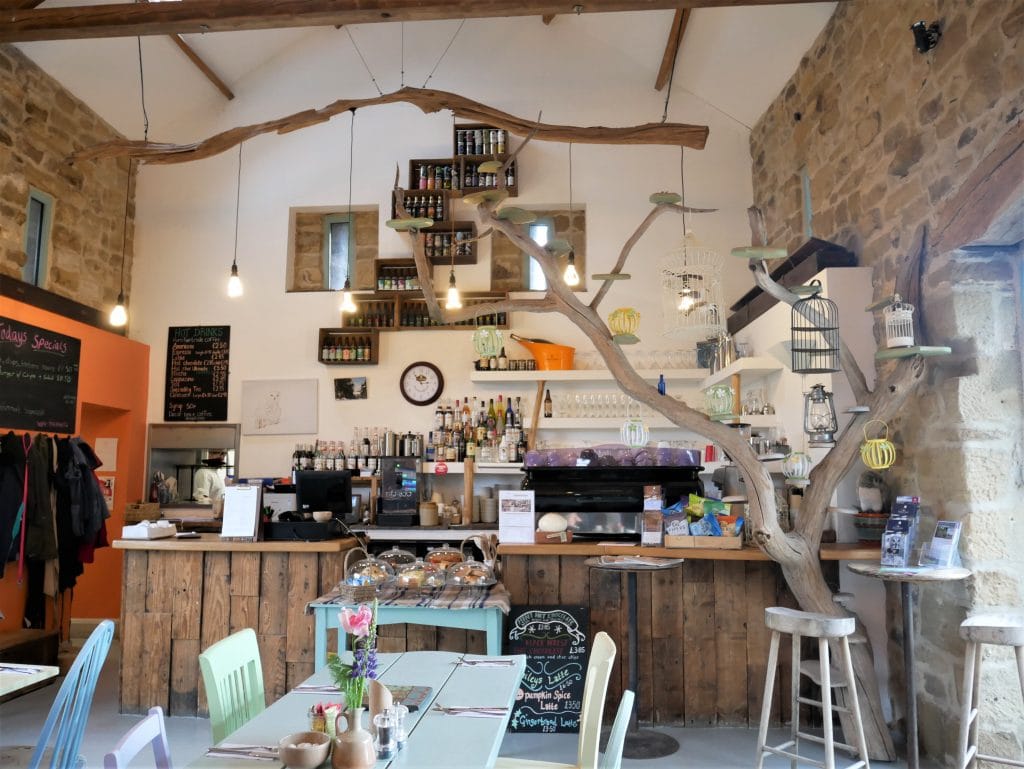 At the weekends the cafe is open until 8 pm but closes earlier in the week. We ate at the cafe on the Saturday night as my husband asked to watch the FA Cup final on their TV. My son and I enjoyed the free Wi-Fi that's also available in the cafe.
The cafe is very sweet with three levels of seating. Down on the bottom floor, there is the family room and they have a few toys in there for little ones. There is also a door out to a small playground. The menu at the cafe is limited to sandwiches and salads but they do have a couple of specials on every day such as ham, egg and chips or scampi. We all really enjoyed our food there both for breakfast and dinner. We received a complimentary breakfast but paid for our dinner.
Other Activities at Swinton Bivouac
As well as the Druids Temple, cafe and play area at Swinton Bivouac there is also the opportunity to rent the hot tub. This is private but on the same field as the yurts. You can also hire bikes from the cafe and explore the many woodland paths. As well as Birds of Prey experiences over at Swinton Estate you can also experience flying an owl or hawk at Swinton Bivouac. Activities include Taster Experiences, Hawk Walks, Family Falconry, Owl Experiences and Photography with Birds of Prey. There is also a fly fishing lake not too far away.
Swinton Bivouac Tree Lodge Glamping North Yorkshire Review
Visiting Swinton Estate
As mentioned above it's a 10-minute drive down to Swinton Estate. We were booked in at 4:30 pm on the Friday for a birds of prey taster session. The location of this experience is stunning. The birds have some wonderful aviaries built around an old ruin in the grounds. We were sat with birds of prey behind us and deer out in front of us, plus the beautiful Swinton hotel to the left of us. What a setting. You are welcome to look at the birds regardless of having a booking.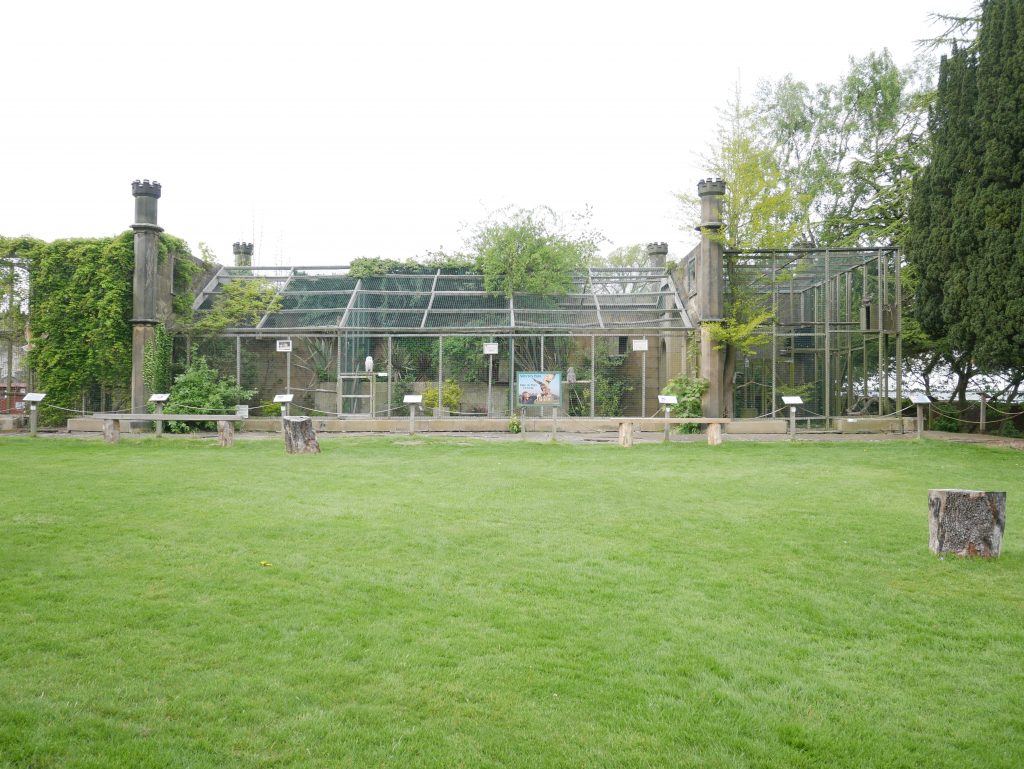 I can highly recommend a birds of prey experience. We were allowed to fly three different owls to each other. My son was over the moon to be taking part and loved every minute of it. Mandy gave us a detailed history of the estate and the birds we were flying. She was great with my son and he felt very confident with her. Which for my son is saying a lot as he can get nervous of new people and situations. They have a variety of experiences on offer. All at reasonable prices.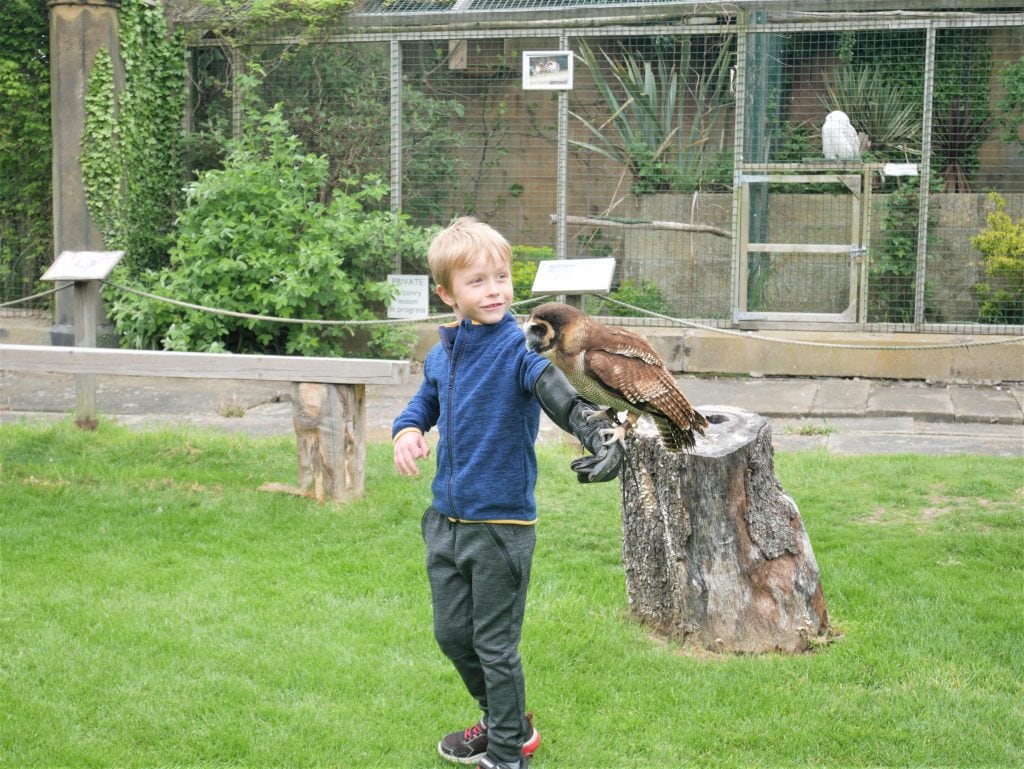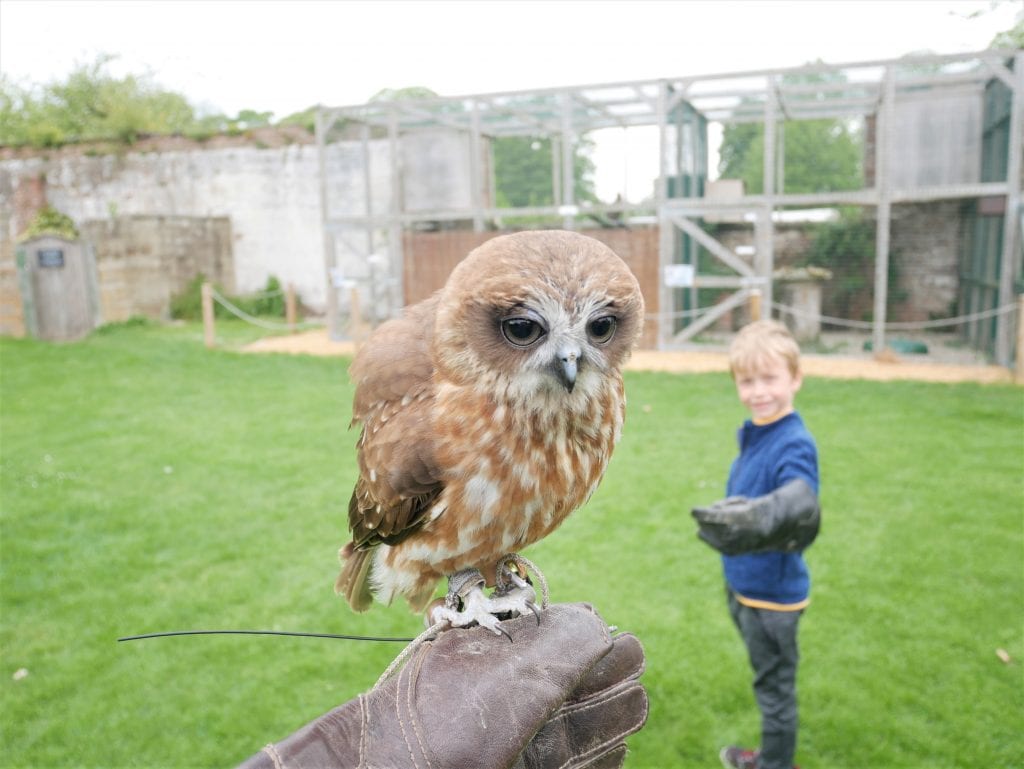 She also recommended where to walk in the grounds and we soon found a lovely little playground with stunning rhododendron bushes all around. I thought the area for the birds of prey was impressive, this beat that!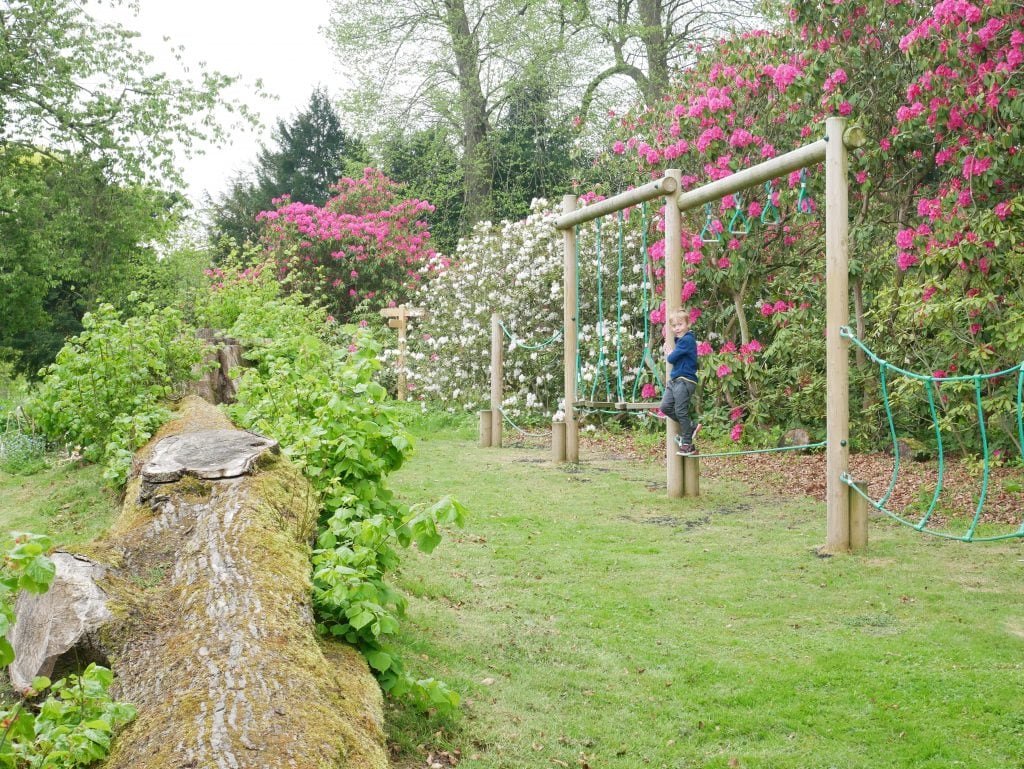 Another activity at Swinton estate that families might enjoy is the pony trekking centre. You can have a lesson or go for a trek in Swinton's vast estate.
Terrace Restaurant and Bar
If you are feeling flush or celebrating a special occasion I can recommend the Terrace restaurant and bar for a meal. The building itself is relatively new and it is a lovely setting for a meal. The food although expensive is excellent and it's worth treating yourselves. We paid for our own meal.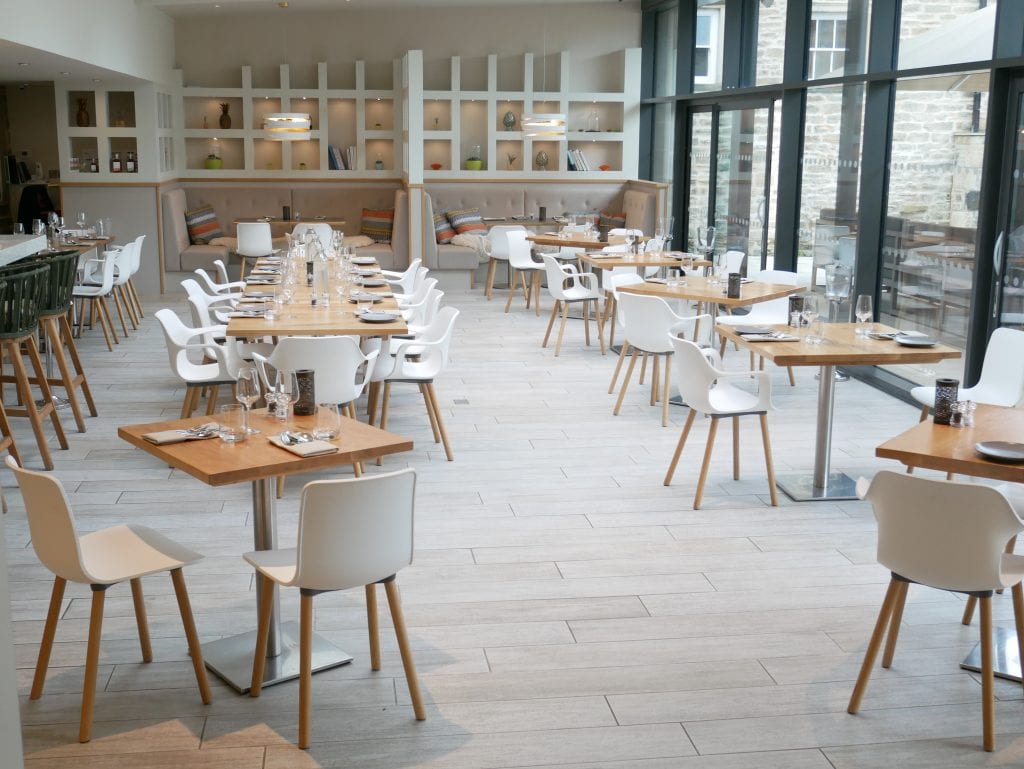 ---
We had a wonderful stay at Swinton Bivouac. Truly magical and certainly unique. It's a great way to spend some quality family time together. The kids will love the setting as much as you will.
A stay at a Tree Lodge at Swinton Bivouac is incredibly good value for money. On average a one night stay is £130. This is especially good for friends visiting together as you can share the price. But for a 7 bed lodge it's great value for money for families. A stay in a yurt costs around £100 a night.
Things to do in the area
We had a full day in the area during our visit. There is so much to do and we chose to have a drive around and see what we came across. I will cover this more in a second post. But at a glance you could easily visit:
Farm adventure Yorkshire. Nidderdale Llamas. Fountains Abbey. Jervaulx Abbey. The Forbidden corner. Studfold adventure trail. Brimham rocks. Thorpe Perrow. Middleham Castle. Wensleydale railway. Treetop nets. Lightwater valley. Bolton castle and more.
Swinton Bivouac A Magical Tree Lodge Stay |
Posh Glamping
in North Yorkshire
Disclaimer: We received a complimentary nights stay and a discounted rate for our stay at Swinton Bivouac. All opinions and photos are my own and must not be reproduced.